A part of me will always be a California girl at heart. Having spent the first 13 years of my life growing up in Northern California, we'd pick Meyer lemons and kumquats in my grandmother's backyard, and fresh ingredients and a mix of local produce were staples in our family's kitchen. (It's partially why I love to garden.) It's also one of the reasons why I love Gaby Dalkin's blog, What's Gaby Cooking, so much. She's a Los Angeles girl, and her cooking is fresh and easy-breezy, with a focus on seasonal ingredients. I like that she doesn't take food or herself too seriously: Sure, on her blog you'll find beautiful bowls layered with gorgeous vegetables, but she's also got a recipe for Super Easy Cheesy Monkey Bread. It's a style of cooking and eating—and, like she says, a state of mind—that I can totally get behind.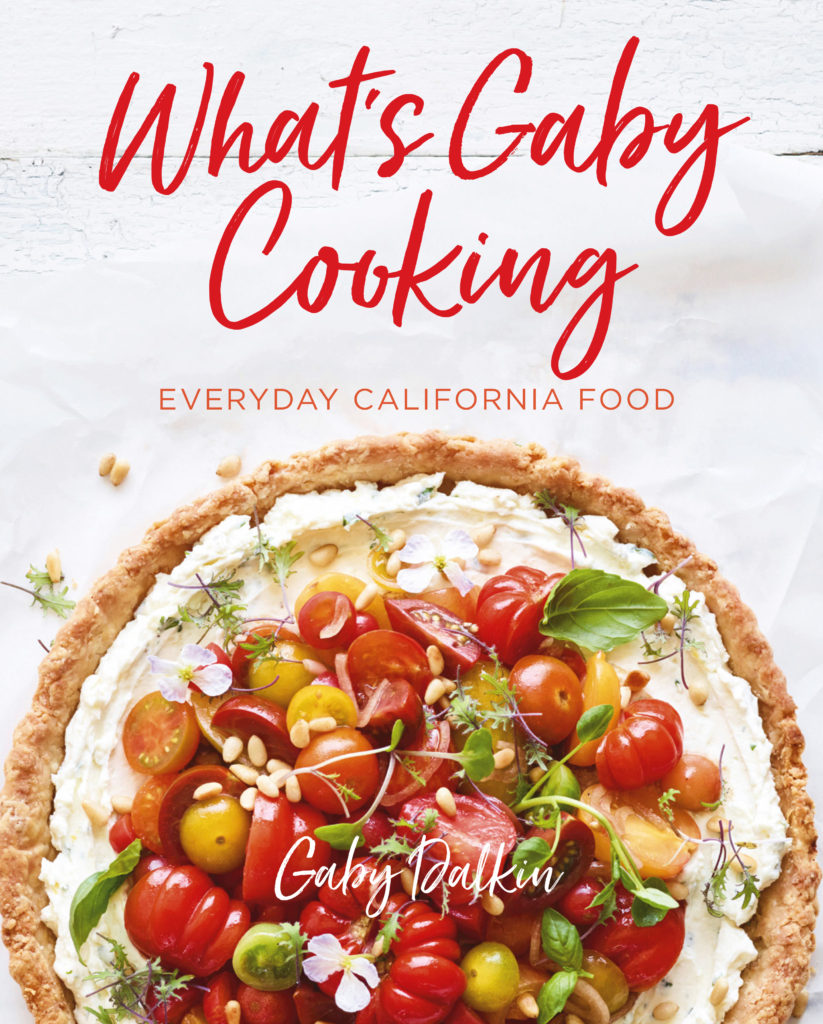 Gaby just came out with her very first cookbook, What's Gaby Cooking: Everyday California Food (congrats, Gaby!), so I'm thrilled to share one her recipe for Breakfast Flatbread with Ricotta and Strawberry-Basil Jam for June's Sunday Brunch Series. It's exactly what I want to eat in the summer, when strawberries are at their peak. The basil in the jam gives the dish a little something extra, and making ricotta from scratch (super easy!) is something that will definitely impress whoever's coming over for brunch. I'm always looking for an excuse to bring out my favorite, gorgeous pizza stone. Plus, I got to use my new super summery Anthropologie measuring cups to get the job done. 
Here's the recipe, in Gaby's own words.
Breakfast Flatbread with Ricotta and Strawberry-Basil Jam by Gaby Dalkin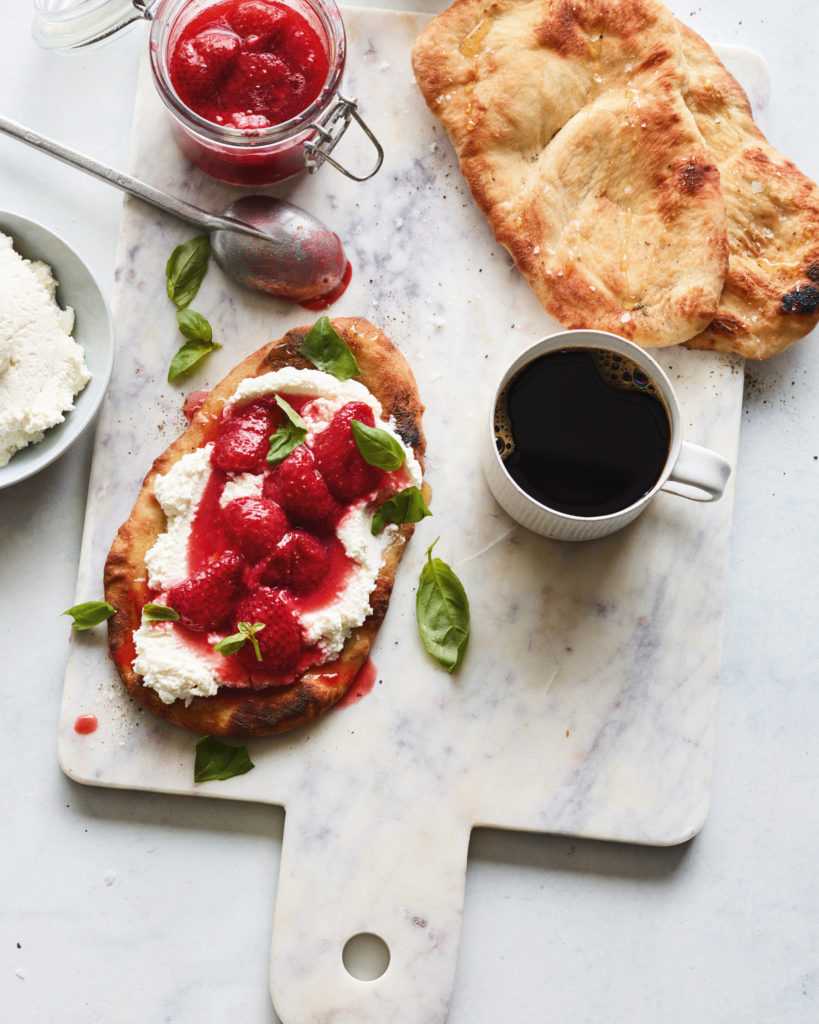 I've been obsessed with the strawberry-basil combo ever since making Strawberry-Basil Lemonade for my blog a few years back. It was the first recipe of mine to go viral, and I think it's because it's genius! The basil gives the sweet fruitiness of the berries a sophisticated note that's still fresh and fun. The sweet-savory mash-up is perfect for a jam, and even more perfect for topping a pizza with homemade ricotta for a show-stopping brunch. You'll notice that the jam recipe makes about two cups (480 ml), but you only need one cup (240 ml) for this flatbread. Stash the extra in the fridge; or use it as a filling for doughnuts!
Breakfast Flatbread with Ricotta and Strawberry-Basil Jam
From What's Gaby Cooking by Gaby Dalkin, published by Abrams Books c 2018
Serves 4
INGREDIENTS
For the ricotta cheese:
2 quarts (2 L) whole milk
1 cup (240 ml) heavy cream
½ cup (120 ml) plain 2% Greek yogurt
1½ teaspoons fresh lemon juice
1½ teaspoons white vinegar
1 teaspoon Maldon sea salt
For the strawberry-basil jam:
1 quart (580 g) fresh strawberries, hulled and halved
⅓ cup (65 g) sugar
1 tablespoon fresh lemon juice
Pinch of kosher salt
4 fresh basil leaves
For the flatbread:
1 pound (455 g) store-bought pizza dough, divided into 4 equal pieces
All-purpose flour, for rolling
3 tablespoons honey
Maldon sea salt
Freshly cracked black pepper
DIRECTIONS
To make the ricotta cheese: Line a colander with 4 to 5 layers of cheesecloth. Make sure there is enough draping over the edges so it doesn't fall into the colander later in the process.
In a large, heavy-bottomed pot, combine the milk, cream, yogurt, lemon juice, vinegar, and salt. Bring to a simmer over medium heat and cook until the mixture begins to curdle with the curds separating from the whey. Pour the mixture into the lined colander and let drain for about 10
minutes, until all the liquid has drained off and the ricotta remains. Lift the cheesecloth up and transfer the ricotta to an airtight container, where it will keep, refrigerated, for up to 2 weeks.
To make the strawberry-basil jam: In a medium saucepan, combine the strawberries, sugar, lemon juice, and salt. Place over medium-high heat and cook, stirring often, until the strawberries are soft, bubbling, and syrupy, about 10 minutes. Toss in the basil, remove from the heat, and let cool. You can remove the basil before serving if you like, or keep it in. The jam can be made in advance; it will keep, stored in an airtight container in the refrigerator for up to
a week.
To make the flatbread: Let the pizza dough rest at room temperature for 30 to 45 minutes before starting.
Preheat the oven to 450°F (230°C). Line two baking sheets with parchment paper.
On a lightly floured surface, roll or stretch each piece of dough into a rectangle (about 4 by 9 inches/10 by 23 cm), or as close as you can get. Place two pieces of dough on each prepared pan. Drizzle with the honey and sprinkle with salt and the pepper.
Bake for 8 to 12 minutes, until golden brown. If any bubbles rise up, you can pop them with a fork. Remove from the oven and let cool slightly.
To serve: Spread the ricotta over the flatbreads, leaving a ½-inch (12-mm) border. Top with heavy dollops of strawberry-basil jam and season with salt and pepper. Cut into 4 pieces each and serve.
Enjoy and happy brunching! xo