Salt dough ornaments are one of those crafts that look easy and fun to make…and they actually ARE. They also keep my kids occupied for hours, which feels like a major parenting win during the chaos of Christmas.
In between sports and school they plop down at the table and pick up a brush and paint the ornaments. I've been letting my OCD guard down and leaving the drop cloth on the kitchen table with all the supplies and just let them pick up where they left off with their creativity.
My inner clean freak is losing it a little, but I know that I will be so happy we did all of these next year when I am hanging them on the tree and lamenting about another year passing by. They really do provide such nostalgia and let me know what the kids were into that particular year. (Dinosaurs were a common thread for Shep this year while Odette seems to be having a Jackson Pollock moment.)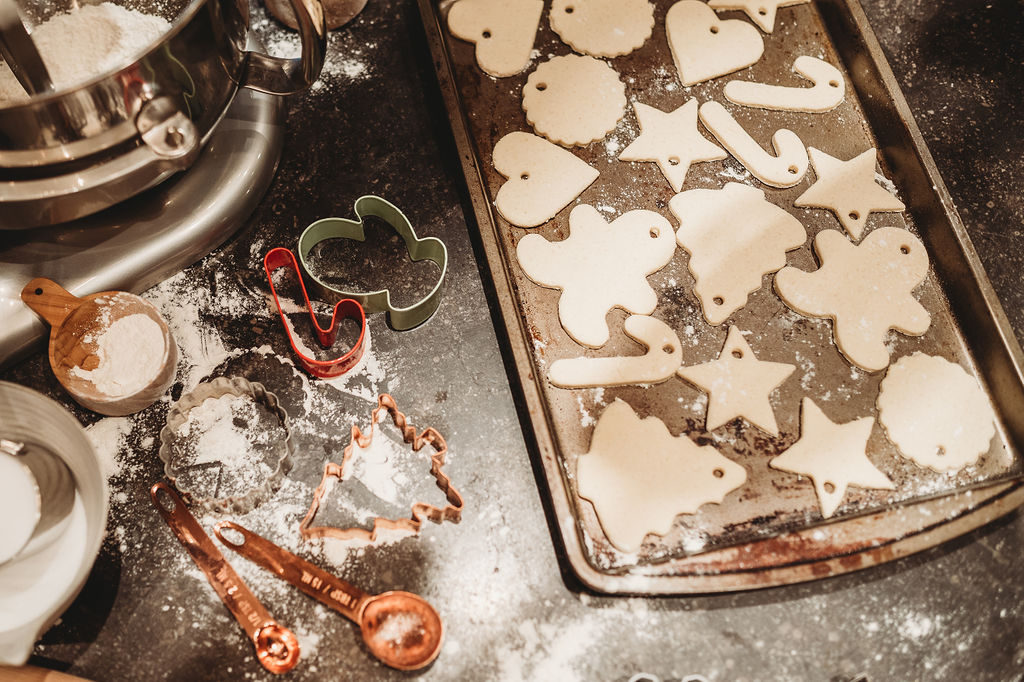 I can't remember where I found the original recipe, but it's morphed over the years and this is the version I've found to work best.
Here's what you'll need to make the dough:
4 cups of all-purpose flour
1 cup of salt
1 cup of tap water
And here's what you need for the fun part:
Assorted cookie cutters – I have round and fluted biscuit cutters plus a few holiday options (candy cane, snowflake, pine tree)
Metal Straws – they're perfect for making holes for ornament hook or ribbon.
Any acrylic paints – there are even some paints with glitter in them, which you can use on top of any of the other acrylic colors once your first coat has dried
Assorted small paint brushes – there are lots of brush sets for kids that aren't terribly expensive. No need to pull out the Van Gogh set for this.
Ribbon or twine
Cookie cutters
Paint brushes
Rolling pin
Cookie sheet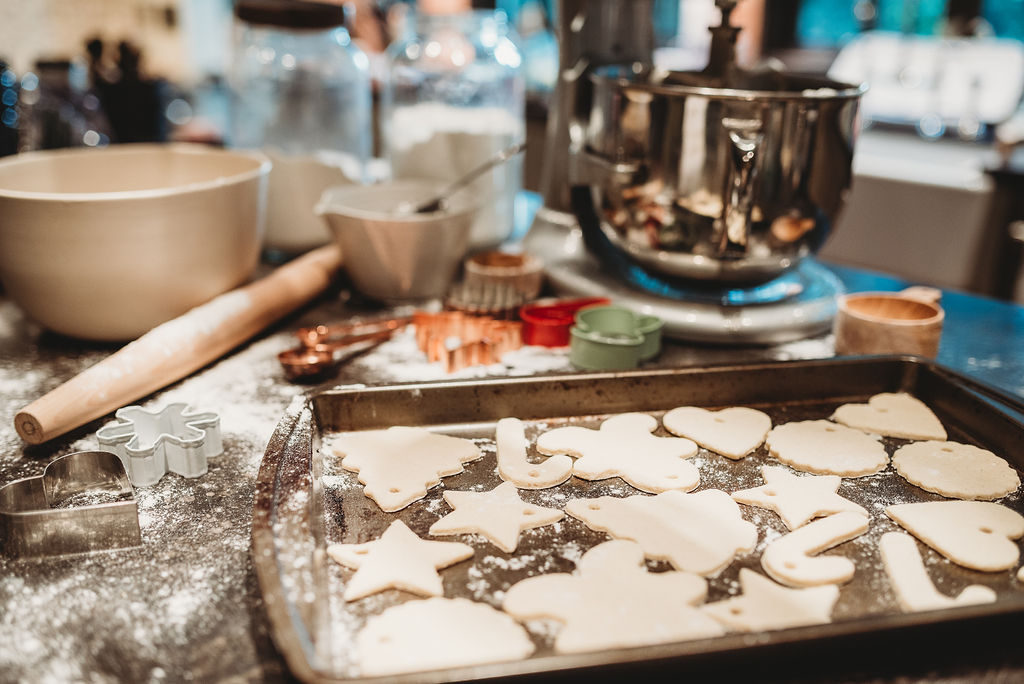 Preheat the oven to 200 degrees, then stir the ingredients together by hand or with a mixer and turn the dough out onto a floured countertop. It'll be sticky, but freely add more flour if it's unruly. Then roll the dough out to 1/4" – 1/2" thickness being careful not to get it too thin otherwise they're tough to lift off the countertop and onto the cookie sheet. Grab your cookie cutters and start making shapes! Remember to use the straw to create the ornament holes before you bake—I've forgotten that step before…

Place the ornaments onto an ungreased cookie sheet—don't worry about the spacing, this dough won't rise much—and bake for 3 hours. I like to flip mine after the first hour to keep the ornament surfaces smooth, but it's not a big deal if you forget this part. Let the baked ornaments cool for 20 minutes and then you're ready to decorate!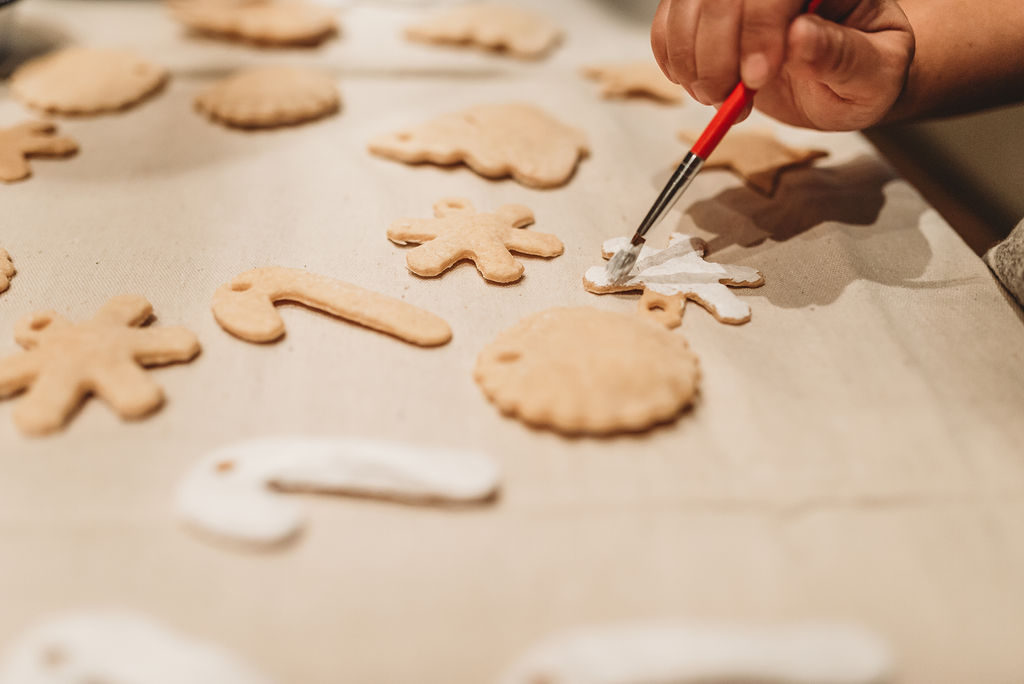 For decorating, I cover the table in my go-to drop cloth and put out various paint colors in kid bowls or cups that I can easily wash when we're done. A few cups of clean water are helpful for cleaning brushes otherwise it's a good idea to designate a couple of brushes for each color and leave it at that.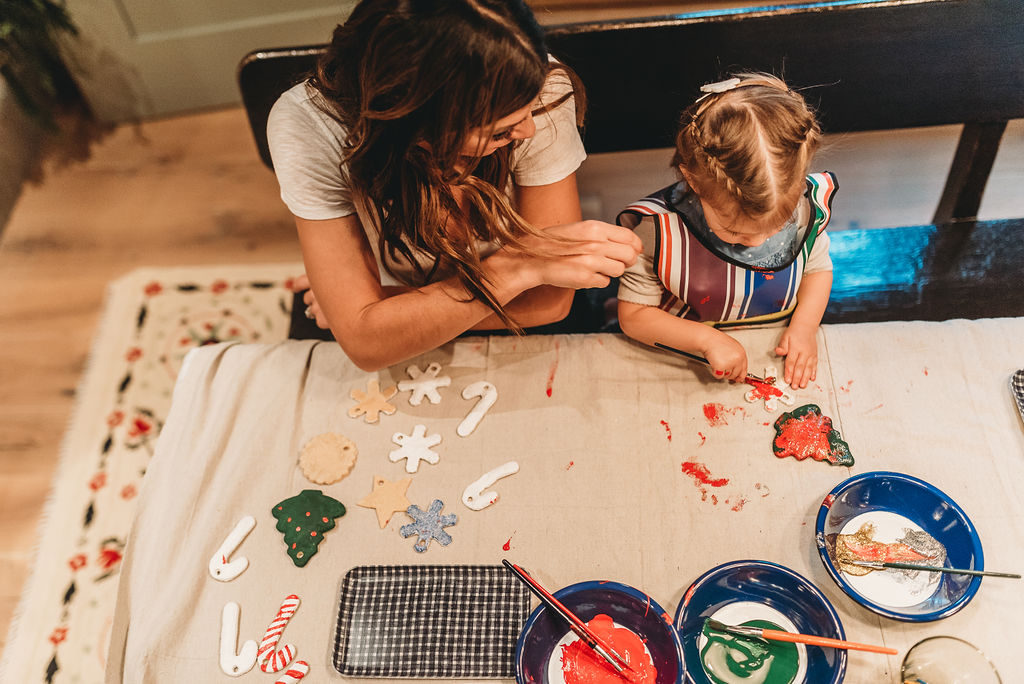 For little ones who haven't mastered the brush grip—or for those only mildly interested in participating—I pre-paint some ornaments a solid color (snowflakes white or pine trees green) so that we're a little further on our way to success. Another sweet option: Press your little one's hand into the dough to create little keepsake handprint ornament.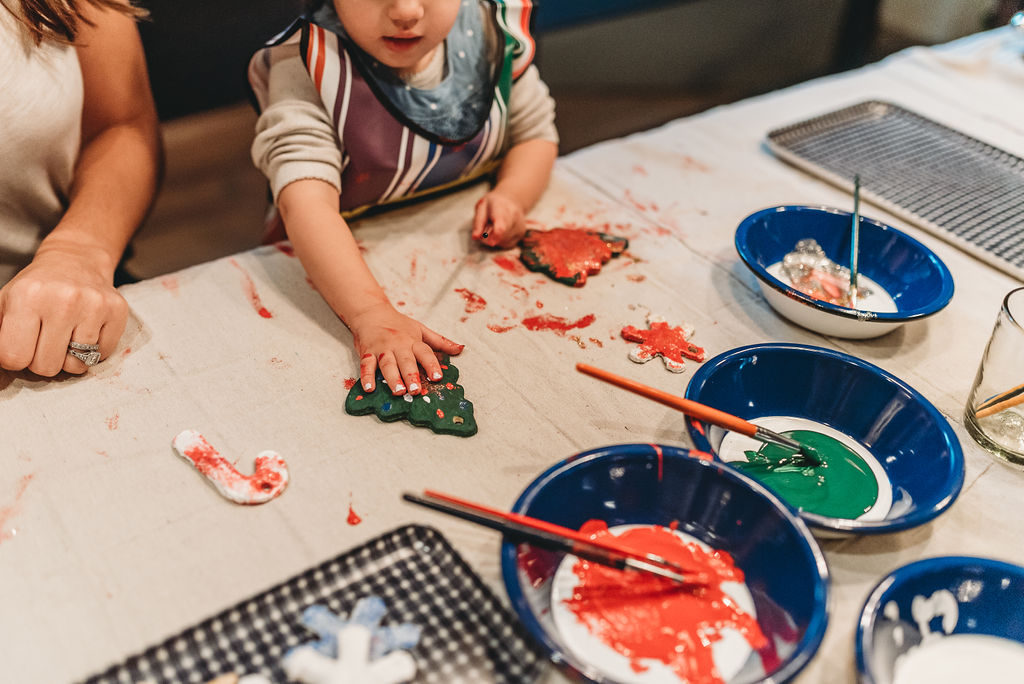 Once you're finished with your creation let it dry for an hour or so and cut an 8"-10" piece of ribbon or twine and thread it through the hole. Tie a small knot and hang your ornaments from the tree, garland, doorknob…wherever you want to add a little holiday cheer.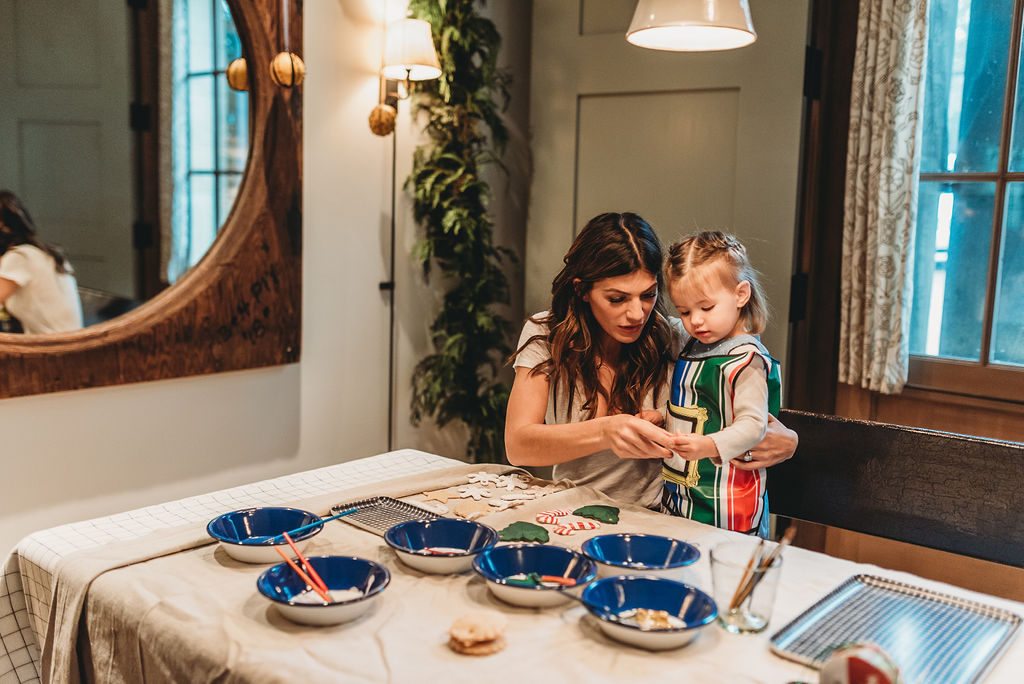 I treasure the memories of making these ornaments with my family and friends and love seeing them hanging from the tree year after year.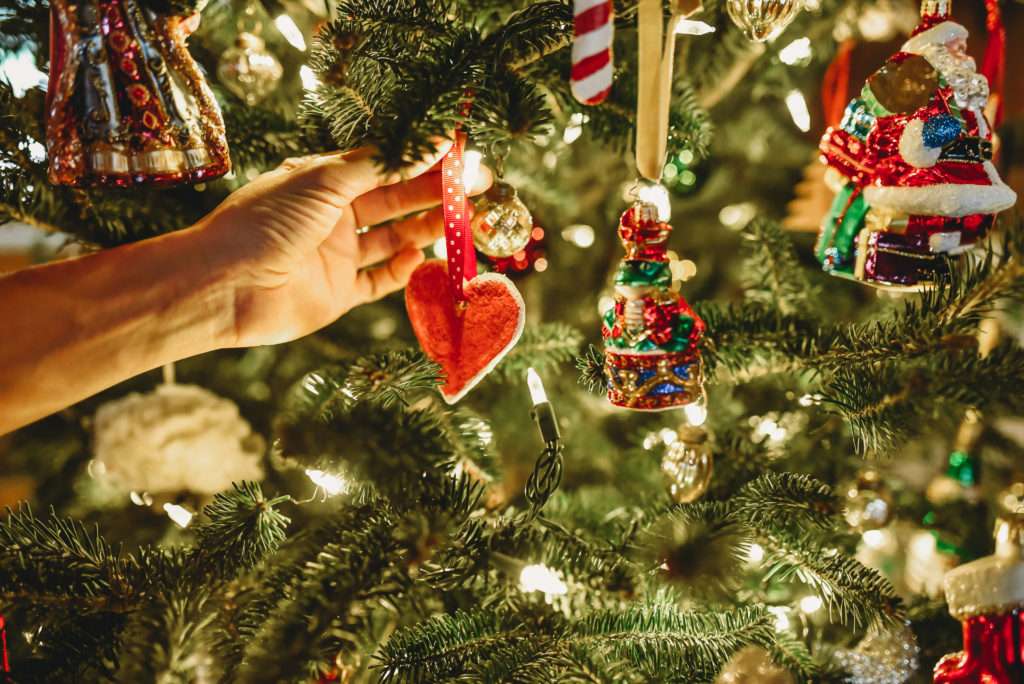 What's your favorite holiday tradition? Share it in the comments!

XO
Gen