I love an excuse to treat the mothers who inspire and support me in my life. And what better way to celebrate them than with thoughtful Mother's Day gifts that also lift up and empower women? From improving maternal care and mental health programs to life-changing job opportunities for female entrepreneurs, each of these unique Mother's Day gifts help to better the lives of women around the world in ways both big and small. Whether you're looking for a special way to thank your own mom, a friend who has supported you like a mother—or a little something to treat yourself—I hope you'll consider one of these sweet gifts that give back.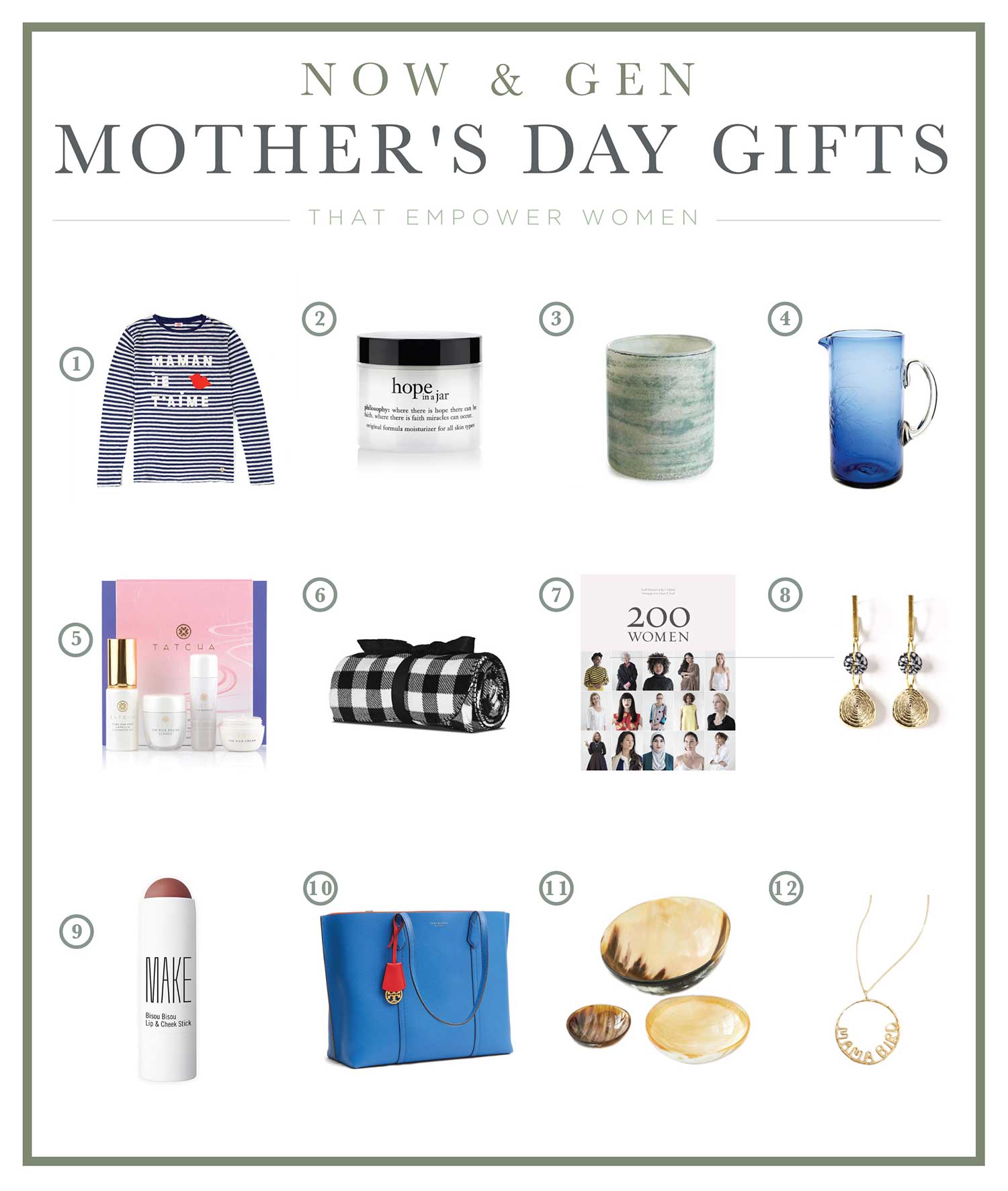 Mother's Day Gift Ideas
A classic navy and cream striped tee with the words "I love you mom" in French makes for a chic, fail-proof gift. The best part: 100 percent of net profits will be donated to Every Mother Counts, a vital non-profit dedicated to supporting maternal health programs that make pregnancy and childbirth safer for women around the world.
If you know someone suffering with mental health, Philosophy's Hope in a Jar moisturizer is a powerful and thoughtful way to say "I'm in your corner." The company's Hope and Grace line supports community-based mental health efforts with financial grants focused on empowering women through prevention and treatment. Since 2014, they've funded $4.3 million worth of grants to help 1.5 million women.
The soothing scent of this votive reminds me of hiking in the forests near Vancouver. And I love that these candles are helping to create a brighter future for women by providing jobs and living wages to female refugee artisans. Each candle is sourced from sustainable materials, hand poured and arrives with a special story card about the woman who made it.
Founded by Lauren Conrad and Hannah Skvarla, The Little Market works with cooperatives and social enterprises to help artisans around the world earn a livable wage, fund literacy workshops, business training, health programs and send their children to school. This beautiful hand-etched pitcher is made from recycled glass and supports Rose Ann Hall Design artisans in Mexico.
This natural skincare line has single-handedly funded 2 million (and counting) days of school for girls in Africa and Asia. Proceeds on purchases benefit Room to Read via Tatcha's Beautiful Faces, Beautiful Futures program that helps improve girls daily lives and lifts them out of poverty.
A thermal, water-resistant blanket is perfect for picnics, outdoor concerts and campouts. For every item purchased, the Austin-based company donates an equal item to a person in need, while providing employment opportunities for the homeless who are trying to get back on their feet—a critical resource as women and families are now the fastest growing segment of the homeless population in the U.S.
Sure to inspire, motivate and educate, this coffee table book catalogs the answers of 200 incredible women from diverse backgrounds to five questions. What really matters to you?, What brings you happiness?, What do you regard as the lowest depth of misery?, What would you change if you could?, and Which single word do you most identify with? Ten percent of all book sales are distributed to organizations devoted to protecting and advancing the rights of women.
I love these teardrop earrings made of recycled glass. Each piece of Akola jewelry is handcrafted by at-risk women, providing living-wage work opportunities and a dignified pathway out of poverty. The Akola Academy also provides employees with job training, financial literacy programs and holistic wellness support.
Every mom needs beauty products that can multi-task. This vegan, paraben-free lip and cheek duo by Make is great on the go and 10% of sales are donated to the We See Beauty Foundation, a non-profit organization that supports women-led, worker-owned businesses in underserved communities.
The limited edition Perry tote is part of the Tory Burch Foundation's Embrace Ambition campaign, which sends 100 percent of profits to empower women through capital funding, education and mentoring networks to support female entrepreneurs.
These beautiful upcycled horn bowls are handmade by women in Kenya. The eco-friendly shop—which is carbon neutral—offers fair trade accessories and decor by female artisans and all purchases help fund microloans for women entrepreneurs. Funding women-led businesses have proven to be a huge boon to local economies and social welfare, largely because women reinvest 80-90% of their income back into their families and communities.
A pretty pendant perfect for new moms. 31 Bits gives artisans in developing countries job opportunities and access to the global market while helping to ensure fair pay, safe working conditions, healthcare and financial education.