I have to be honest, Thanksgiving is probably my least favorite of all the holidays. The prep work leading up to a dinner where we sit and gorge until I feel sick sounds like a nightmare. I get anxious thinking about timing a turkey just right and sautéing vegetables that will compliment the aroma of the wine. So unfortunately, I don't have much insight or festive and colorful thanksgiving cheer. I'm not here to talk about what kind of napkins will go with what napkin ring (although I do love a good table setting).
What hits home for me this Thanksgiving is taking the time to actually give thanks, and for me that doesn't mean saying "I am grateful for my family…" (for which I am very grateful for). For me, it goes deeper. I am grateful for the hardships and the frustrations. I'm grateful for the late nights where I have screaming kids, or the time apart from my husband while he works in another country far away from his family. I am grateful for the arguments, the lows, and darkness, because these are all of the places that become beautiful opportunities for growth. I'm learning to be comfortable in being uncomfortable, because on the other side of fear is incredible strength. Leaning in is an act of trust, where we can begin to see adversity as a teacher and run towards any fear with open arms.
These dark times have been windows of opportunities.  This year, we have watched hurricanes whip through towns and topple them over, we've endured mass shootings within our schools and churches, we've seen dark sides of white supremacist groups, we've been led by administers with questionable predictability and reliability. We've lost, we've cried, we've hashtagged and petitioned. We've been abused, tested, challenged, angered, threatened, and pushed. We've stuck it out while it seems that everything we've worked so hard for and built is being bulldozed to the ground. And in this, we've realized that there is so much more work to do.  
Yet, we have tilted our chins to the sky, and exhaled loudly. In this, many of you, like me, may be searching to locate the light in crisis. The word crisis stems from the Greek word "to decide" – which means we are presented with a choice. Do we stand up, or do we hide?
This decision process is important. It's where we get to "shake things up," to analyze, examine, fathom, investigate, pore over, probe, research, screen, scrutinize, work over, shift – if we choose to. During these challenges, I used to feel as if my feet were bound in concrete, paralyzed by fear.  I've had to give myself permission to change and evolve.  I've learned that in crisis, one person's standstill becomes another's opportunity to run towards love. Within that space there is abundant generosity, support, shelter, safety, and supply.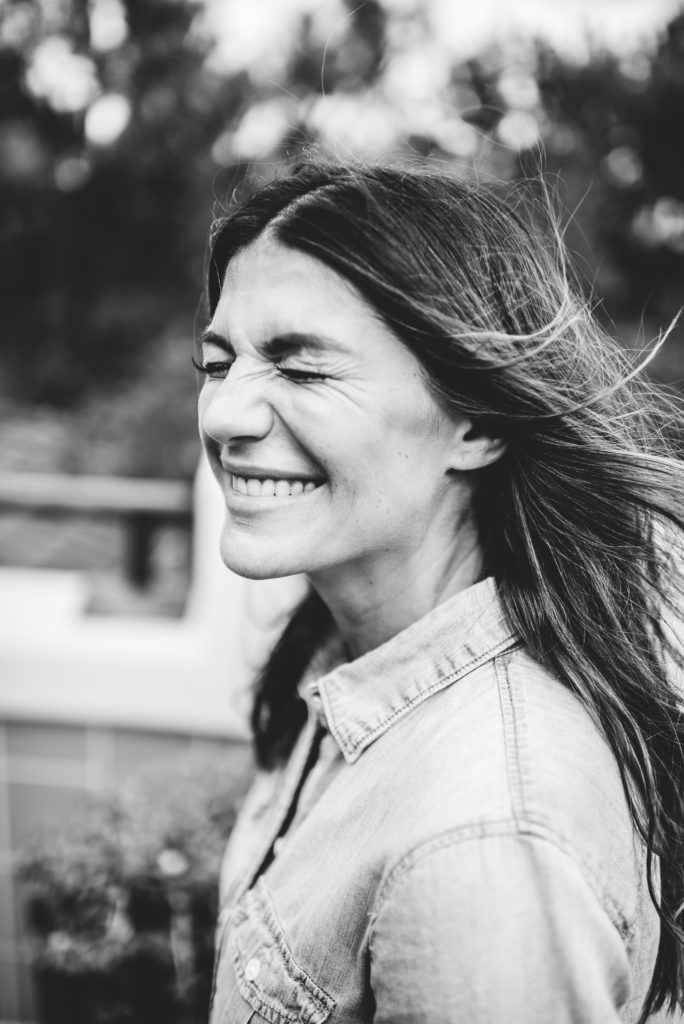 It is not our job to fix our pain or the pain of others, but I do think we have a choice to fight for others and ourselves.  We can try and turn tragedy and a challenge into an opportunity and empowered acts of decision.  Instead of crumbling in the face of darkness, we can reach our hand out and pull our neighbors up.  Be the good and positive change, either within yourself or within your community.  Once we've sifted through all the noise, we arrive at a decision where we realize that what we're all after is the same: to be loved, to be seen, and to trust that life is happening to provide us with what we need. We are strong!  We are capable!  We can rise!  Once we've sifted, everything else falls away.
Plain and simple: we just get to show up. We get to hold a mirror up to our pain, and uncomfortably stare it in the face until it doesn't feel so uncomfortable anymore. We get to prevent the fear from eating us alive, we get to be vulnerable and grow. We get to be generous with ourselves.
In doing so, we might just recognize that challenge don't make us weak. It just let's us flex the parts of ourselves that we never knew were strong. That's emotional fitness – that's the definition of resilience. We locate an internal grit that we need to not only survive, but to thrive. The poet Rumi said, "The wound is the place where the light enters you." In order to push forward and move mountains, we must love both the valleys and peaks.  
So, in this season of thanks, and after a year of being continually tested, we may feel like we've lost our way. But what I try to remember is that pain is a vehicle. So when pain rears it's ugly head, let's use it.  How can we use it to affect positive change? How would we persevere if we trusted that pain was happening for us, not to us? When I'm stretched beyond my limits, I'm reminded that all I have to do is show up. I can run, and I can withdraw- but I'll never grow there in my comfort zone. I can show up.
When my frustration is fresh and new, I'm going to try and let it motivate me instead of isolate. I've decided to not pretend or push it away. Instead, I'll forgive myself, respect myself, speak up, and move forward bravely. Grief is sacred when it calls us towards our power. It is part of each person's journey. So let's offer ourselves empowerment from fear, and in doing that, we'll learn that we're strong enough. That we got this. That we need to encourage each other and lift each other up.
So, when I'm challenged, here are things that help: water, walks, meditating, speaking up, encouragement from my husband, watching my son learn the piano, hearing my baby girl coo, witnessing random kindness from a stranger, reading, deep breaths.
Here's what also helps: service, action, generosity, loving myself when I feel like I've failed. Remembering that I'm doing my best. Letting myself off the hook. Deeply appreciating the speed bumps.  Speaking up for those that cannot, lending a hand to the LGBTQ community, donating to a less fortunate family, posting positive information on social media, listening to a stranger, walking foster dogs, giving to hurricane victims, supporting someone who is afraid.
This year, I'm leaving gratitude at the doorstep of my fears. I'm saying "thank you" to my challenges, because I am grateful for them and the opportunity they bring. Let's together remember that, no matter where we stand in life – no matter what our ethnicity, race, sexual preference, income level, or political party –  we need our challenges,  just as much as we need each other. So here's to embracing our struggles with open arms.
Happy Thanksgiving!
XO,
Gen