It's officially gift-giving season and I am officially WAY behind on my Christmas shopping. In hopes of getting organized and inspired, I pulled together 50+ ideas for all your gifting needs. Some are splurges, some are steals. Some we already have in our home and others are things I wouldn't mind finding for myself under the Christmas Tree (hint hint, Jared). I hope you'll find some unexpected gifts you can surprise your friends or loved ones with.
Happy holidays!
Love, Gen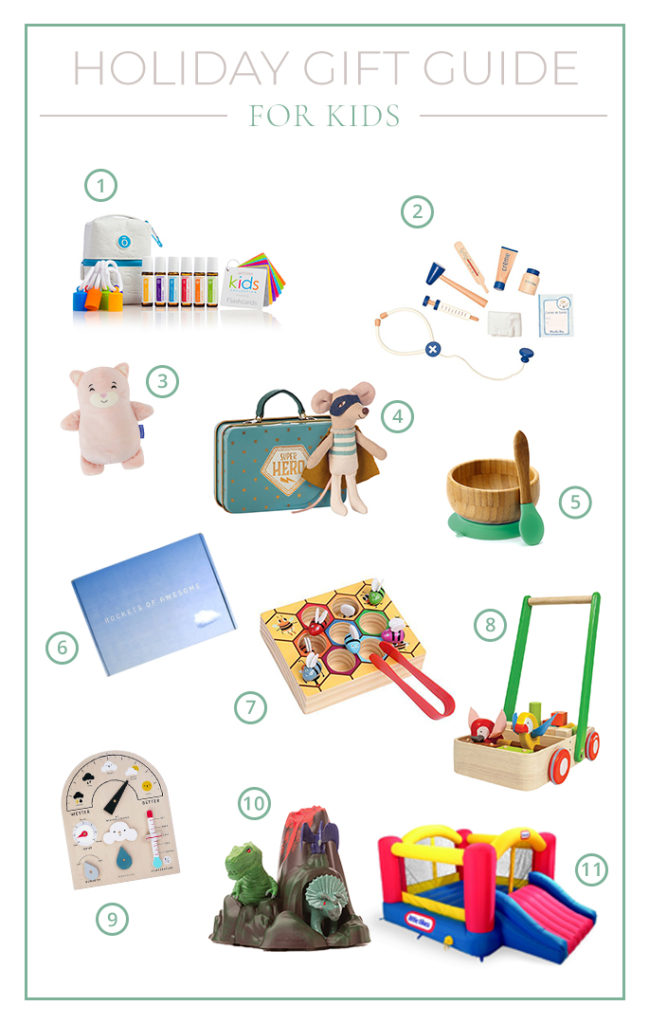 KIDS
1.Doterra Kids Collection Essential Oils, $127
These specially formulated blends in scents like Brave, Calm and Strength help little ones to learn to live in the moment.
A doctor kit is great for encouraging imaginative play—plus, I find that it makes going to the doctor less scary, too.
3. Cubcoats, $45
An adorable bear that transforms into a super-soft hoodie? Think of it as a kinder, gentler Transformer.
4. Maileg Superhero Little Brother Mouse, $27
This caped crusader goes everywhere with Odette, especially with his handy tin carrying box.
5. Avanchy Amboo Bowl and Spoon, $20
This eco-friendly toddler bowl has a cool suction feature, so when your little one wants to throw their bowl on the floor, it's a no-go. A great gift for those who are just starting to use utensils.
6. Rockets of Awesome Clothing Subscription Box (Starting at $5)
This super-cool clothing subscription box is tailored to what kids like, so there will be no more battles getting dressed before school.
7. Moonio Bee Picking Toy, $20
A cute, colorful game that helps toddlers with coordination and problem-solving.
8. Plan Toys Bird Walker, $100
A lot of baby walkers can be big plastic eyesores, but this wooden one is as beautiful as it is practical. The birds act as a cheerleader—their tapping beaks encourage kids to keep going—and the colorful blocks offers endless entertainment.
9. Moon Picnic Weather Station, $54
Budding meteorologists will love learning how to report and forecast the weather with this smartly designed interactive toy.
10. Dinoland Ultrasonic Diffuser, $125
My boys are obsessed with this prehistoric volcano that erupts with color-illuminated vapor.
11. Little Tikes Bouncer, $190
A blow-up bouncer with plenty of safety features makes every day in the yard feel like a party.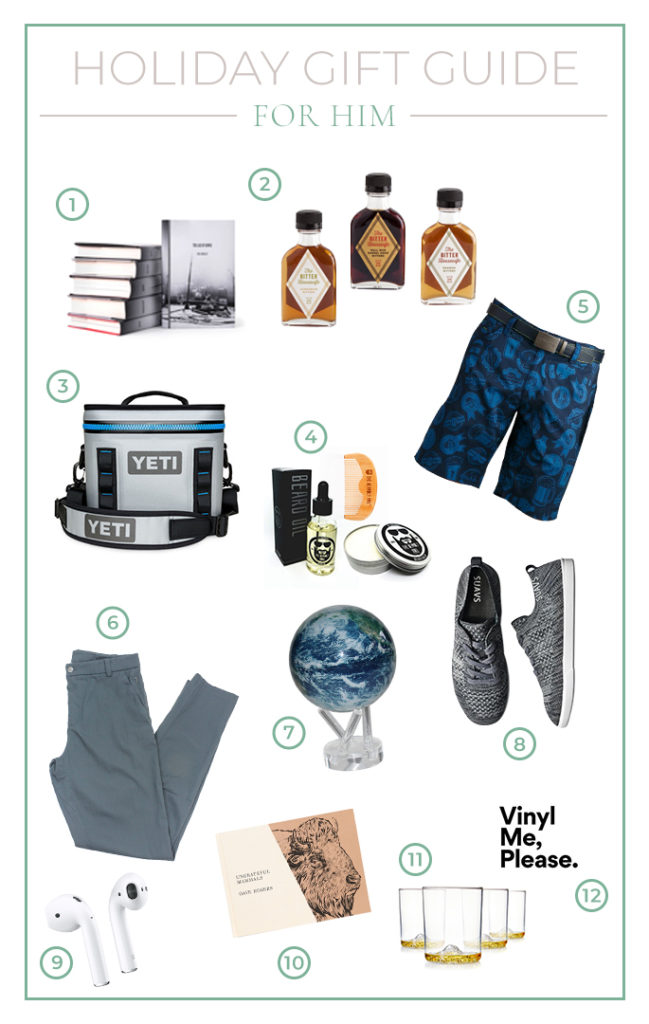 HIM
1. Juniper Books Legends of Rock, $250
Music fans will appreciate this collection of autobiographies and biographies of some of the genre's biggest names, including Bruce Springsteen and Patti Smith. And the stunning book covers double as home décor.
2. The Bitter Housewife Cocktail Bitters Set of 3, $54
For the guy who loves a good cocktail but doesn't want to spend an hour making one, a set of three small-batch bitters (orange, cardamom and bull run barrel-aged) add major flavor to spirits with just a couple of drops.
This lightweight cooler comes along with us on a lot of our hiking trips: it's easy to carry and perfect for stashing snacks (and a beer or two).
4. The Beardly Man Gift Box, $50
Jared loves The Beardly Man's Beard Balm and Beard Oil for keeping his hair healthy and in place. Give 'em to your favorite guy with facial hair—they'll thank you for it.
5. William Murray Golf Shorts, $74
For the golfer who doesn't take themselves too seriously, these shorts emblazoned with beer labels and logos will not only help them have fun on the links, but stay comfortable with moisture wicking and an elastic waistband.
6. Lululemon Commission Pant Relaxed, $128
Sweat-wicking pants modeled after a classic chino toe the line between athleisure and suiting. 
My mom bought this for my husband one year ago and it still keeps him entertained. The globe is extraordinary: Hidden solar cells use ambient light for power, while the earth's magnetic field provides the necessary torque for the globe to rotate on its own.
These ingenious knitted shoes can be worn without socks, so any guy on the go (or who loves to hike without a ton of gear) will appreciate their breathability and comfort.
I was a total skeptic about these wireless, rechargeable earpods until I wore these during my half marathon and they stayed put the whole time (and sounded great). Yes, they may seem easy to lose, but they can be tracked just like your phone.
Literary lads will enjoy this illustrated work by writer Dave Eggers, where he pairs his drawings of animals with hilariously wry text.
11. Whiskey Peaks Glasses, $65
Look closely at the bottoms of these cocktail glasses and you'll see the outlines of four major American mountains. They add a cool outdoorsy touch to any happy hour or after-dinner drink.
12. Vinyl Me Please Membership, $99
Another excellent idea for music lovers: a monthly membership tailored to their musical tastes that helps them discover great new bands, songs they may not know, etc.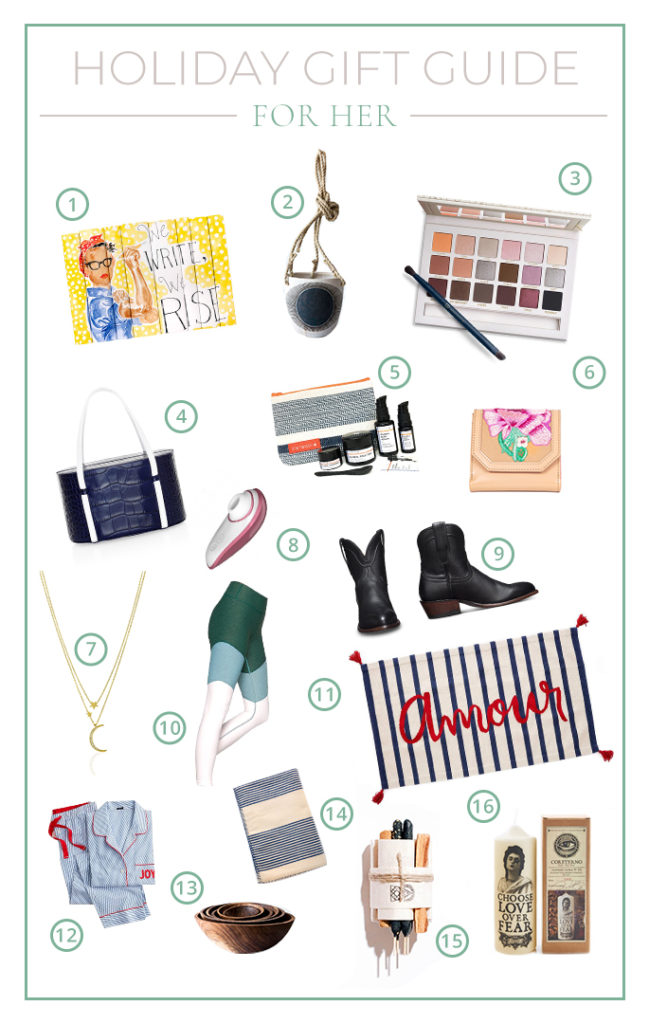 HER
This inspiring collection by female American writers includes books by Maya Angelou, Joan Didion, Carson McCullers and more.
A whimsical hanging planter will become a conversation piece for your favorite green thumb.
3. BeautyCounter Necessary Neutrals Eyeshadow Palette, $89
These rich shades are long-wearing and vary enough that you can play it natural during the day or go a little bolder for New Year's parties and the like.
4. Pop & Suki Lolita Bag, $375
Perfect for on-the-go moms who need a little bit of extra room for all the essentials but still wants to look stylish. I like that it's a classic with a twist.
5. Lina Hanson Global Travel Kit, $140
I never leave home without Lina's ethically sourced eco-aware skin-care line. This kit gives you a special sample of all her beauty essentials.
6. Blumera Poppies Beige Wallet, $550
A meaningful splurge. I love the colors and the story behind this beautiful wallet. The stunning hand embroidered poppy flowers were inspired by a painting made by the designer's late mother.
7. Melinda Maria Fairbanks Crescent Necklace, $78
A delicate layered necklace that anyone from your tween niece to your great-aunt will adore.
8. Babeland Womanizer Vibrator, $99
The gift every girl wants but is too shy to ask for.
9. Tecovas The Penny Boots, $195
This Austin-based company makes high-quality handmade cowboy boots that are chic without breaking the bank.
10.Outdoor Voices Leggings, $85
I can't say enough about these leggings: how great they make your butt look, how they effectively wick away sweat, and how the waistband pocket is actually comfy enough to hold your keys and other must-haves. Did I mention I like the graphic pattern, too? Workout pals will love them.
Give a friend who's redecorating a punch of Frenchified glamour with this chic rug.
12. J.Crew PJs, $98
Who doesn't love a pair of super-comfy monogrammed pajamas? These are a go-to for pretty much every lady in my life who deserves to sleep beautifully.
13. Peterman Walnut Wood Bowls, $58
For the culinary wizards in your life, these unique walnut bowls—made from fallen trees—are as beautiful as they are functional.
14. David Fussenegger blanket, $165
A cozy blanket with classic navy stripes is a fool-proof gift.
15. Bath and Meditate Bundles, $39
These incense bundles feel like such a treat in the chaos of the holiday season. A good reminder to slow down and live in the moment.
16. Coreterno Love Candle, $40
I love the unique art and messages of empowerment on these pillar candles—perfect for a friend who is taking a big personal leap in the new year.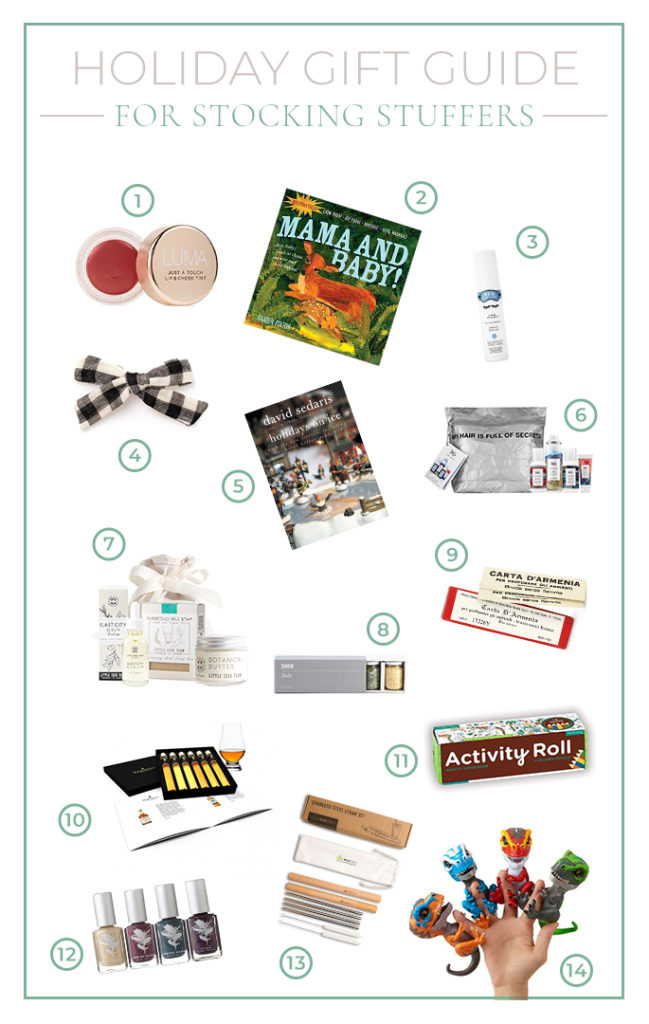 STOCKING STUFFERS
Makeup that pulls double duty is a godsend for busy moms, and this high-moisture tint adds a natural flush color to lips and cheeks (so we don't look as tired as we actually are).
These ingenious baby books are printed on a non-toxic material that can't be ripped, torn or punctured. And they're washable!
3. REN Sleep Pillow Spray, $25
This natural sleep aid spray not only smells great so you can sleep better, but it's packed with essential oils and antioxidants to help you wake up with beautiful, glowing skin.
4. Wunderkin Co Hair Clips, $14-28
These heirloom-quality bows are hand-crafted by a woman in the United States. They're beautiful pieces that are guaranteed for life—and you may never want to get rid of them.
5. David Sedaris Holidays on Ice, $12
Few writers can make me laugh out loud like David Sedaris. His collection of holiday short stories is a timeless classic.
6. R+Co Time Travel Holiday Hair Kit, $39
This travel-friendly collection of best-loved R+Co products increase the odds of a good hair day wherever you go.
7. Little Seed Farm Treat Yourself Gift Set, $37
I like to pick one gender-neutral present to always have on hand to give to people in a pinch—like the kid's teachers, babysitters, unexpected guests, etc.—and this sweet organic skincare set is my go-to gift this year. I love that they're made with goat's milk and herbs from the family farm.
Shed is one of my favorite spots in the charming Sonoma town of Healdsburg. Their salt blends, in flavors like Shiso and Black Lime, can elevate any dish—from fish and chicken to cocktails or even ice cream.
9. Santa Maria Novella Burning Papers, $28
Sort of like sageing a new house, there's something reinvigorating about the ritual of burning papers. These warm-scented papers are meant to purify the air or scent drawers.
10. Whisky Tasting Collection, $41
Whisky aficionados will love this tasting set, which ranges from modern Japanese to classic Scotch.
11. Mudpuppy Dinosaur Activity Roll, $10
An activity roll that goes on for six-plus feet will keep kids occupied for hours.
12. PritiNYC Luxury Vegan Nail Polish (kid safe), $45/$25
These vegan nail polishes are kid-friendly, so little ones can get in on the finger- and toe-painting fun.
13. Stainless Steel Straw Set, $25
These stainless steel straws are chic way to encourage friends and family to use less plastic.
14. Fingerlings Dinosaurs, $10
Dino-loving little ones will get a kick out of these innovative, interactive baby T-Rex that roar and purr when they react to touch and sound.