Every week, Farmhouse Delivery brings fresh produce right to our door. I love knowing that our fruits and veggies come from a local farm, but sometimes, like if we are out of town or the kids have a bunch of after-school activities, we have a hard time eating everything they deliver. Recently, we had an abundance of apples and pears sitting in our fridge for a month. The first idea that popped into my head was to use them to make applesauce or pie, but I wanted to try something new. So, I reached out to my chef friend Brock Lane for ideas. He suggested pickled apples and pears. I was intrigued.
I loved the aesthetic of the fruit sitting pretty in a glass jar and that it's a great way to repurpose and preserve produce that might otherwise go to waste. But I'd always thought of pickling vegetables—not fruit. He assured me it was easy and tasted amazing, so I figured I'd give it a shot!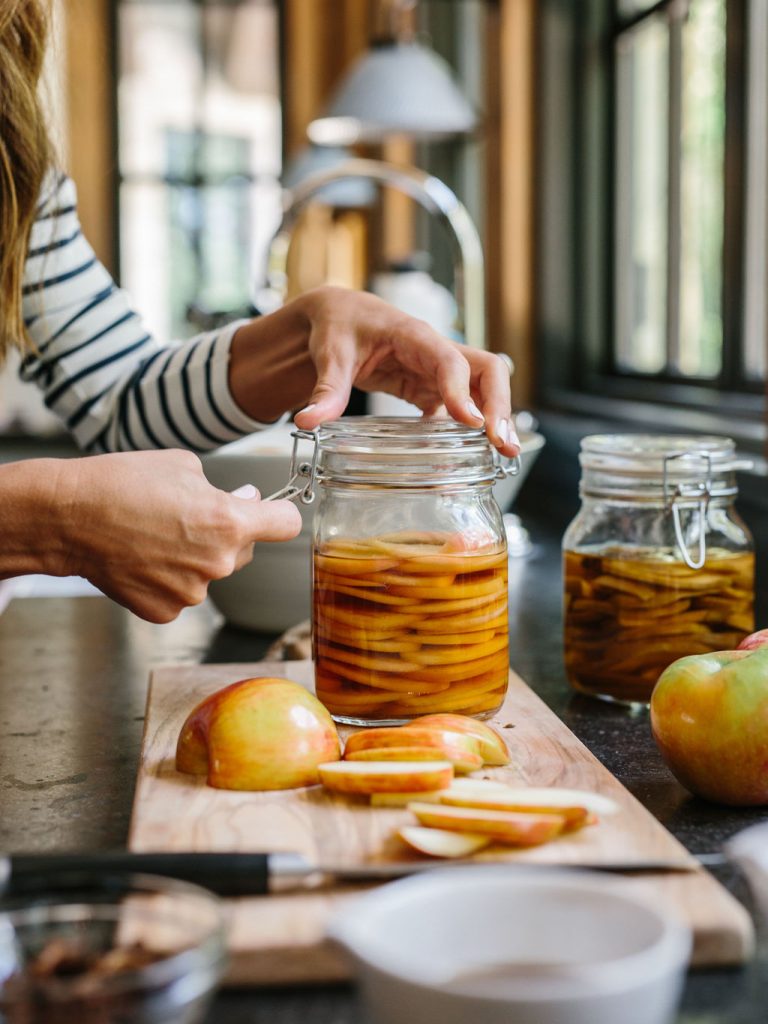 Coincidentally, my friend Virginia had recently raved about a great pickled apples recipe from Food52 that was quick and easy, so I figured I'd use that but also try a second version with pears. (I couldn't mess things up too much by doing that, right?) Turns out that the results were both tasty and beautiful, so it was a win all around. According to Brock, pickled fruit is awesome in salads or in tarts, where it brings an extra zing. I can't wait to try both!
Have you ever pickled fruits? If yes, let me know how you use them in the comments. And read on for the full recipe.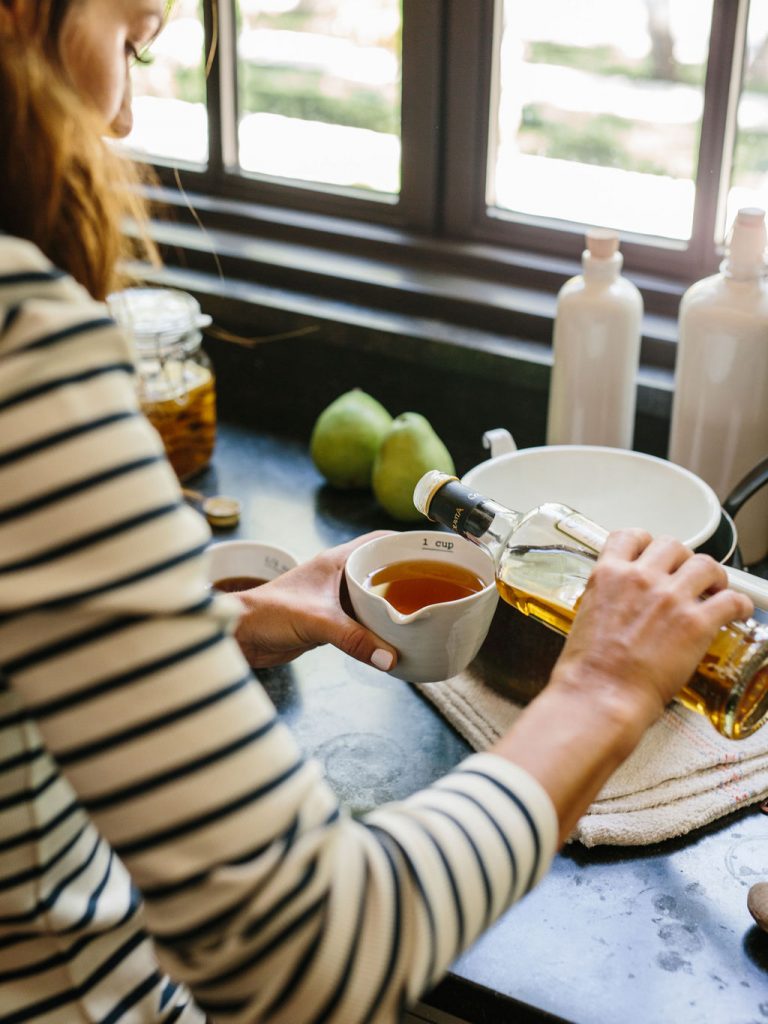 What You'll Need
1 cup water
1 cup white wine or champagne vinegar
1/2 cup maple syrup (plus more if you like things sweet)
1 1/2 teaspoons pickling spice
1/2 teaspoon kosher salt
2 large Pink Lady apples
2 large Anjou or Bartlett pears
2 to 3 star anise pods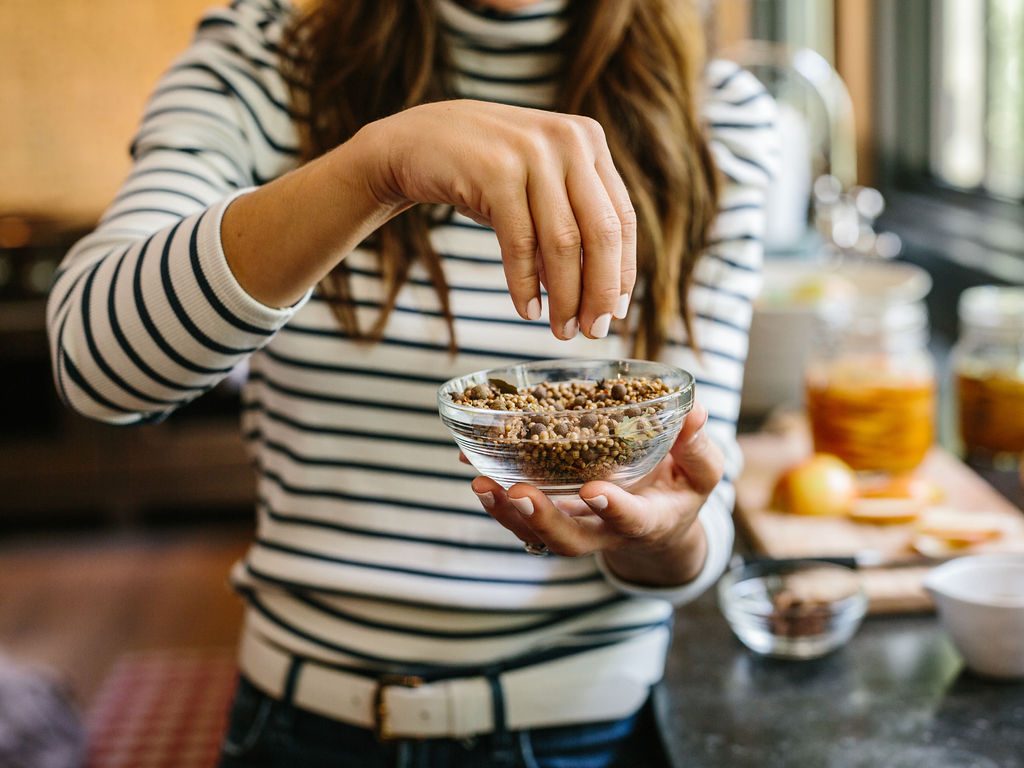 Instructions
Combine water, vinegar, maple syrup, pickling spice and salt in a small or medium saucepan. Bring to a boil, then reduce heat to low and simmer for 8 to 10 minutes. 

Use a spoon to taste brine (make sure you let it cool so you don't burn your mouth!) If you want it sweeter, add maple syrup one tablespoon at a time, tasting as you go until you find the right sweetness. Reduce heat on brine to low.

Wash and core apples and pears. (No need to peel them.) Cut each piece of fruit down the middle length-wise, then cut each half into thin slices.

Place the slices into a quart glass measure or similar sized bowl. Add star anise pods.

Pour brine through a strainer into the bowl, then cover with plastic wrap until the apple slices and brine come to room temperature. 

Once at room temp, layer the apple and pear slices into a pint glass jar. Place star anise pods in the middle of the apples and pears and fill the jar with brine. Discard any extra brine. 

Enjoy the fruit slices with cheese or meats or on a sandwich. They store for at least a week in the refrigerator

.




SHOP THIS POST