I have this thing with tablescapes. I think it's because they involve all of my favorites: style, food, wine and good conversation with family and close friends. We usually host Thanksgiving festivities at our house, but will be out of town this year. While it's a huge relief to not have to deal with the stress of cooking, I was a little bummed to not have an excuse to put together a beautiful table. So, I decided to throw a little "Friendsgiving" instead and wanted to share it with you here, along with a couple other fun ways to gather around the table this Turkey Day.
None of the setups are particularly fancy. I find that a more casual table makes me a better host. A super formal vibe just makes me anxious because I feel all this pressure to make everything perfect. I prefer mismatched dishes and unexpected items that can spark conversation and feel homey. Keeping the table relaxed makes me feel more relaxed, and I like to think that it creates a more welcoming vibe for my guests too.
I hope one (or all) of these tables inspire some ideas for your own feasts next week. How do you and your family dress the table for Thanksgiving? I'd love to hear in the comments below!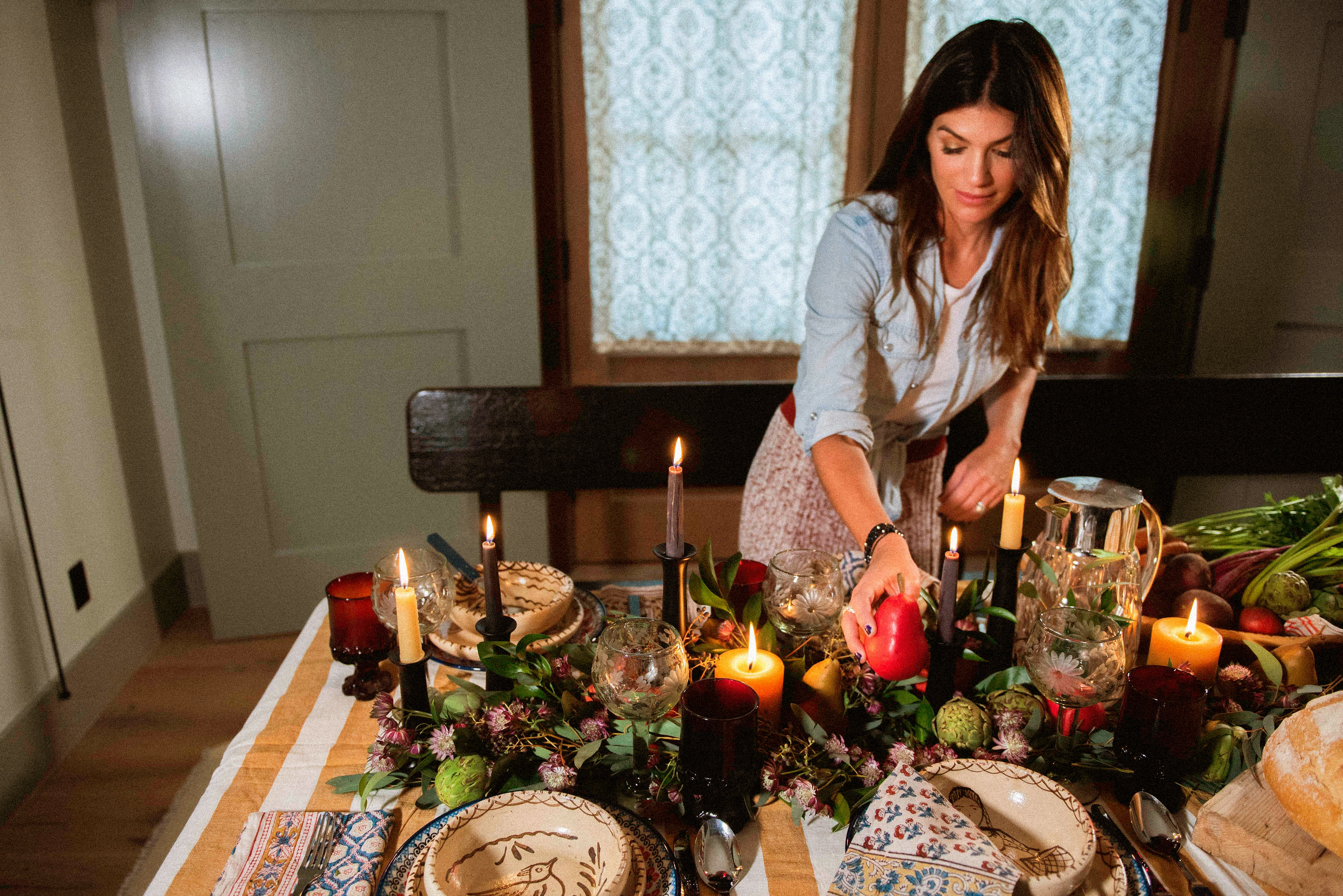 A Rustic Bohemian Celebration
For my Friendsgiving dinner, I used earthy tones and textures to create a cozy and eclectic table. The saffron striped tablecloth anchors the look and helps distract from spills, while the tight floral pattern on the traditional eastern European porcelain plates pairs really well with the simple graphic of the Mexican pottery.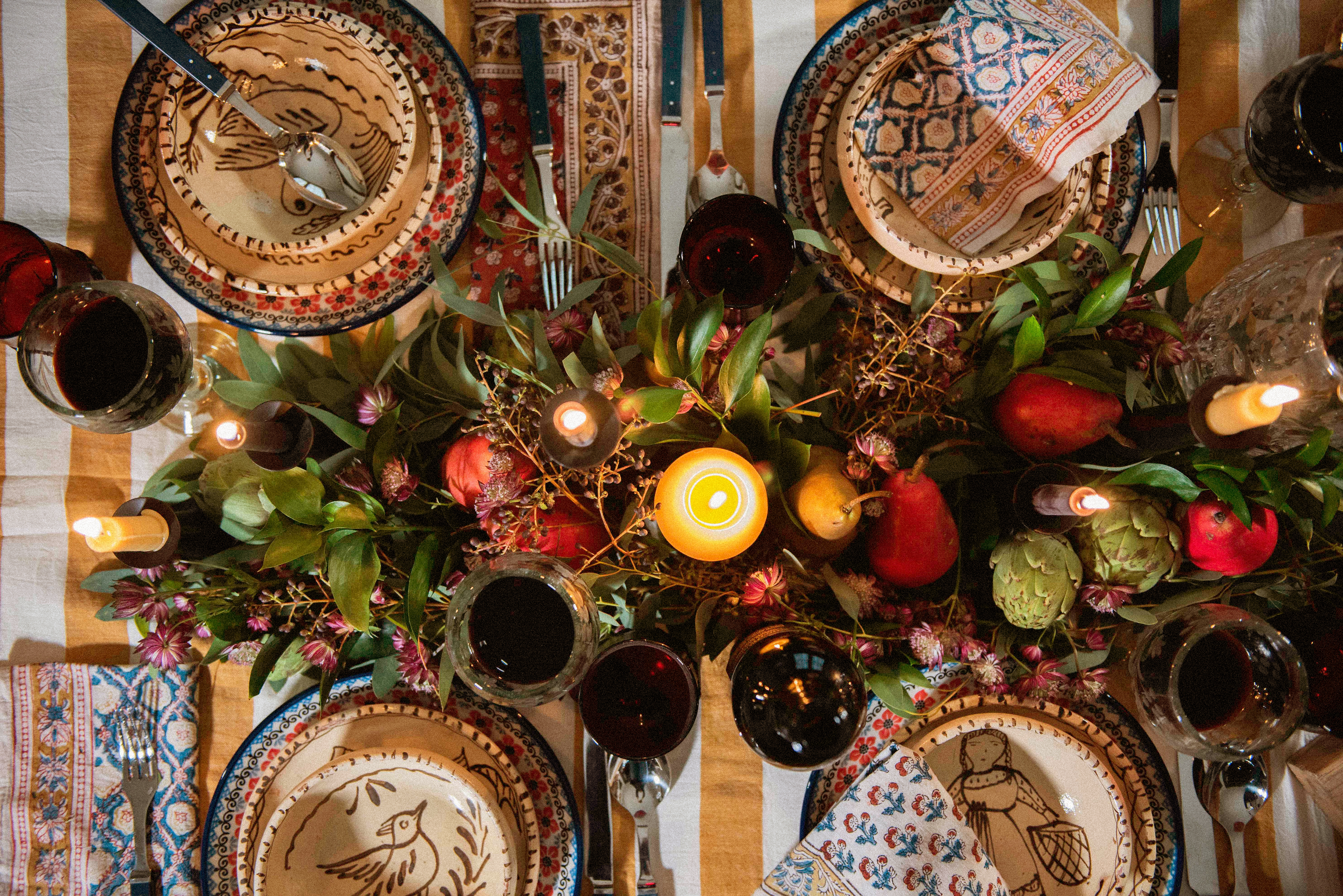 The shorter red glasses were formerly vessels for church votive candles I found on my travels to Latin America. And the clear wine glasses are from our amazing local hardware store, Breed & Co.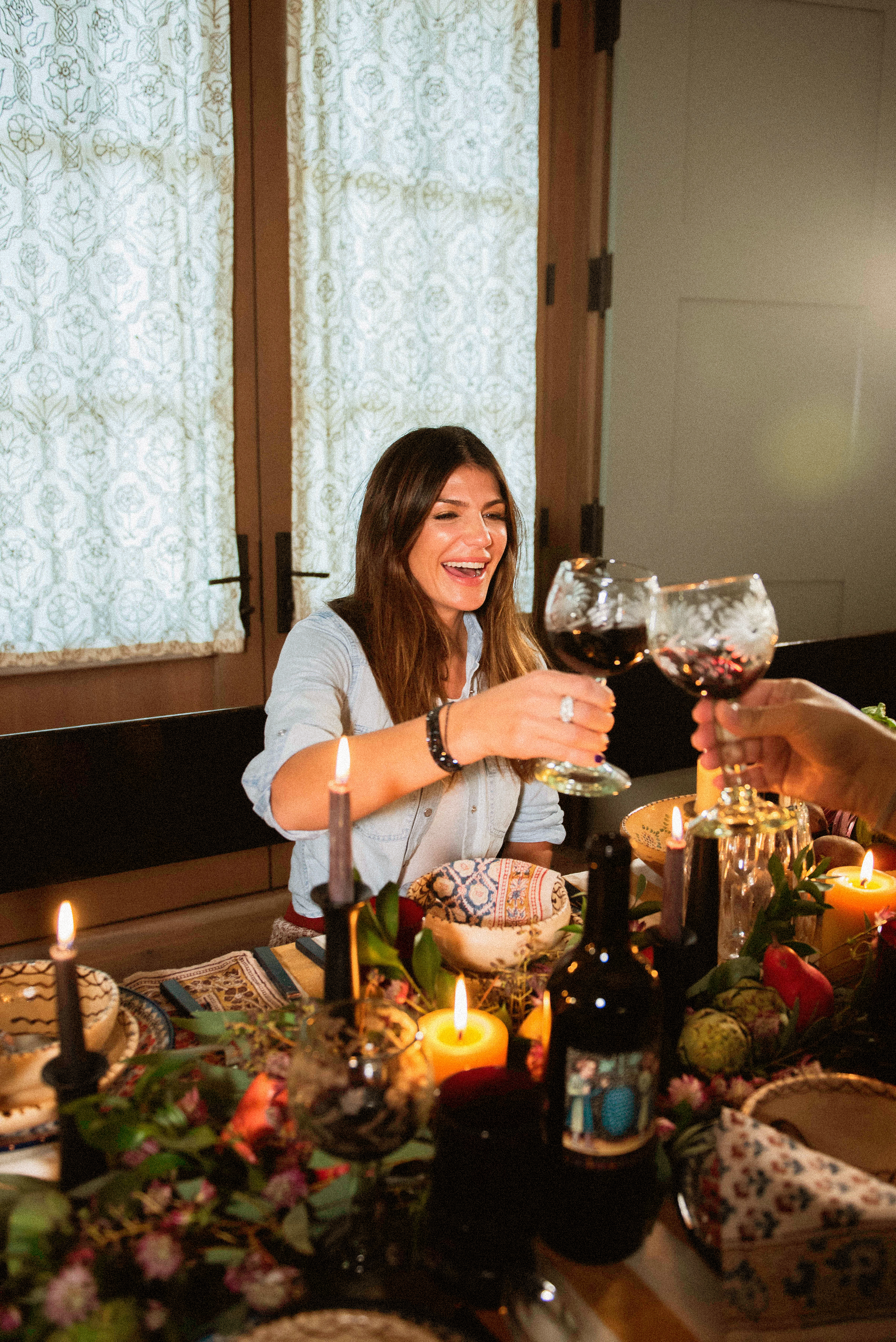 Fresh produce and mismatched candles make for an easy centerpiece.
Thin cotton bandanas create a fun alternative to regular napkins. Beadboards replace traditional trivets, which are great for transporting bowls and platters to and from the kitchen. Bonus: The greasier they get, the better the patina.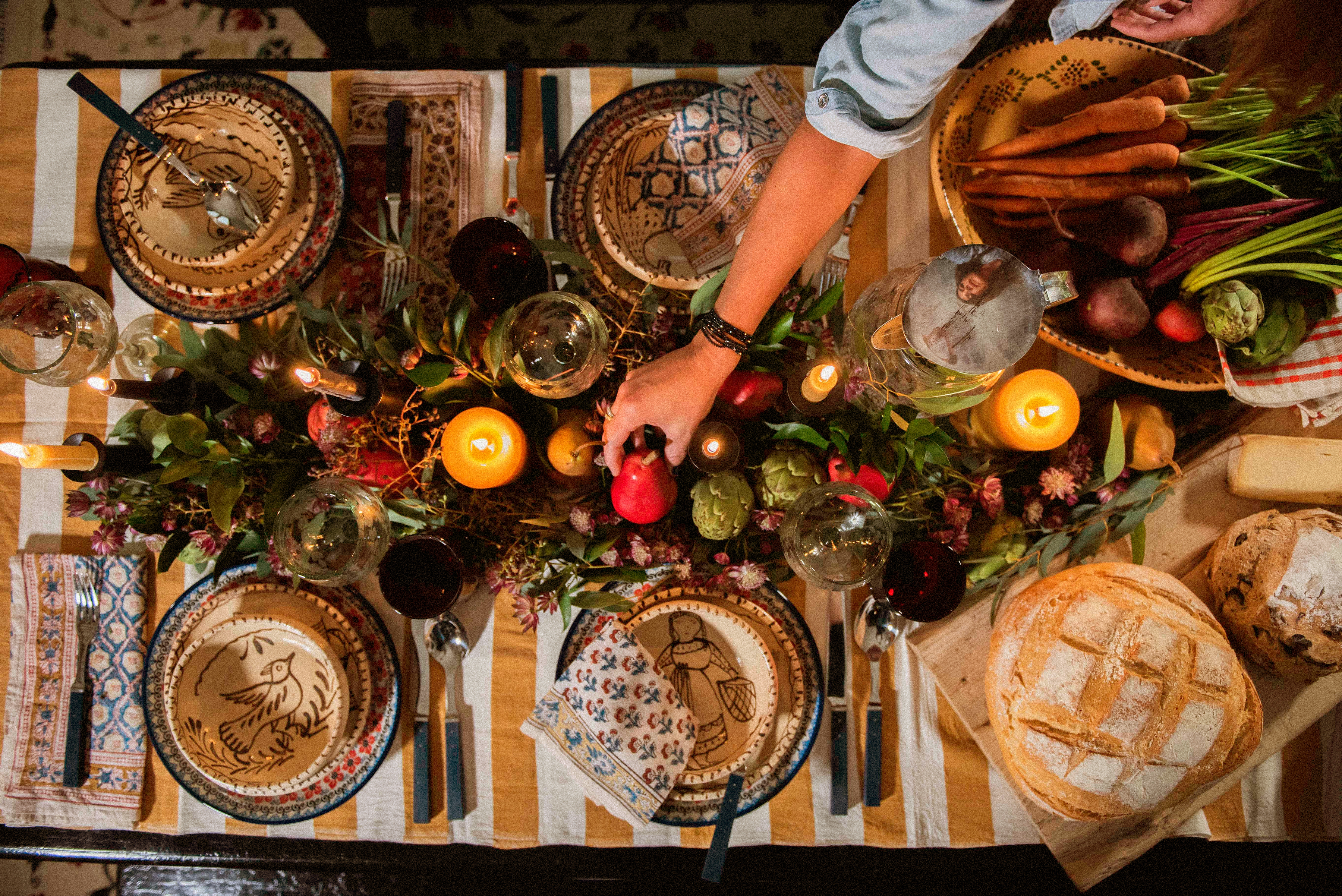 Get the Look: Heather Taylor Home tablecloth ($186); or this Primitives in Buffalo Check Tablecloth ($29.99); Acacia Wood Cutting Board ($60); my Saga Dinner Plates from Anthropologie (my favorites, $72); also, some of our Mexican pottery: these simple ceramic plates, or these ones, hand-fired and painted; and, of course, a centerpiece dish with the same consistent pattern.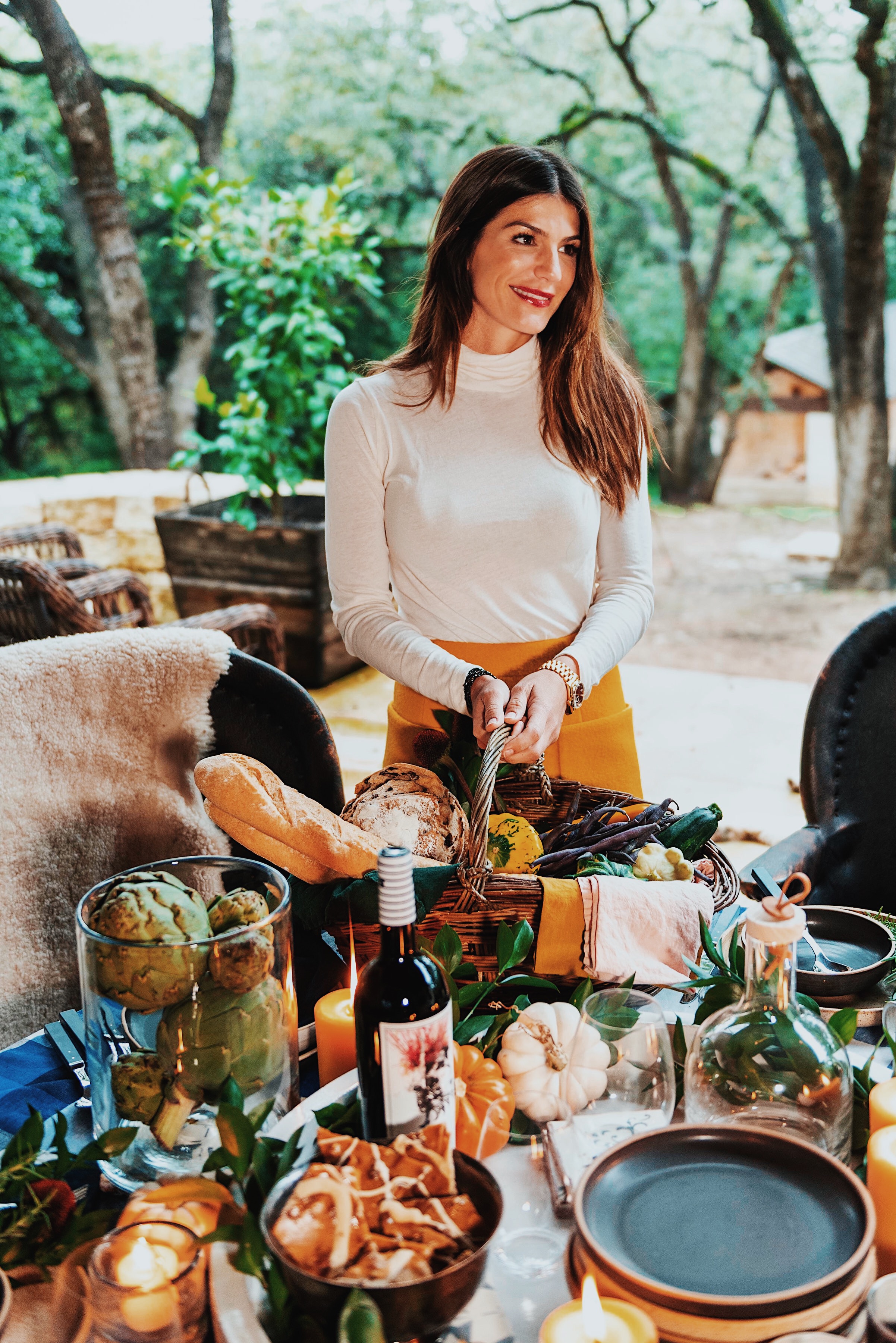 An Al Fresco Fête
If you live in a place like Austin, the weather might just still be warm enough to eat outside come Thanksgiving. I love that the blue plaid tablecloth evokes the warmth of the fall holiday without the standard orange-and-brown tones and turkey plates.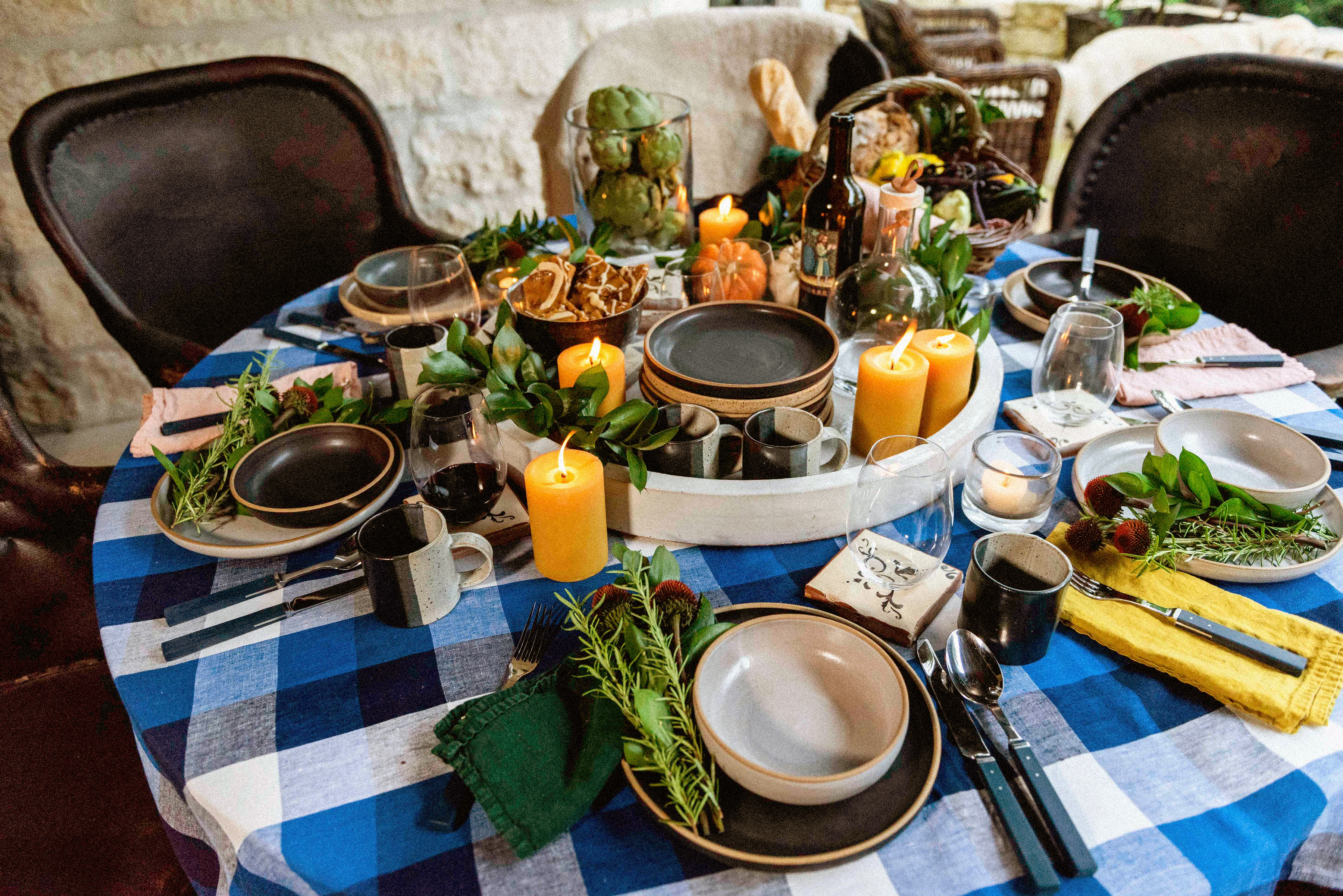 Napkins in rose pink, saffron, indigo and pine add vivid pops of color, while solid-colored ceramic pieces keep it clean and contemporary. These dishes are made locally here in Austin by Era Ceramics and are available through a wonderful kitchen shop called Kettle & Brine. The turned-up lip on the plate is one of my favorite details; it serves as a nice bumper for the kids' wandering veggies and sauces.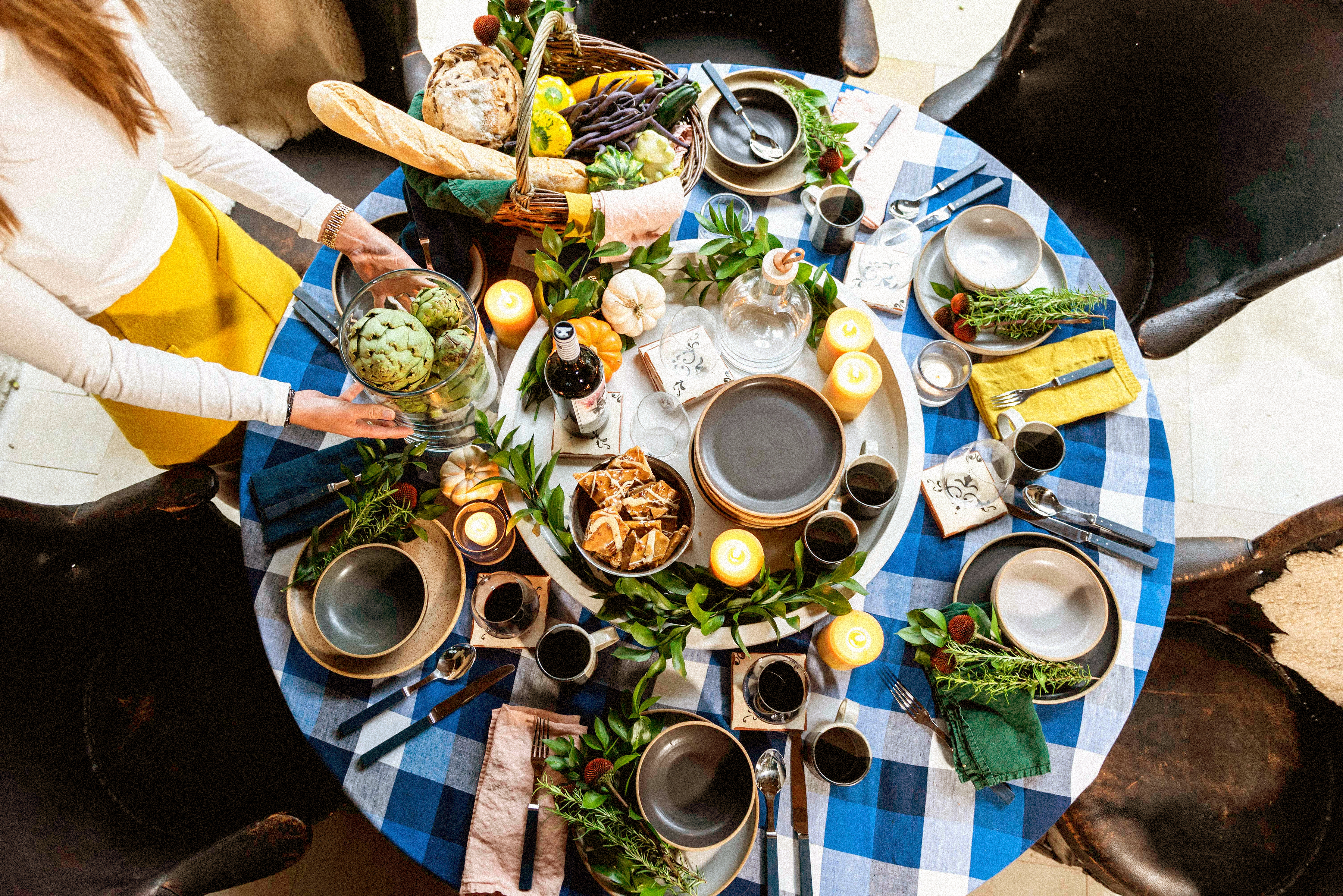 Stemless glassware is easier to control when conversation becomes animated outside, and mugs for something mulled are a must!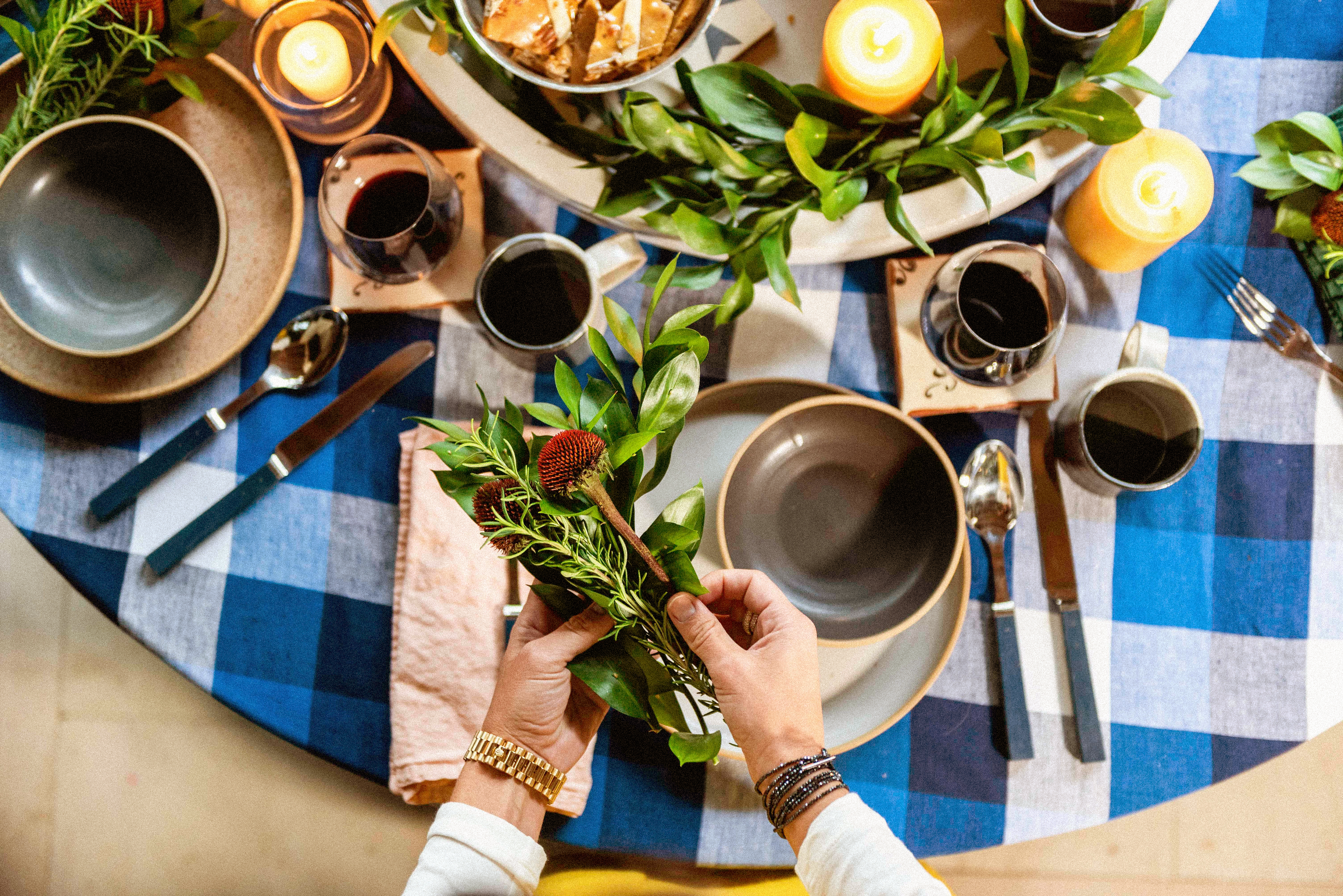 I always like to throw in something "borrowed" to add character. These trivets and coasters are made of leftover tiles from our home renovation. The gathering basket used as a serving piece also keeps things cozy, and it's perfect for trips back and forth to the kitchen. Simply place a dishtowel or cloth in the bottom to bring bread and rolls (or Thanksgiving tamales in Texas!) to the table.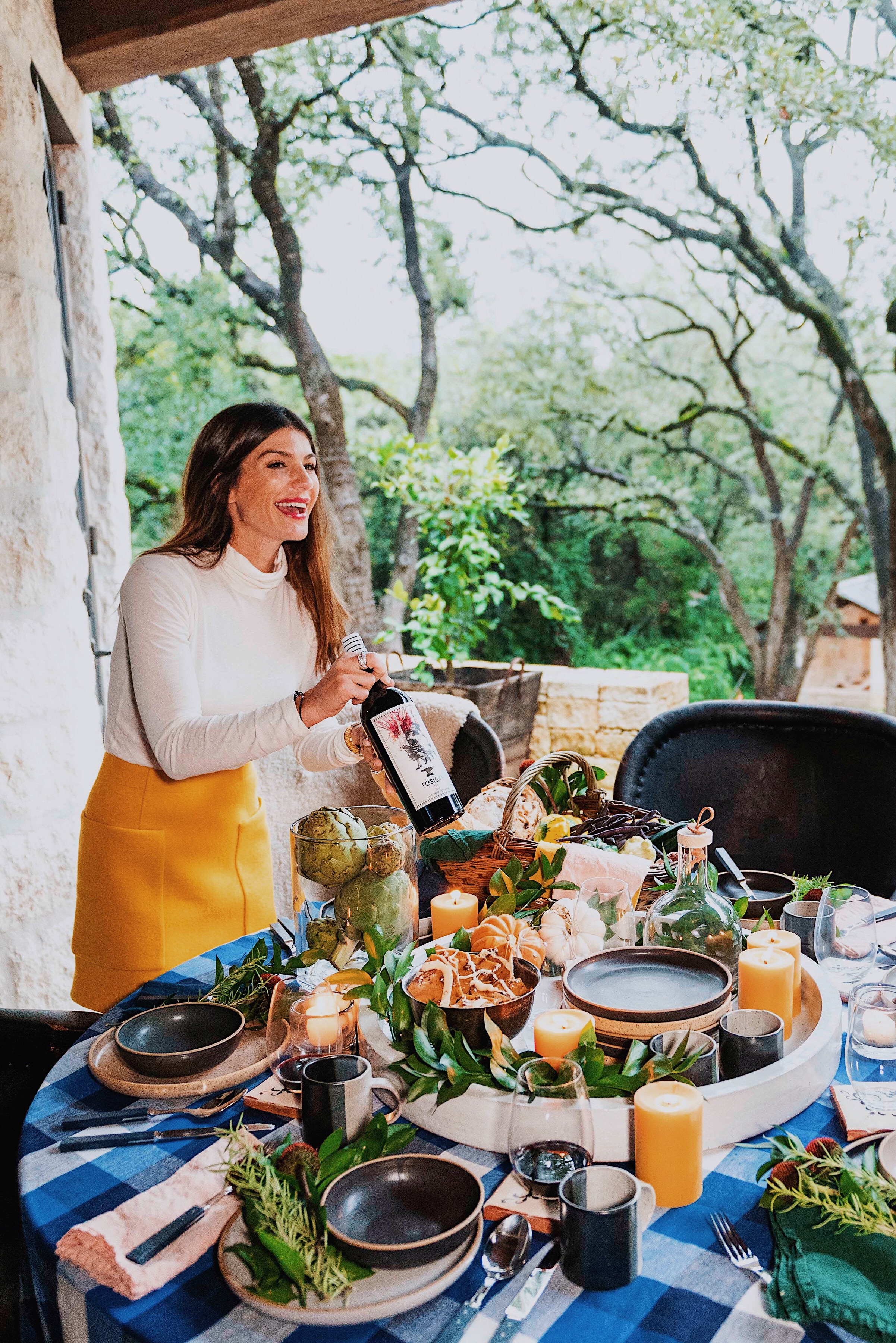 Get the Look: Linge Particulier tablecloth ($250); Crate & Barrel Mercer Dinner Plates ($45); Hollywood Homestyle coasters ($20); Riedel Stemless Glassware ($24); Large Woven Basket ($14)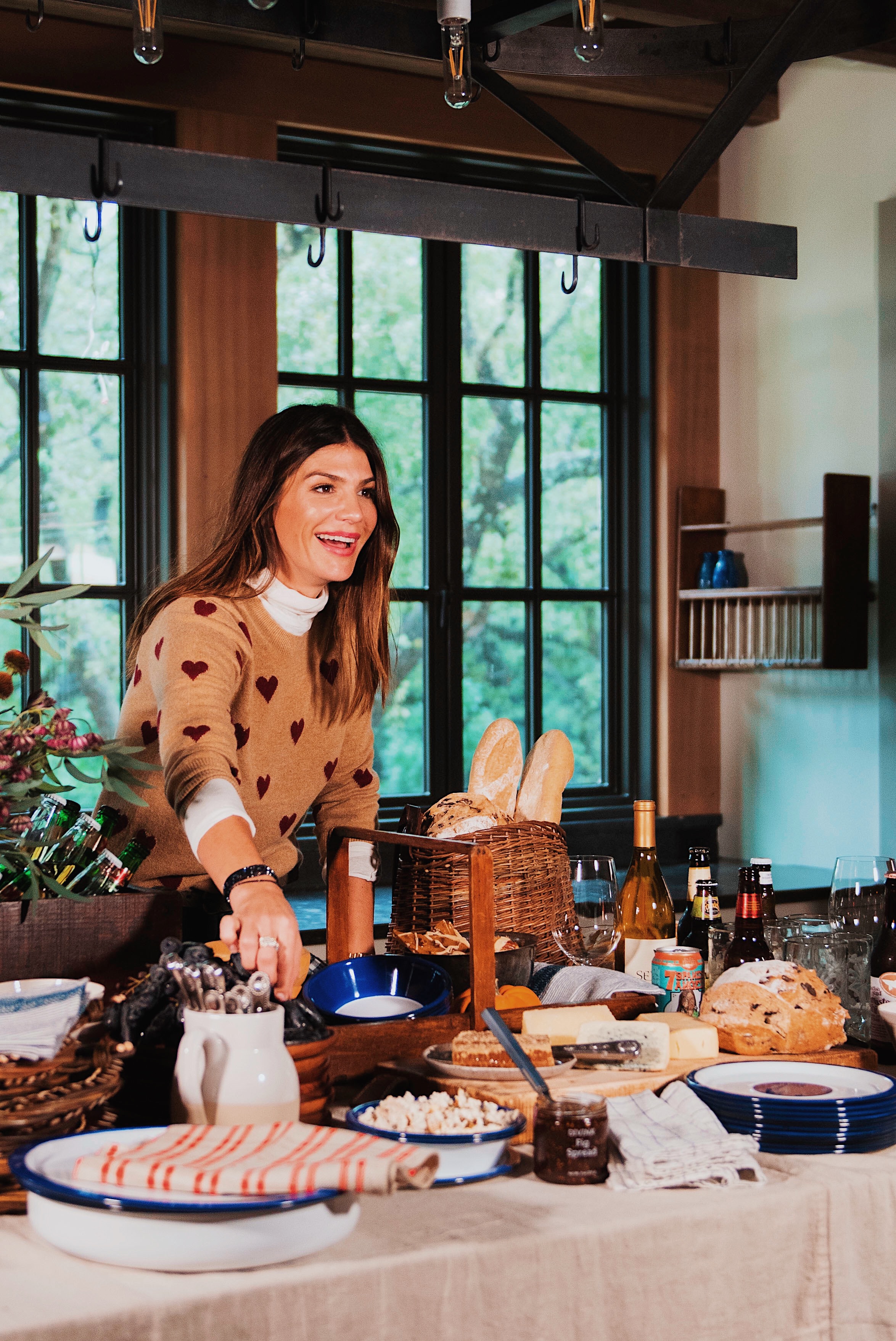 Kitchen Island Casual
Let's be serious. Most of the meals my family consumes around Thanksgiving revolve around football—particularly the Dallas Cowboys. I usually set out a big buffet of leftovers on the kitchen island and everyone grazes all day while watching the games.
Since eyes will only be focused on food in between plays, I abandoned a tablecloth altogether for a cotton painters' drop cloth. Once you've washed and dried them, they're wonderfully soft and have a beautiful rustic look.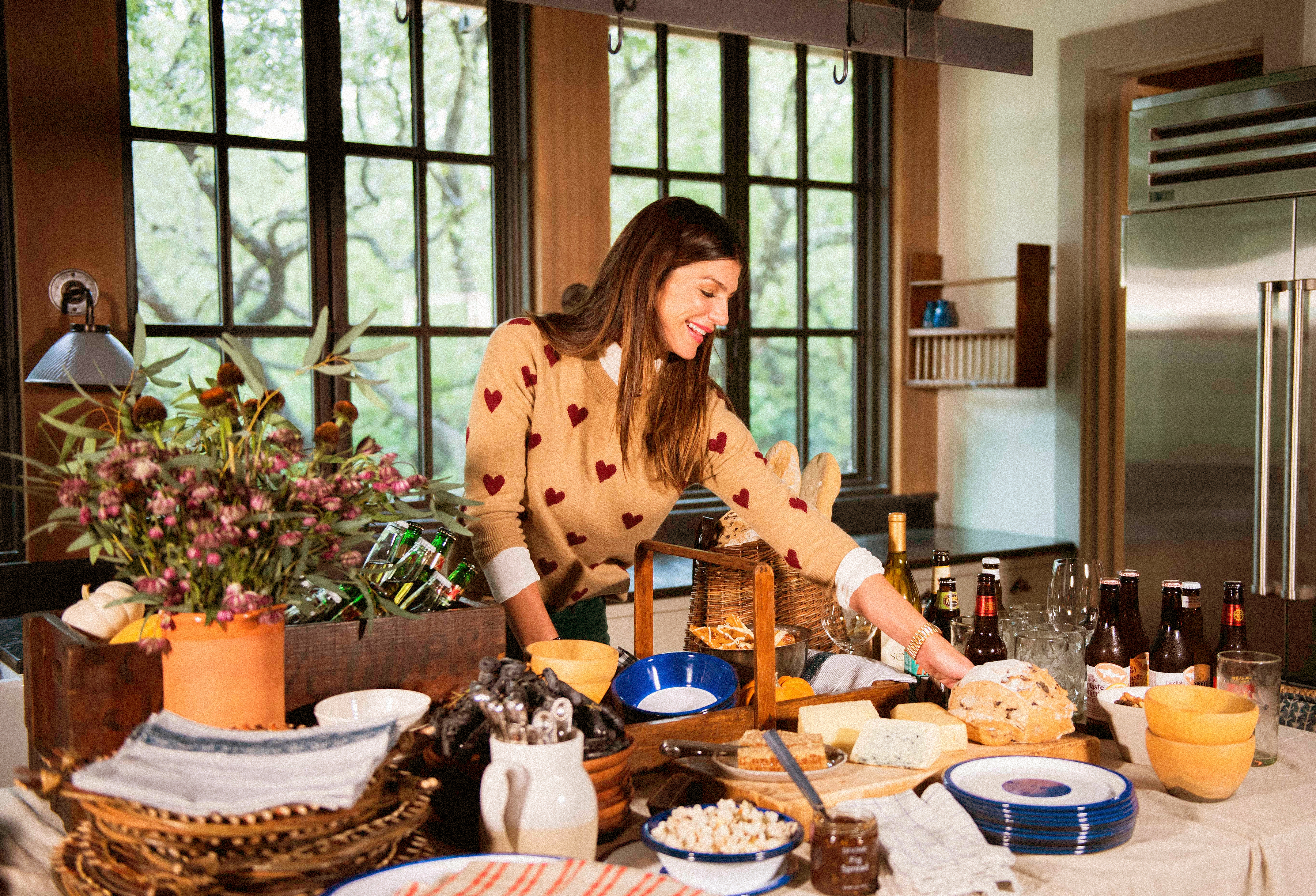 Arranging dishes together in stacks makes for easy access. These are a mix of painted enamel along with wooden plates and bowls. In other words, they're unbreakable. The likelihood of plate toppling increases with the TV—and the cousins rough-housing—so I try to head off a broken dish cleanup in advance.
I put twice as many napkins out as I would if I was serving from the kitchen. Everyone manages to misplace them en route to the couch. And since we're not eating around a table, I set out placemats to be used on laps. It keeps the connection to a traditional place setting alive while clearly abandoning the confines of the table!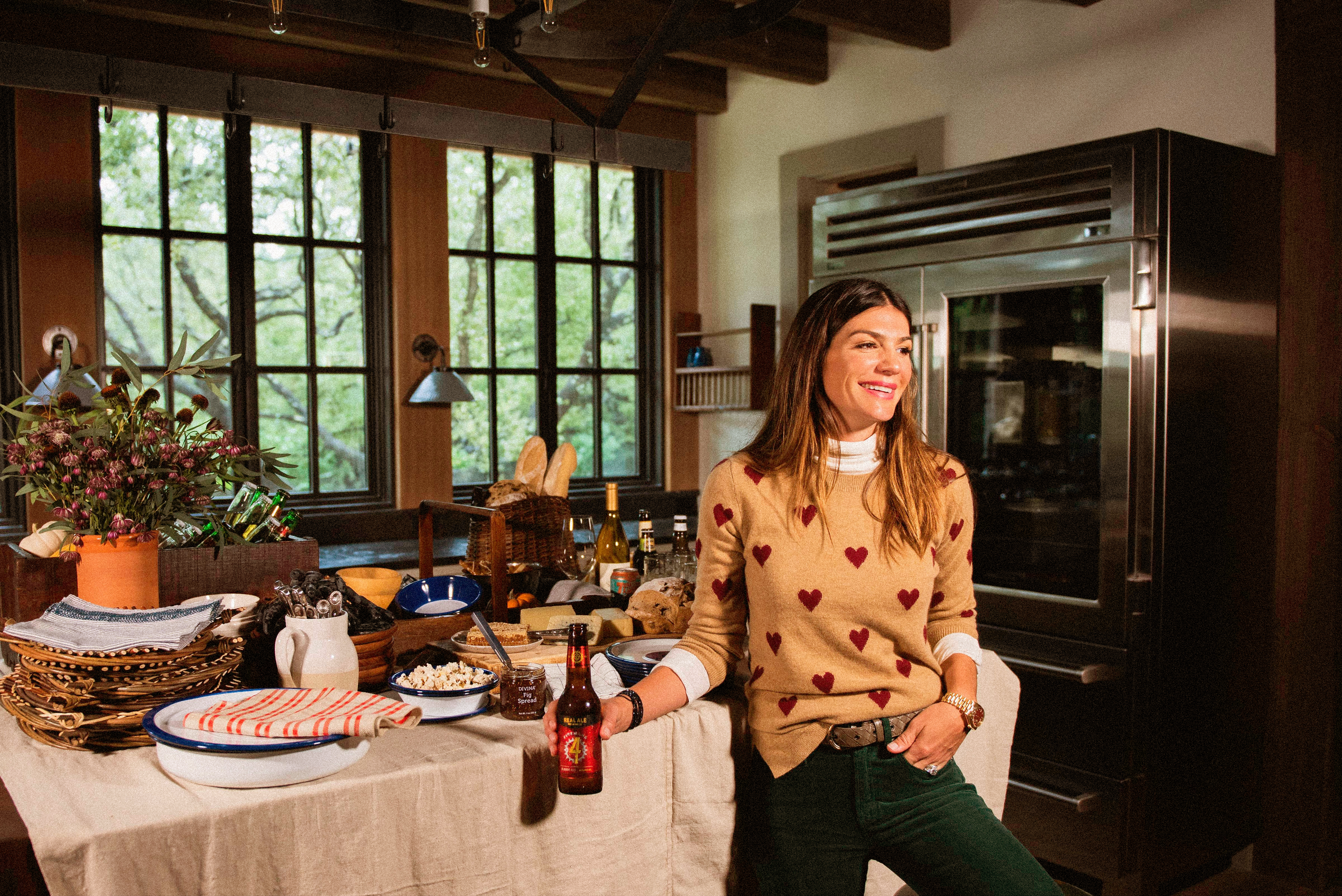 Get the Look: Canvas Drop Cloth ($11); Hearth & Hand Enamel Plates ($16); H&M Wooden Bowl Trio ($17); Pier 1 White Checkered Kitchen Towels ($20); Anthropologie Aviary Napkins ($12); Falcon Enamelware (mmm… those winter blues!); REI Enamelwear.
SHOP THIS POST