Pools, lakes, swimming holes, rivers, beaches, waterparks. Summertime, especially in Texas, means being around water constantly. I love it, but it's extremely nerve-racking with three kids all wanting in on the action and water safety is always on my mind. According to the CDC, drowning is the No. 1 cause of unintentional death for children under 4 and a leading cause of death for ages 5 to 14. It's every parent's worst nightmare. And it's especially scary because drowning can happen so quickly.
Since we have a pool, water safety and teaching our kids how to swim has been a top priority. Tom and Shep had extensive swim lessons when they were younger, and this summer was 2-year-old Odette's turn. I took her to Gwen Hurst, a swim instructor for 31 years, and let's just say that Gwen's method is intense. She teaches a survival method, where kids not only learn how to swim but also how to get to the side of the pool or the steps. I've definitely had to put on a brave face during Odette's lessons—as Gwen says "If mom freaks out, kids freak out."—but after just about a week, Odette is so much more confident in the water. And I'm confident that she can float on her back with help, and jump into a pool and swim to the edge to pull herself out.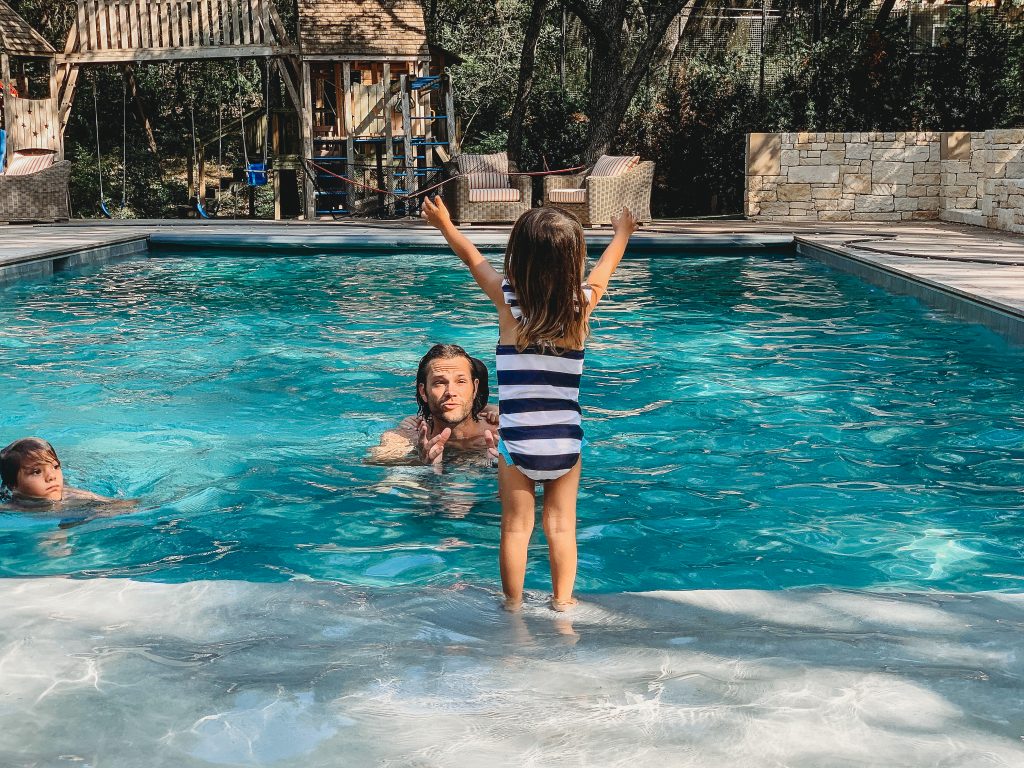 While not every kid would respond positively to intense lessons like these, Gwen has some great tips for helping keep all kids water safe…
START 'EM YOUNG
"The younger you teach them, the faster they learn," says Gwen. "In my experience, first-born children are more cautious, so you can start with them when they are 18 months to 2-years-old. Second kids are usually more active because they are trying to keep up with their big sibling, so I start them as early as a year."
THINK BACK
"When kids fall in, the last thing they see is the opposite side of the pool—which is too far to swim to," says Gwen. "They'll head that way unless they've been trained not too, so turning back to the wall or stairs to get to safety has to be an automatic response."
KEEP WATCH
As many as 69 percent of drownings among children age 4 and younger happen during "non-swim" times, when they are not expected to be in the water. To prevent a child from slipping outside unnoticed, keep all doors locked. Install pool fences, child gates and other barriers for added protection. "It's a misnomer that drowning is a loud thing," warns Gwen. "When you fall in the pool, it's very silent." Designate a non-distracted adult to be the official water watcher to ensure everyone stays safe.
PRACTICE MAKES PERFECT
With Gwen, each session is four days in a row for 10-15 minutes at a time. The first two days are about getting them used to the water. "We work on the basics of swimming, getting them to swim to the steps and hold onto the sides of the pool," says Gwen. "Then the third day they jump in on their own and practice turning around and swimming back to the side or steps."  On the fourth day, I jumped into the water to practice with Odette and Gwen. "The only way it works is to have consistent practice from parents," says Gwen. "Once kids can move in the water, the confidence they gain is one of the most beautiful and transformational things I've seen. And that confidence morphs into all other areas of their lives. Swimming is a life skill that saturates everything they do."