I have to be honest: I haven't always been so passionate about voting. While I proudly cast my vote in the 2016 presidential race, there have been other elections—particularly midterm elections—when I didn't make it to the polls. I intended to, but life got hectic and I assumed everything would work out okay without me. After all, I thought, my one little vote probably wasn't going to make THAT big a difference anyway, especially if there wasn't a huge race going on.
I. Was. Wrong.  
The last presidential election was decided by only 79,646 votes in three states (to demonstrate how tiny that number is, Austin's population is around 950,000 people). And only about 58 percent of eligible voters cast their ballots. These stats shocked me. But I also understood them because I used to be one of them. It's easy to feel disillusioned by the political climate, to underestimate the power of your vote—or to assume that the midterms don't count as much as a presidential election.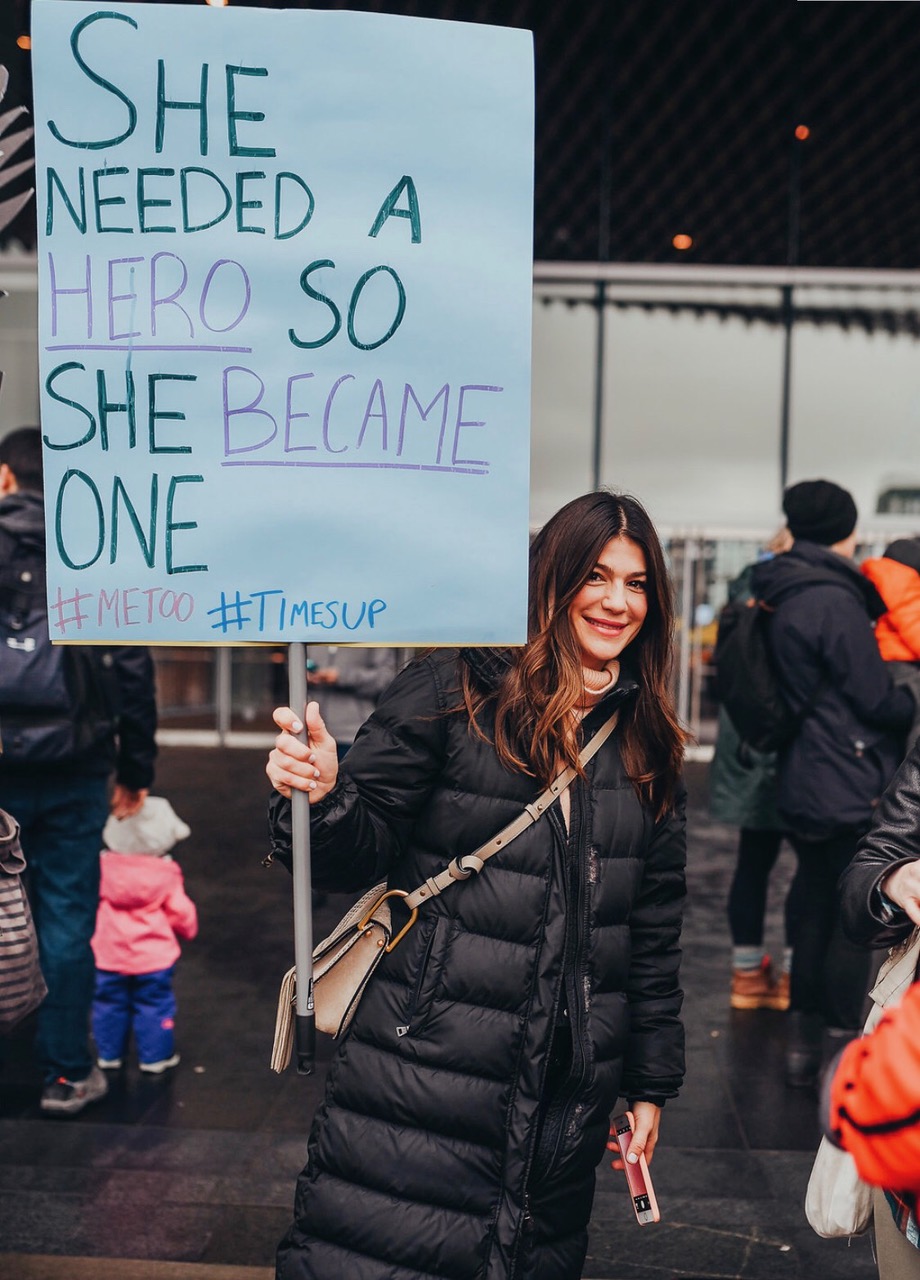 They ALL count. I was reminded of this again while watching the Kavanaugh hearings knowing that my state's senator had the power to give him a "yes" or a "no" vote for the Supreme Court. Not only do your senators and congresswomen and congressmen vote on the big issues in our country at large—like gun control, environmental legislation, tax laws and immigration—they also have sway in issues that directly affect you and your family. I'm talking about issues like health care, paid family leave and education. And in some ways, your local politicians, like council members, state senators and mayors, might have more of a say in how these affect your everyday life.  
After the 2016 election, I made a promise to myself to get more involved and to educate myself the candidates across all levels of office, because politics is about more than two parties or tax rates, it's about how I'm going to leave this earth for my children. No matter where you sit on the political spectrum, I'm confident that we share the same goal: a better community and a better future for our families. And that requires action—including our vote!
Tomorrow is THE day to get out there and make your vote count, but maybe you have some questions or concerns. Here's everything you need to rock your vote at the ballot box tomorrow:
Make Sure You're Registered
Ensure that you're able to vote tomorrow by checking your voter registration status online.
Confirm Your Polling Place
If you didn't vote early, vote.org has a handy Polling Place Locator. All you have to do is enter your address.
Find a Ride
If you don't have transportation, there are plenty of options to get you to your polling place. Ride-sharing companies Lyft and Uber are available in most places these days, and both are offering free rides on Election Day. Simply download one of the apps to find your ride.
Plenty of mass transit systems, like the Metro in Los Angeles, are offering free rides that day, as are bike sharing services like Citibike in New York City. Check your local news sites and resources to see what types of services are offered in your area.
Polling Problems?
Voter intimidation has become more of an issue in recent years, but there are also just snafus within the system that can make voting difficult. Should you have questions or problems on Election Day, the ACLU has a guide with numbers to call and resources to check if you're not on the list of registered voters, if you're turned away from your polling place, etc. If you do feel that you're a victim of voter intimidation, you can report it to The Election Protection Hotline at 1-866-OUR-VOTE or 1-888-VE-Y-VOTA.
Double-Check Your Ballot
If you've filled out a paper ballot incorrectly, simply ask for another one. If you're using an electronic voting system, review your answers on the summary printout the machine gives you after you've made all your selections. Double-check that your votes are going where you want them to!
Plan Ahead and Know Your Rights
Make sure you carve out some time to vote, whatever your regular schedule is. If you have a full-time job, you may be able to take time off from work to vote (of course, make sure you inform your boss!). Check out which states allow for paid time off to vote here. If you can't leave work, you may want to plan to go before or after.
Unsure How to Vote?
Voting can be intimidating: There are so many candidates and so many issues, and some states even have propositions to study up on. It gets overwhelming. I found this nonpartisan guide from the League of Women Voters to be especially helpful: You can see who's running in your state, and even where candidates stand side-by-side on the issues. Seeing the comparison between my candidates made my choice crystal clear: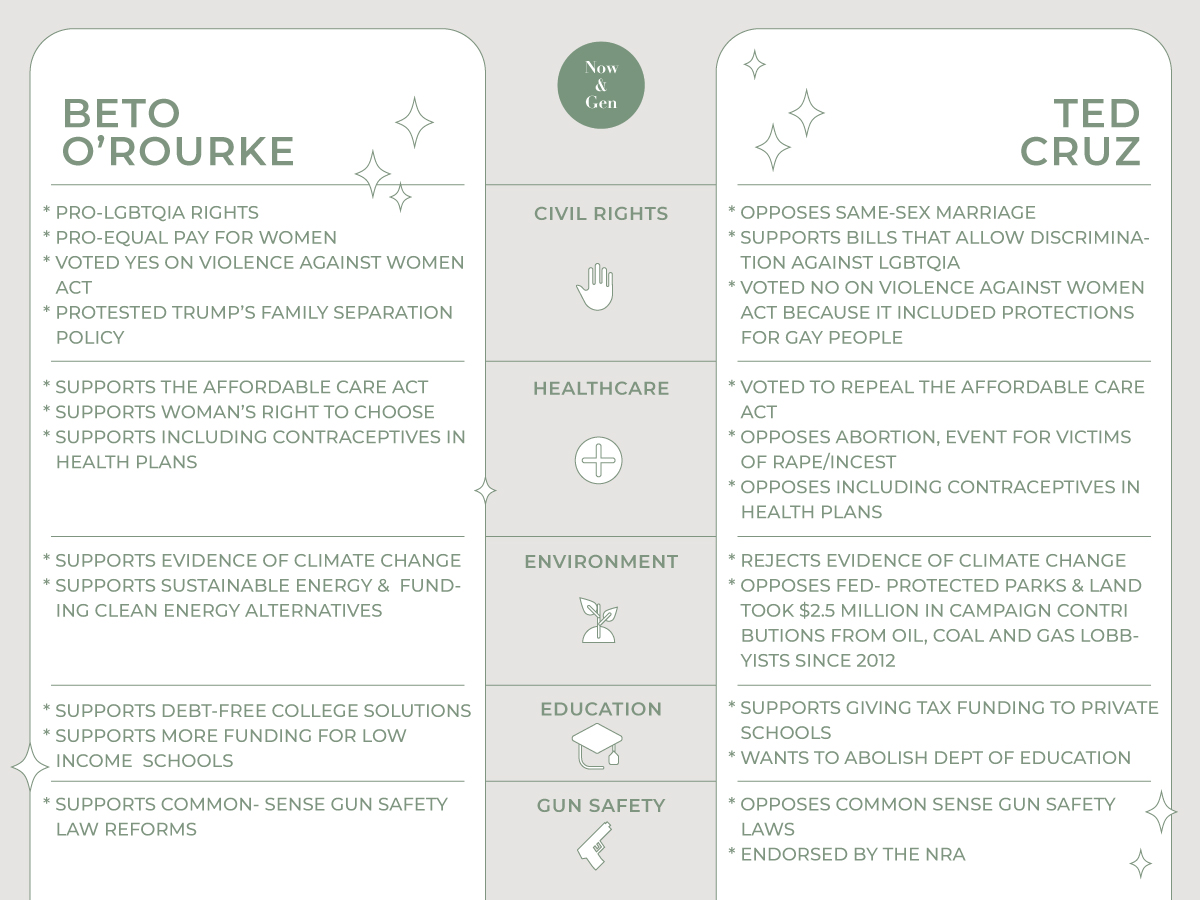 This has been a lot of information to take in, so if you're still unclear on the issues, I found this interactive feature on the midterms from the New York Times distills all the essential issues down so they're easily digestible.
Voting is an essential right for American citizens. We can't take it for granted, seeing as the future is in our hands. I hope this has helped you get inspired to use your voice and your vote tomorrow. See you at the polls!