This summer was a doozy. What I thought was going to be a chill few months at home, ended up being a whirlwind of traveling with kids—from Vancouver, Idaho and California to cheering on the US at the World Cup in France. Some of it was for work and some just for fun, but I've always been a bit of a nomad and I couldn't turn down an opportunity to get out and experience someplace new with the kids.
To be fair, traveling with kids is a messy adventure of trial and error (and more than a few jetlagged tears). Still, I love getting to explore the world with them and any added stress has always felt worth it in the end. Over the years, we've learned from our mistakes and established some "rules" of the road—both for the kids and the adults—to help make our trips go more smoothly. Read on and let me know if you have any other great travel tips to share.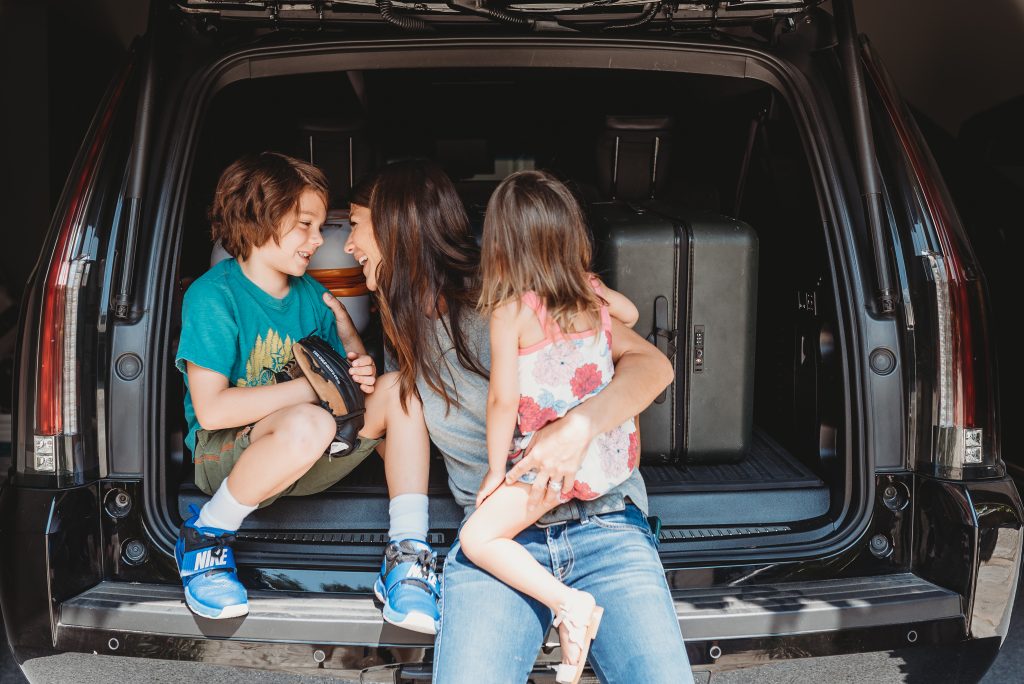 Rule #1: You Pack It, You Carry It
When you're traveling with kids, you need to bring a lot of stuff to entertain them. And, of course, mom and dad usually get stuck carrying everything and the kitchen sink. To lighten our load, I instituted this rule, and it's helped our kids be more mindful of what they are bringing with them. It also gives them autonomy and a sense of independence since they know exactly what they have and where it's located. This is especially important for Odette, who is going through a major I-wanna-do-everything-myself phase. When we travel, she has her own small backpack filled with snacks and activities that she carries. We stuff her backpack with books, dried fruit, Annie's cheddar bunnies, and string cheese, and she is a happy traveler.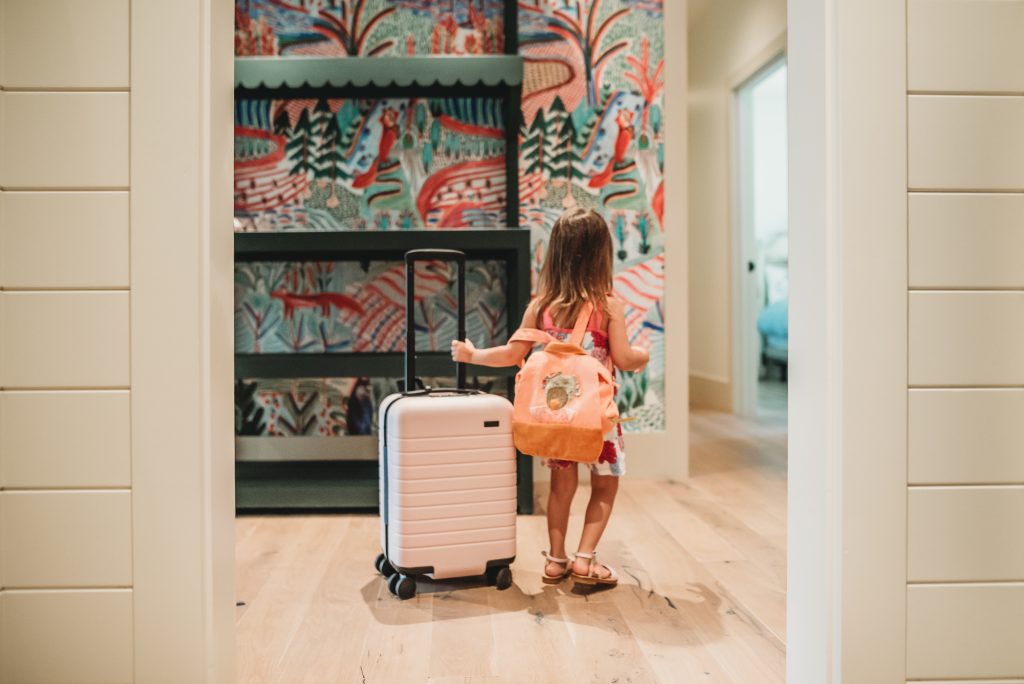 Rule #2: Arrive to the Airport Early
Since kids can't stretch their legs much on an airplane, I make sure they "get the wiggles out" before boarding. We always arrive early so they have time to run around and explore (within reason) and burn off some energy. I've even gone so far as to organize a scavenger hunt near our gate. They love it, and I love that they exercise their bodies and minds before takeoff.
Rule #3: Sweeten Them Up
While I'm typically a proponent of healthful eating, my sugar and soda restrictions pretty much go out the window when we are on the road. It's not a free-for-all by any means, but I'm definitely more relaxed than usual when traveling with kids. In France, the boys got a Coca Cola with dinner if they were good each day. And I always make sure to pack gummies and lollipops for the plane. Hey—bribery goes a long way on endless travel days!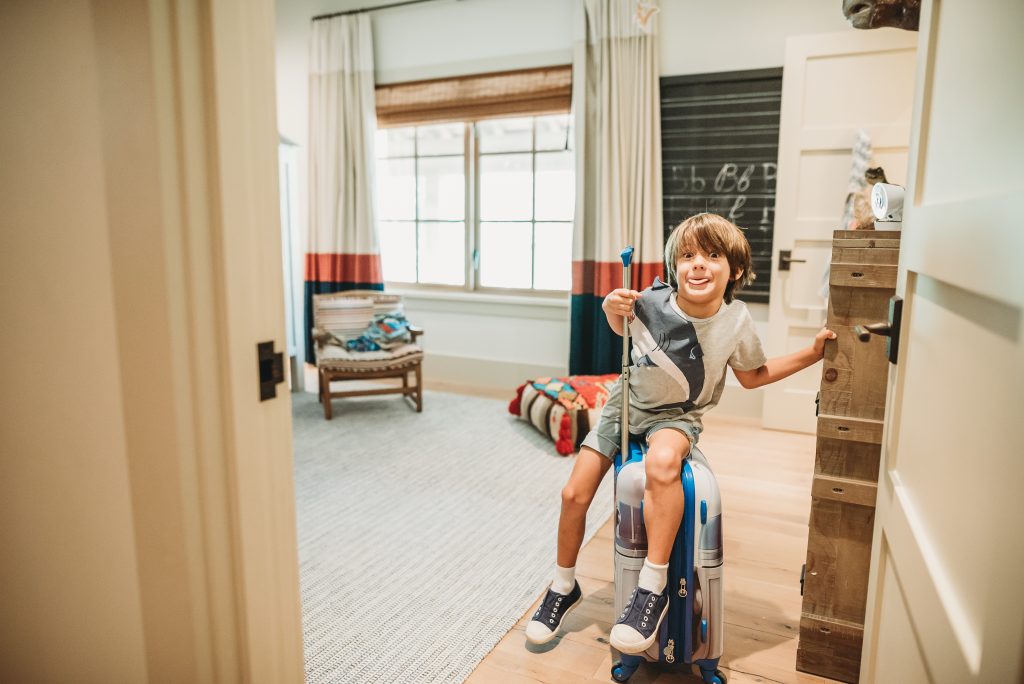 Rule #4: Just Keep Moving
Jet lag is a beast no matter what your age. I've found the best way to combat it while traveling with kids is to keep them moving until bedtime. In France, we arrived at our hotel at 3 p.m and desperately wanted to take naps. Instead we hit the streets for a sunny walk to the Eiffel Tower, where we explored the park and took pictures of the famous landmark. (I've also read that "grounding"– AKA kicking off your shoes and walking around in the grass – is great for jet lag.) After all that exercise and fresh air, we had dinner and the boys went to bed at 8 p.m. Paris time. We lucked out, and they slept all night long. We tried to stick to their normal bedtime the rest of the trip. It really helped them adjust to the new time zone.
Rule #5: Be Adventurous with Food
Our kids may eat more sugar than normal while on vacation, but they also eat a larger variety of foods. My long-standing trip rule is that they can't order hotdogs and hamburgers for their meals. They have to try something new. In France, that meant they did eat their fair share of steak frites, but my 7-year-old Tom also ate escargot. How brave is that?!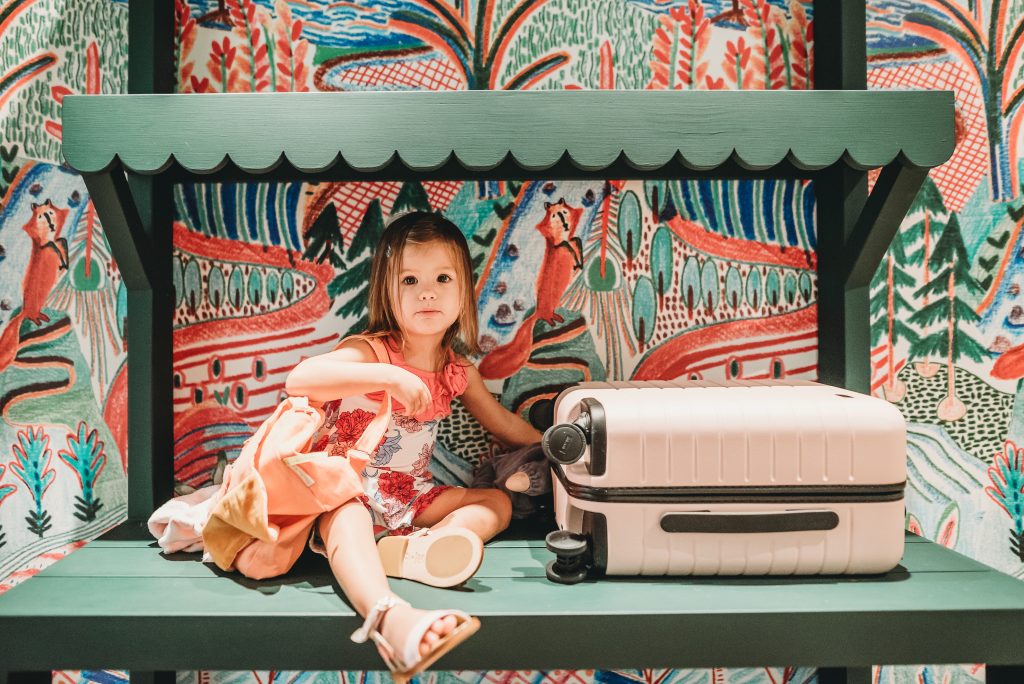 Rule #6: Follow Their Lead
I'm almost embarrassed to admit this, but we had tickets to the Louvre in Paris and never went inside. Why? The boys were having too much fun picnicking in the park outside the museum, playing with dogs, and throwing bits of food to the rats. (See? Embarrassing.) While part of me knows that we could have done all of those things here at home in Austin's Zilker Park, the other part of me knows how important it is to follow your kids' lead. Playing in that park made them so happy, and that makes me happy. I think one of their highlights from the trip was playing tag with a French girl about their age in Lyon. They may not have spoken the same language, but they made it work with the international language of kindergarten. Further proof that the best parts of traveling are usually the simple, unplanned ones.