No matter how planned the day is, Thanksgiving always feels so frantic. This year, I wanted to create a personal touch that could be a conversation starter and sweet contribution to our Thanksgiving and allow our family some time to reflect on the year. Since I love home decor and tablescapes centered around fall and family, I had the idea to make a gratitude tablecloth.
It's easy to lose sight of our memories and what we are thankful for, so it was wonderful to all gather together to artistically illustrate our favorite moments from the year. I also love that the gratitude tablecloth is not too precious. I want it to live under our plates and trays and for every wine ring and gravy stain to add to the decor and the memories. It's messy, just like we are!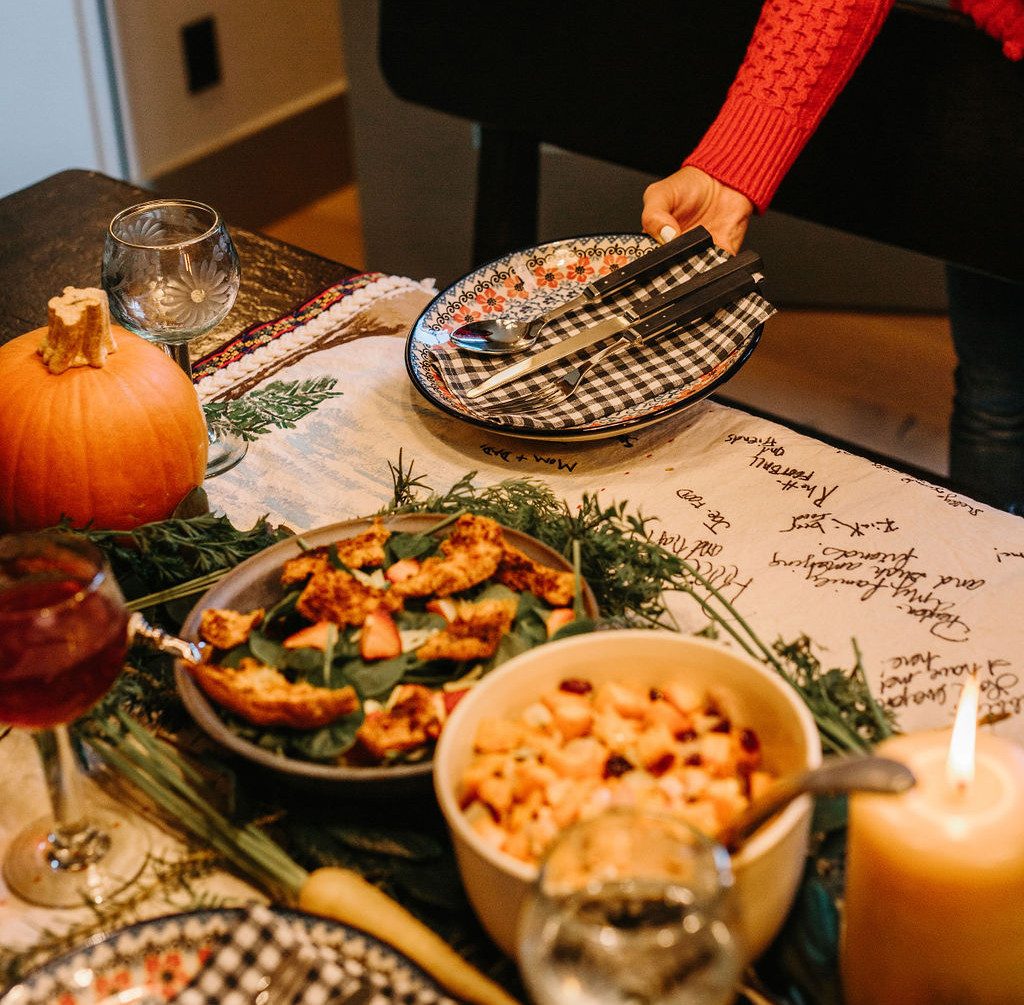 I have to admit, it didn't come out exactly as I was envisioning—it's not quite as bright and full as I thought it would be, though I realize that will take time and memories. But it did its job to get the kids thinking about all the wonderful things they have in their lives, from family and friends to toys and food on the table three times a day. It was also a good lesson for me to see the value of enjoying the process instead of fixating on the outcome. And a reminder that it's usually the imperfections that deepen our gratitude.
If you're curious how I made our gratitude tablecloth, I'm sharing a step-by-step guide below. Try it out and let me know what you think in the comments!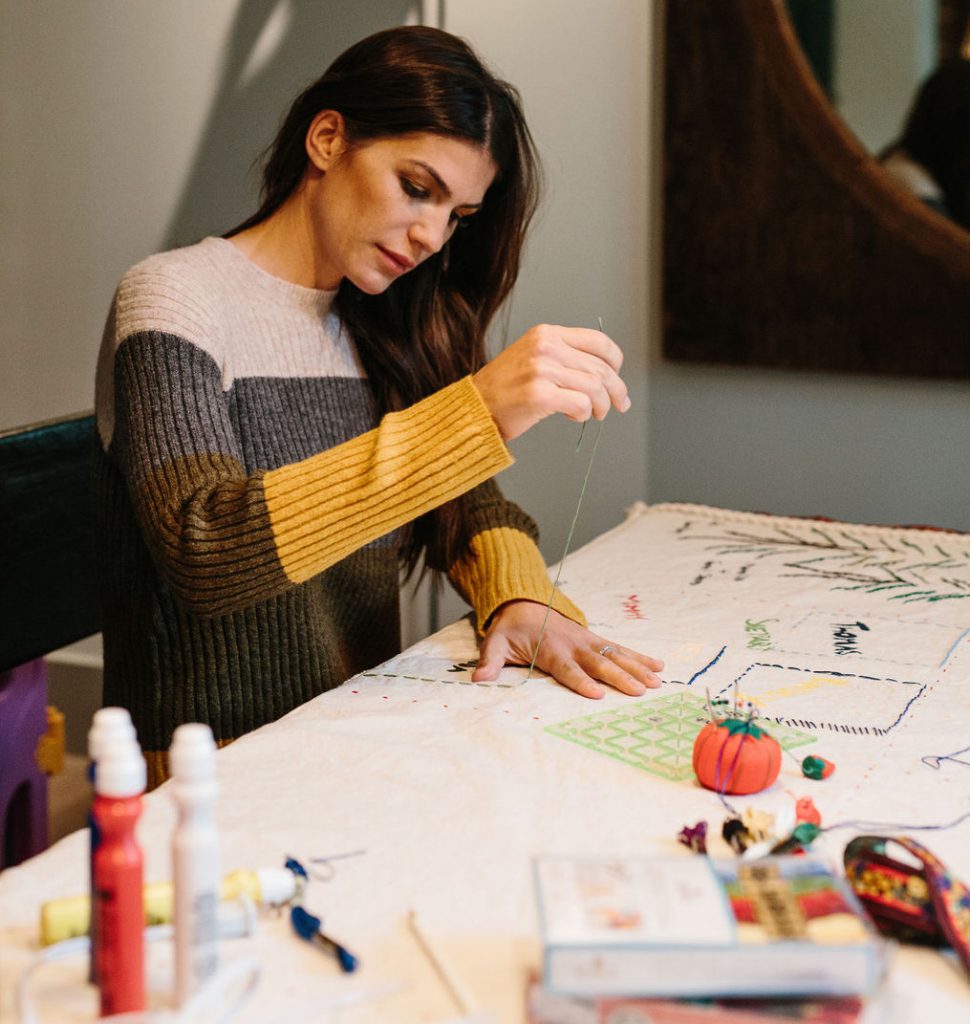 What You'll Need
4 yards of thick cotton fabric (I found a heavy muslin cloth, just shy of canvas weight, in the upholstery section of Joann Fabric)
4 yards of braided trim
4 yards of floral trim
hot glue gun
hot glue sticks
embroidery thread in a variety of colors
needle
fabric markers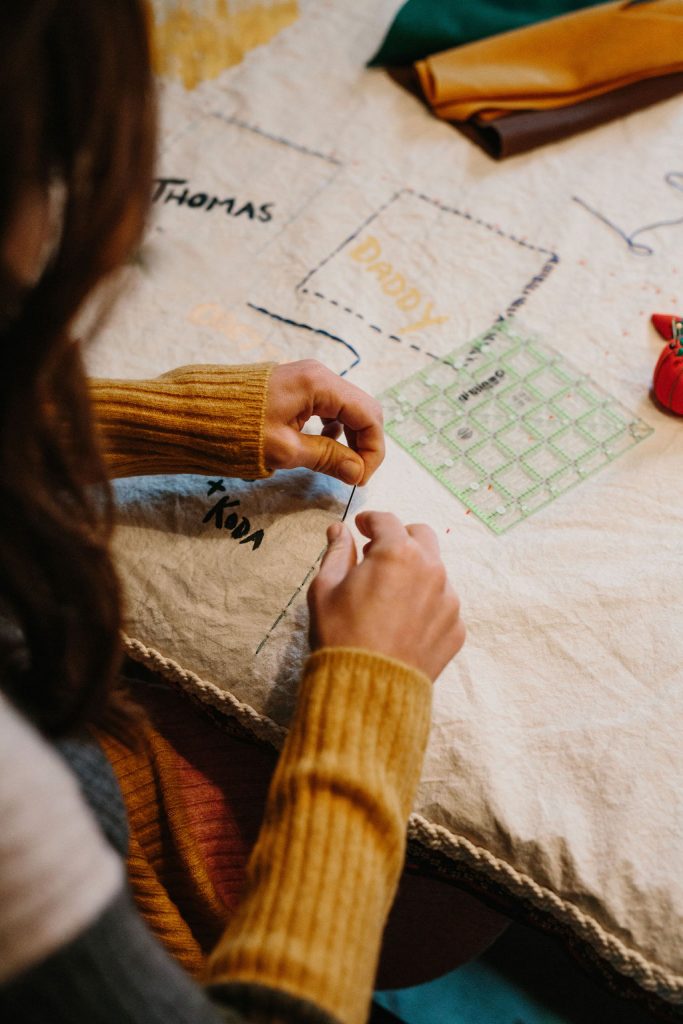 Instructions
Wash and dry cotton fabric on delicate cycle to make the fabric a bit softer.

Lay the cotton fabric out on a table. Use hot glue gun to glue floral trim (or any trim that fits your fancy) around the edges of the cotton. Then glue the braided trim to the inside of the braided trim.

Do a quick basting stitch to divide the tablecloth into squares. I did eight, but you could do more or less than that. 

Decorate each square with something memorable for your family. Don't be afraid to get creative. Even if it doesn't turn out perfect, it'll it will still be a fun activity and a great memory. Happy Thanksgiving!