Adulting is hard….and now there's a global pandemic to deal with. Since we're home a lot more these days, I think we are all trying to scale back and focus on the simple things. Cooking dinner, squeezing in exercise, and remembering to indulge in self care feel a lot more important when you're dealing with massive amounts of stress. But sometimes, those basic skills of cooking, setting intentions for the day, and even styling my hair feel lost on me. I feel like I desperately need a guide to brushing up on life skills.

The good news is I'm not alone! Author Erin Zammett Ruddy wrote The Little Book of Life Skills: Deal with Dinner, Manage Your Email, Make a Graceful Exit, and 152 Other Expert Tricks because she was feeling the exact same things. "I realized that despite being a professional and a homeowner and a mother of three (and 40!) I still wasn't quite an adult," she says. "I wasn't moving through my day and life in an efficient way. I was often frazzled, shooting from the hip, feeling overwhelmed."

To help herself—and all of us!—she compiled 150 of the best how-to tips from top experts. And she graciously let us excerpt some of my favorites. Keep scrolling to find out how to give yourself the perfect blowout, prepare for a workout, and prep for cooking dinner. Have fun brushing up on your life skills!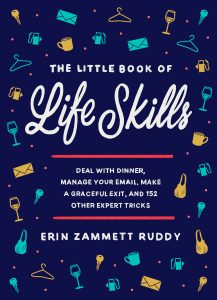 Give Yourself the Perfect Blowout
Spray hair with a heat protectant hair spray to shield it from the high temps, and loosely blow-dry to 70–80 percent dry (or let it air-dry to this point).

If you have bangs, dry them first so you can set them properly. If you're looking for a specific part, create that first, too.

Section the top layers of your hair and secure with a clip. (You'll start drying the bottom layer and work your way up and out.)

Put a concentrating nozzle on your hair dryer—as long as you use a heat protectant, you can safely use the high setting.

Take 2-inch sections of hair into a round brush and overdirect the root (

overdirecting

means to blow-dry in the opposite direction, toward your scalp, to set the root).

Place the brush under the section, and lift the brush up with tension for volume. Place the dryer on top, and follow the hair and the brush down, holding the nozzle parallel (about a half-inch away) to the section to help close the cuticle.

Roll the ends under. Hold for 3–4 seconds, and then remove the brush downward.

Repeat with all sections, removing clips as you go. Finish by blowing down over all the hair with a cool shot on the hair dryer. Tame any stubborn pieces—like that frizz by your ear—with a flat iron on low heat. Don't touch your hair until it's fully cooled because you want your hair to maintain the set.
THE EXPERT: Sarah Potempa is a celebrity stylist (her clients include Lea Michele, Emily Blunt, Camila Cabello, and Reese Witherspoon), the inventor of the patented Beachwaver® curling iron, and the CEO of Beachwaver Co.®.
THE EXPLANATION: Ideally you want your hair to be about 70–80 percent dry by the time you take your blow-dryer to it, so use that break to do your makeup, get dressed, maybe even meditate. Resist the urge to just throw your head down and dry it that way; it will fray the cuticle too much. And avoid roughing or twisting your hair up with a regular towel, especially if you have curly hair or are prone to frizz (in lieu of rough towels, you can use T-shirt material to absorb moisture without damaging hair). Sectioning saves time, so use a strong-hold sectioning clip to pin back hair layer by layer as you go. A gentle targeted air flow will close the cuticle and polish the hair. (Imagine the hair cuticles as roof shingles—the shingles point down, so if you direct the dryer at your hair perpendicularly, you're fraying it by opening those shingles again.) As soon as a blowout is done, a lot of people immediately start touching their hair. Yes, it feels good, but you don't want to mess with all the work you just did. In order for the physical change to set in, you need the hair to completely cool down before handling it.
A word about washing your hair: A great blowout starts in the shower. Shampoo should be focused on your scalp so you're cleansing it of natural oils and product buildup that could be weighing down your roots. Conditioner is really what's meant for your hair, where you put in moisture and give it the correct ingredients to have a good hair day. Apply conditioner only to the middle and ends of your hair. (If you put conditioner on or near your roots, it will weigh your hair down.) The ends, which have been around the longest, are the least healthy and need the most moisture. Rinse with cool water to close the cuticles.
A word about sulfate-free shampoo: Sodium lauryl sulfate is an emulsifier and foaming agent used in a ton of common cosmetic products and industrial cleaners. It's the main ingredient in a lot of shampoo brands, but it's a really intense cleanser and irritant—think of it like dish soap. So if you're not shampooing properly (i.e., you're washing the ends of your hair instead of your scalp), you're basically using dish soap on your hair and fraying the cuticle—and setting yourself up for a bad hair day every day.
Prepare for a Workout (So You Actually Work Out)
Say "I get to work out" not "I have to work out." (i.e., reframe how you talk and think about your workouts).

Make it nonnegotiable. Don't say "I'd like to get to the gym tomorrow" or "I'm gonna try to go out for a run"; tell yourself you're doing it, schedule time for it on your calendar, and make it happen.

Lay your clothes out the night before (or pack your gym bag and leave it by the door).

Check the weather and plan accordingly. Obviously important for outdoor workouts, but even if you're driving to a class, the right gear makes a huge difference in how enjoyable the whole experience will be.

Have a specific plan. On days when your mind is just not in it, make it easier on yourself by knowing exactly what you're going to do before you start (i.e., don't just show up at the gym and wander around aimlessly).

Use music to get your energy up—or down. Start listening to your pump-up playlist (or mellow yoga jams) a few minutes before your workout.

Eat a 100- to 300-calorie snack (a combo of carbs and protein works well, which is why nutrition bars are a good go-to). This will be different for everyone, and based on the time of day you're working out, but something to fuel you is important; experiment to see what works for you.

Don't waste time with workouts you find yourself dreading— just because your friends are training for their first half marathon or say they've never felt better now that they've picked up [insert latest fitness trend] doesn't mean it will be right for you.

Follow only the fitness people on social media who lift you up (and unfollow any who make you feel bad about yourself or just kind of annoy you). It's your time, it's your motivation, it's your inspiration—curate it carefully.
Remind yourself that future you will be so grateful you did this. No one ever says, "Oh, man, I wish I hadn't just worked out."
THE EXPERT: Liz Plosser is the editor in chief of Women's Health and former director of content and communications at SoulCycle. She's run ten marathons, at least a hundred half marathons (not a typo, folks!), and completed a Half Ironman. 
THE EXPLANATION: Next time you're sick or injured (or, um, quarantined) and can't even get out for a walk, remember how badly you crave movement. Working out is a luxury and it's easy to forget that, especially if you're rifling through your drawers for leggings in the pitch dark at 6 a.m. like a raccoon digging through the trash (Liz has been there). Mind-set—and laying out your clothes!—is important. That said, don't rely on mind-set for everything because there will be days when your mind is working against you; that's when the nonnego- tiable trick kicks in. Some days you have to muscle through, and having a preplanned workout helps—if your brain is already using a lot of energy just to motivate you, have those decisions premade. Am I doing the rower? Do I do intervals? Should I take a spin class? There are countless ways to have other people figure this out for you (a trainer on Instagram, a fitness app, a class you sign up for in advance). Another way to ease your decision-making: Stick with the clothes that work for your body. New gear is fun, but at the end of the day there are only a few leggings and sneakers and tops that we all reach for over and over. Find what they are and keep buying them.
Pro tip: When you're getting ready for a workout, think of yourself like a toddler who's heading out for the day. When moms are dealing with little kids they make sure they have their snack, and their water, that they're dressed warmly (but not too warm!), and that they've gone . . . potty. If you're going to invest the time in going for a workout, you should take the (baby) steps to set yourself up for success. And you're much more likely to do it again the next day if you've been kind to yourself!
Prep for Cooking Dinner 
Mentally run through your meal (either read the recipe all the way through, or visualize the steps if they're in your head).

Relax: Pour a glass of wine or a cup of tea, crank up your favorite music, or flip on a TV show in the background. If you need to preheat the oven for your recipe, do it now.

Position a large cutting board next to the stove. If you don't have the space, set it over the sink.

Place an empty bowl next to your workspace to collect dis- carded scraps while you work. This is your "garbage bowl" and it's game changing.

Find all the pots and pans and tools you'll need; put them in place.

Collect the ingredients and arrange them in your workspace in the order they'll be used (consult step 1, if needed).

Chop the vegetables that take the longest to cook first and work your way from there.

While things are cooking, straighten up your station and empty your garbage bowl if needed.
THE EXPERT: Rachael Ray is a cook, author, and television personality who currently hosts the Emmy-winning syndicated daytime talk show Rachael Ray and Food Network's 30 Minute Meals. She is also the founder and editorial director of Rachael Ray In Season magazine, and recently published her twenty-sixth cookbook, Rachael Ray 50: Memories and Meals from a Sweet and Savory Life.
THE EXPLANATION:You don't want surprises while you're cooking, so walking through the meal first helps you identify which ingredients you need, any special equipment required, and what will take the longest to cook (you'll start your chopping there). It's also important to be in the proper headspace before you even turn on the stove—otherwise you won't have a successful dish and won't want to cook again anytime soon. If there are multiple dishes in your meal, collect only the ingredients for the one you're making first so you're not confusing your- self or crowding your workspace. Get everything close by, including your garbage bowl. Things will go much faster and more smoothly when you're not doubling your efforts (like going back and forth to the garbage can ten times). You really don't want to move much at all once you're cooking! The key to cooking efficiently is to have every- thing in its place before you start—your mise en place—so you're not having to search for the cast-iron skillet with raw chicken hands while your onions burn (been there). In order to make cleanup more efficient—and so you're not completely overwhelmed at the end— tidy up between each dish. (Rachael's husband does the dishes in their house . . . wouldn't you if RR was cooking for you?!)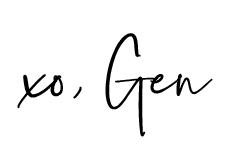 Excerpted from THE LITTLE BOOK OF LIFE SKILLS: Deal with Dinner, Manage Your Email, Make a Graceful Exit, and 152 Other Expert Tricks by Erin Zammett Ruddy. Copyright © 2020. Available from Grand Central Publishing, an imprint of Hachette Book Group, Inc.