Sayonara, 2020! Don't let the door hit you on the way out! 
(Sorry, just had to get that out of the way.)
Now that the calendar has turned, vaccines are being rolled out, and the Senate has flipped, things are starting to look up. But COVID is still raging throughout the world and more than 350,000 Americans are dead. It's hard to know how to feel day to day—or even minute to minute.

So I'm focusing on the things I can do to make a difference here at home, and that includes being more green in my everyday life. Experimenting with new-to-me clean beauty products has been one of my acts of self care lately. And even though it can feel frivolous at times, we all need to remember that self care is so, so important—especially during this dark and unsettling time.

On that note: Here are 10 clean beauty products I've been keeping on my nightstand. What new products are you loving lately? I'd love to know in the comments.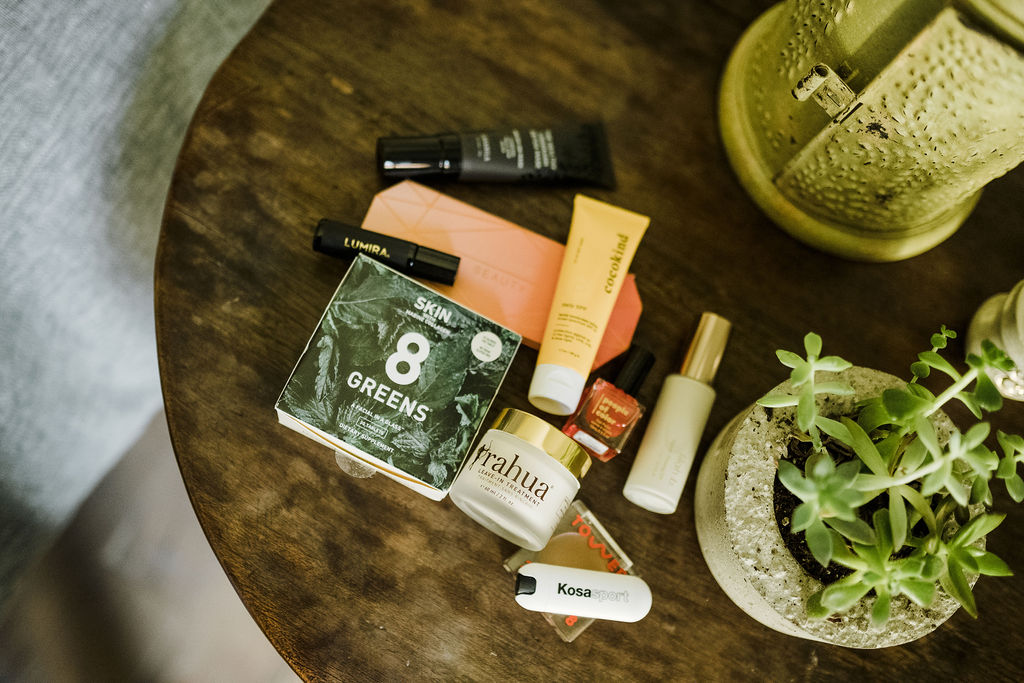 What's On My Nightstand
Everyone benefits from adding more veggies to their diet–and this product is cool because it helps make your skin radiant, too. Created by cancer survivor Dawn Russell, each tablet contains eight greens—broccoli, kale, collard greens, spinach, alfalfa sprouts, aloe vera, green tea, and peppermint—as well as marine collagen and biotin. Drop the tablet into a glass or water, let it dissolve, and drink up!
Created by Black founder Jacqueline Carrington, this brand's slogan is "nail polish for people of color and those who live in color." (Love that!) Like all the products in the line, this base coat is vegan, cruelty-free, and non-toxic. 
I don't know about you, but my hair gets pretty dry and brittle during the winter. Made from the oil of the rahua tree nut, combined with green tea, quinoa, and raspberry leaf, this protective and healing anti-frizz treatment protects your hair while making it shiny and strong. 
Minty lip balms are so refreshing. This cruelty- and gluten-free one features hyaluronic acid, vitamin E and konjac root. Plus, it's formulated without: mineral oil, talc, silicones, fragrance, parabens, sulfates, and phthalates.
My friend Nicole Trunfio is on a roll with creating amazing products. I've mentioned before how much I love her Bumpsuit, and this perfume oil she created with Lumira is equally awesome. A mix of deep floral notes and delicate woodsy spice, this roll-on perfume oil is paraben, sulfate, phthalate, and phosphate free. 
Right now, I need all the multi-use products that I can get! This three-in-one serum, moisturizer, and primer can be worn alone or to create a smooth canvas for makeup. Composed of amanu, jojoba, and sweet almond oils, it's a fast-absorbing, silicone-free priming face oil that nourishes and hydrates skin.
I'm over heavy, goopy sunscreens that turn skin a shade of chalky white. This lightweight, mineral-based SPF 32 is great for hiking, biking, and other outdoor activities. Bonus: Cocokind products are not only sustainable, cruelty-free, and non-toxic—they're affordable too.   
Give your face some glow with this silicone-free bronzer that's made with moisturizing mango butter and calming green tea extract. This vegan, cruelty-free bronzer, which is made in the USA, comes in two shades: West Coast, a medium bronze with neutral undertones, and Best Coast, a deeper bronze with red undertones.
Who says your armpits don't need a little self care? This underarm mask contains charcoal to exfoliate and purify the skin, while malic acid binds to aluminum and other impurities to draw them out, and silica absorbs sweat molecules. This product, which is vegan and free of parabens, aluminum, and propylene glycol, is said to shorten the transition to natural deodorant.
Sometimes, you just need something pretty to lift your spirits. How gorgeous is this eyeshadow palette? It features 12 jewel-toned shades in shimmer, metallic, and matte finishes and is free of talc, parabens, nanoparticles, and fragrance.