Here is a menu I created for my family.  I'm lucky enough to live in Austin, TX, home of the original Whole Foods, so, I'm lucky to have a grocery store with a ton of options. And because I live in a city, I have lot of great food sources.  If you live in a place where it's difficult to find some of these ingredients, I've found Thrive Market to be a great source!  (I'm not paid to say that! It just really is a wonderful resource for all kinds of diets and palates).  I gathered some of my favorite recipes and laid them out for my week. This is what I created as a menu for me, but feel free to mix, match, and repeat!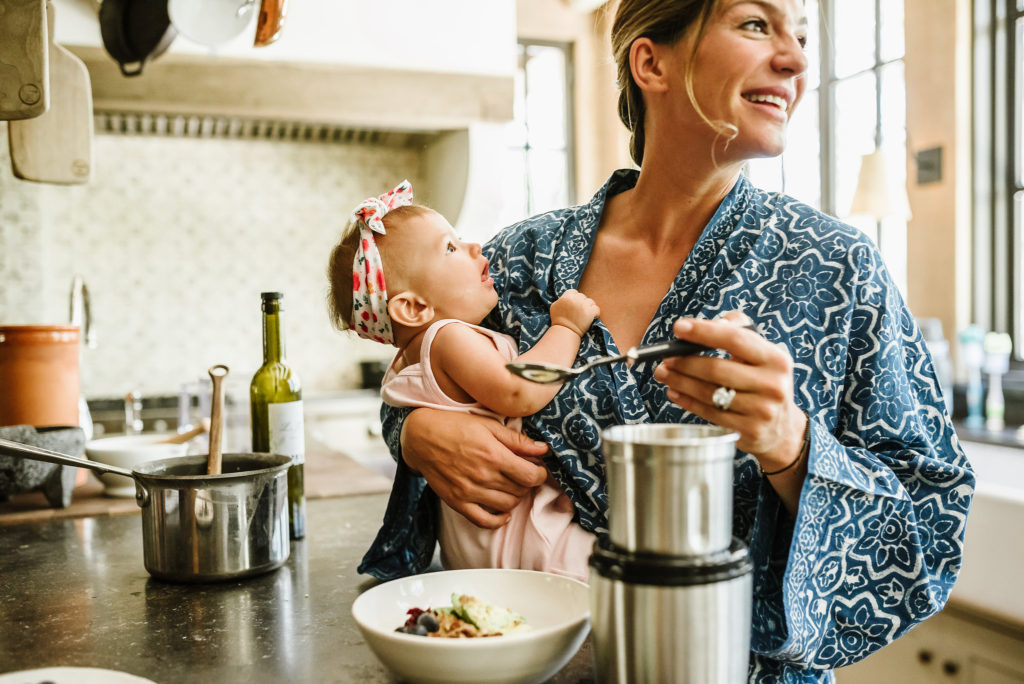 Day One:
I begin every morning with a concoction of warm lemon water, ginger, maple syrup and currently a special tea blend to help with my breast milk.

BREAKFAST: Oatmeal (my favorite brand is Bob's Red Mill – again, not paid to say that!)

LUNCH: Turkey Sandwich on gluten-free bread OR wrapped in butter lettuce (Tasty gluten-free breads are so hard and I found the only gluten-free bread that tasted really good was GFY breads

http://www.gfykitchen.com

)  I really like my sandwich with sliced BBQ turkey, turkey bacon, tomato, mustard or hummus, and some greens from my garden

DINNER: Buckwheat Autumn Salad from

Eating Purely by Elizabeth Stein.
Day Two:
BREAKFAST Scrambled Eggs and Gluten-Free Pancakes.  I used eggs collected from our backyard chickens and Birch Benders Paleo pancake mix.

LUNCH: Roasted Carrot Soup from

Eating Purely.

DINNER: Roast Veggie Bowl with Fried Egg and Goat Cheese from

Whole Bowls by Allison Day.
Day Three:
BREAKFAST: Gluten-free Cereal (There are TONS!  Envirokidz is an awesome brand carried at a lot of grocery stores.)

LUNCH: Eat Your Greens Salad with Chickpea Croutons and Green Goddess Dressing (I added chicken to mine) from 

Whole Bowls 

by 

Allison Day.

DINNER: Pad Thai from Night + Market (not a gluten-free cookbook but has awesome recipes that can be made gluten-free)
Day Four:
BREAKFAST: Super Breakfast: Mango Lassi from

Half Baked Harvest by Tieghan Gerard.

LUNCH: Turkey Meatloaf from

It's All Easy,

Gwyneth Paltrow. I also throw together a simple side salad of whatever veggies float my fancy.

DINNER: Chicken Fingers from

Gluten-Free Family Favorites

,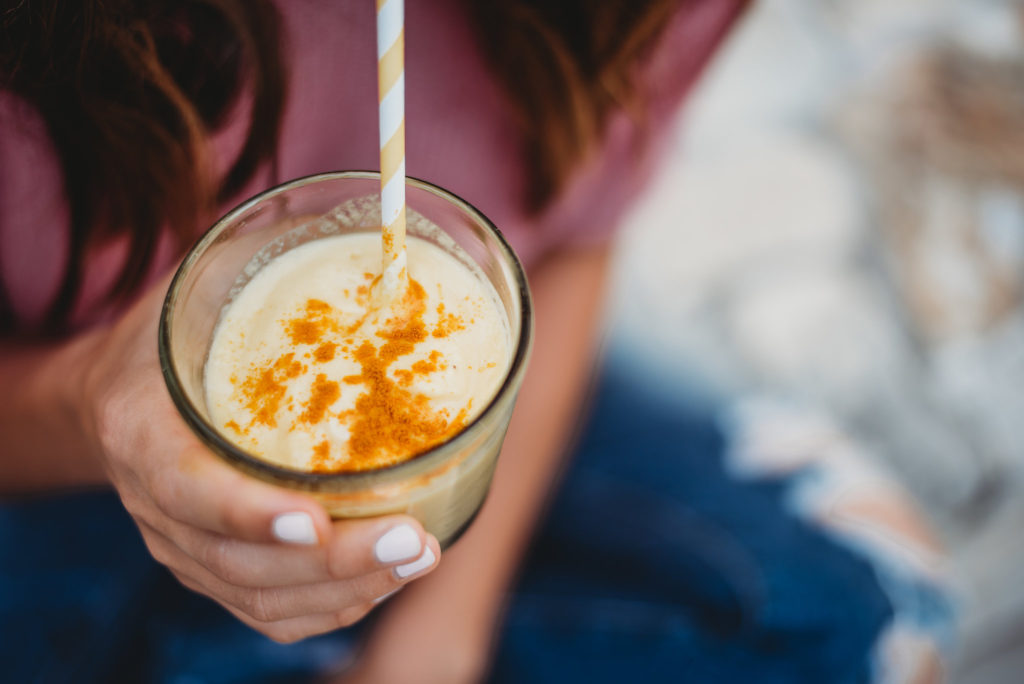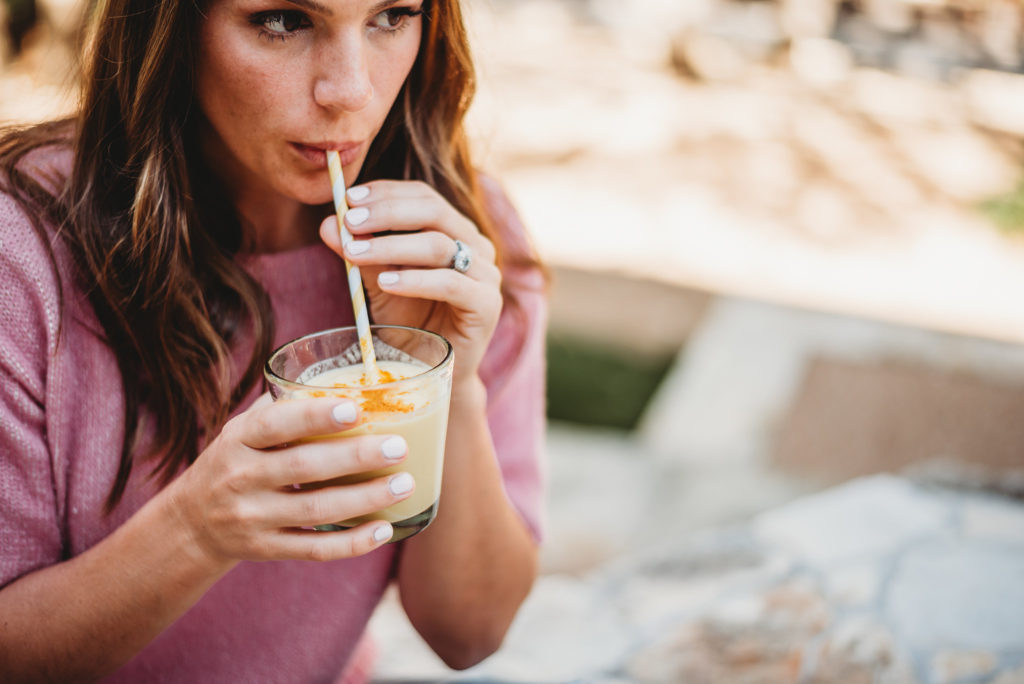 Day Five:
BREAKFAST: Granola From

Purely Elizabeth,

Elizabeth Stein

LUNCH: Sauteed Shrimp Tacos with corn tortilla.  I just sauteed shrimp with a touch of olive oil, garlic and lime, and threw it into a corn tortilla.  You can also add to a bowl of rice topped with beans, avocados, tomatoes, etc.

DINNER: Salmon and Melting Cherry Tomatoes (This is one of my FAVORITE recipes.  We use it ALL the time and the kids have been eating it since they could eat solids.)

Barefoot Contessa Foolproof,

Ina May Garten
Day Six:
BREAKFAST: Ground Turkey Breakfast Tacos. Corn tortillas with eggs, turkey bacon and ground turkey.  Use whatever sides you like.  We like avocado, tomato, cheese, and onions.

LUNCH: Parsley Brown Rice Salad (I added a piece of salmon from the night before for some protein, and also some feta.  I added flax seed, and I've been told that it can go off quickly so you have to be careful with the oil.  I used organic extra virgin olive oil.)

DINNER:Grilled Chicken Chopped Salad from

It's All Easy,

Gwyneth Paltrow (I've also substituted black beans a mushrooms for the chicken.)
Day Seven:
BREAKFAST: Quinoa Banana-Date Muffins from

Food Swings

, Jessica Seinfeld and we also added a side of Greek Yogurt.

LUNCH: I splurged and ordered Shake Shack hamburgers with gluten-free buns.  Somedays I just need a little junk food.  🙂  You can also make any kind of burger, just get a gluten-free bun, and if you're a vegetarian, look into

http://beyondmeat.com/products/view/beyond-burger

 SO GOOD!

DINNER: Pan Seared Salmon 
While these are the main meals, I filled in the gaps with snacks.  This was the trickiest part for me because a lot of the snacks I love contain gluten.  Here are some recommendations.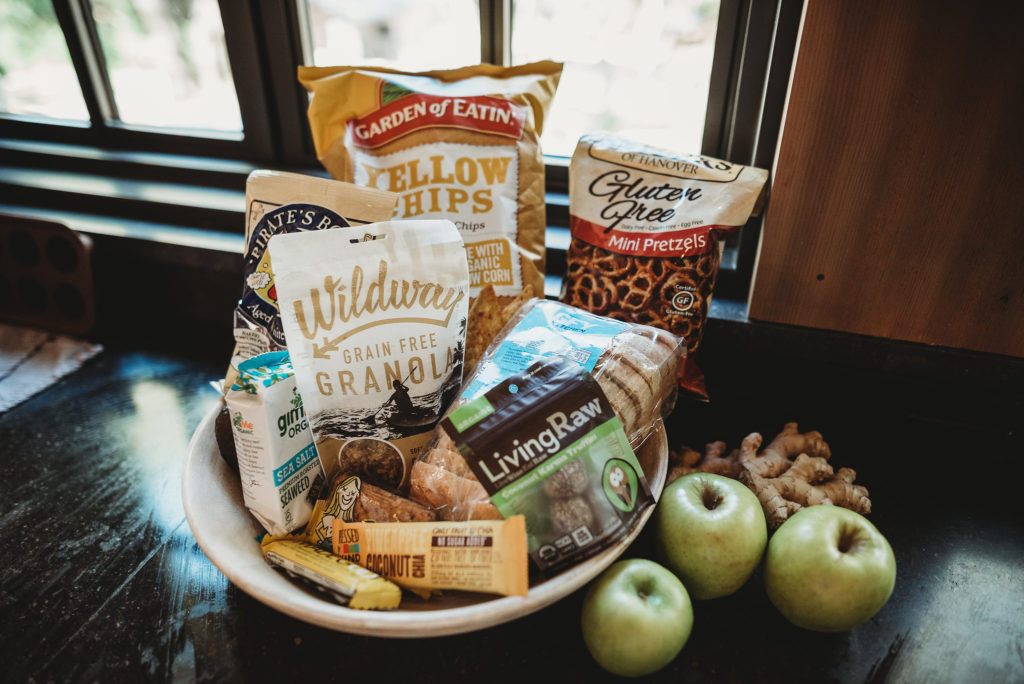 Nuts –raw cashews (or cashew butter, YUM), raw almonds, or pistachios. Those nuts are my favorites.

Fruits and veggies with hummus or tzatziki.

Gluten-free granola bars (I really like KIND, Tanka–though these have a bit more sodium. I also like Redd, Bricks bars to name a few.)

Baked Zucchini Chips from

Thug Kitchen

Beet Chips from

Eating Purely,

Elizabeth Stein

Pumpkin Hummus from Eating Purely, Elizabeth Stein
As for desserts I turned to my friend Lindsey Johnson of Lady in the Wild West. https://www.ladyinthewildwest.com    She helped create some of the tastiest gluten-free goodness!
Brown Sugar and Cinnamon Pop Tarts

Peanut Butter Kisses

Flourless Dark Chocolate Soufflé
Here are some meal options given to me by my nutritionist that can be used in a meal plan.
BREAKFAST
Option 1: Protein smoothie made of 2 cups almond milk, 1 cup berries, 1 scoop Pure Lean, and 2 tbsp flax seeds
Option 2: 2 scrambled eggs with 2 cups spinach sautéed in 1 tbsp coconut oil and 1 piece of Canyon Bakehouse Bread
Option 3: 1 cup plain Fage Greek yogurt, 2 tbsp chia seeds, and 1 cup mixed berries
Option 4: 1 slice Food for Life gluten-free bread with 2 tbsp almond butter, and 2 strips turkey bacon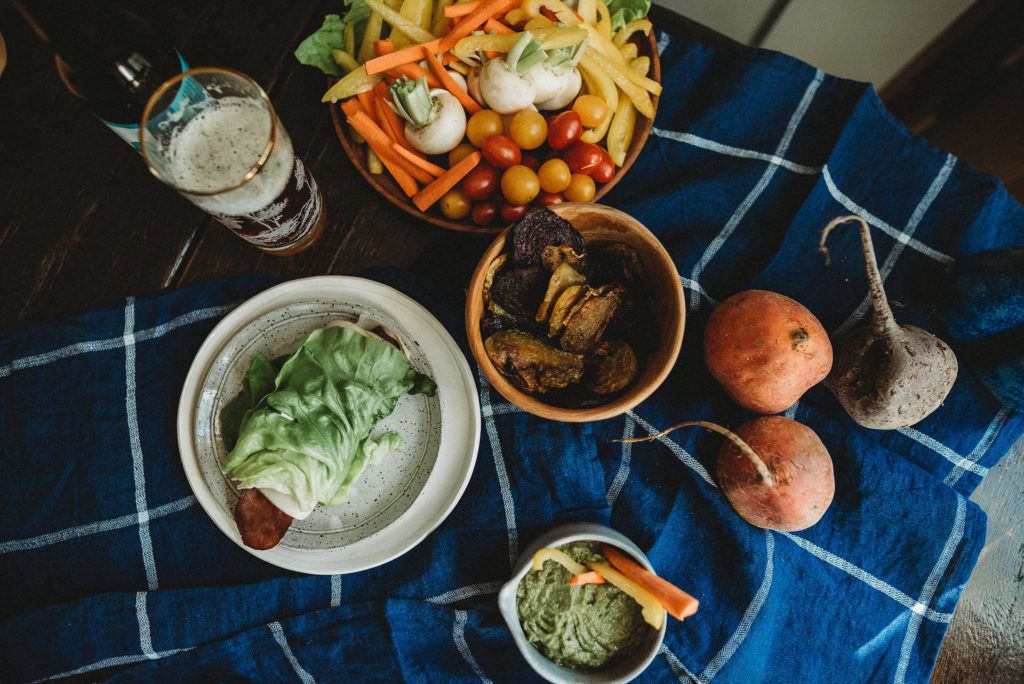 LUNCH
Option 1: Mediterranean turkey wraps – place 4 oz. turkey into 1 Rudi's gluten-free tortilla. Add 1 slice mozzarella, spinach, tomato, cucumber, and 2 tbsp hummus
Option 2: Taco salad – 4 oz. ground beef over romaine with tomato, onion, 1⁄2 cup pinto beans, salsa, and 2 tbsp chipotle vinaigrette dressing
Option 3: Salmon spinach salad – 4 oz salmon over spinach with 1⁄2 sliced apple, strawberries, 1 oz parmesan, and 2 tbsp lemon/olive oil dressing
Option 4: Chicken pasta – 1 cup cooked Ancient Harvest Penne, 1⁄2 cup pasta sauce, 1⁄2 cup sautéed mushroom, and 4 oz. cooked chicken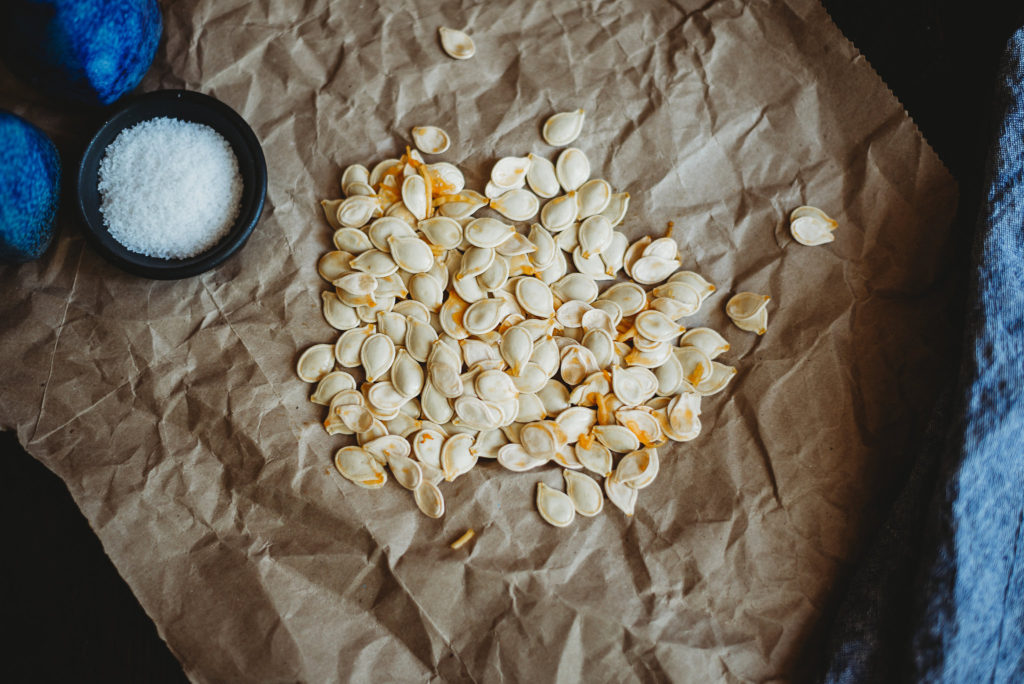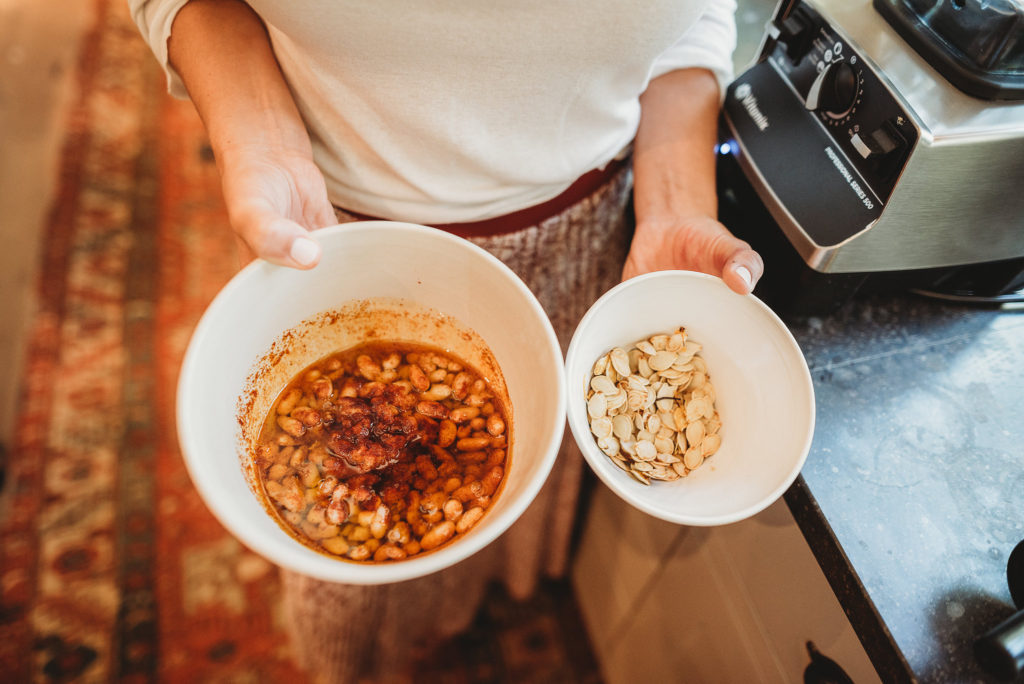 PM SNACK
Option 1: 2 tbsp hummus and 1 cup baby carrots
Option 2: Cherry Pie Lara Bar
Option 3: 2 tbsp almond butter and 1 banana
Option 4: 1 oz. walnuts and 1 cup grapes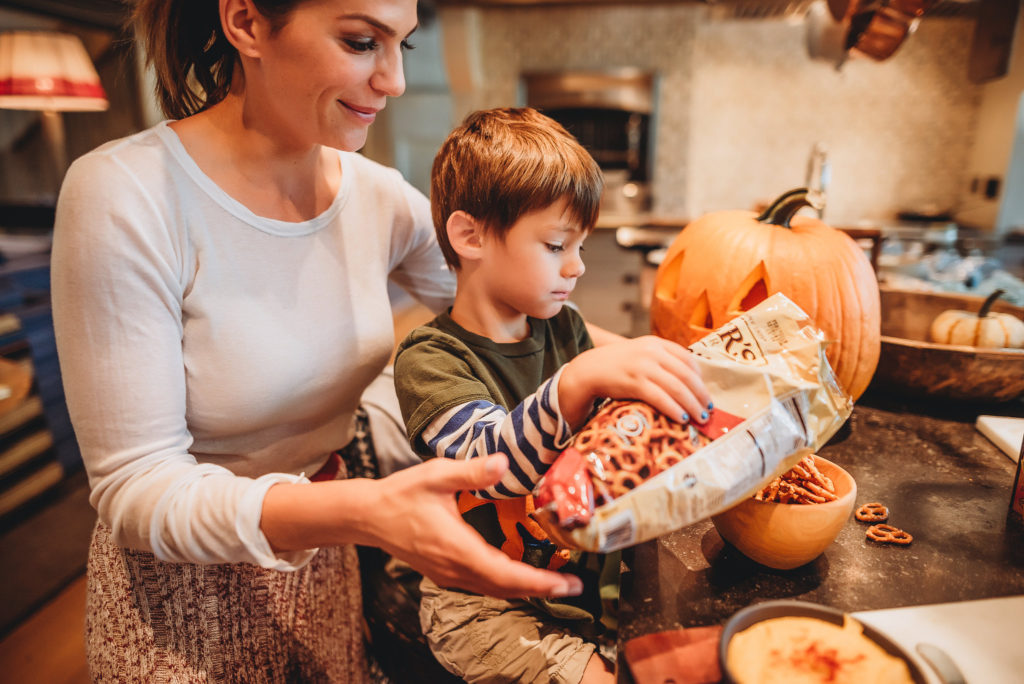 DINNER
Option 1: Shrimp stir fry – 4 oz. shrimp sautéed in 1 tbsp coconut oil with broccoli, cauliflower, and carrots served over 1⁄2 cup brown rice
Option 2: Chicken soup – add 4 oz. chicken, chopped carrots, celery, onion, 1⁄2 cup black beans, and 1 tbsp olive oil to chicken broth
Option 3: Fish tacos – place 4 oz. cod into a Rudi's gluten-free tortilla. Add tomato, onion, 1⁄2 cup pinto beans, and 1 oz shredded cheese  (Corn tortilla's are also an option)
Option 4: 4 oz. Grass fed ground beef sautéed in 1 tbsp coconut oil with onion, pepper, and garlic with 1⁄2 cup quinoa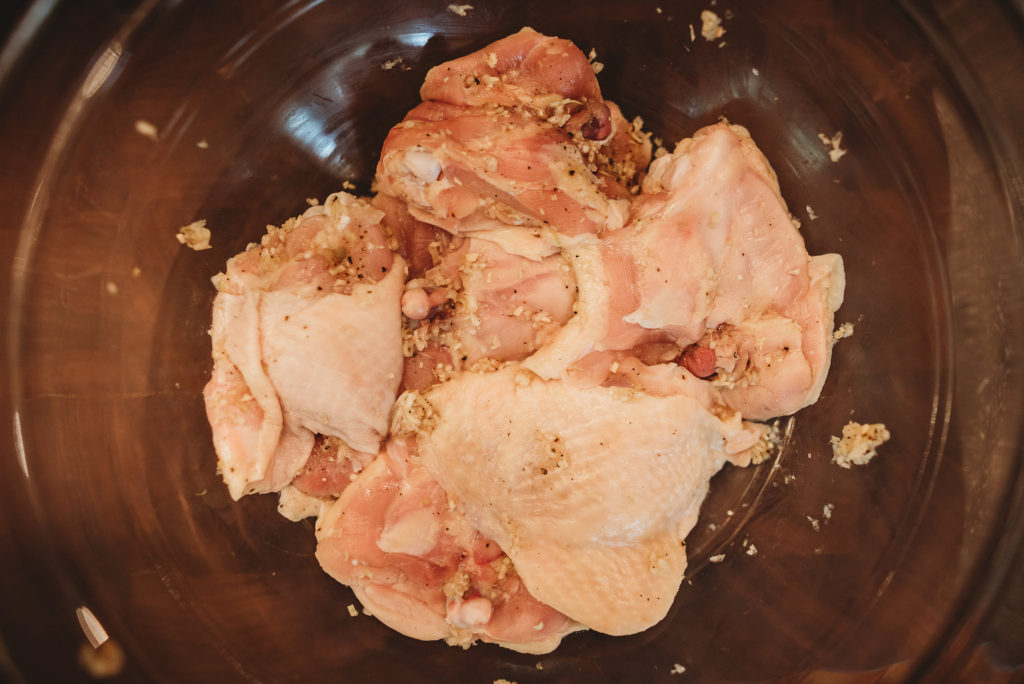 @LADYINTHEWILDWEST GLUTEN FREE DESSERT GUIDE
Now, as much as I love a fresh, veggie-packed day, my sweet tooth is a little too strong to simply push the desserts away. Everything in moderation, right? So, in my long search for the perfect gluten-free goodies, I called up my good friend Lindsey from my college days to help. Lindsey has an incredible Instagram account called @ladyinthewildwest. (Prepare- it's amazing.) I'm constantly scrolling through Lindsey's feed, and looking at her amazing images makes my mouth water. Lindsey specializes in gluten-free baked goods, and her recipes are as healthy as they are delicious.
With Lindsay's help, I realized that I don't need to compromise my beloved desserts, I only have to use better ingredients. I absolutely love everything that comes from her IG feed and her kitchen! She's a genius in her own right by creating amazing delectables that our mouths love and our bodies can handle.
We pulled a few of these recipes for our weekly curriculum, so you can enjoy some delish gluten-free desserts along with me. Here are some of my favorites:
Brown Sugar & Cinnamon Pop Tarts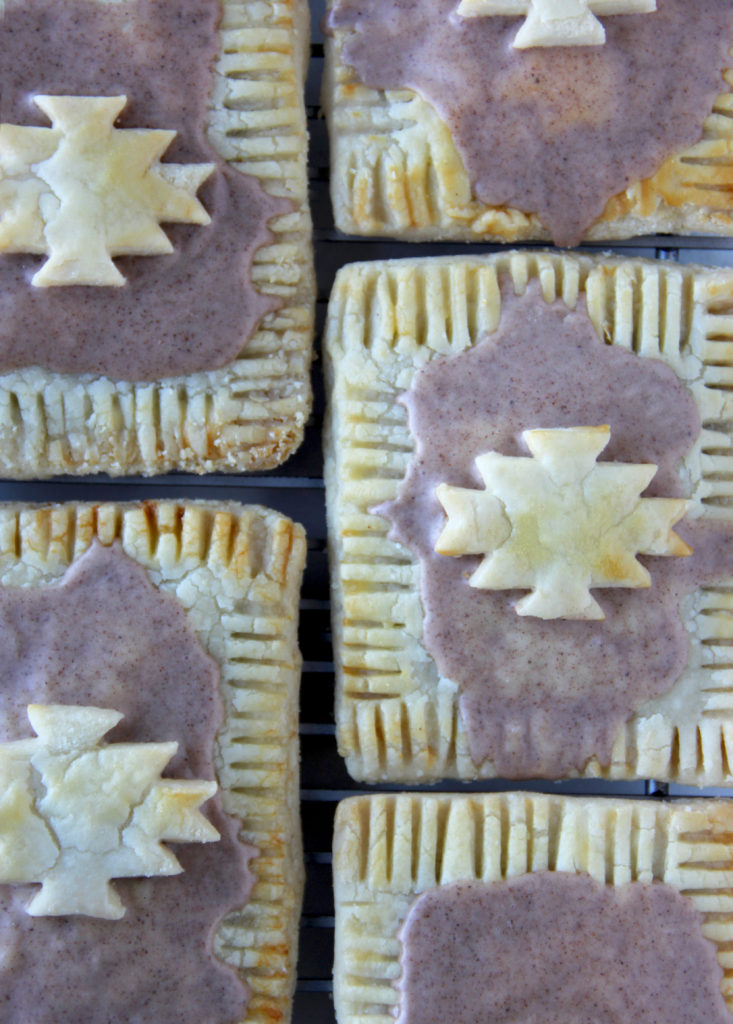 This recipe is a little tedious, but well worth the effort. Homemade is so much better than anything packaged. You'll feel like you're 10 years old again.
Gluten Free Flakey Butter Pastry Dough
* Makes enough dough for 9 Pop Tarts
2 1/2 cups

King Arthur Gluten Free

all purpose flour (plus extra for rolling the dough)
2 sticks (16 tablespoons) unsalted butter, chilled and cut into cubes
1 teaspoon apple cider vinegar
In a large bowl, mix the flour, sea salt, and sugar.

Add the cubed butter and, with a pastry blender or your fingertips, blend until the mixture begins to resemble small peas.

 

Mix the apple cider vinegar with the ice water. Drizzle a few tablespoons over the flour and butter mixture and blend with a fork. Add more water, one tablespoon at a time, till the dough begins to come together. Only add as much water as needed. Once the dough becomes moist and clumps together, it's hydrated enough.

Divide the dough in half and flatten into disks. Wrap separately in plastic. Chill for at least 1 hour and up to 2 days.

Remove the dough 15 minutes before you're ready to use so it will roll out easily.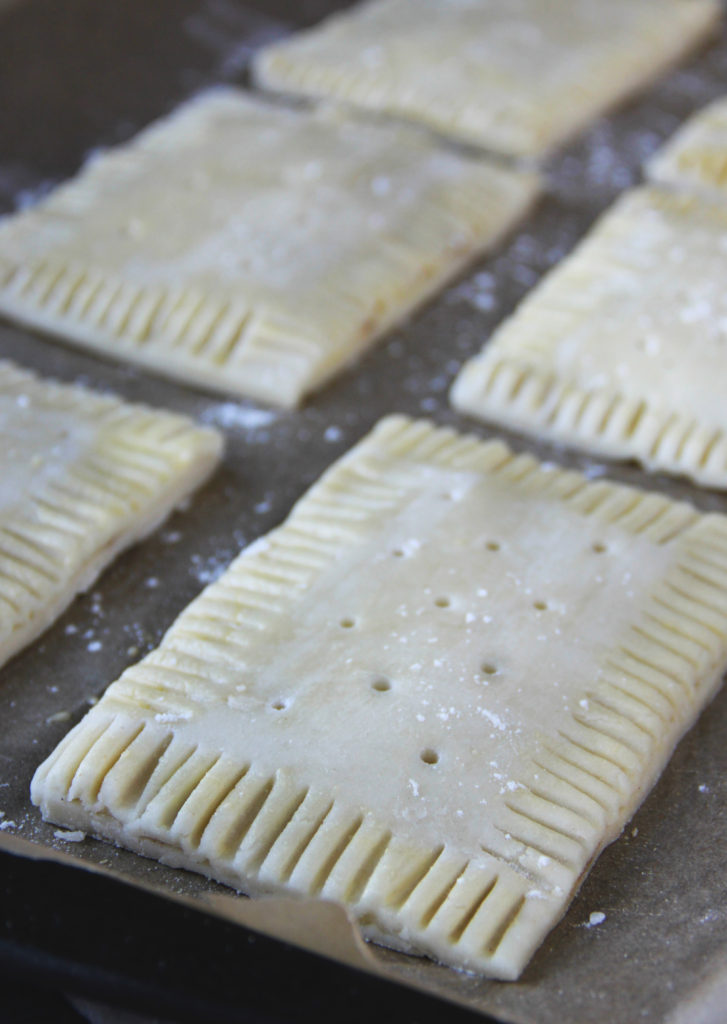 Note: The clumps of butter give the dough it's flakey texture. You want to handle the dough as little as possible to keep the butter from melting. Keep the dough chilled when you're not working.
Filling
1/2 cup light brown sugar
1 tablespoon

King Arthur Gluten-Free

all-purpose flour
2 tablespoons heavy cream for pastry dough wash
In a small bowl, mix first three ingredients together. Set aside.

In another small bowl, pour cream and grab a pastry brush. Set aside.
Glaze
1/4 teaspoon

 

vanilla extract
In a medium bowl, mix together the powdered sugar, milk, cinnamon, and vanilla. If glaze is too thick, add a tad more water. If glaze is too thin, add a tad more powdered sugar. Set aside.
Assembling the Pop Tarts  
  Preheat your oven to 350

°

F and line 2 baking sheets with parchment paper.

  Roll out one disk of dough on a well floured work surface. If dough feels sticky, sprinkle some more flour over the top while rolling.

Keep the other disk of dough chilled while you work. Roll the dough into a rectangle shape, roughly 9×12 and 1/8

"

thick. Don

'

t worry if it

'

s not perfect, trim the rough edges with a pizza cutter or a sharp knife.

  

Cut the dough into thirds and each third into thirds again, making 9 rectangles, each about 3

×

4 inches. Using a ruler will help keep the lines straight and sizes of rectangles accurate. These will be the bottoms of the pop tarts.

  Arrange the 9 rectangles on a lined baking sheet, leaving about 1/2

"

between each. Chill the prepared sheet in the fridge.

  Take the second disk of dough and repeat steps 1 through 4. These will be the tops of the pop tarts.

  

Remove the bottom layer of the pop tarts from the fridge. Using a pastry brush, wash the surface of rectangles with heavy cream. Top each rectangle with a heaping spoonful of cinnamon and brown sugar filling, leaving a 1/4

"

border on all sides. Set aside.

  Remove the top layer of your pop tarts from the fridge. Using a pastry brush, wash the surface of rectangles with heavy cream, then

place each rectangle

on top of the filling-topped rectangles with the wash side down. Press firmly around all sides of the dough to seal.

  Using a toothpick, or anything with a sharp edge, poke holes in the tops of each filled pop tart to allow the steam to escape. With a fork, crimp the edges of each pastry to prevent the dough from separating while baking.

   Chill the filled pop tarts

for 20 minutes. This creates sharp edges on the pastry and lets the butter in dough firm up before baking.

  Just before baking, brush the tops with cream wash. Bake for about 25-30

minutes or until they

'

re golden brown, rotating the pan halfway through baking. Allow the pop tarts to cool on pan for 5 minutes, then transfer to a rack to cool completely.

   

Using a spoon or knife, top each cooled pop tart with a generous layer of glaze. The glaze will set within an hour. Pop tarts can be stored in an airtight container for 3 days or chilled for one week. To reheat, bake at 350

°

F for 5 to 10 minutes or toast in the toaster.
Enjoy!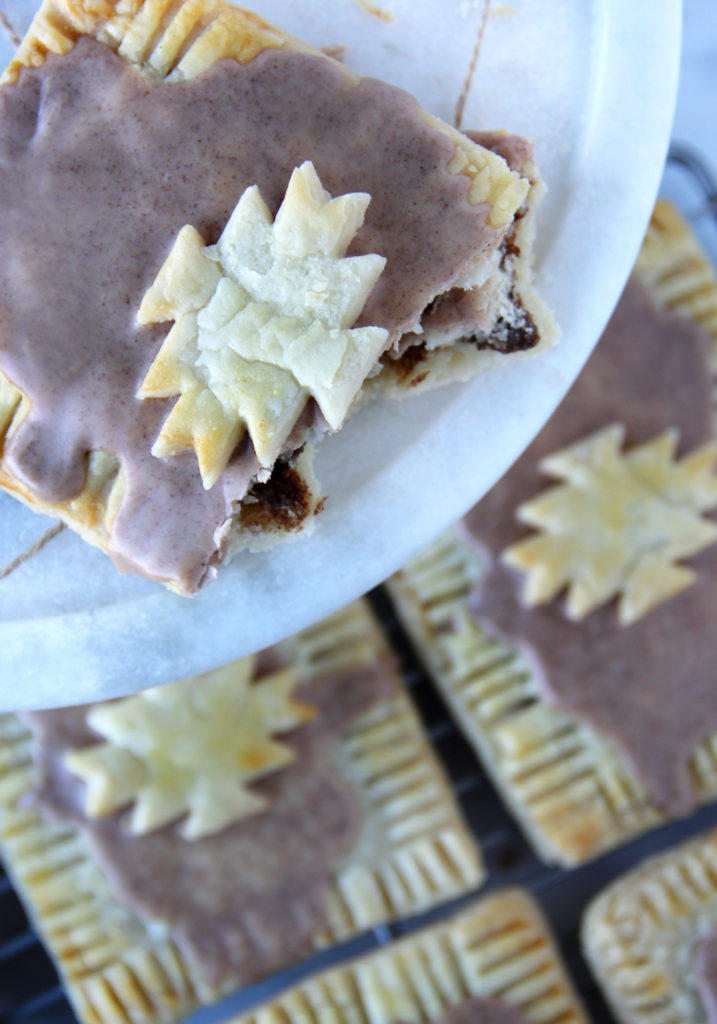 Peanut Butter Kisses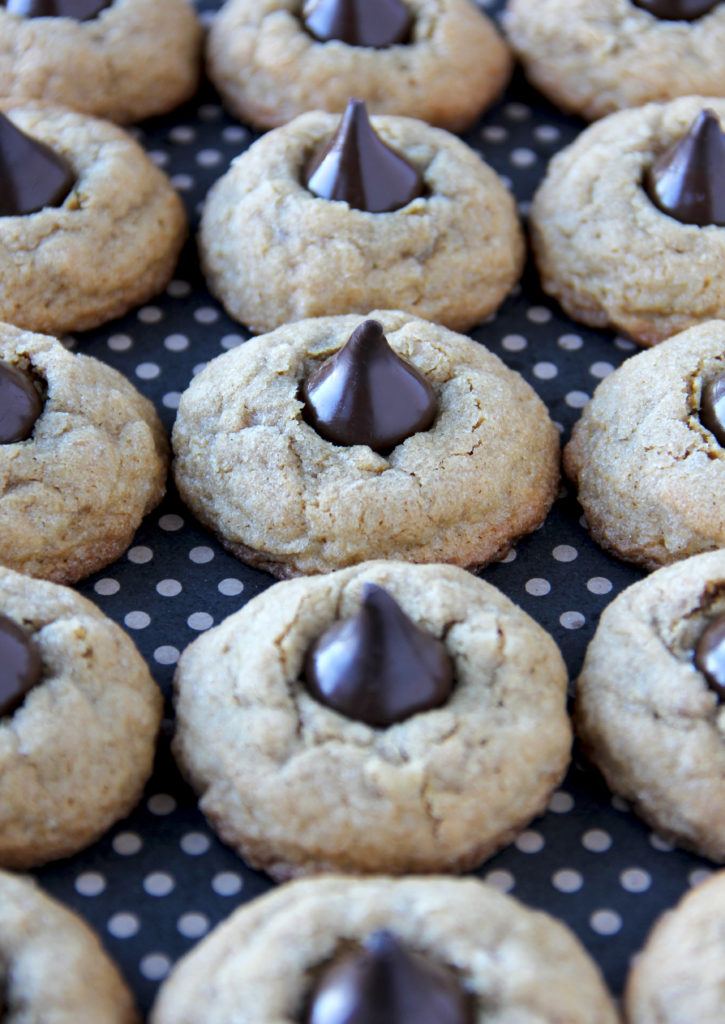 Gluten free, butter free, and flourless! You'll never know it's missing.
*Makes 18 cookies
3/4 cup light or dark brown sugar, packed
1 teaspoon pure vanilla extract
1 egg, at room temperature
1 tablespoon coconut oil, melted
1 cup crunchy peanut butter
1/2 cup granulated sugar (for rolling)
About 2 dozen Hershey

'

s Dark Chocolate Kisses, unwrapped (they

'

re gluten-free)
Preheat your oven to 350

°

F. Line two cookie sheets with parchment paper.

Mix the brown sugar, salt, and vanilla till combined.

Add the egg and coconut oil, mix till well combined.

With a wooden spoon, stir in the peanut butter.

Chill the dough for 1 hour.

Using a 1 1/4

"

cookie scoop or small spoon, drop the batter into the granulated sugar, covering completely. Roll into a ball. Place the cookies onto prepared cookie sheets, spacing them a couple inches apart.

Bake on center rack for about 10 minutes, or until golden brown on the edges.

Allow the cookies to cool for 2 minutes and then take a Hershey

'

s Dark Chocolate Kiss and press it firmly into the center of the cookie. Allow to cool for 5 minutes more, then transfer to a rack to cool completely.

Store in an airtight container for 3 days or freeze for 1 month.
Note: Because there is no flour, the cookie batter will seem very soft and runny, but they will turn out. You want to use a peanut butter with a dense texture to help hold the dough together. Jif Natural Crunchy is recommended.
Flourless Dark Chocolate Soufflé Cake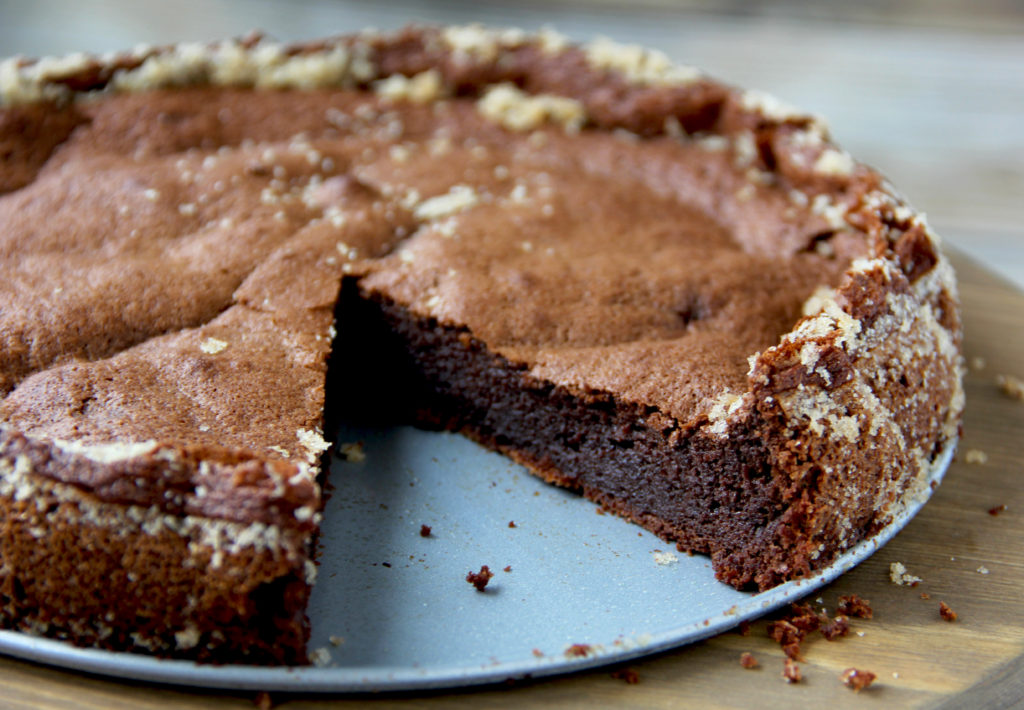 Don't be intimidated by this decadent dessert. It's easy and fun to make. Use good quality chocolate! Best served warm with vanilla bean ice cream or freshly whipped cream.
*Serves 8
1 stick (8 tablespoons) unsalted butter, cut into small cubes.
8 ounces dark chocolate, very finely chopped (Ghirardelli recommended)
2 tablespoons brewed strong coffee
1 teaspoon pure vanilla extract
6 eggs, yolks and whites separated
extra butter and sugar for dusting the pan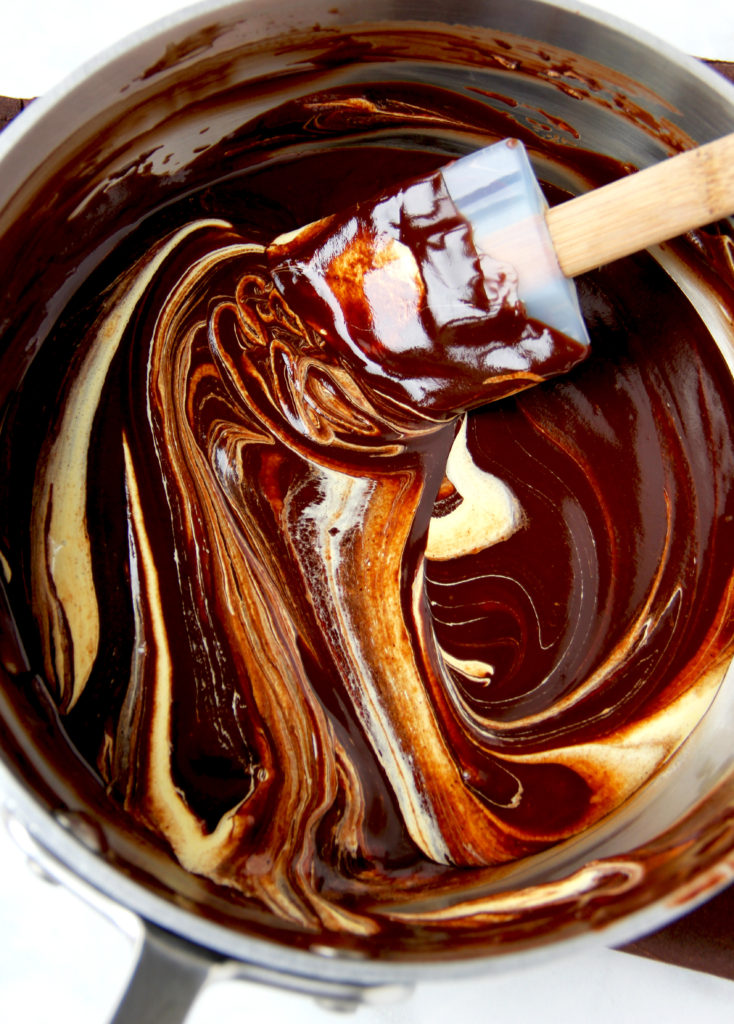 Preheat your oven to 350

°

F. Butter a 9

"

springform pan. Dust the pan lightly with sugar.

In a medium saucepan, melt the chocolate and butter over low heat. Stir constantly until just melted. Remove from heat and stir in the coffee, vanilla, and cinnamon. Set aside and cool to room temperature.

In an electric mixer, on high speed, beat the egg yolks and sugar till pale and yellow, about 3 minutes. The mixture should thicken and hold small peaks.

With a rubber spatula, fold a quarter of the egg and sugar mixture into the chocolate mixture. Then pour the chocolate mixture (with the added eggs and sugar) into the remaining egg and sugar mixture, and fold gently to combine.

In a separate large bowl, beat the egg whites to soft peaks. Fold a quarter of the egg whites into the chocolate mixture to lighten the batter. Then add the remaining egg whites and fold till just combined. Be careful not to over-mix, see note.

Pour the batter into prepared pan and smooth the top. Bake on center rack for 30 to 35 minutes. The edges of the cake should be set while the center is still soft. The cake will set as it cools. Cool on a wire rack for 5 to 10 minutes and then run a knife around the edges to loosen from the pan. Open the springform pan to release the sides and transfer the cake to a serving plate. Serve warm.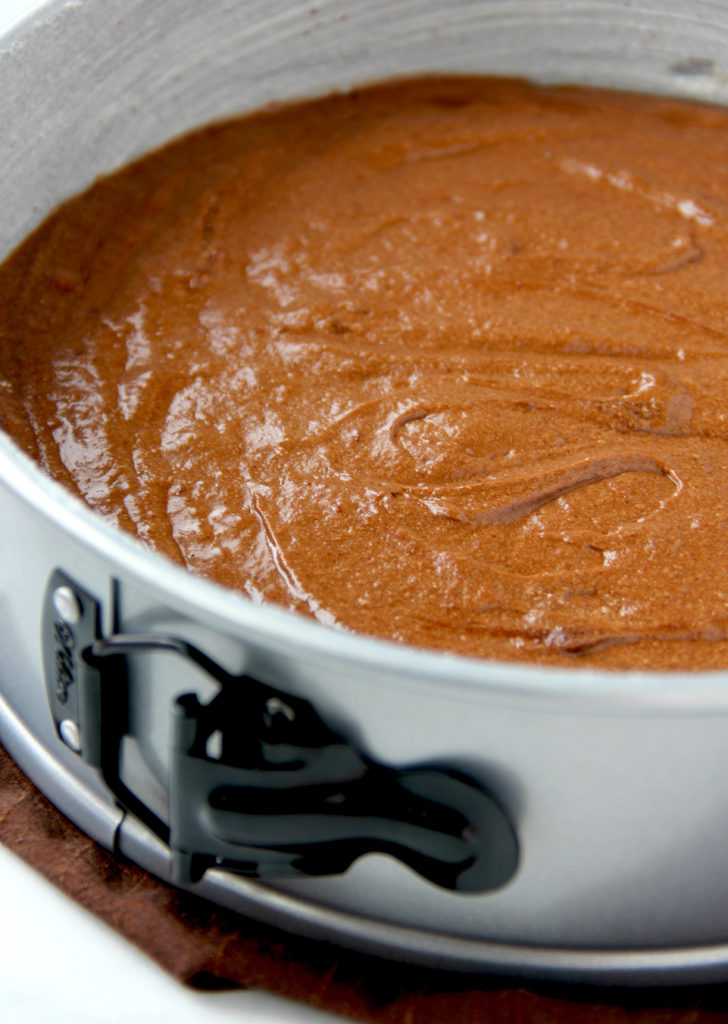 Note: Folding the batter is done to keep the cake light and fluffy. It should be done with a rubber spatula, lifting the batter from the bottom then to the top in an upward circular motion. This is done so the egg whites don't collapse, which would cause the cake to be dense. It's better to have the batter under-mixed than over-mixed. It should be crisp on the outside and gooey on the inside.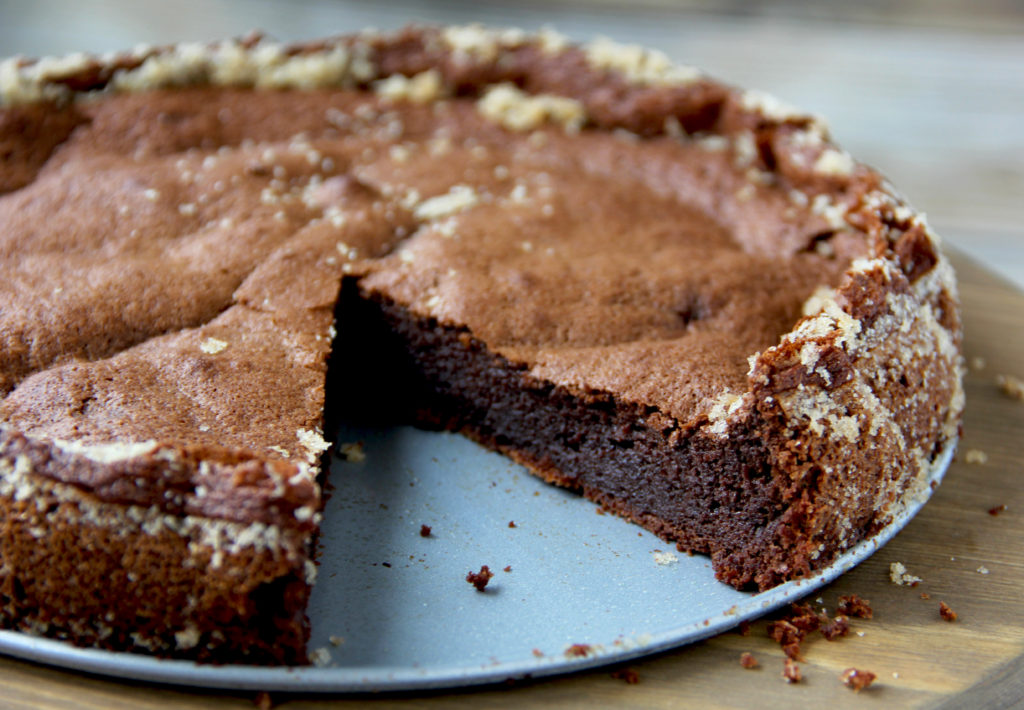 *Recommended products are italicized.
Are you ready to try a gluten elimination for a week? Don't forget to read my post What the Gluten to learn more why I personally decided to explore a week without gluten! (Again, I'm not a doctor or an expert, I'm just a person looking to make healthy lifestyle choices for myself and my family).