Y'all (as we say in Texas), this has been quite the month! COVID-19 doesn't seem to be easing up—cases in Texas are on a very fast rise—and we are all taking a hard look at ourselves and the racial bias in this country. It's a heavy time, but I hope in a few years we can look back on Summer 2020 and be proud that we forged ahead with a more progressive, equal and brighter future.

As I recently mentioned, I'm trying to do a better job of seeking out diverse companies and perspectives to feature on the blog. That change is reflected by what's on my nightstand, so I wanted to show you some of the items I've been keeping close by. Of course, there are several books about racism and how to navigate a different narrative around being antiracist, and I've found a handful of beauty products from Black-owned businesses that I'm simply obsessed with.

Read on to find out what seven items have a dedicated spot on my nightstand this month. And then let me know what's on your nightstand right now in the comments below.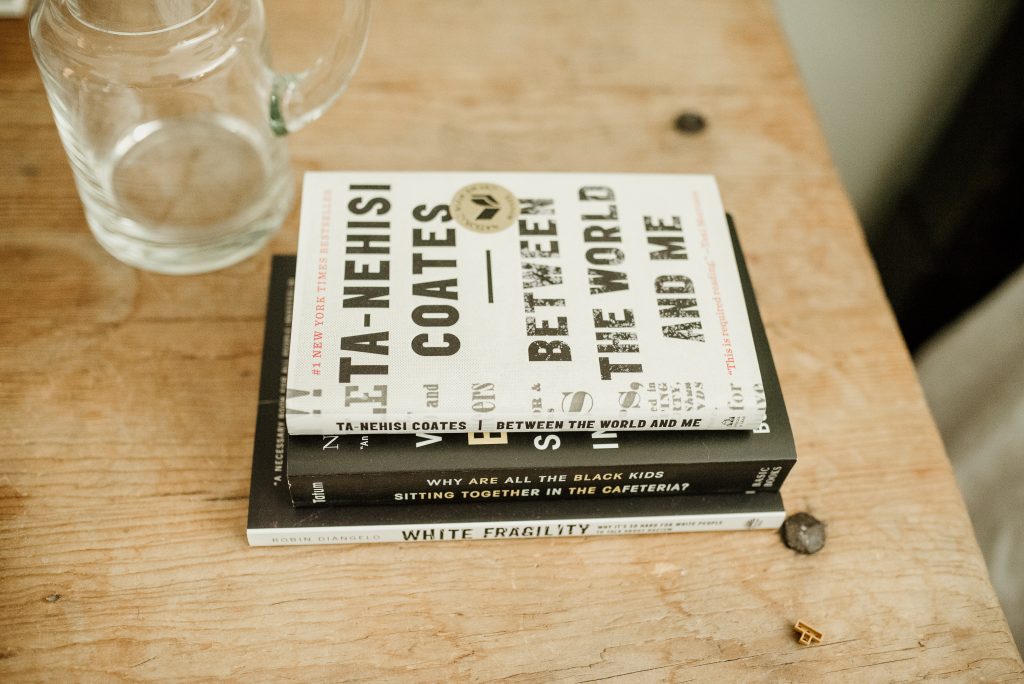 I know, I know…this is the third time I've written about this book in just a few weeks. (Example A. Example B.) But I implore you to read this book. It is truly one of the most incredible works of literature I have ever read. It should be a staple on everyone's bookshelf. Not only for the educational purpose of understanding author Ta-Nehisi Coates' perspective of the world he lives in, but the writing is profound. (I promise I'll stop gushing about it at some point!) Here's a passage that spoke to me: "Here was the lesson: I was not an innocent. My impulses were not filled with unfailing virtue. And feeling that I was as human as anyone, this must be true for other humans. If I was not innocent, then they were not innocent. Could this mix of motivation also affect the stories they tell? The cities they built? The country they claimed as given to them by God."
In this New York Times best seller, antiracist educator Robin DiAngelo breaks down white fragility, or the "defensive moves that white people make when challenged racially…such as anger, fear, and guilt, and by behaviors including argumentation and silence." This passage blew me away: "The idea of race as a biological construct makes it easy to believe that many of the divisions we see in society are natural. But race, like gender, is socially constructed. The differences we see with our eyes—differences such as hair texture and eye color—are superficial and emerged as adaptations to geography. Under the skin, there is no true biological race." Reading this showed me that there is zero excuse and zero room to pass judgement. These biases are artificial and superficial constructs.
Originally written in 1997, this book has been revised and updated—and the content is more important than ever. Talking about race is difficult, but former President of Spelman College Dr. Beverly Daniel Tatum, a renowned authority on the psychology of racism, believes we need to do it in order to enact any change. This book is a great way to get the conversation started. 
Created by three sisters from Ghana (including a dermatologist), this hand cream is infused with raw shea butter locally sourced from Ghana. I love how soft and smooth it makes my hands—and that it helps support the livelihood of rural African women. Plus, the company donates a portion of every sale toward buying 100 pairs of shoes for its workers in Ghana this year.  
The company behind this palette of nine gorgeous colors makes cruelty-free, vegan, paraben-free, gluten-free makeup. The color palette is gorgeous and can allow day to night makeup. What's not to love? 
When KJ Miller and Amanda Johnson couldn't find the right nude color for their skin tones, they decided to create their own, and Mented Cosmetics was born. I love these super moisturizing nude lip shades, which are vegan, paraben-free, non-toxic, cruelty-free, and made in the USA.
I'm obsessed with this razor for superficial purposes alone. This razor is so pretty in all its rose gold glory. Plus, it's more environmentally friendly than disposable ones. (Each razor includes a pack of 10 blades.) They're so popular that they are currently sold out. Pre-order now to get your razor in four to six weeks.