Candace Nelson, the founder of Sprinkles Cupcakes, is one of my favorite chefs, and in the past she's generously shared her Ultimate Vanilla Cupcake recipe and her Easy Homemade Granola Bars recipe with our community. Today she's back to talk pies, and once again gives us one of her delicious recipes: this time for chocolate bourbon pecan pie. (I'm already drooling!) 
I know firsthand that making a pie is harder than it looks, and I was shocked to hear that Candace feels the same way. "It took me a while to find my confidence with pie," she says. "I'm a baker and pastry chef; I like being told what to do. But pie is more nuanced. How much you hydrate the dough depends on how it feels, so you need to know the science behind it." 
Candace is sharing more of her pie expertise in a special digital Pie Pop-Up course, which includes 25 videos, step-by-step PDFs, a Facebook group, and live Q&As with Candace herself. 
Keep scrolling for pie tips from Candace Nelson—and that delicious pie recipe. That's what I'll be baking this Thanksgiving, what about you? Let me know in the comments.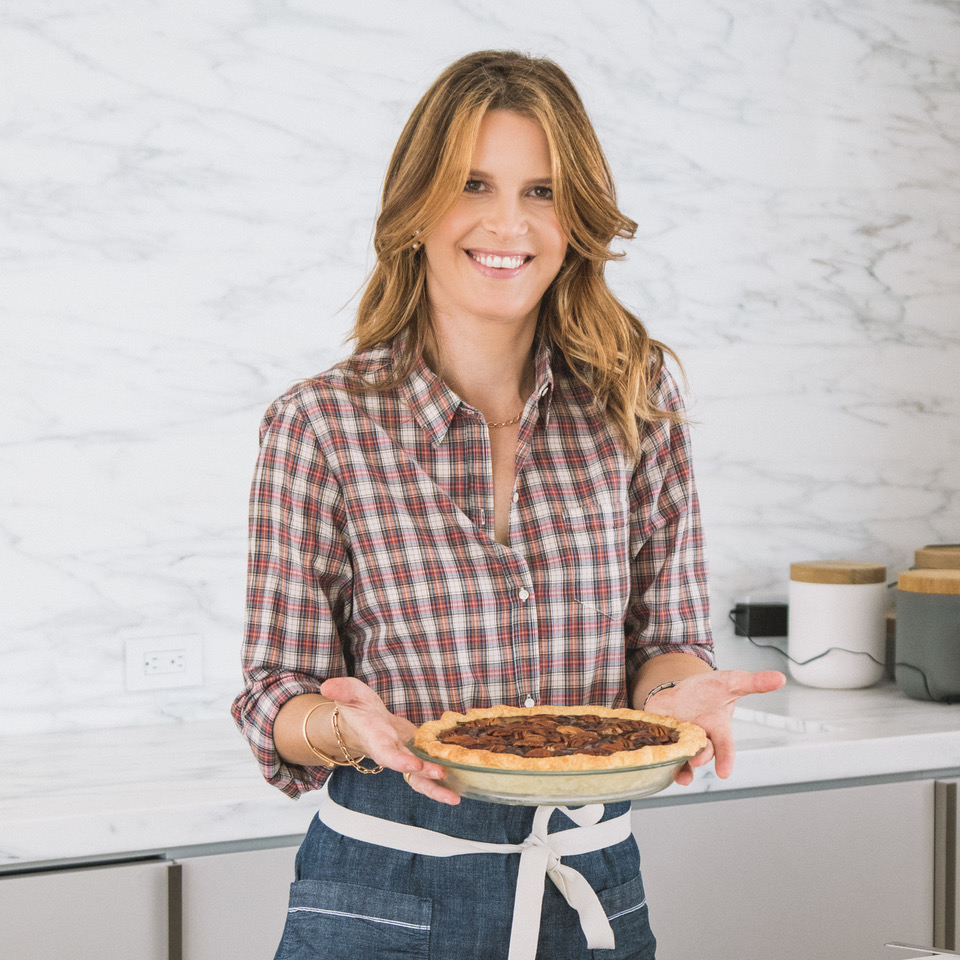 Make Your Own Crust
There's nothing easier than buying a pre-made pie crust from the grocery store, but don't do it.  "It'll feel so much better when everyone is asking, 'Did you make this?'" says Candace. "It's that pride of ownership." Plus, as she points out, it doesn't take that much time to make a crust on your own, and the ingredients are minimal: butter, flour, sugar, and water.
Plan Ahead
If you're not yet confident with making pies, don't bake one the morning of the big feast. "Pie is awesome because you can make the dough a few days in advance and keep it in the fridge, blind-bake the crust early for some pies, freeze dough weeks in advance—whatever suits your schedule," says Candace. 
Keep Your Ingredients Cold
The key to a flakey pie crust is cold water, cold utensils, and especially cold butter. "Butter has fat and water, so when it heats up, the moisture turns to steam and it separates the layers of dough," explains Candace. "You want cold ingredients to preserve that flakiness." If the butter melts and blends with the flour and water before cooking, the result will be a dense pie crust. 
Don't Be Afraid to Experiment
Believe it or not, Candace's favorite pie is the simple, classic apple. "I love it because I feel like there are so many personalities depending on the apple variety you use, how you treat the apples—cooked, raw, macerated—even how big you slice them," she says. Take that spirit of experimentation into your own kitchen. Play around with recipes and ingredients until you find your favorite pie and the best way to bake it for you. "The recipe is just the guide," Candice points out.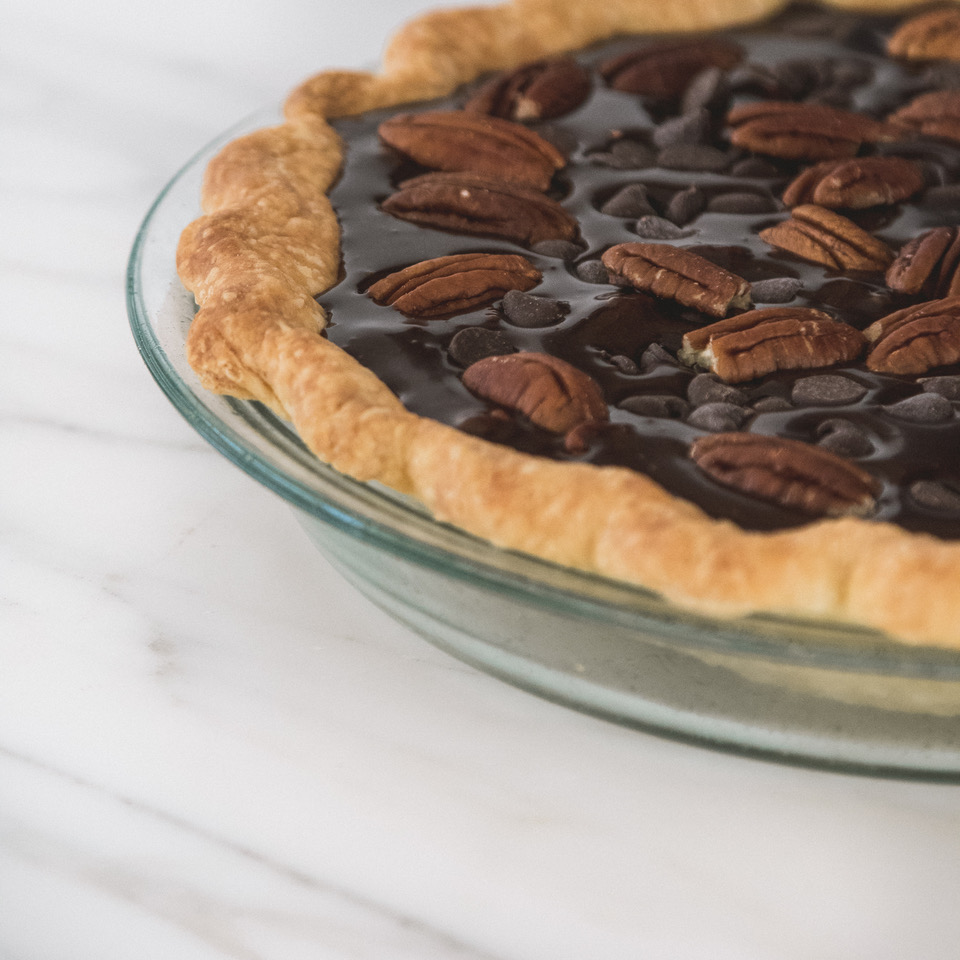 Chocolate Bourbon Pecan Pie  
2 ounces (57g) unsweetened chocolate, coarsely chopped 
1/3 cup (75g) unsalted butter 
¼ cup (20g) unsweetened cocoa powder 
¾ cup (150g) sugar 
¾ cup (240g) dark corn syrup 
½ teaspoon fine sea salt 
3 large eggs 
1 large egg yolk 
3 tablespoons bourbon 
1 teaspoon pure vanilla extract 
1½ cups (180g) pecan halves 
1/3 cup (67g) bittersweet or semisweet chocolate chips 
Master Pie Crust
**This makes two crusts. You may halve the recipe—or just make two pies!
2½ cups (325 g) all-purpose flour 
1½ teaspoons sugar 
1 teaspoon fine sea salt 
1 cup (2 sticks or 226g) unsalted butter, cut into ½-inch cubes, chilled in the freezer for 20 minutes 
½ cup ice water, plus more as needed 
To Make Crust
Step 1: In a food processor, pulse the flour, sugar, and salt until incorporated, about 5 pulses. Add the butter and pulse until incorporated but still with lots of pea-size pieces, 10 to 15 pulses (make sure not to overprocess).
Step 2: Add ¼ cup of the ice water and pulse the dough, then add the remaining ¼cup water, 1 tablespoon at a time, pulsing after each addition, until the dough just comes together and small pieces of butter are still visible; be careful not to overwork the dough.
Step 3: Divide the dough in half and form each half into a 5 x 1-inch disc. Wrap each disc in plastic wrap and chill for at least an hour before using. 
To blind bake: Roll the dough, then line a 9 inch pie pan. Crimp the edges and dock the pastry with the tines of a fork. Line the pie with aluminum foil or parchment and then fill the pie with weights: ceramic pie weights, dried beans or dried rice. Bake for 15 minutes in a 425 degree oven. Then remove the pie weights and liner and bake for 2-3 more minutes until the moisture is cooked off from the bottom of the pastry. Remove from oven and let cool.
To Make Filling
Step 1: Preheat the oven to 325°F. 
Step 2: In a microwave-safe bowl, microwave the chocolate and butter on high for 2 to 3 minutes, stopping and stirring every 45 seconds until melted. Whisk together until smooth, then add the cocoa powder and whisk until smooth. Whisk in the sugar, corn syrup, salt, eggs, egg yolk, bourbon, and vanilla until smooth.
Step 3: Sprinkle 1 cup of the pecans evenly across the bottom of the blind-baked crust and slowly pour in the filling in a spiral motion, working from the inside out.
Step 4: Sprinkle the chocolate chips evenly over the top of the pie, then arrange the remaining pecans on top of the chocolate chip layer in a decorative pattern.
Step 5: Place the pie on a baking sheet and bake until the center of the pie has puffed and the filling jiggles only slightly when the pan is gently shaken, about 45 minutes.
Step 6: Transfer to a wire rack and cool for several hours before cutting and serving.