Between the pandemic and the election, it's been a rough nine months. But it feels like we are about to change our trajectory. Things are calming down, and that's reflected in what's on my nightstand. I'm trying to get off my phone, turn off the news, and focus on finding time to do nothing. I encourage everyone to spend time coloring (with your kids or alone), getting lost in a book, or indulging in some self care. 
The items I've been obsessing over lately focus on mindless fun and taking care of my mind and body. Keep scrolling to see what they are—and let me know in the comments what items can be found on your nightstand right now. I'd love to know.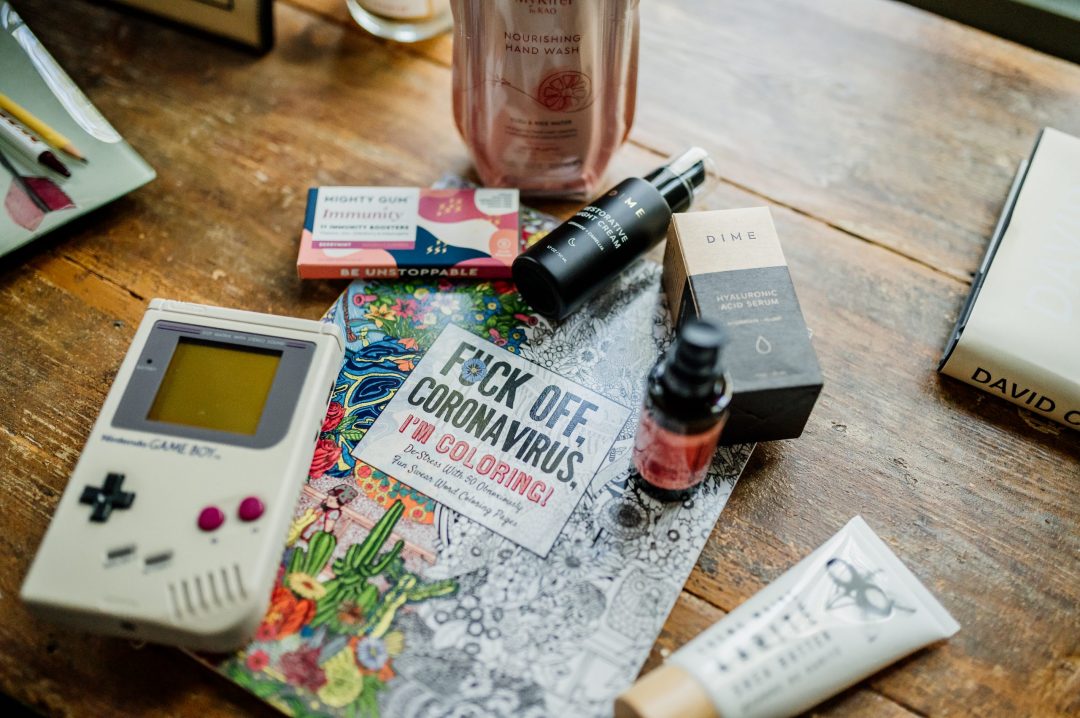 This coloring book is one of my favorite things to get lost in right now. I color a lot with Shep, my little artist, and I often do it after the kids are in bed when I need to calm and focus myself. Each page of the book contains swear words and other colorful language, which helps make the mood a little lighter.
Confession: I do not get these newfangled video games and fancy gaming systems. Anyone else? I like to kick it old school with the Game Boy because sometimes it's nice to KISS (keep it simple, stupid).
We're getting into flu season, so I'm doing everything I can to stay healthy. This gum is great because it tastes great and includes elderberry extract, zinc, and vitamins to boost your immune system.
This is the time of the year that my hair goes haywire. In Texas, it's hot during the day and cold enough at night to turn on the heat. The result is dry, frizzy hair. This product is a mix of five oils, including avocado, jojoba, and coconut, and it makes my hair look healthy and smooth.
After a lot of late nights of worrying about our world, I need all the help a good night cream can give me. This one contains jojoba oil and antioxidant squalene, which moisturizes while reversing skin damage and fighting wrinkles and free radicals. 
Not only does this hand wash, made of Japanese yuzu and rice water, smell delicious and keep my hands soft and clean, but it is vegan and free of parabens, oils, and dyes. Plus, the plastic bottle is 70 percent thinner than traditional bottles and the company has its own recycling program.