In the last 5 years there have been such a parade of emotional moments on this parenting roller coaster.  My first born started kindergarten this year and my second is now riding a bike!   And Odette, not to be overshadowed by her big brothers, is trucking along fast and furiously on the trail paved before her.   She was just a sweet, cozy, immobile little being, then she smiled and cooed, then she rolled over, then back over again, and then propped her chunky legs up and she sat on her own.  She's following in her big brothers' footsteps, growing from an infant to a 7-month-old and beyond, and now exploring out of breastmilk and into solids.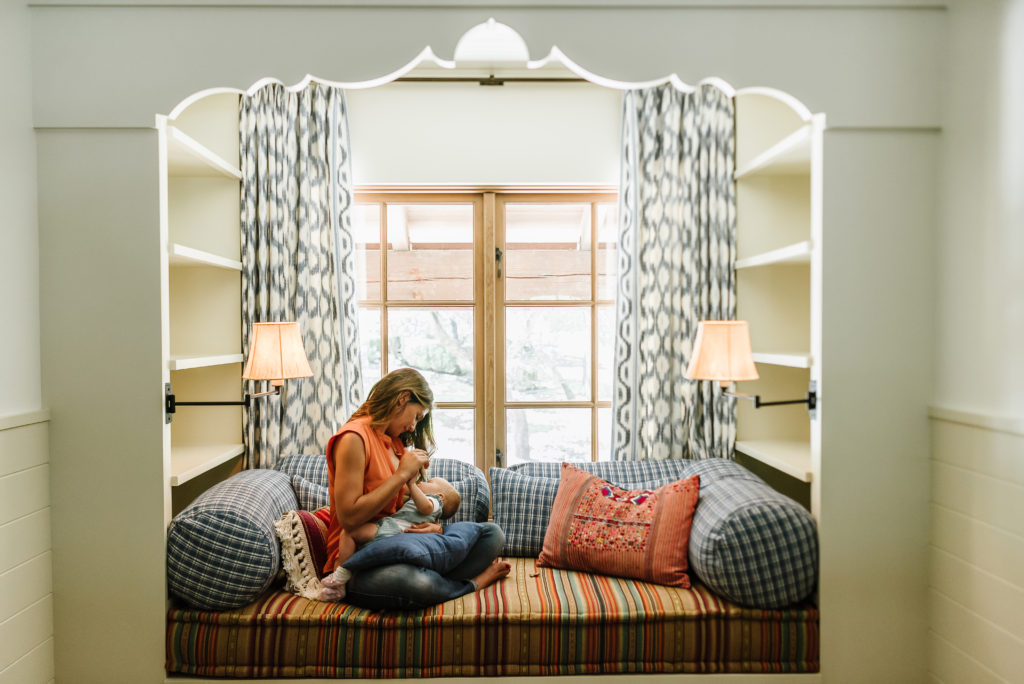 Odette transitioning into this new world of solid food shouldn't phase me.  It's a natural and GOOD progression. It means she's ready for the world; ready to grow and develop.  She's ready for the next benchmark.  These milestones from my third child shouldn't seem like huge momentous markers, but the expected change brings on many unexpected tears.  I hate saying goodbye to those previous moments.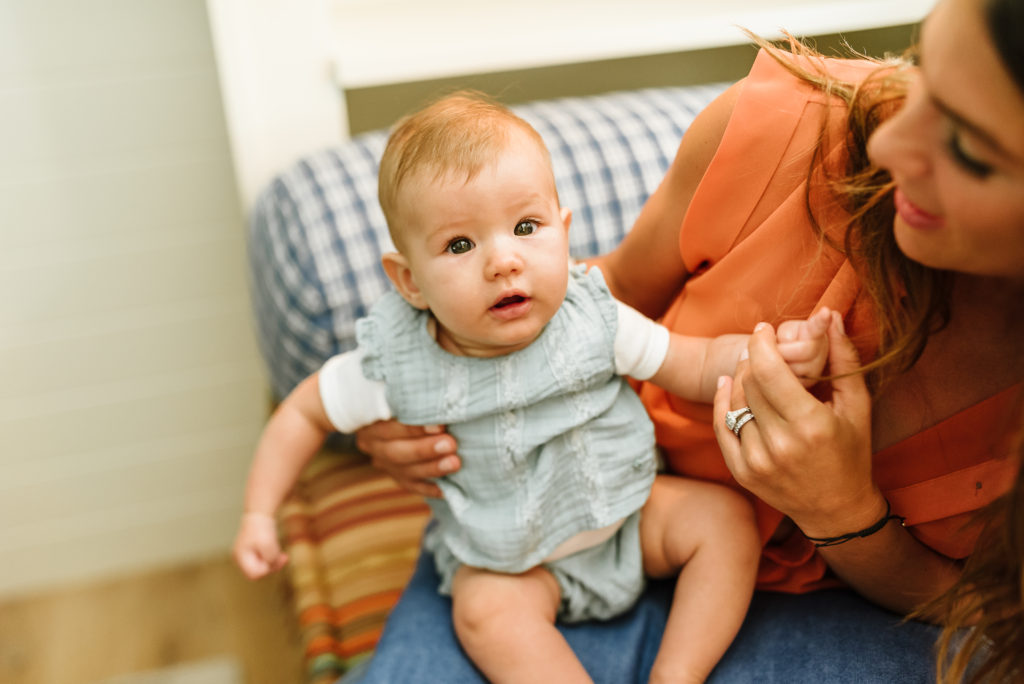 I remember when Odette said "mama" for the first time. She was about 4 months.  Her lips sucked under her gummy smile and she so deliciously said it… not even connecting the word and sensation to me: she was just doing exactly what she was supposed to be doing.  It wasn't as though I'd never heard these words before from my kids, but now it was from my littlest baby–and possibly the last infant member of our tribe.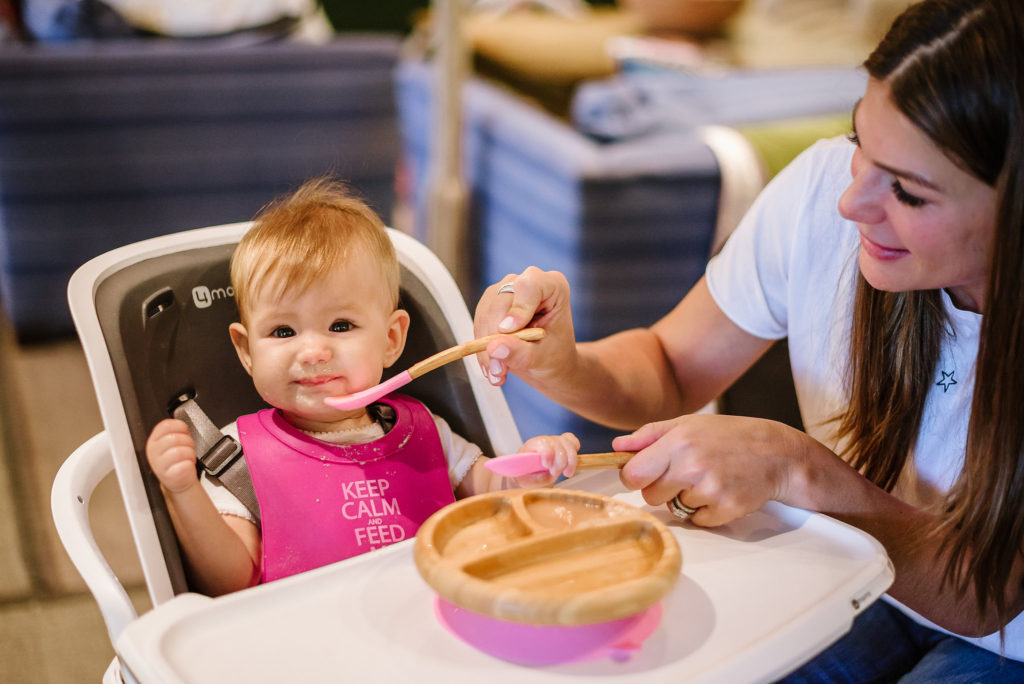 I tried to savor every moment of my last pregnancy.  I signed up for plenty of foot rubs, I massaged my belly after every shower, and I even made a cast of my swollen baby bump! (It's sitting on the floor of a closet.)  When Odette was born, I ate her up.  I was so worried I would be so preoccupied with my older kids that I wouldn't get enough time with her, so I co-slept and did baby-led feedings.  I strapped Odette onto my chest and in various pouches so we were always connected.  The fact that she sits with me while I'm eating and reaches for my food isn't anything that is surprising.  It's not like I didn't see this coming, and didn't know she was maturing and developing, because I did. I know it's not as though Odette is venturing off to college, but this milestone is the first big one of many, and it might possibly be the last of the "firsts."  And, for whatever reason, it melts my heart and makes me incredibly emotional. It's as though I'm saying goodbye to certain chapters in my life, too.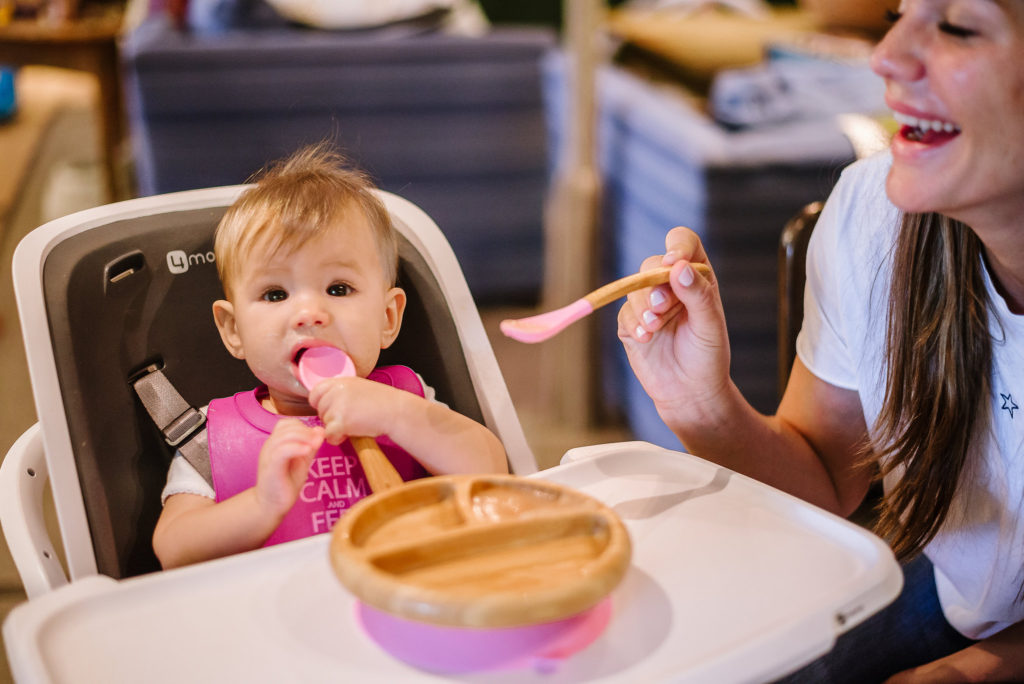 Thank goodness I have wonderful friends and family whose shoulders I can cry on!  One dear friend of mine, Nicole Tubiola from my WILDFIRE days, came to my rescue when I needed it most.  In my panic of holding onto every baby moment, I completely forgot how to transition into the next phase: solid food.  Luckily, Nic helped me shift into solids effortlessly and organically, and showered me with her tremendous knowledge of baby food. Nicole runs a company called Simple that prepares baby meals for busy moms in their homes and leaves these meals in their freezers.  She created an entire schedule for me so that I could focus on saying goodbye to the breast milk diapers (I can't help it I love that smell–TMI?) and hello to the new foodie phase.  
See below for the wonderful schedule created by Nicole and stayed tuned for her post on how to cook and prepare these important meals.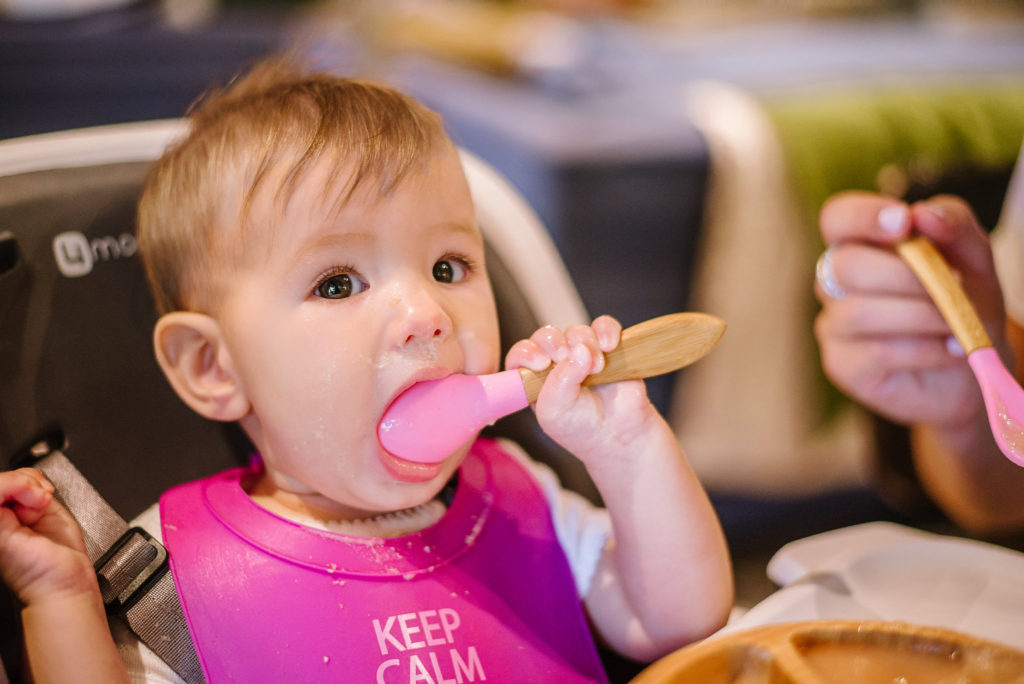 The Simple Schedule
Month 1
Baby should drink milk prior to eating solids. we recommend 6-8 oz each for breakfast, lunch, mid- afternoon, dinner with an optional late night feed for the 1st 3 weeks. In the 4th week we recommend, 6-8 oz for breakfast, lunch & dinner + 5-7 oz at mid- afternoon & an optional 3 oz during late night.
days 1-3
lunch: 1 tsp oat cereal***
days 4-6
lunch: 1 cube butternut squash* dinner: 1 tsp oat cereal**
days 7-9
lunch: 1 cube pear*
dinner: 1 tsp oat** mixed with 1 cube butternut squash
days 10-12
lunch: 1 cube sweet potato*
dinner: 2 tsp oat** with 1 cube pear
days 13-15
lunch: 2 tbl finely mashed avocado*** + 1 cube butternut squash dinner: 1 tbl oat** mixed with 1 cube pear
days 16-18
lunch: 1 cube green bean* + 1 cube sweet potato dinner: 1 tbl oat** mixed with 1 cube pear
days 19-21
lunch: 2 tbl yogurt*** mixed with 1 cube pear
dinner: 1 tbl oat cereal** mixed with 1 cube butternut squash & 1 cube sweet potato
days 22-24
lunch: 1 cube apple* + 2 cubes sweet potato dinner: 1 tbl oat** mixed with 2 cubes green bean
days 25-27
lunch: 1 cube carrot* + 1 cube apple
dinner: 1 tbl oats** mixed with 1 cube butternut & 1 tbl yogurt**
days 28-30
lunch: 1 tbl multi-grain cereal*** mixed with 1 cube green bean & 1 cube pear dinner: 1-2 tbl avocado** + 1 cube butternut & 1 cube carrot
*new food introduced, **must buy item separately

Photos by Angela Doran Photography
SaveSave
SaveSave