Christmas is here and we're coming up close to crunch time. Behind on making desserts for a holiday party or creating edible gifts? It happens. There is a solution: homemade goodies. I turned to my friend Lindsey Johnson (peep her Insta, @ladyinthewildwest) who happens to be one of my favorite creative bakers, and enlisted her to help with some last minute delectables that you too can make at home. I love getting into the kitchen with my kiddos and whipping up sugary delights. (The bigger the mess, the better the time!) Here are some of my favorite edible treats that will spread some holiday cheer and ease the stress of last-minute gifting. Keep reading for the recipes!
Chocolate Dipped Marshmallows and Hot Chocolate
Hot chocolate served in style. These kid-friendly, no-bake treats make for festive favors at a holiday party or perfect drop gifts to neighbors. They're quick, easy, and colorful- sure to bring smiles all around. This recipe makes 12 edible gifts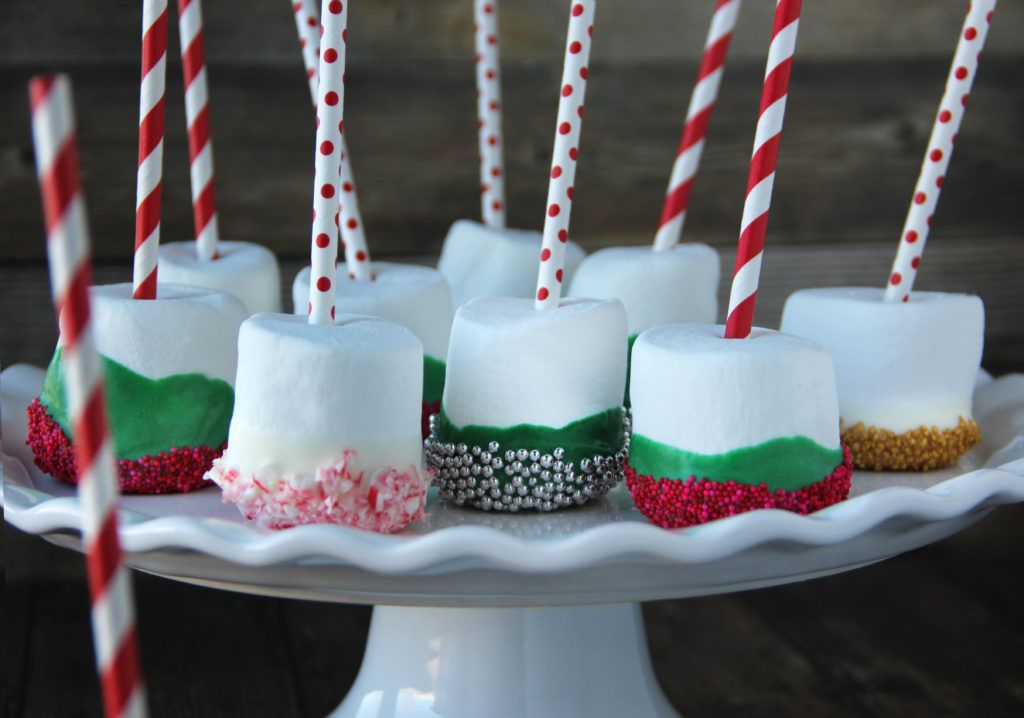 You'll need:
12 jumbo marshmallows (We used Kraft Jet-Puffed Jumbo marshmallows)
2 cups Chocolate candy melts (white or milk chocolate)
Gel edible food coloring in red or green
Holiday sprinkles and crushed peppermint candy
12 decorative straws or popsicle sticks
12 cellophane bags and baker's twine (ribbon works, too)
12 packets of hot chocolate
Parchment paper
Hole punch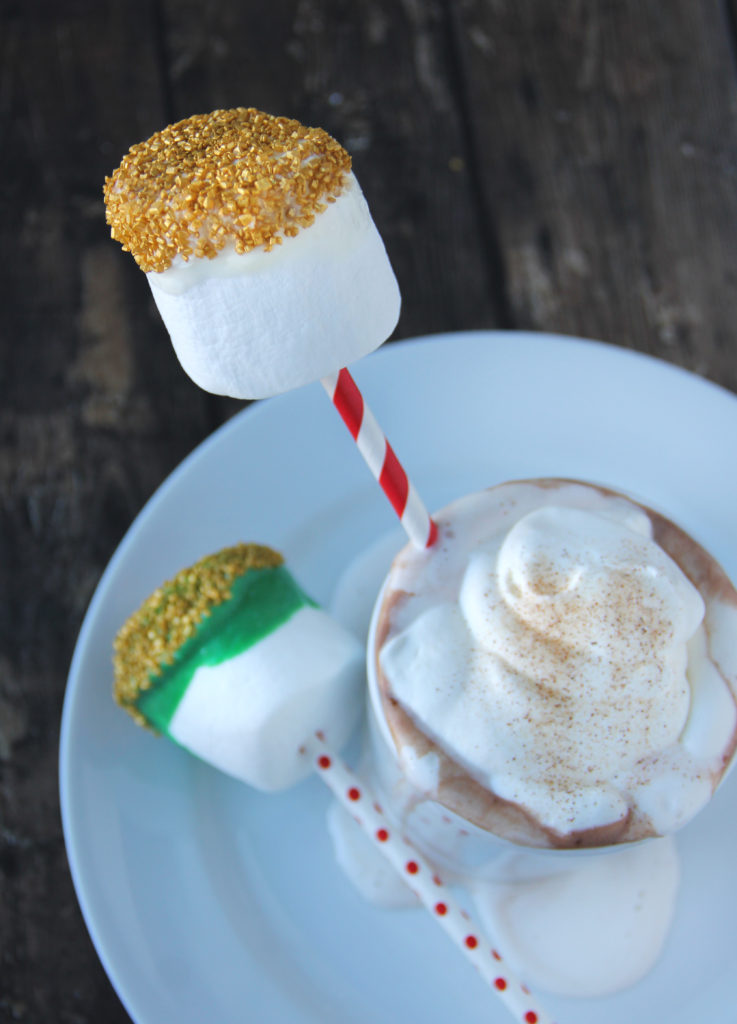 Instructions:
1. Place a sheet of parchment paper on a flat surface. Pour sprinkles and crushed candy in shallows bowls.
2. Place a straw or popsicle stick into the center of marshmallows, creating an upside-down lollipop. Set aside.
3. In a microwave-safe bowl, heat the chocolate candy melts for 20 seconds. Stir. Heat for another 20 seconds. Stir. Repeat until chocolate has just melted. Stir until smooth.
4. If coloring your chocolate, pour some into separate bowls and add a few drops of edible food coloring. Stir.
5. Holding by the straw or stick end, dip a marshmallow into melted chocolate, coating halfway up. Allow the excess chocolate to drip off. Then dip into the sprinkles or crushed candy, coating the bottom layer of chocolate. Place, sprinkle side down, onto parchment paper. Allow the chocolate to set for 30 minutes.
6. While your marshmallows are setting, prepare your baker's twine, bags, and hot chocolate packets. Punch two holes, about ½" apart, into the top of a hot chocolate packet. Run a piece of baker's twine through one hole and back out through the other, leaving the same amount of twine on each side.
7. When marshmallows are set, place one, sprinkle side down, into a cellophane bag. Attach the bag to the hot chocolate with the baker's twine.
Homemade Twix Cups
A holiday twist on the classic candy bar. These homemade candies look adorable wrapped in cellophane bags or a small gift box. Add some sprinkles to make them really pop. This recipe makes 12 standard sized candy cups.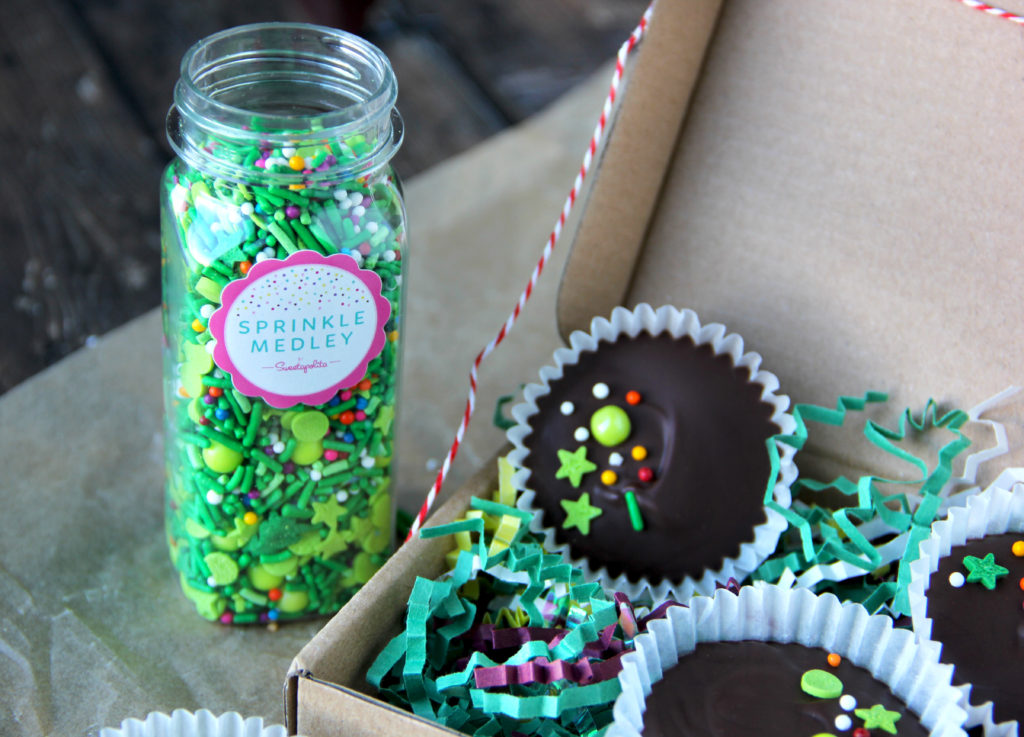 You'll need:
2 heaping cups of milk or dark chocolate chips
1 tablespoon of shortening (this is optional, the shortening gives the chocolate a nice shine)
2-3 sheets of honey graham crackers, broken up into 1" chunks
Store-bought caramel sauce
12 standard cupcake liners
Cupcake tin
Holiday sprinkles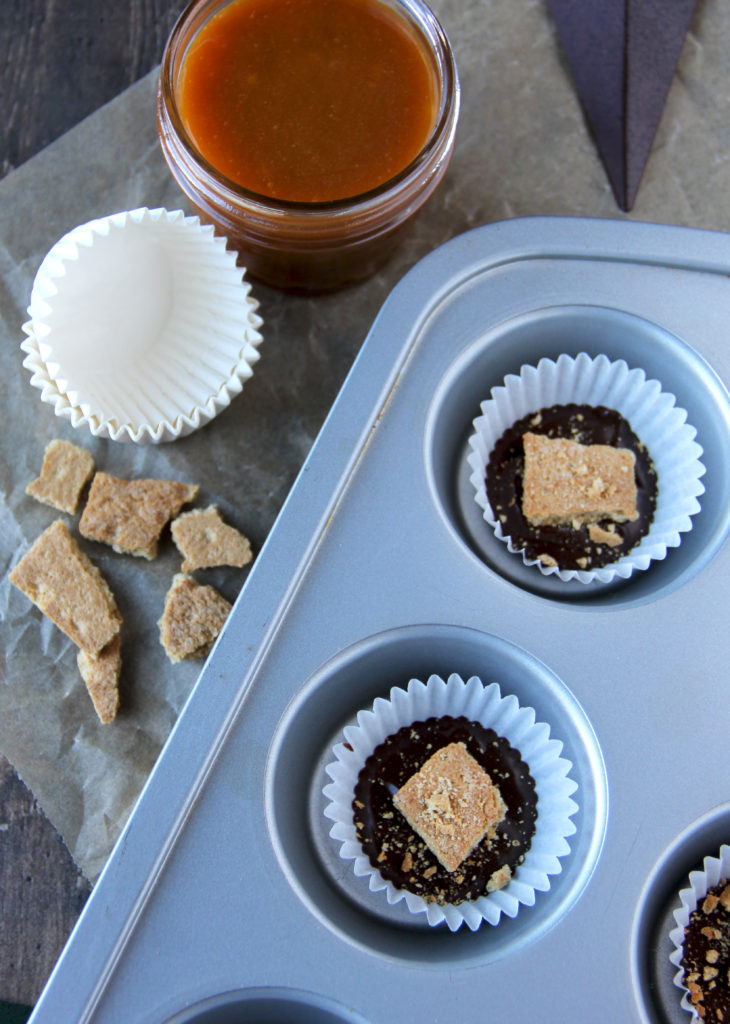 Instructions:
1. Line a cupcake tin with 12 paper liners.
2. In a medium bowl, melt the chocolate and shortening (if using) together. You can use a microwave or a double broiler to melt. If using a microwave melt for 20-second increments, stirring between, to prevent burning the chocolate.
3. Using a tablespoon, scoop melted chocolate into each paper liner. The chocolate needs to cover the bottom of liner. You'll use a little less than half the melted chocolate.
4. Place the melted chocolate aside. Put the muffin tin in the fridge for 10-15 min till the chocolate sets.
5. Take the muffin tin out of the fridge. Place a couple pieces of graham cracker on top of the set chocolate. Spoon a dollop of caramel sauce over the graham crackers pieces. Place back in the fridge for 10 minutes.
6. Top each cup with the remaining melted chocolate. Use a spoon to lightly push the chocolate around so all the peanut butter is covered. Top with holiday sprinkles. Place the cups back in the freezer for a final 15 minutes till set.
7. Remove the cups from the muffin tin. Keep them in their paper wrappers till ready to eat.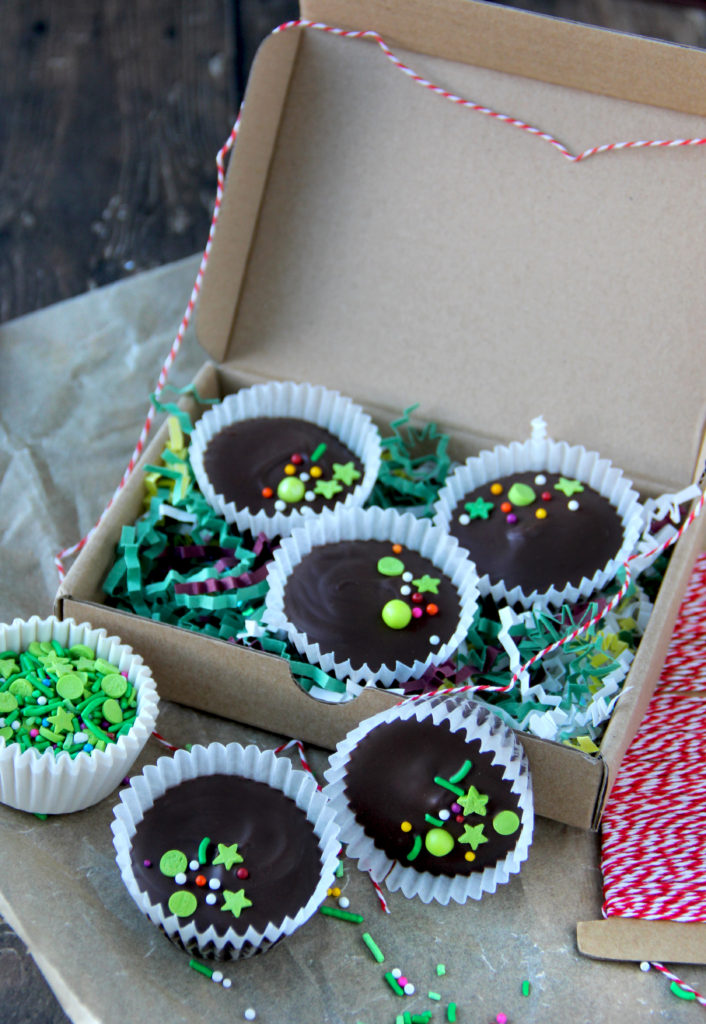 Chocolate Cinnamon Sugar Cookies
All is merry and bright with these perfectly spiced chocolate sugar cookies. Decorate with a traditional powdered sugar glaze and sprinkles. The ultimate edible gift, they taste as delicious as they look! Recipe makes about 6 dozen 2″-3″ cookies.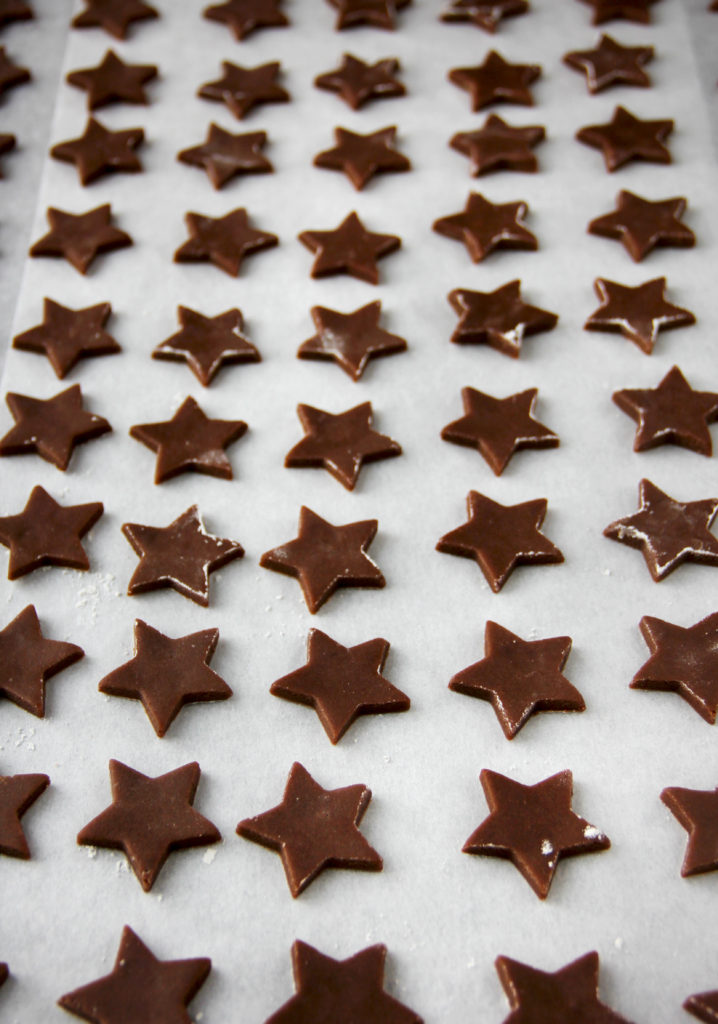 You'll need:
1 cup (2 sticks) unsalted butter, at room temperature
1 cup superfine granulated sugar
1/2 tsp kosher salt
1 oz unsweetened chocolate, melted and cooled to room temperature
1 large egg, at room temperature
1 egg yolk
2 tsp pure vanilla extract
2 1/4 cups all-purpose flour
¼ unsweetened cocoa powde
¼  tsp ground cinnamon
Holiday cookies cutters
Holiday sprinkles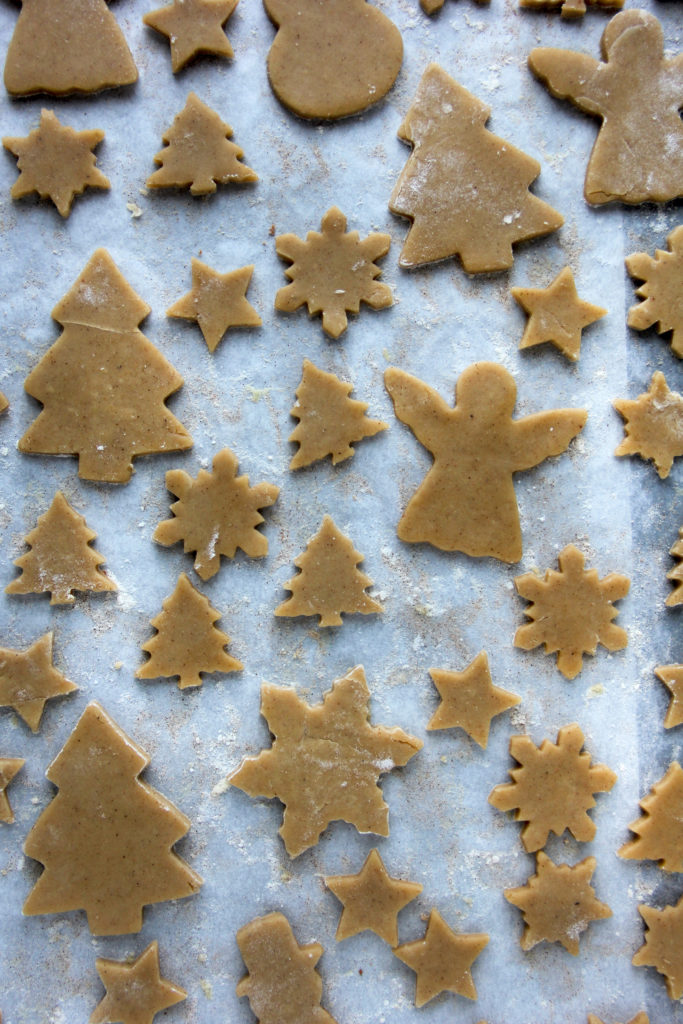 Instructions:
1. In a medium bowl, sift together the flour, cocoa, and cinnamon. Set aside.
2. In the bowl of an electric mixer, cream together the butter, melted chocolate, sugar, and salt, on medium speed, till light and fluffy. About 3-5 minutes.
3. Add the egg, yolk, and vanilla, one at a time. Mix well after each addition. Scrape down the bowl when needed.
4. With the mixer on low speed, slowly add the flour mixture. Mix until just combined.
5. Divide the dough in half and flatten into a disk. Wrap separately in plastic. Refrigerate for at least 1 hour and up to 3 days.
6. Preheat your oven to 375°F and adjust oven racks to upper-middle and lower-middle positions. Line 2 baking sheets with parchment paper.
7. Take one disk of dough and place on a well floured surface. Roll the dough to 1/8″ thick. Begin cutting out shapes with cookie cutter, trying to fit as many as possible. Using a large flat spatula, transfer the cookies to parchment lined cookie sheets, about 1/2″ apart.
8. Re-roll the scraps of dough and cut more shapes. Try not to re-roll the dough more than twice, as it results in a slightly tougher cookie.
9. When baking sheets are filled, bake for 6-8 minutes, or until lightly browned. Reverse the cookie sheets halfway through.
10. Transfer cookies to a wire rack to cool. Allow to cool completely before glazing.
11. Repeat steps with remaining disk of chilled dough.
Baker's Note: These cookies will keep in an airtight container for 3 weeks.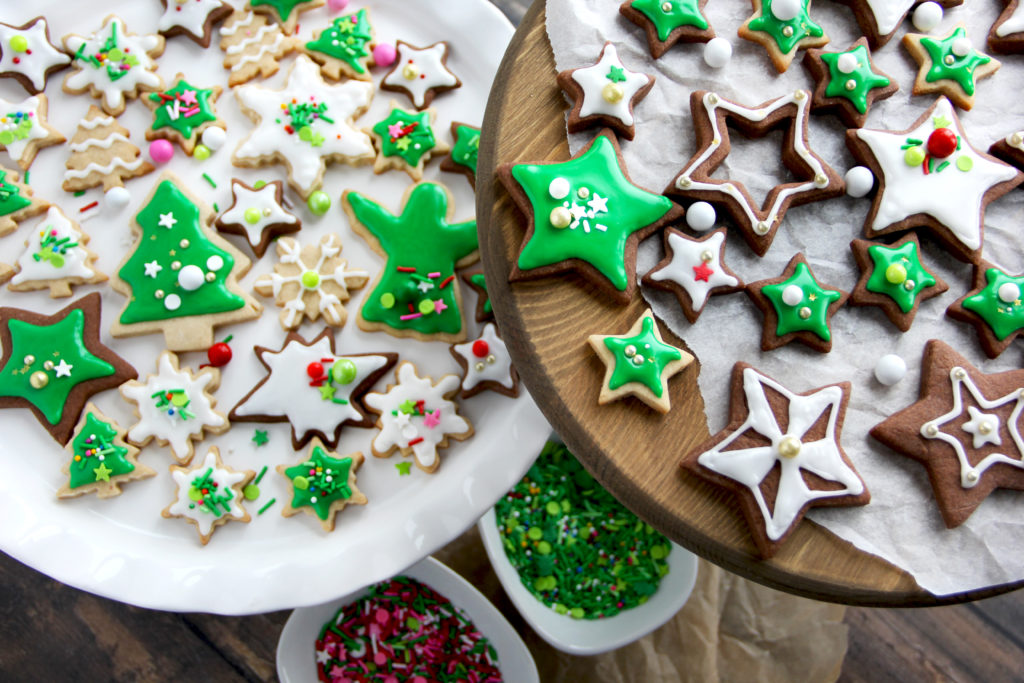 Classic Powdered Sugar Glaze
The perfect compliment to any sugar cookie.
You'll need:
1 cup powdered sugar, sifted
5-6 tablespoons whole milk
Edible food coloring (optional)
Instructions:
1. In a small bowl, mix the powdered sugar and milk together. Add milk to reach desired consistency. Use immediately to decorate cooled cookies or keep covered till ready to use.
2. The glaze takes about an hour to harden and set.
To make our favorite Spiced Sugar Cookies, follow recipe and directions above with the following changes:
1. Substitute superfine granulated sugar for 1 cup of brown sugar, packed.
2. Omit the unsweetened melted chocolate and cocoa powder.
3. Increase the flour by ¼ cup.
4. To the flour, add an extra ½ tsp cinnamon, ½ teaspoon ground ginger, ¼ teaspoon ground nutmeg, ¼ tsp ground allspice, and ⅛ tsp ground cloves.