After spending three-plus months in isolation, when every day has felt largely the same, we are taking every opportunity to celebrate. Father's Day is this weekend (!), so I put together this Father's Day gift guide because I've been looking for special ways to honor the men in my life, from my own husband to friends, uncles and grandpas. Since Jared hasn't been filming, we've gotten to spend a ton of time together. It's been wonderful…most of the time. He's been incredibly helpful in supporting me and being the best dad he can be (which may include roughhousing on his end!)
In that spirit, this Father's Day gift guide features items that are sure to make your favorite men smile. Bonus: This list has gifts that start at $6, and features nine items from black-owned businesses, for those who want to support entrepreneurs of color. Happy gifting!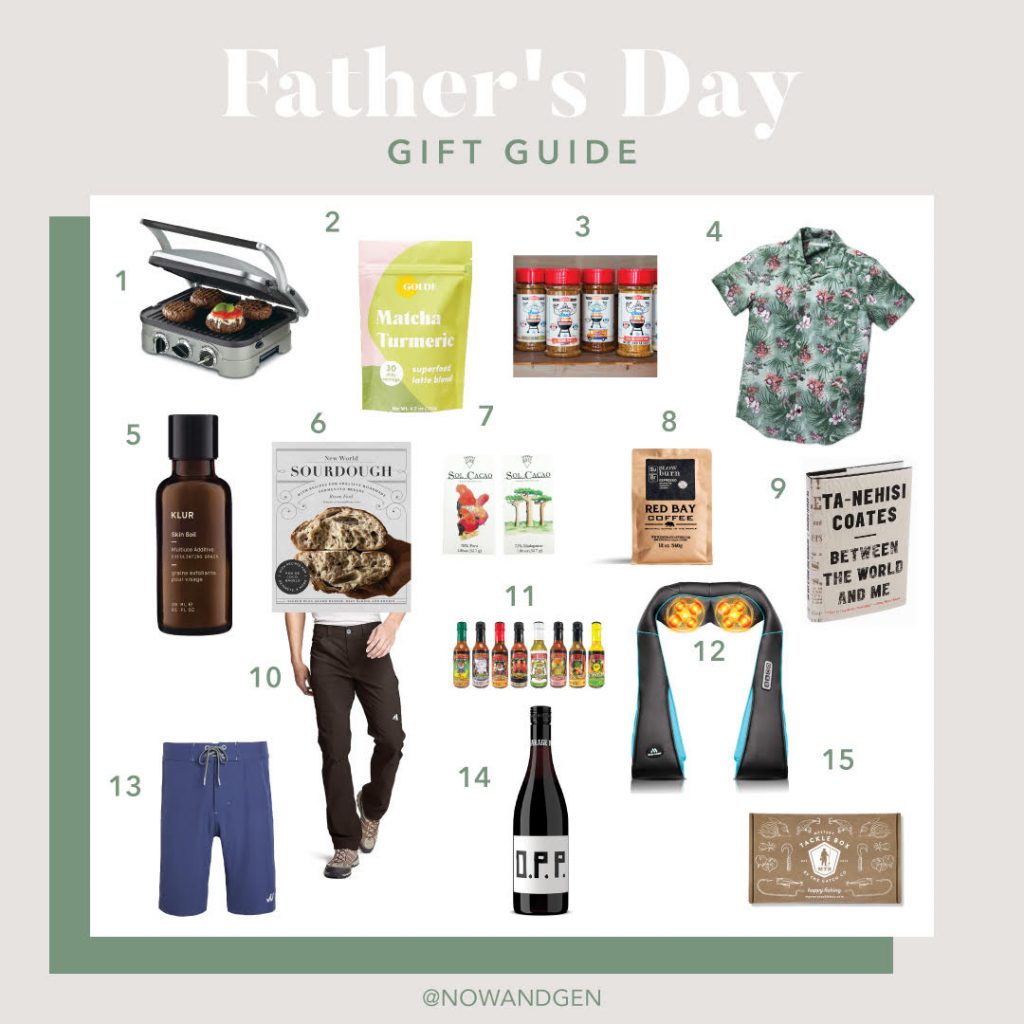 This gift is a win for you, too: Bring the grill inside, so your guy can cook up steaks and burgers even on rainy days.
Jared drinks this every morning for a jitter-free boost. It's sold out at the moment, so pre-order to stock up!
In 2015, Chaz Daughtry started SoulFitGrill, a line of tasty seasonings that are all-natural, low-sodium, non-preservative, vegan and paleo friendly, because he wanted to make a healthier alternative to the soul food his grandma cooked growing up. He also has a 6-acre urban community garden in Houston, where he grows and tests herbs for new spice blends—and he invites people living in food deserts to pick veggies for free. How amazing is that? 
This organic cotton and hemp blend shirt is soft and airy and comes in lots of fun prints. 
Up your favorite guy's skincare routine with these clean, simple, sustainable products.
I admit it: We're getting on the sourdough train. The delicious bread is so fun to make as a family, so I know Jared will love this book from award-winning baker Bryan Ford.
There's nothing like high-quality chocolate, and this one is a new favorite. Founded by three brothers who grew up in Trinidad and Tobago, Sol Cacao is an artisan "bean to bar" chocolate manufacturer in the South Bronx. They make three types of bars—dark chocolate from Ecuador, Peru, and Madagascar—and each bar contains only two ingredients: cacao beans and raw cane sugar. 
These days, it feels like adults everywhere are running on fumes and coffee. Who wouldn't want to wake up with Coltrane medium roast and Slow Burn espresso?
As I mentioned in a recent blog post, I'm reading this powerful book by Ta-Nehisi Coates. Written as a series of letters to his teenage son, Coates explores what it's like to raise a black child in America. It's been very eye-opening for me, and I believe anyone who reads this book will appreciate it. 
My husband is so obsessed with these pants I have to wait until he falls asleep so I can wash them. (Shhh!) 
Jared likes to put hot sauce on everything, from eggs to meats, so I know this sampler of nine Arizona-style hot sauces from husband and wife team Paul and Tasia Ford will be a big hit. I like that this pack let's us sample all kinds of flavors, from Prickly Pear Sweet & Spicy Hot Sauce to God's Wrath Ghost Pepper Hot Sauce. 
Because even dudes need some pampering now and then.
These slim-cut swim trunks are stylish and comfortable in the water and on land. 
Maison Noir is a wine and T-shirt line founded by sommelier André Hueston Mack in 2007. This Pinot Noir is earthy and spicy, and the shirts ($25 and up) are super cool and unique. 
Your favorite fisherman will love this recurring gift of new tackle each month. 
What are you gifting the dads in your life this Father's Day? I'd love to know!