Today's Sunday Brunch Series combines two of my favorite things: the Pacific Northwest and a good breakfast pastry. I love the wild ruggedness of the coastline up near Seattle, seeing the outline of Mt. Rainer off in the distance, and, of course, the food. Give me a dozen oysters and a steamed Dungeness crab and I'm a happy girl.
And while I usually try to eat pretty clean, there's something about the smell of cinnamon rolls baking that makes it next to impossible not to eat them. And why not, when you know they're going to be this good?! Today, Lindsey Johnson of Lady in the Wild West brings us a from-scratch recipe from Cinnamon Works in Seattle's iconic Pike Place Market. Once they're in the oven, the aroma alone will be enough to make everyone in your house drop whatever they're doing and help you ice them (twice, no less).
Alright, Lindsey, let's roll!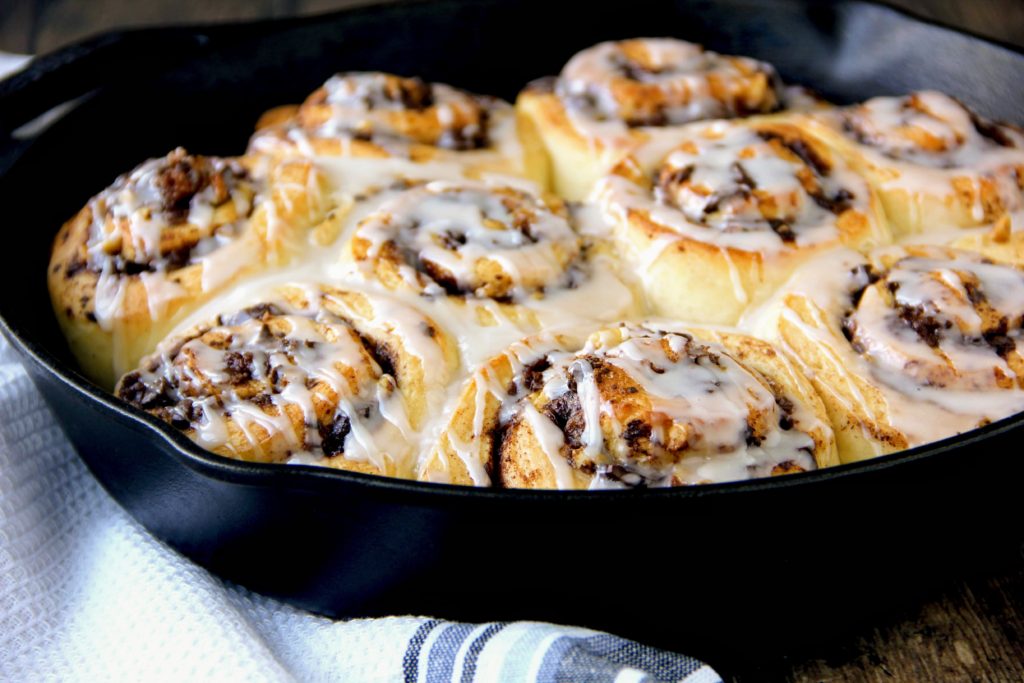 Bittersweet Chocolate and Walnut Skillet Cinnamon Rolls
Cinnamon rolls and Seattle are hardly synonymous, but when I visit Pike Place Market, my first stop is to Cinnamon Works, one of the few scratch bakeries left in the city.
Pike Place Market, tucked into the coast of Seattle's urban landscape, is the country's oldest and most iconic farmer's market. Opened in 1907, the market covers nine acres and hosts more than 200 local artisans and vendors. The market is rich with history and culture and has something for everyone, from handmade crafts and rare books to specialty wines and sustainable seafood. You could spend a whole day there, soaking in the vibrant colors of fresh produce, enjoying the musical talents of local bluegrass bands, and, of course, dodging fresh salmon being tossed over your head. It's non-stop action, a visual and sensory feast. The main reason I love to visit, however, is for the food.
Culinary cravings of the Pacific Northwest typically include its famous fish n' chips, crab cakes, or clam chowder, all of which are worthy of their fame. But for me, the city brings a sweeter craving. Something about the the hazy, rainy mornings, the sound of fog horns in the harbor, and the hustle and bustle of the dew covered emerald city, makes me want to cuddle up in a cozy chair, with a cup of freshly brewed coffee, and greedily peel away at the stretchy spiced layers of a warm glazed cinnamon roll, all the while gazing out at the Puget Sound. It's my version of heaven. And no one does a cinnamon roll like Cinnamon Works.
With 35 years of experience, Cinnamon Works has mastered the art of the cinnamon roll—and cookies, muffins, quick breads…basically all things baked and divine. They have a roll to suit any taste: sticky, plain jane, drizzled in caramel, pecan, royal frosting (my favorite), whole wheat. They're all made from scratch, and they even offer vegan and gluten-free options. Like I said, heaven!
These are the things my dreams are made of, which is why I've created my own, slightly more rustic version of their cinnamon roll to curl up with at home. I add a few things, like bittersweet chocolate and toasted walnuts, because I love the combined flavor of chocolate, nuts, and cinnamon. I bake the rolls in a Lodge Cast Iron skillet and smother them with royal icing when they're hot out of the oven. Then I ice them again, just before eating, because you can never have enough royal icing.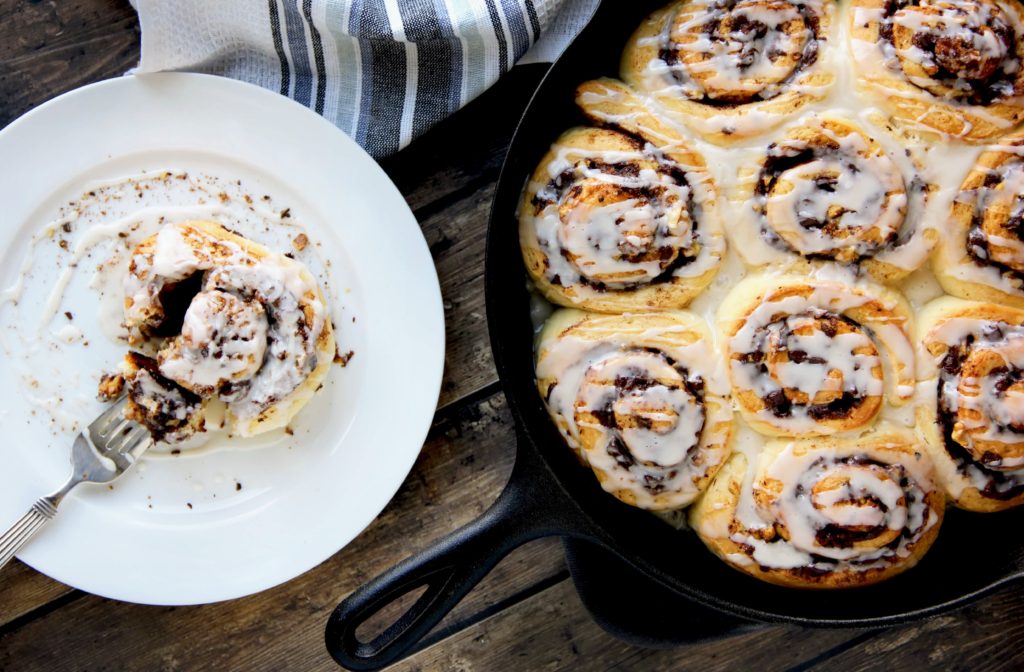 Homemade Skillet Cinnamon Rolls
Inspired by Cinnamon Works, in Pike Place Market, Seattle WA
Makes 12 rolls
INGREDIENTS
Rolls
1/2 cup whole milk

4 tablespoons unsalted butter

1 package dry active yeast

1/2 cup warm water

1/3 cup granulated sugar

2 eggs, at room temperature

1 1/2 teaspoons kosher salt

3 1/4 cups all purpose flour + 1/2 cup additional for kneading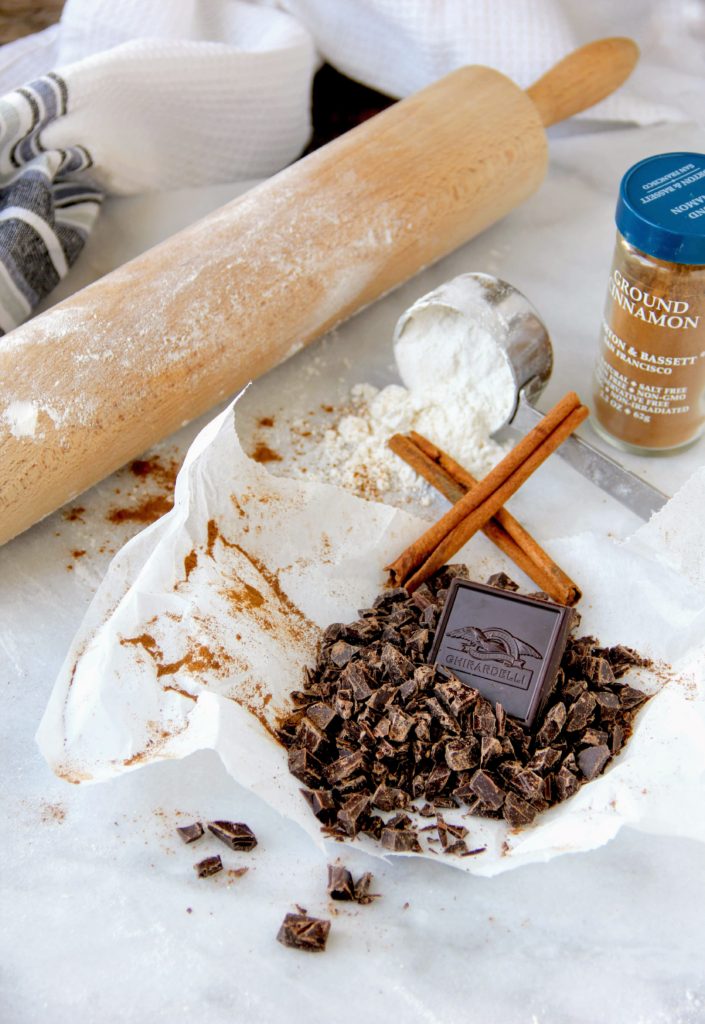 Chocolate Filling
4 tablespoons unsalted butter, melted

¼ cup granulated sugar

¼ cup brown sugar

1 tbsp ground cinnamon

¼ tsp kosher salt or sea salt

½ cup finely chopped bittersweet or semisweet chocolate (I recommend Ghirardelli baking bars)

½ cup chopped toasted walnuts or pecans
Royal Icing
1 1/4 cup powdered sugar, sifted

2 tablespoons whole milk

1/2 teaspoon pure vanilla extract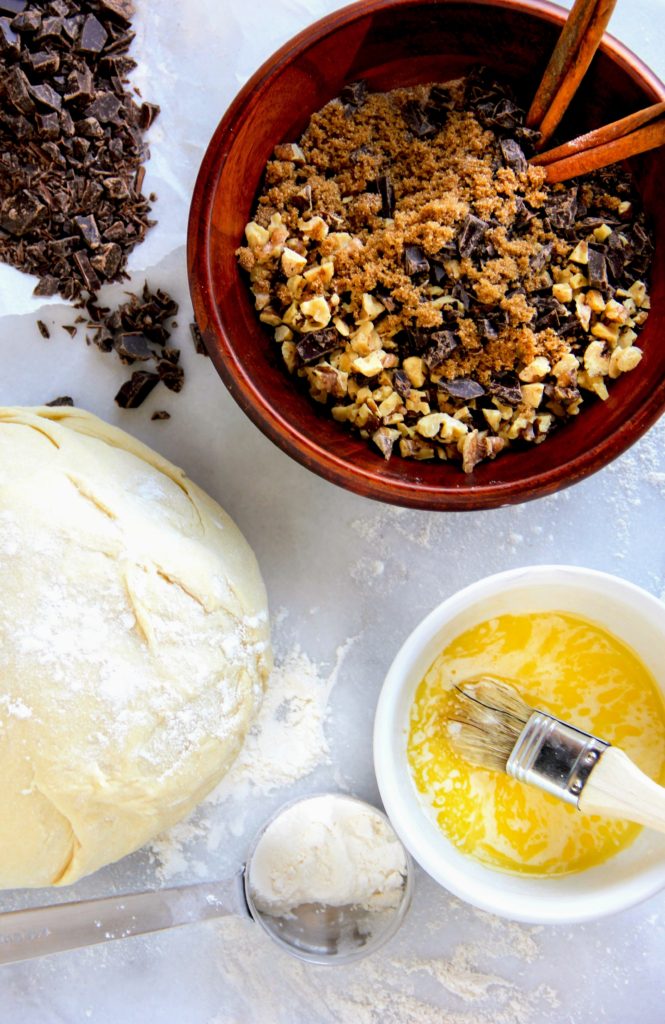 DIRECTIONS
Make the rolls: Heat the milk and butter in a medium saucepan till butter is melted. Cool to lukewarm.

In an electric mixer fitted with a paddle, pour the yeast over the warm water.

Beating at low speed, add the eggs and sugar. Mix till combined.

Add the salt, milk and butter mixture, and 2 cups of the flour. Beat at medium speed until combined, about 1 minute.

Switch from the paddle attachment to the dough hook. Add the remaining 1 1/4 cups of flour and knead at medium speed for about 10 minutes. If needed, add more flour, sparingly. The dough should come away from the sides of bowl.

Pour the dough onto a floured work surface. If the dough feels sticky, add 1/4 to 1/2 cup more flour and knead by hand. The dough should feel smooth and elastic.

Place the dough in a large buttered bowl and cover with plastic wrap. Allow the dough to rise for 2 1/2 hours, until doubled in size.

After the dough has risen, make a fist and punch the center of the dough. Turn the dough onto a floured work surface and let it rest for 10 minutes.

Preheat your oven to 350°F and butter a 10"-12" cast iron skillet. (I use a Lodge Cast Iron.)

Make the filling: Mix the sugars, cinnamon, and salt together. Set aside.

Mix the chocolate and toasted nuts together. Set aside.

Roll the rested dough with a floured rolling pin into an evenly shaped 12×16 inch rectangle.

Brush the dough generously with melted butter.

Sprinkle generously with cinnamon and sugar. Sprinkle an even layer of chocolate and toasted nuts.

Starting with the long side of dough, begin rolling into a log, pressing gently together as you go.

With a sharp knife, cut the log into 12 even pieces. Space them evenly in buttered cast iron skillet, allowing for space between. Cover loosely with plastic wrap and let them rise again, for one hour. The rolls should be touching.

Bake for 25 to 30 minutes on center rack till golden brown. Allow to cool for 10 minutes, then turn them onto a wire rack to cool completely.

Make the icing: Whisk the powdered sugar, milk, and vanilla in a bowl till combined. Drizzle over cooled rolls.