Outside Magazine recently wrote, "America's kids are caught up in one of the largest mass migrations in human history: the movement indoors."  This really struck a chord with me. Now, you might know that parent, who allows unlimited screen time at the supermarket, in the car, or while running errands… but I am not one of them. I have rules in place in hopes that my kids can sustain a conversation while addressing others by looking them in the eye.  I even hope my kids experience self-inflicted urges to trade watching Ninjago for running wildly in the backyard.
When I pass other families toting dazed toddlers staring into iPads, I think — smug but terrified — my kids aren't that bad.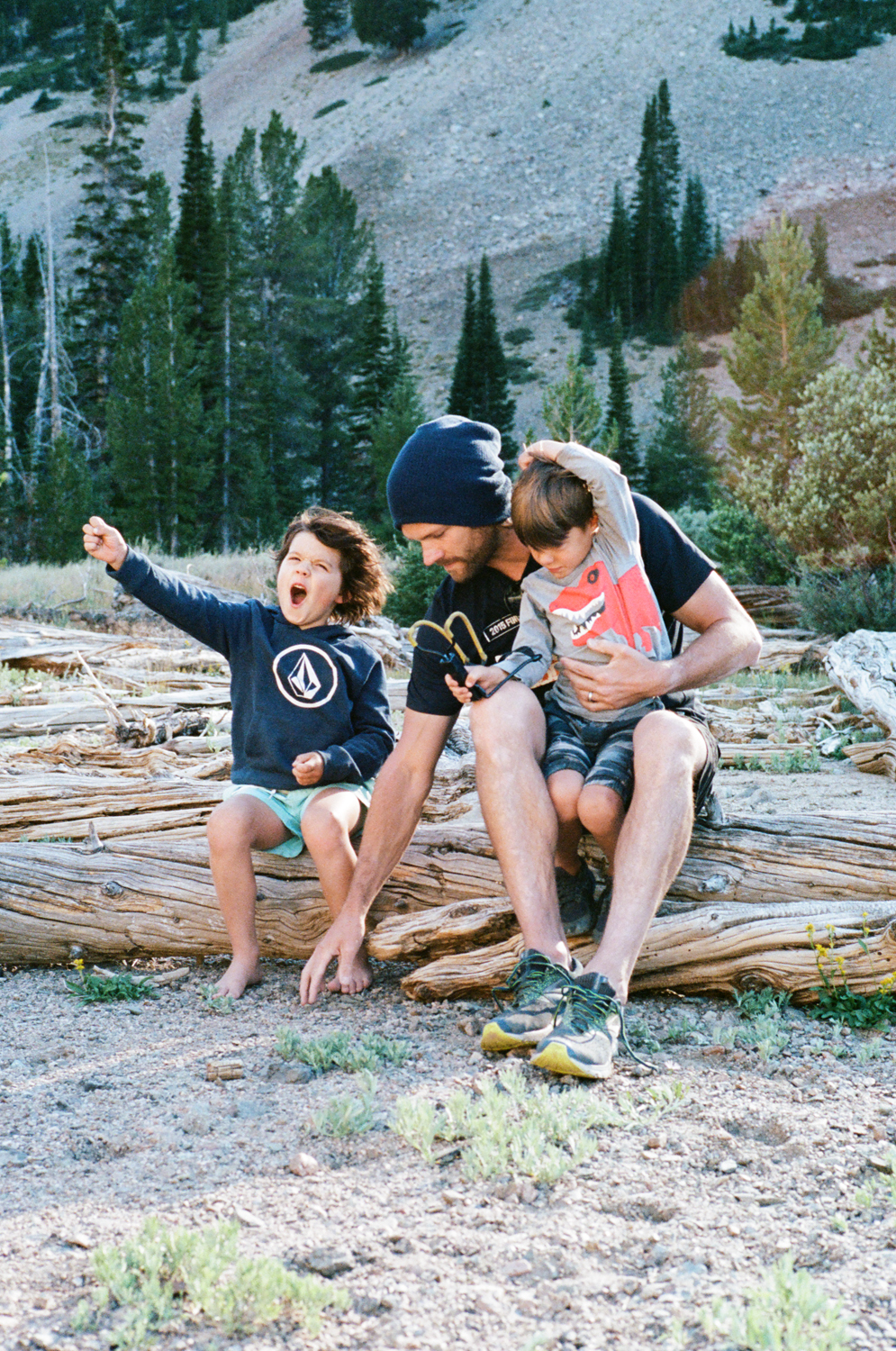 Or are they? And, to take this idea one step further, is my relationship with my iPhone passively teaching them that screen time is worthy of a great majority of our precious time and attention?
After all, I'm running a digital business that requires spending a significant amount of time on Instagram, often glued to my phone, sourcing new content ideas and engaging with many of you. Yes, I'm guilty of excessive screen time. Not to mention, I post about topics that fall under the vapid, self-help variety, whether I'm sharing my latest hair care must-haves, what shade of lipstick suits my fancy, or trying to be clever in working through my (self-admitted) love affair with shoes.
Needless to say, I've been living a life where my value system isn't always necessarily reflected in my work. And while I love self-care, and recommending products, and shooting my latest back to school collaboration, I sometimes neglect to hold space for many of the life lessons I picked up on this wild, emotional, complicated-yet-beautiful journey. You see, I got my greatest life lessons while facing nature. I accessed a sense of inner-strength while learning not to panic, swimming too far out in the ocean.  While camping solo in Moab at 16, I gained lessons in self-reliance and found a sense of bravery within myself that I had never known.  While getting my hands dirty in my backyard, I cultivated patience, compassion, and how to play nicely with others in making mud pies.  And as a young lady in my tweens, my dad took me fishing, where I grasped how to gut my own fish that we ate for dinner, just in case I ever had to "feed" our family."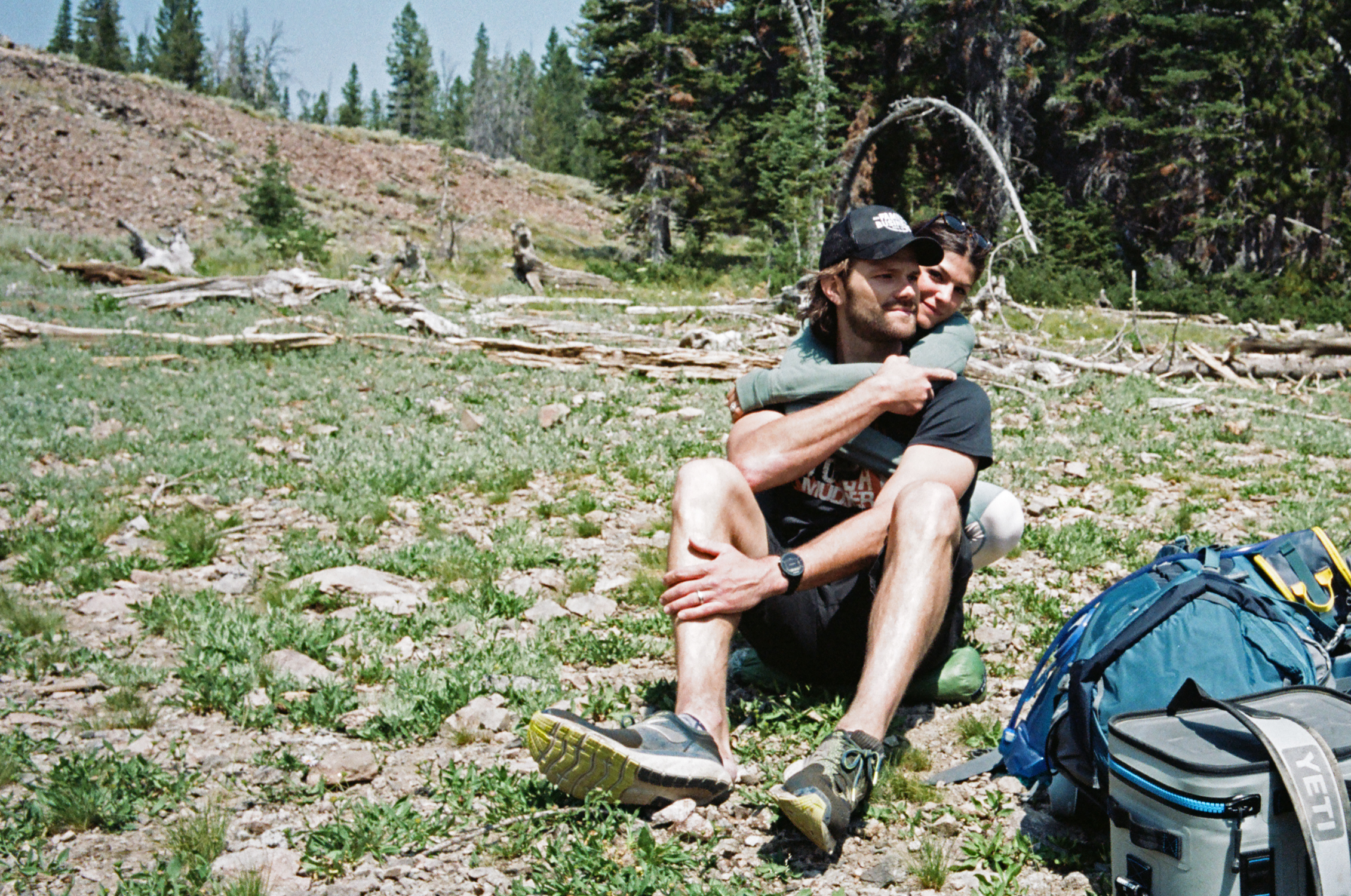 With so much mass exodus into the inside and in finding comfort within our screens, I wanted to give my kids the opportunity to experience the rich appreciation I have for unplugging in nature, sans Netflix, social media, and video games.
In August, I took my family on a camping adventure into the Sawtooth Mountains. My goal was to share the value system of immersing in the outdoors with my children, and instill a sense of responsibility, independence, and creativity that being in nature can bring. Call me old fashioned, but my intention was to let my kids "just be kids," accessing their imagination through hiking and camping, stripping away all of the excess and electronics at arm's length.
I've been struggling for a while, trying to write this piece. I was reluctant to share my parenting tips on how I managed to wrestle iPhones out of their tiny, grubby little hands. In no way am I trying to project how "progressive" I'm being by teaching my kids the benefits of unplugging, or how kids should take an "electronic sundown," or any of the other self-helpy buzzwords we've adapted in being cope aesthetic to the digital age. But I decided to share, because I realized that kids today are suffering burnout just the way we are, plain and simple.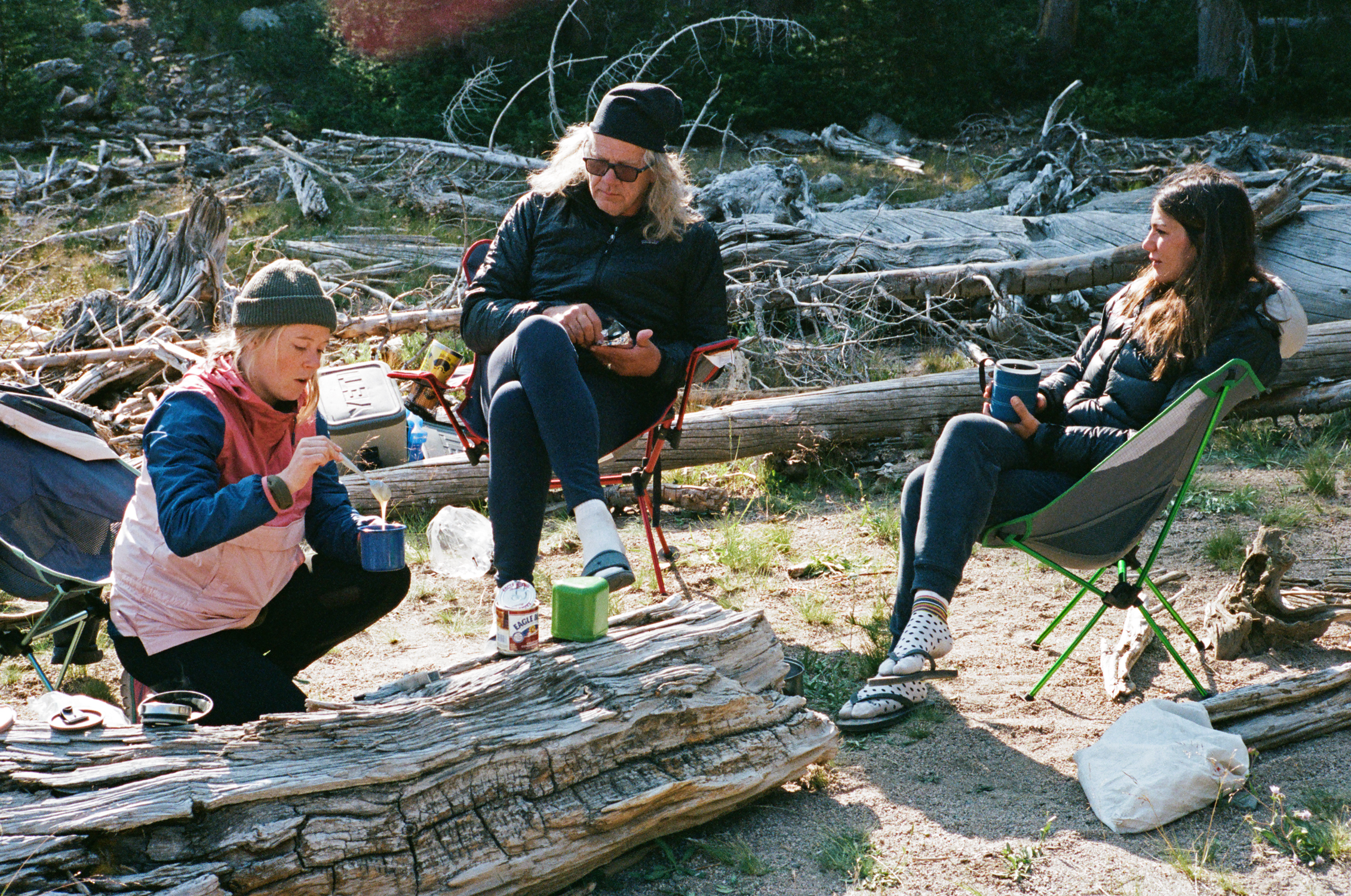 What was initially constructed for my kids – a retreat onto the trail for 3 days with backpacks and tents – suddenly took on new meaning. As I was trekking into the mountains, without the quiet confidence of my text and social notifications going off every two minutes, I realized I was in a state of crisis. At first, I anxiety as we hiked further away from a WiFi signal. Slowly but surely, I was releasing toxic emotions from my body – confusing my IG likes for my sense of self worth, or being stuck on the number of blog subscribers defining my purpose, or feeling self conscious about what I was putting out in the world. Does anyone care? Is anyone listening? What am I actually doing with my platform – is it actually helping people?
I realized that technology provides comfort because it creates a sense of connection, even when we have people right by our side who are craving our connection the most. It provides a soundtrack that speaks loudly over our deepest fears, it comforts us when we need to drop right into the lives of others to forget about our own. And, instead of increasing our creativity, technology can provoke it, provide it with feelings of not-enoughness, and leave us more confused and anxious than we were when we woke up this morning. I realized that I never want my kids growing up with  the deep sense of comparison or judgement that technology can matriculate. If I didn't set this example, of teaching my children real coping skills that come from beyond the screen, how could I be a positive example to my children?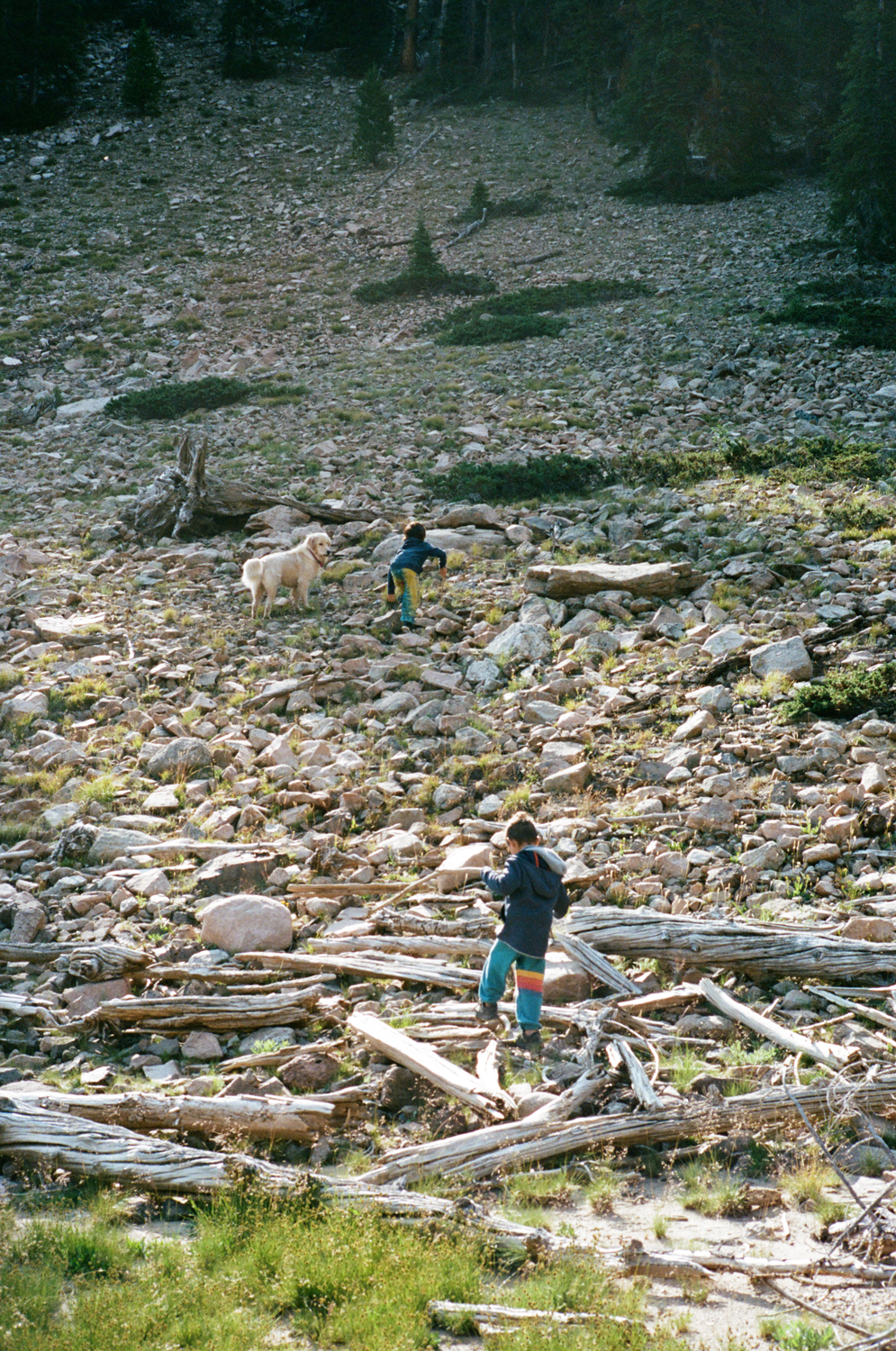 So we embarked into the mountains, and, to be honest, my kids were reluctant. Adventuring into the unknown can be frightening, but I found it important to gently push my kids out of their comfort zones. Our trip was lead by Nigel Whittington, a lifelong friend and former teacher of mine, as well as mountain guide extraordinaire. Our tribe consisted of Cody Edison, a brilliant photographer, Christine, Cody's beacon of light and all around optimistic partner, my brother Johnny, who I still baby and absolutely adore, his philanthropist wife Liz, who has the biggest heart and is all around awesome for putting up with my brother, and my two squeaky clean, wide eyed sons, Tom and Shep, and of course my husband, Jared, who was the poor sherpa of the group but gave all of his heart and muscle (as he tends to do).  Nigel thought it would be smart to venture close to our town of Ketchum, Idaho, just in case the littles proved to feeling too far from home. We settled on a 2.5 trail up to Mill Lake, where we set up camp.
So, instead of a weekend spent in front of Apple TV, my boys learned to problem solve and stack branches together to build makeshift forts, dig in the dirt for shiny rocks, and traverse across fallen logs over streams. They hiked with heavy backpacks and learned to pitch their own tents.  They sang silly songs and howled at the night sky trying to attract (or scare) whatever animal lurked in the woods. I watched my husband just get be a dad, and I saw my boy just get to be boys. I, too, found my stride in teamwork, connecting with my tribe, teaching my kids skills of braving the wilderness, and accessing my own memories of childhood camping trips. I let go of being self conscious and taking the right steps. I let my worries go to the wayside and got dialed back into nature, which felt so nourishing and wild and full. During this adventure, I returned back to myself. I finally felt whole.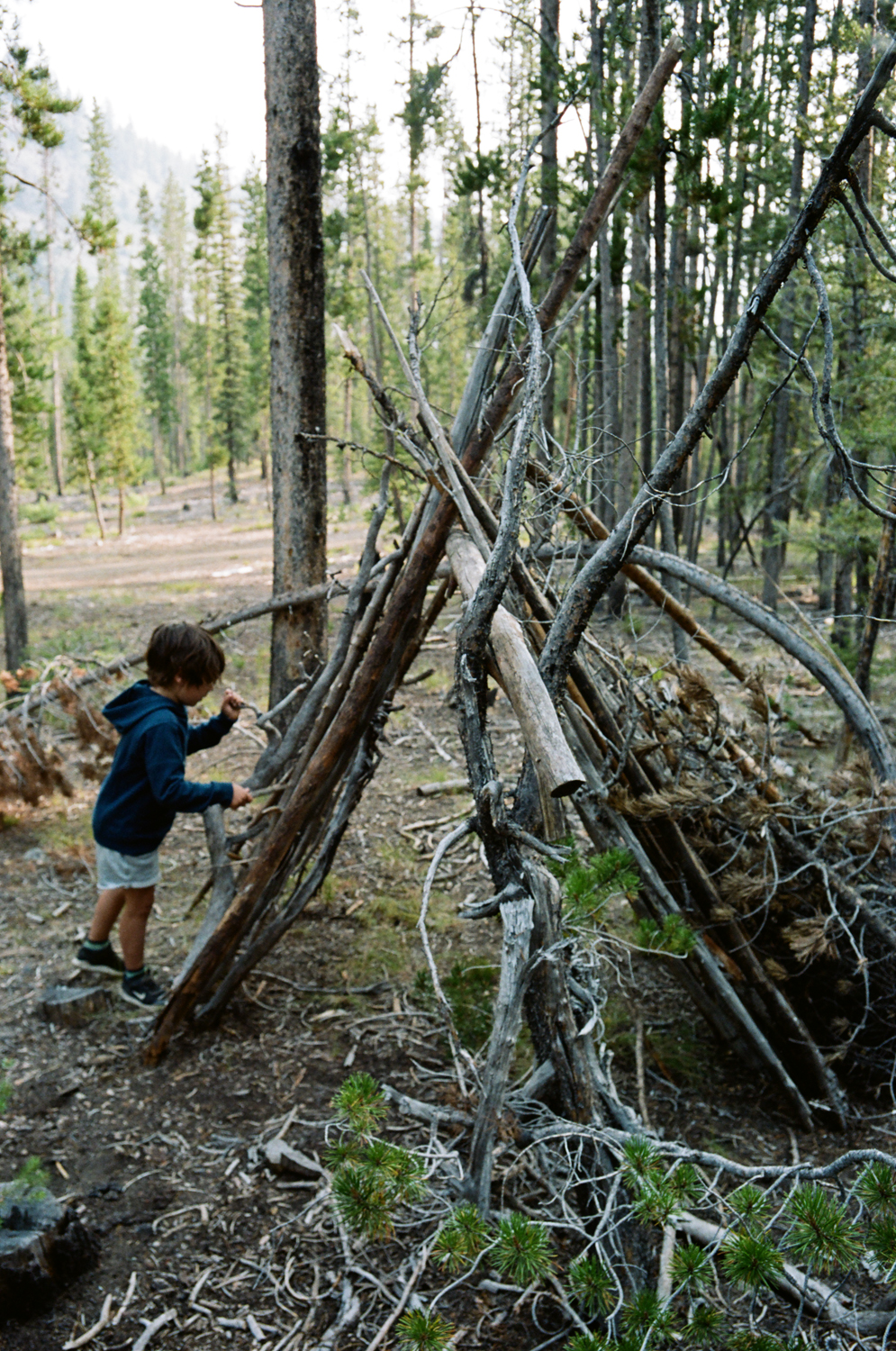 John Muir once said, "In every walk with nature, one receives far more than he seeks." Life is, in a lot of different ways, like a long and challenging trail. And while technology truly provides us with so many gifts, it can also saturate our lives with emotional, physical, and even spiritual noise that we don't properly detox from our system. In taking this trip, my initial intention was holding this space for my kids, but I slowly discovered how much I needed to overcome a number of  challenges, disappointments and dejections that were showing up for me, both personally and professionally. But on the hiking trail, I learned that as long as you're putting one foot in front of the other, you are getting somewhere. This may sound incredibly simple, but when it is applied to your life, it can produce profound reward and connection.
There's more to going into nature than the crackling of dry twigs under your feet, bearing witness to the perfect sunset or feeling the humbling exhaustion of snuggling into a sleeping bag. So here's what I know for sure: Slowing down is important. Nature is powerful and teaches you humility. There is a secret language of solitude. Unexpected turns can lead to life changing moments.
And, of course, as I'm writing this, I'm back in front of a screen, only this time feeling recharged, re-energized, and renewed. Life is truly a balancing act, so in no means do I denounce technology – it's a love / hate relationship that reaps more rewards than harm. However, I'm reminded that small breaks are necessary for the ultimate connection – one that's much stronger than WiFi.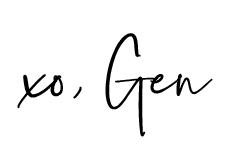 Shop This Post