One of the places we can feel the most self-conscious about our bodies is in the bedroom. Even if you've been with your partner for a long time, like I have, being naked physically still comes with a lot of emotional triggers. It takes time to be comfortable with yourself and with your partner, but it's a journey that can have some mind-blowing rewards, once you're able to free up your mind and your body.
That's why this month, in the spirit of celebrating body positivity, I've selected five books that explore intimacy and sex, and how we can all feel a little more connected to our bodies, our partners and our own pleasure.
I know firsthand how hard it can be to keep things exciting in the bedroom: It's hard for any couple to carve out time to have sex, and when you do, there's some pressure to make it count. Not to mention that if you have kids, there are plenty of days when you're exhausted or the kids want to jump into bed: Goodbye sexytimes. I've found, for me, the more open I can be about my feelings around intimacy, the better it is, and the better I feel about my body.

Each of these books offers an interesting perspective on intimacy that I hope you find helpful, or at least thought-provoking. Happy reading!
Even those of us who consider ourselves good girls (*raises hand*) can learn a thing or two from sex therapist Barbara Keeling's unabashed, balls-to-the-wall approach to sex. After all, there shouldn't be shame in experimentation or loving your body or orgasms or anything else that goes on in the bedroom. If being a bad girl is wrong, maybe we all shouldn't want to be right anymore.
I know just as well as anyone that sustaining desire when you've been married for a while—and have a couple of kids running around—can be a challenge, to put it mildly. Couples therapist Esther Perel digs deep into ways in which we can stay stimulated and engaged when you've been with someone for a long time.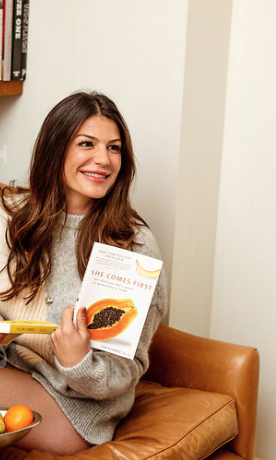 Sure, you could look at this how-to book as a playbook for your partner, but She Comes First is an essential read for anyone who wants to know more about female pleasure. When we know more about our bodies and what feels good, we're able to enjoy sex that much more—and ask for/show our partners what we want. Consider this one a boost for your own sense of empowerment.
I know what you're probably thinking: "I have a million things on my plate, and you're telling me to 'slow down' with sex?" I totally get that. But Nicole Daedone's book isn't actually about spending hours and hours having sex: It explores a technique that is designed to help women get in touch with their bodies and the ability to feel and enjoy our own arousal. It's called Orgasmic Meditation, and it can be a life-changing way to truly connect with your body and partner.
Sex at Dawn by Christopher Ryan and Claudia Jetha
Are human beings meant to have sex with one partner? If you're curious and want to understand the history and anthropology of human sexuality, this book is a fascinating read. It looks at how we've been programmed as a species, exploring how humans went from being hunter-gatherers with multiple sexual partners to accepting monogamy as the norm. It stirred up a lot of controversy when it came out, and it's easy to see why, but it's thought-provoking for sure.
Has anyone read these books, or have other titles you love? Drop me a comment below!