We're still adjusting to the new normal over here—will life with coronavirus ever feel normal?—and it's very evident by what's on my nightstand. The six items I've been obsessing over lately focus on my mental and physical well being. (And one is courtesy of my kiddo.) Every day we are all just trying to keep it together.
What about you? How are you feeling these days? Are you still quarantining and social distancing, like we are? Let me know what items can be found on your nightstand—and keep scrolling for a peek at mine.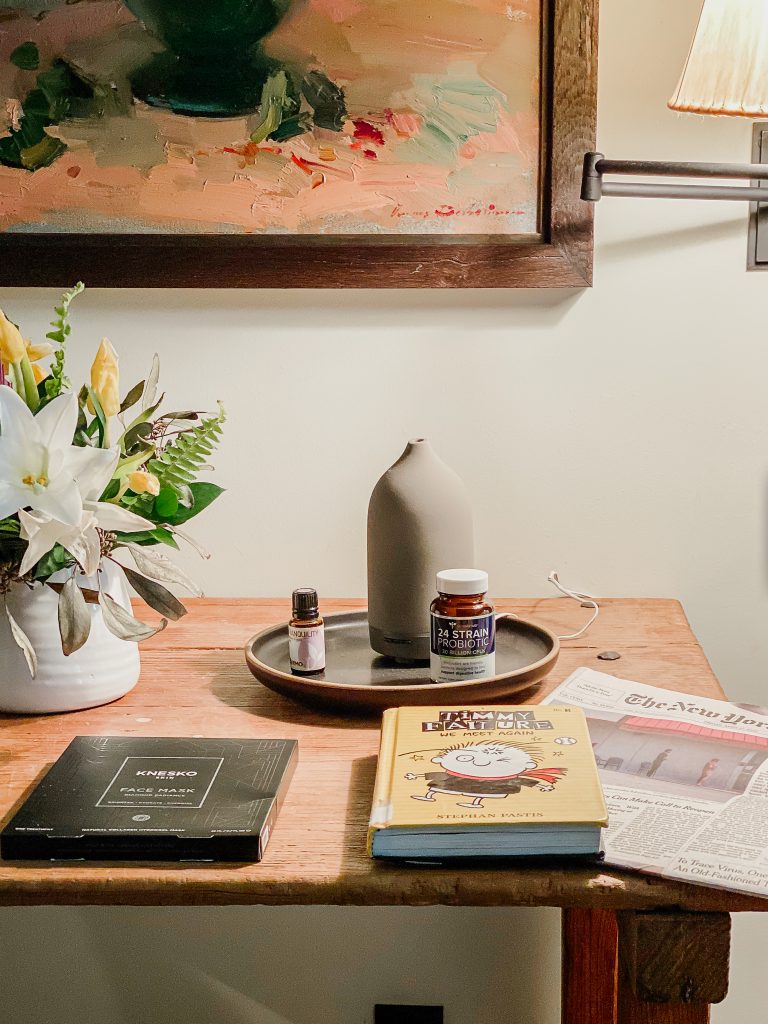 I feel overstimulated and frustrated by watching the news, so lately I've been switching out TV news for a good old-fashioned newspaper. Reading the newspaper has allowed me to sit in quiet and digest the current climate. I also get to change it up with different sections (I especially love the Cooking section), so that I'm not bombarded with just breaking news. Bonus: Home delivery is 50 percent off for teachers and students. And online subscriptions are just $5 a month.
A healthy gut equals a healthy immune system. It is so crucial we keep our intestines in great shape, especially in times of stress. Probiotics, which are good bacteria, help balance your gut, which can get overrun with bad bacteria at times. I like this formula because it contains 24 probiotic strains to help your good bacteria thrive. 
I love this book for my oldest. It's on my nightstand because we carve out special time in the evening to read together. The book is sweet and fun and full of adventure for an 8 year old. I love the alone time I get with him and love the way his imagination runs when he reads. As I write this, I can hear his sweet giggle and see his toothy smile. Books are super important right now, and so is supporting independent bookstores. Bookshop.org is a cool new website that allows you to buy books online while still supporting your favorite local bookstores.
I am one tired motha these days, and I feel like quarantine is taking a toll on my skin. To keep my face hydrated, fresh, and plump, I go to sleep with these under eye masks on every night. They are made with a serum-infused collagen gel that's fortified with precious minerals and gemstones to "activate your chakras" and rejuvenate your skin. They also make me feel less tired (Texas allergies combined with quarantine fatigue are definitely taking a toll on my skin) by looking less tired!
Now, more than ever I am going to bed with something on my mind. I think I will remember it the next morning but, more times than not, I wake up and it's as if the day before didn't exist. Having a pen and paper nearby helps me set reminders and keep track of my thoughts. I recently discovered this innovative company that makes their notebooks with paper made of recyled stone – how cool is that?! And they plant a tree with each purchase.
I love these essential oil diffusers. Not only are they calming and pretty to look at, but they are also solid so they won't tip over. It has a soft, ambient glow and it's the perfect amount of essential oils to make the room smell delicious.