The countdown to Christmas is on! If you're feeling behind on your shopping or need some gift inspiration, you're in luck. I'm sharing my 2021 holiday gift guide, which features 23 items for adults and kids that are sure to make them squeal with delight. Even better: These gifts start at $14, so you'll find plenty of steals as well as splurges. And I've included my favorite $7 stocking stuffer for brave kiddos.
Take a peek and let me know if anything catches your eye. Happy shopping!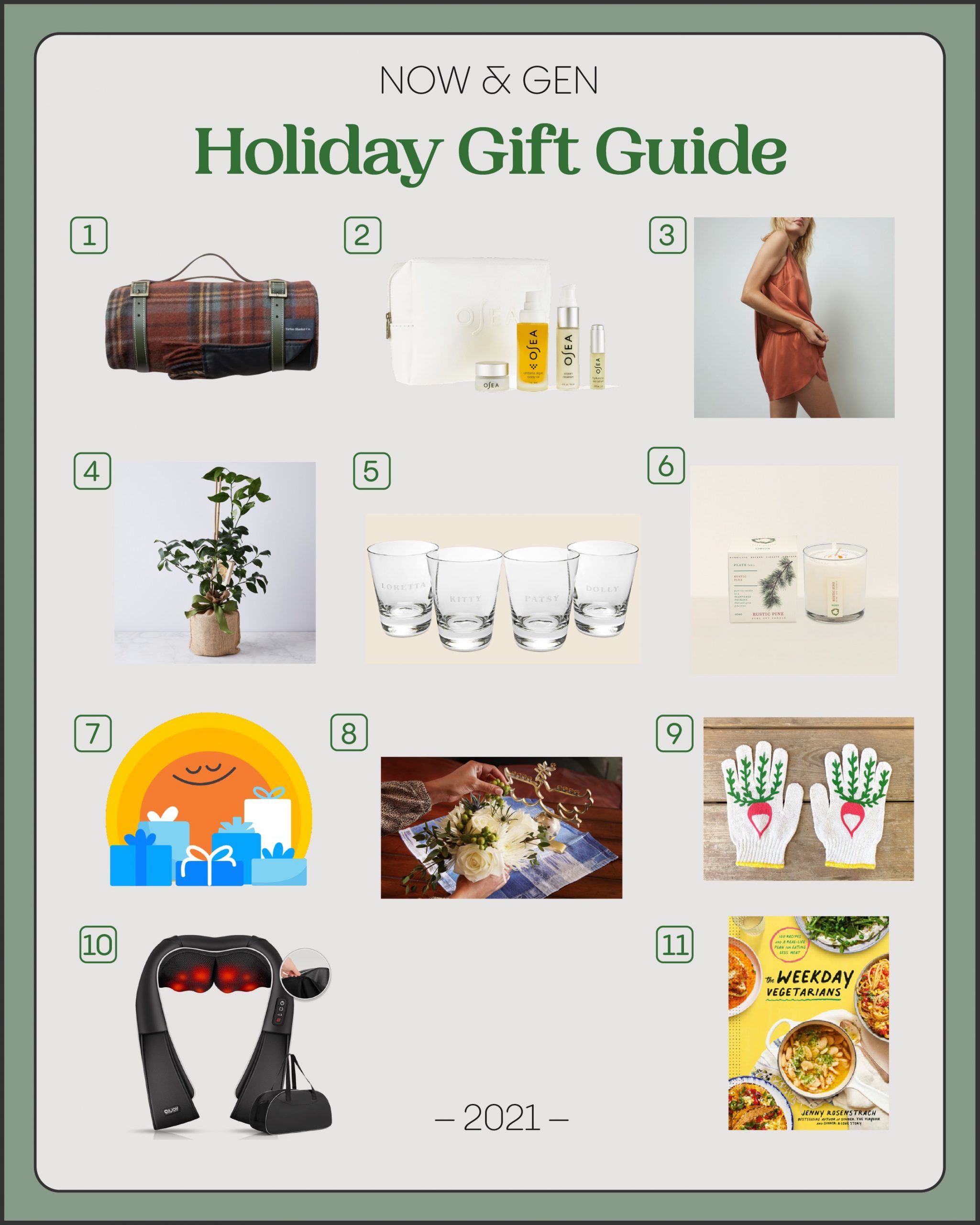 FOR ADULTS
1. Recycled wool waterproof picnic blanket, $165
Make picnics even more stylish with this Scottish tartan-inspired waterproof picnic blanket. It's made from a mix of recycled wool and other recycled fibers, to create a fabric that is machine washable and super soft. Bonus: It comes with handy dandy leather straps for easy carrying and storage.
2. Osea gift set, $40
Pamper your favorite women with this set of hydrating, clean skincare products. The four-piece set includes Ocean Cleanser, Hyaluronic Sea Serum, Seabiotic Water Cream, and Undaria Algae Body Oil, which is infused with seaweed.
3. Lunya sleepwear, $198
Give the gift of easy luxury with these silk pjs, which are not only made with eco-friendly dyes, but they can be thrown right in the wash.
4. Lemon and lime citrus trees, $60
Need a squirt of lime juice for homemade guacamole? Or a spritz of lemon for a whiskey sour? With these tree saplings, you can grow your favorite citrus fruit right in your living room.
5. Ladies of country music tumbler set, $88
Give cocktails an extra twang with these Italian crystal tumblers etched with the names of country superstars Loretta, Kitty, Pasty, and Dolly. (No last names needed.)
6. Rustic pine candle, $28
Not only will the scent of this candle make you feel like you're in a pine forest, but the biodegradable, seed-infused packaging can be planted to grow your own pine trees.
7. Headspace subscription, $69
During these last few years of instability and uncertainty, mediating with Headspace is one of the things that saved my sanity. Gift a subscription to anyone in your life who needs help reducing stress, improving focus, and getting enough quality rest. 
8. Alice's table floral arranging classes, $65
Learn how to arrange flowers in the comfort of your own home. These fun virtual classes include fresh flowers and a vase delivered right to your doorstep.
9. Radish gardening gloves, $16
Gardeners will love these darling handmade radish gloves that will keep their hands clean while planting flowers, vegetables, and more.
10. Neck and shoulder massager, $60
After a long day (or week/month/year), nothing beats a massage. With this thoughtful gift, your favorite people can have a neck and shoulder massage anytime they need it. This electric massager features heat therapy and three speed options to get all the kinks out.
11. The Weekday Vegetarians, $32
I'm always looking for new ways to prepare all the veggies we grow in our garden. I love this cookbook from Jenny Rosenstrach, creator of the Dinner: A Love Story blog, and the fact that she's steering her family toward only eating meat on the weekends. That's a goal I can get behind.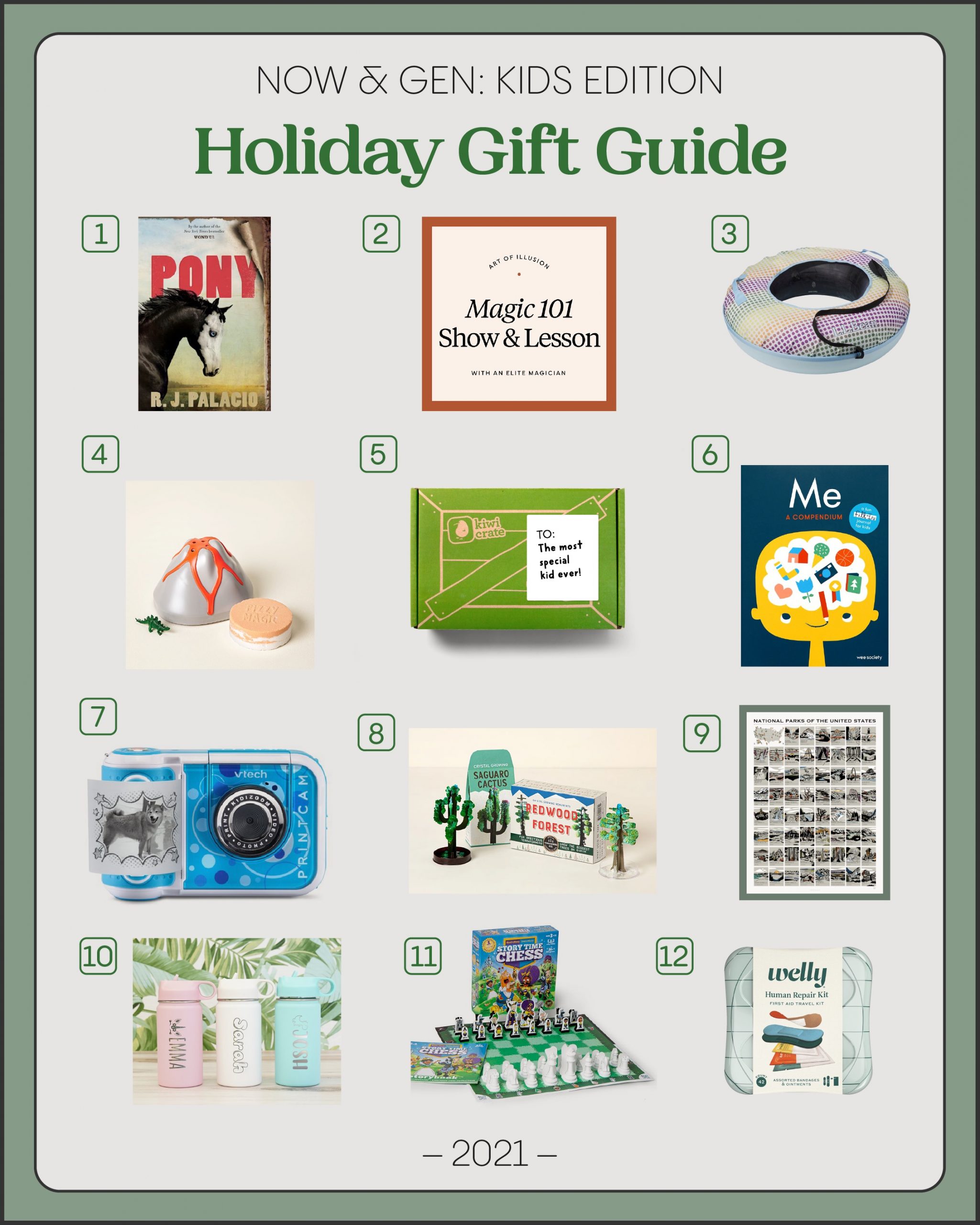 FOR KIDS
1. Pony, $18
This was hands-down the best book I read all year—and my family was just as obsessed as I was! We spent many a night discussing the plot and the characters. It's a must for all the book lovers and kiddos in your life.
2. Magic 101 show and lesson, $25
Tiny entertainers-in-training will love learning sleight-of-hand tricks during this hour-long magic lesson and performance.
3. Snow tube, $129
Baby, it's cold outside! Kids and adults will have hours of fun in the snow with this durable tube made for cruising down snow-covered hills.
4. Erupting dino bath volcano, $30
Bath time just got more fun. Kids will go nuts for this floating volcano that "erupts" with nontoxic, colorful fizzies.
5. Kiwi Crate Subscription, $17.50/month and up
During the pandemic (and dreary winter months), Kiwi Co. has been a life saver. My kids love doing these awesome art and science projects. And I love that they are delivered to my door each month.
6. Me: A Compendium: A Fill-in Journal for Kids, $14
Get kids writing and practicing self reflection with this fun fill-in journal that lets them record everything from their current height to what they would pack for a trip to outer space.
7. Vtech KidiZoom print camera, $50
Kiddos will love taking—and printing—their own photos with this camera. Bring it along on all your family adventures and see what images they capture.
8. Redwood and saguaro crystal growing kit, $20
Have a budding scientist in the family? They will love this cool kit that grows crystals on trees and cactus.
9. National Parks scratch off chart, $25
Our family loves visiting national parks. If yours does too, help the kids keep track of the ones you've visited with this pretty scratch-off chart.
10. Engraved kids water bottle, $18
Pick the font and design to personalize these stainless steel water bottles for your favorite kid. Available in pink, white, light blue, and black, they're BPA-free and dishwasher safe.
11. Storytime chess, $50
Kids as young as 3 can learn how to play chess with this creative approach that features characters, stories, activities, and imagery.
12. Welly bandages, $7 and up 
If you're in need of a stylish, useful stocking stuffer, these Welly bandages are just the thing. My kids love wearing these "bravery badges" when they get a boo-boo—and sometimes just as a fun accessory! Choose from cute design collections like space, jellyfish, and llamas.