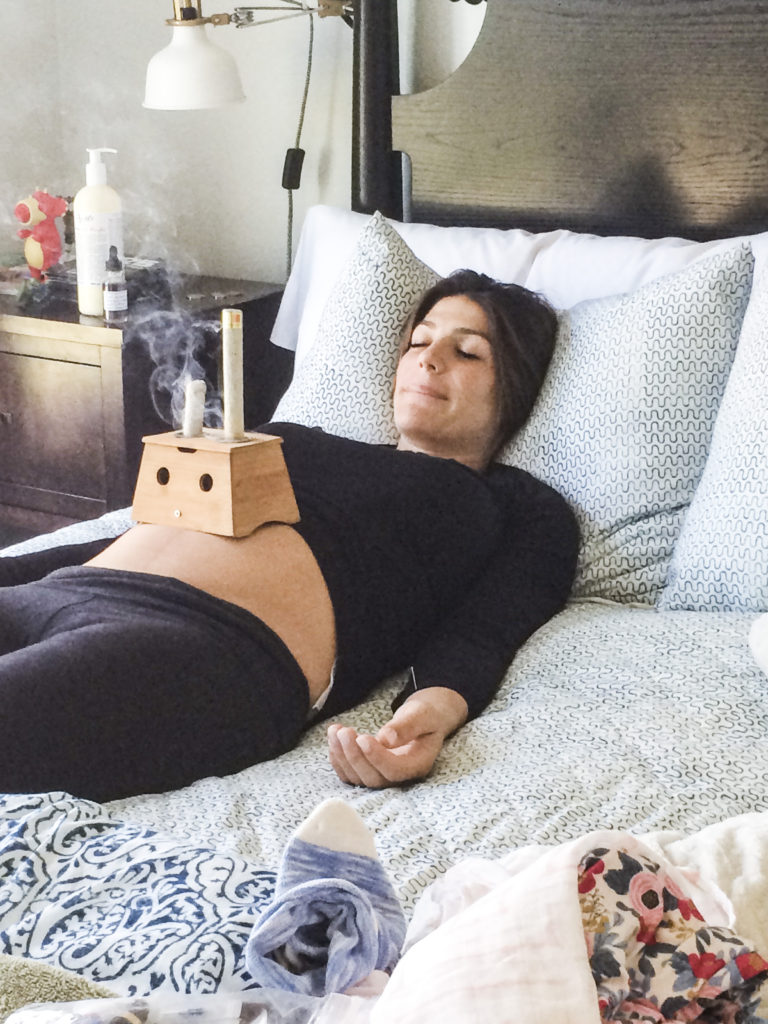 Six years ago when I first embarked on my birthing journey, I realized how important it was to surround myself with a good support team. Not only was it important to have a great midwife (or doctor) and a compassionate and helpful partner or spouse, but I quickly discovered that it was also equally important to surround myself with a doula, friends, and anyone else who would encourage me, empower me, and give me comfort in my time of need. During my exploring, I was lucky enough to be introduced to Jasmine Bay, a Seattle acupuncturist (as well as a trained midwife) who specializes in treating pregnant women.
When I met Jasmine, I felt instantly at home: she's a warm, friendly, fiery redhead. She's part mythical goddess, part fun friend who just wants to know what's up. While I knew a little bit about acupuncture, I didn't realize the profound effect it would have on me or the effect it would have on me later during labor (yes, she attended all 3 of my births!),  but also through postpartum. Her gentle touch and precise points eased the heartburn I experienced while pregnant with Tom, alleviated the backaches that I thought would never go away while I was pregnant with Shep, and mitigated the headaches that plagued me while pregnant with Odette. In addition, she was my epidural during labor and postpartum, and she encouraged my uterus to contract to its former state as well as helped my milk come in to release baby blues. In other words, Jasmine's healing hands and Eastern medicinal philosophy and knowledge helped me immensely during all my pregnancies–both physically and mentally.
I get asked a lot about my pregnancies and birthing experiences both during and after the process, so I feel that it is extremely important to share how much acupuncture and Jasmine helped me during this time. ACUPUNCTURE IS A GIFT. Had I not had someone to ease my pain, put my hormones in check, release pressure points that made my home birth a heck of a lot easier, and teach me a thing or two about physical mindfulness, my pregnancies might not have been as blissful and euphoric. They were all equally hard in different ways, but having Jasmine's help and guidance really helped me to fully nourish and connect with the beautiful little being growing inside of my belly, as well as my own honest feelings of pain, doubt, fear excitement, and euphoria.  So, whether you're a non-believer or an old vet of Eastern medicine, we can all take a grain of insight from Jasmine.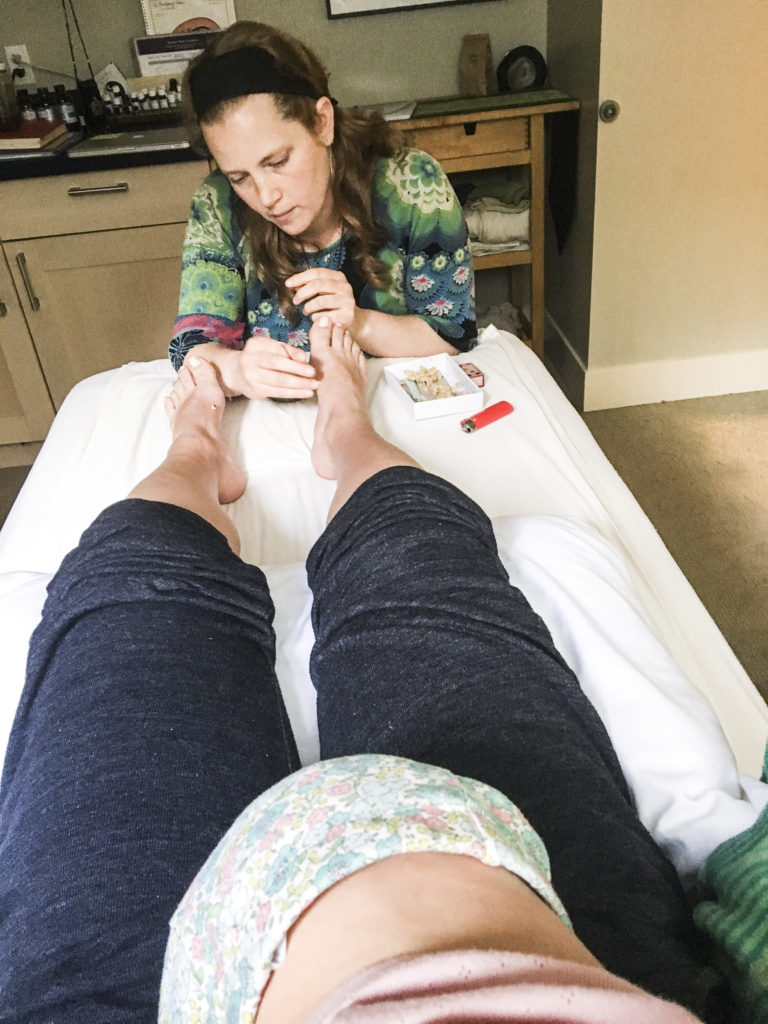 When I began writing this post I asked Jasmine to give me her definition of acupuncture.  This is what she told me: "part of the system of Chinese medicine that involves inserting fine needles and certain points on the body to clear blocks or change the energy (called Qi) that is causing disharmony and disease on a physical, mental, or spiritual level.  It is often used with herbs and lifestyle modification for a more complete change."
Jasmine first put me into a series of acupuncture known as labor preparation, which she calls "the body's preparation for an optimal, quick birthing experience" through the strengthening of the uterus. This series completes three major tasks in the birthing department:
Toning the uterus

Softening the cervix

Aligning the baby for birth
"I see a lot of people for morning sickness," Jasmine explains. "A lot of people for back pain, and a lot of people for pregnancy anxiety or sleep problems"–all symptoms familiar to me during my pregnancies!  Acupuncture, as Jasmine would remind me, "helps the body do what it already knows how to do."
Here are Jasmine's top 3 tips to feeling better throughout the birthing process:
Sacred Time
"The months before and after your birth are completely sacred times," Jasmine says. "Keep them sacred by giving yourself time to rest, eating really well, and getting a lot of help."
The first part is glorious if you can manage to make time for naps and relaxing. It's the babymoon, as Jasmine explained, where Odette and I were in our own little world, and we felt it.  Besides resting, I jumped into a nutrient dense diet (approved by my birth team –I LOVED the book the First Forty Days ), and started drinking a special birth tea in the month leading up to Odette's arrival.  After birth, Jasmine instructed me to do infusions for lactation, which were a lifesaver of their own right.  
Also, in treatment, Jasmine levied my sacred time with a treatment called Moxibustion. It's an old Chinese method of healing that uses the burning dried moxa herb to increase blood flow to a desired area of the body. Find someone masterful who can get those warm herbs on your body.  Just to warn you, don't be alarmed, it has a VERY strong odor–not unlike heavy incense.  I noticed a transformation in my body very quickly. It seemed I recovered more quickly than I had anticipated.
Empowered Birth
Although I opted for a home birth for many reasons (stay tuned), as Jasmine says, "everyone should give birth where they feel most comfortable and where they feel empowered."  Whether that be in a hospital, in warm water, or in the forest somewhere (it happens), "make sure your birth providers are in alignment with how you see yourself giving birth."
"The fact is, everything at the birth is just magnified," she explains. "If you're not feeling respected during prenatal care, you're not going to feel respected in labor." So, should you get an inkling of unhappy vibes from a physician or nurse, Jasmine gently reminds us that as a consumer, "you have the right to choose whatever kind of prenatal care you want."  That means shopping around for the right caregiver that fits your needs. "If a woman doesn't feel empowered during prenatal care, she won't feel empowered during birth, and that's important."
So, we dialed it in. After copious research, I found my team of home birth experts who got me comfortable and ready.
Skin-to-Skin
If you Google skin-to-skin research, your feed will fill to the brim with positive articles about how important the concept is. "The research is there," Jasmine states.  "Babies regulate their breathing and their heartbeat based on their mother."  
I first heard of skin-to-skin during a birthing class at Big Belly Services in Seattle. (Amazing experience for anyone that is pregnant in the PNW!) Skin-to-skin is a bonding experience for baby, as well as 100% therapy for mama. I live for the quiet time together with my babies while we lay skin-to-skin. There is nothing like holding your baby to your skin.  It's so beautiful and pure, and it's a time to bond and soak each other in. Under Jasmine's instruction, we carved at least an hour out of our day for pure skin-to-skin (or as much as I could get away with!)  
"The more time they spend away from their mothers, the less regulated babies' heartbeats can become," Jasmine explains. Because of this, I wanted Jared in on it, too. He had special skin-to-skin time with each baby, and although a father's bond is not as vital to the baby's health and regulation as a mother's bond, it's important that the baby gets familiar with Jared's scent and heartbeat as well. With each of our children, he was the first one to hold them and enjoy that moment.  
At the end of the day, having acupuncture as a healing mechanism both pre- and postnatal was a miracle effort for me. Jasmine eased pain, found weaknesses in my system, and used her skill set to eliminate them.  
But, just like any self-care remedy, it takes a team: the person providing and you. By eating right, and giving my babies and me the rest and affection we all needed, we went into the birth feeling happy, empowered, and (some what) pain-free, and we walked out of the birth calm and empowered.   
Not only is Jasmine my personal wellness guru, she's a trusted, informative midwife and participant in my emotional health.  It takes a true champion to push someone from the grueling pain of labor into a place of feeling balanced and calm. Props to you, Jasmine.  
You can buy herbs and Jasmine's amazing teas by visiting her shop right here! FYI – this is not an ad, just genuinely what I use in my own life. For more info, you can head over to Jasminebay.com.
With Love,
Gen

SaveSave