My desire to explore intimacy further sprung from an honest conversation with my girlfriends and what intimacy looks like for all of us—those with multiple kids, those with one kid, those with no kids—and how it's changed over the years. I realized as we were talking that it's a topic that I feel completely normal and natural discussing in my own home, but for whatever reason, in the public sphere, I get embarrassed and clam up.
Which is exactly why I wanted to talk to Cindy Gallop: If you've never heard of her, she's a badass former advertising and branding executive who now runs a startup called Make Love, Not Porn. If you've ever watched one of her TED Talks, you know that she 100 percent owns who she is and how she feels about sex and relationships. It's freeing, intriguing and refreshing to listen to her talk openly about what she wants out of a partner. And she fully contends that the definition of any relationship should be a dialogue between two people, which I completely agree with.
Speaking of dialogues, in my house, we have a very honest relationship with our bodies; I want my kids to grow up with a healthy relationship to their bodies, to never be ashamed or embarrassed. So we try to have frank conversations with them without dumbing things down.
That's what I like about Cindy, too: She's completely genuine, totally raw, and wholeheartedly stimulating. And with this month's focus on body image, I thought it was important to highlight how intertwined our bodies and intimacy are. I hope you enjoy our conversation.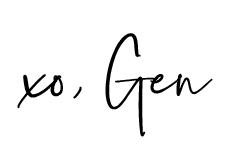 Make sure to watch straight through to the end, as Cindy tackles how to have "The Sex Talk" with your kids! If you are interested in keeping the dialogue open about sex and intimacy too, drop a comment below or share this video with a friend.