Just like with gardening, I believe that cooking with kids is worth the mess. I'm always on the lookout for fun recipes to try with my kiddos, but since they range in age from 2 to 8, it can be hard to find a recipe that all three (and Arlo!) can participate in and enjoy. But I recently found one that is absolutely perfect: frosted pretzels! These are a win-win because we all get to spent time together, the end result looks beautiful in a jar on my counter, and the kids get to enjoy a sweet frosted pretzels treat they made themselves.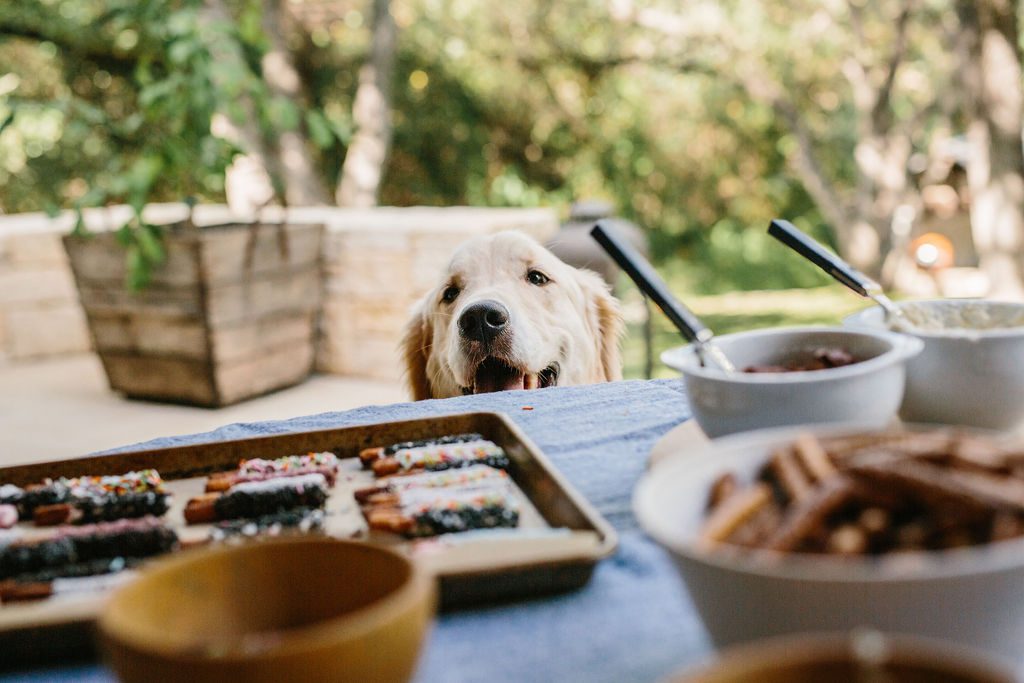 On the afternoon we made these, we went the easy route and used chocolate and vanilla frosting from Whole Foods. But if you're feeling ambitious, you can whip up a batch of the vanilla frosting that Candace Nelson uses at Sprinkles. It's heavenly! Keep reading to find the recipe for the pretzels and the homemade frosting. And tell me in the comments about your favorite recipe to make with your kids!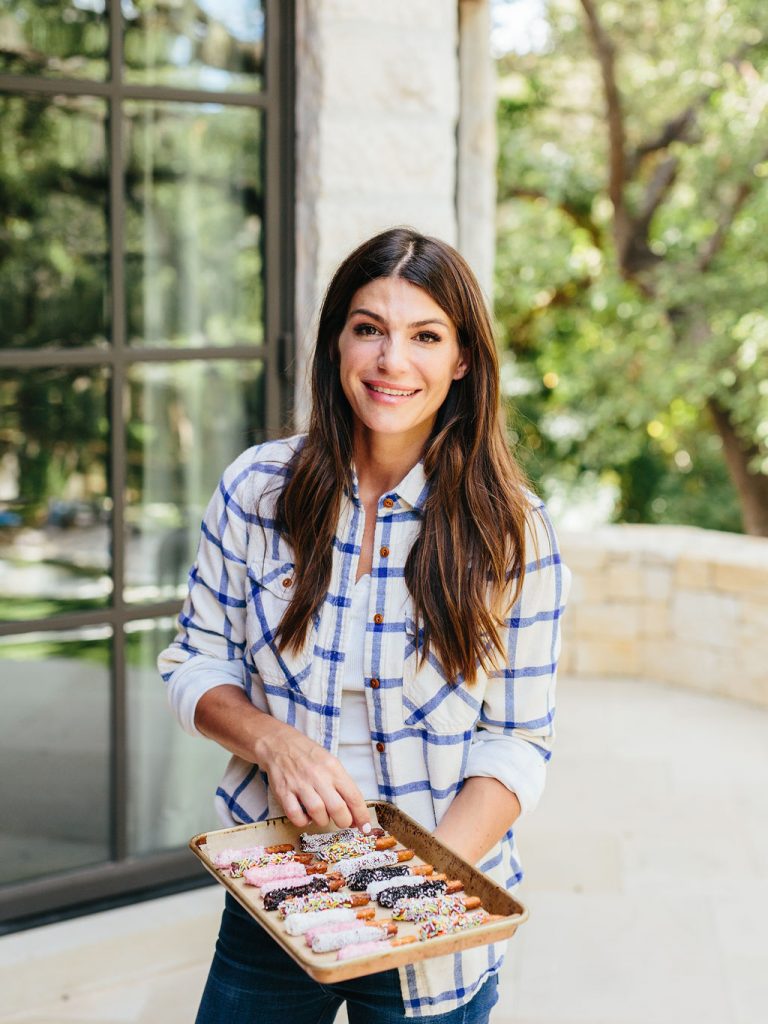 What You'll Need
1 tub store-bought chocolate or vanilla icing—or both!
1 bag pretzel rods
sprinkles in a variety of colors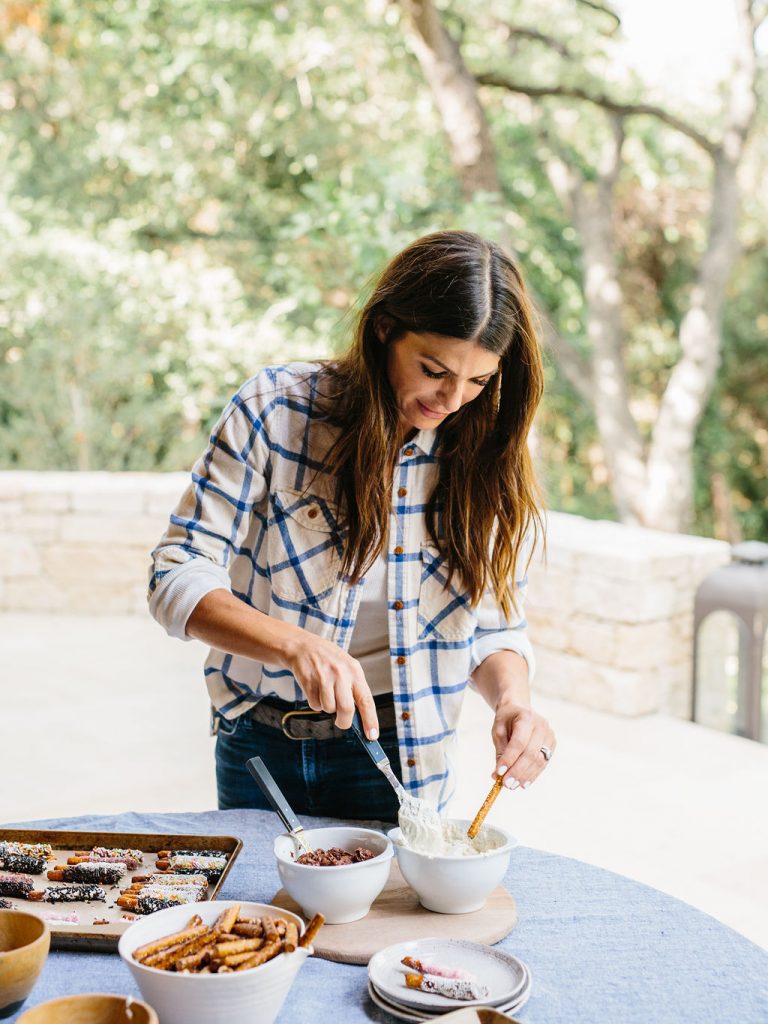 2 sticks unsalted butter, slightly softened but still cool
1/8 teaspoon fine sea salt
3 cups confectioner's sugar, sifted
5 teaspoons whole milk
1 teaspoon pure vanilla extract
In the bowl of a stand mixer fitted with the paddle attachment, beat the butter and salt on medium speed until light and fluffy, about 2 minutes. Reduce the speed to low, gradually add the confectioners' sugar, and beat until incorporated. Increase the speed to medium, add the milk and vanilla, and beat until fully blended, about 1 to 2 minutes, making sure not to incorporate too much air into the frosting.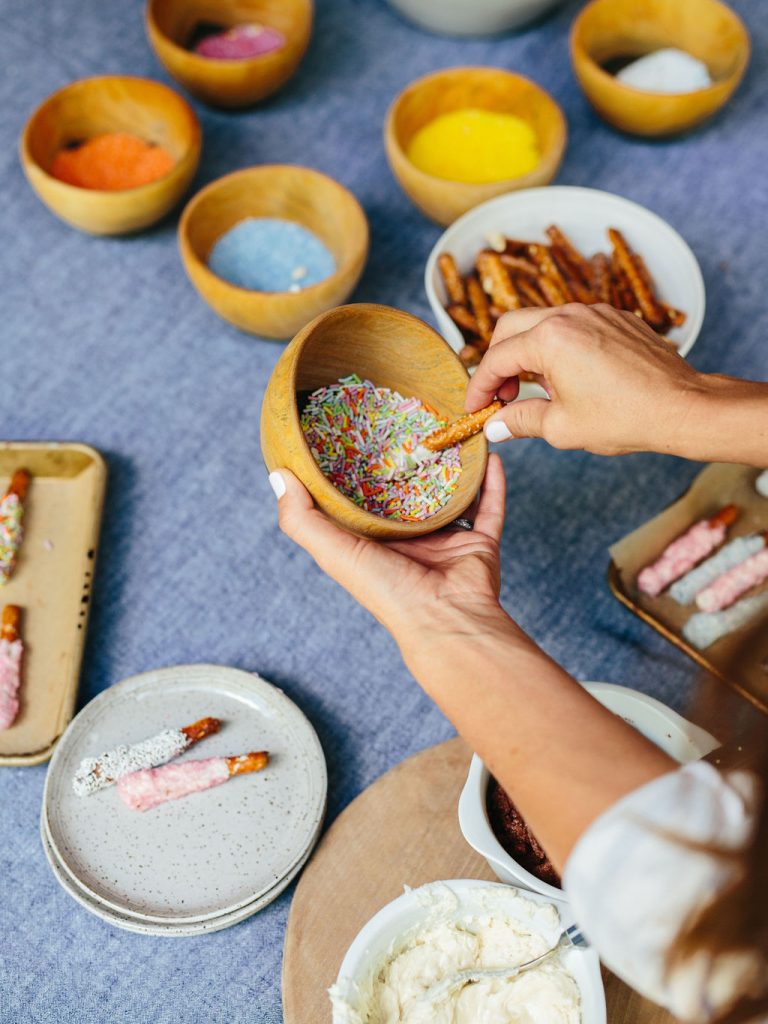 Assembly Instructions
Scoop store-bought frosting into a bowl and microwave until melted—about 30-45 seconds. Stir until smooth. (If you made your own frosting, it should be the perfect consistency right off the bat.)
Dip pretzel into frosting about halfway, and then dip into sprinkles.
Place on cookie sheet and let dry two hours or until no longer sticky. (Or just eat right then, like we did!)