I love a good spin class, but nothing beats exercising in the open air. Outdoor workouts always seem to go by faster and something about being in nature just soothes my soul and helps me get my head right. As a mom, I also find that if I make the outdoors my gym, it's easier to squeeze in a workout because I can incorporate it into play with my kids. 
Of course, in the peak heat of summer, I always try to plan my workouts in the mornings or evenings when it's somewhat cooler. And I'm always careful to slather on sunscreen and take plenty of water breaks. 
Here are my four favorite ways to break a sweat in the great outdoors. What about you? I'd love to hear your go-to outdoor workouts.
Head for the Summit
There's a lot of stuff I want—and need!—to do every day, so sometimes I have to do two things at once to get it all done. Now that the boys are getting older, hiking has become one of our go-to activities together. (Odette acts as my weights by tagging along in a carrier or a hiking backpack—extra toning for the win!) When we were recently in Sun Valley, we went on several great hikes. We explored new trails and some old favorites. No matter where we went, we all got a good sweat in, and the kids learned how good it feels to make it to the top. (Though that doesn't mean they were immune from complaining…they were not.) While I definitely pushed them, I also made sure to pick a trail that wasn't too steep, give them lots of breaks, and pack plenty of snacks and water. Not sure where to start? Alltrails is an awesome resource that allows you to search for trails locally and filter by distance, difficulty, dog-and kid-friendliness and more.
Pound the Pavement
I grew up running, and it's still the most convenient way for me to get in a workout. Running is also my favorite way to clear my head, and the best way to sightsee while on vacation. Jared and I use to have run dates while we were dating. We ran all over Europe when he was attending Supernatural conventions, and it was such a highlight of those years for us. Sight-seeing via running is something I still do these days. When I was recently in New York City for 48 hours, I headed to Brooklyn for a gorgeous run in Dumbo. It was so fun, and I love finding new restaurants and stores to go back to later in the day when I'm not sweaty. 
Pedal On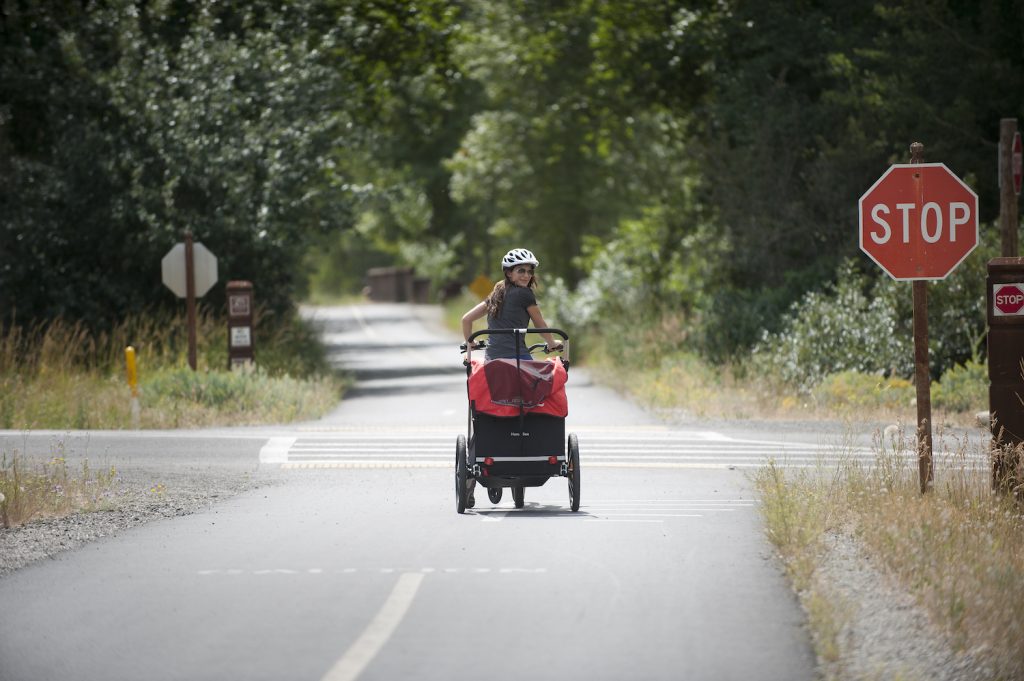 We are big fans of family bike rides. One of our favorite places to bike together is Sun Valley, which has hundreds of miles of mountain bike trails and more than 30 miles of paved bike paths. We just hop on our bikes (or, in Odette's case, hop in the trailer I pull), and pedal to lunch or to run errands, or ride to the park. It makes fitting in a workout effortless, because it just becomes part of your day. I love that.  
Just Play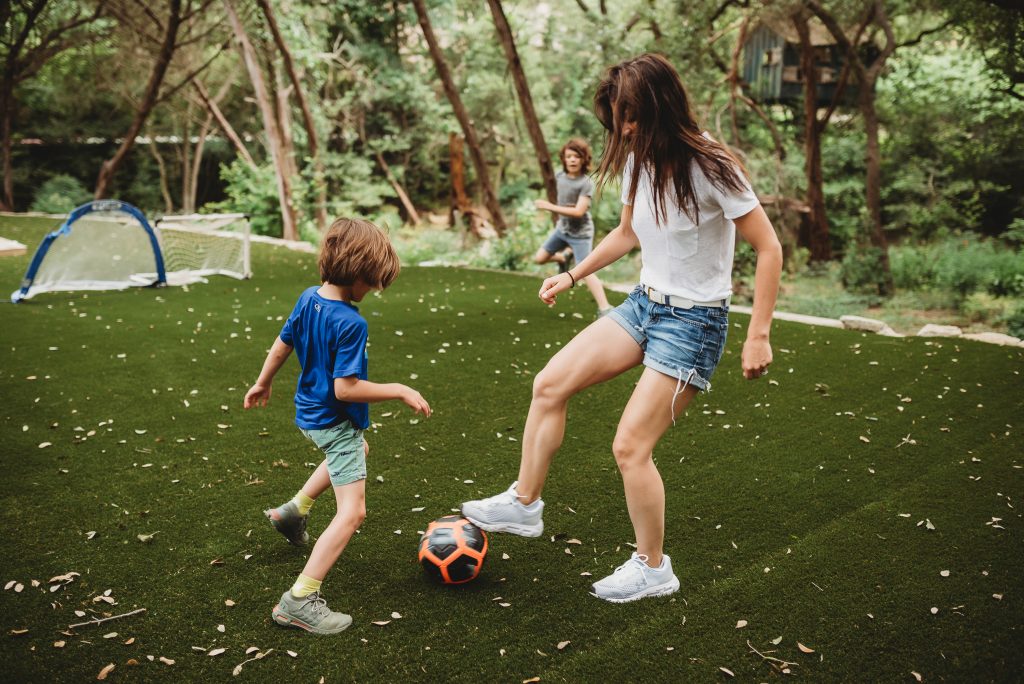 As someone who grew up playing competitive soccer—forward or midfield, thank you very much—I love everything about the sport. And since I've got three very active kids who I'm constantly trying to wear out, playing a pickup game in the backyard is a regular occurrence. (We've even been known to park the cars outside and play soccer in the garage on bad weather days.) Since I need to be efficient with my time, I love that I can torch some calories and spend time with the kids—while they burn off some of their limitless energy. Plus, we all get to enjoy time outside. It's a win-win-win.