When I first started this blog, I wrote about how I wished we'd all stop the mom shaming. (And yes, for some reason it's always mom shaming, not dad shaming!) So I was thrilled when I heard that Lindsay Powers, who was editor in chief of Yahoo Parenting when they created the #NoShameParenting movement, wrote a book. Called You Can't F*ck Up Your Kids, the book is a research-based, judgment-free look at hot button parenting issues, from breastfeeding to daycare to sleep training.
Lindsay spoke to dozens of experts, ranging from doctors (including the pediatrician who co-wrote the American Academy of Pediatric screen-time rules), to researchers, social workers, and more—she'd basically an encyclopedia of parenting information. Since we're all learning as we go while parenting through a pandemic, I asked Lindsay to answer some questions I've had about how to keep yourself and your kiddos happy and sane during these crazy times.
Keep reading for her level-headed tips on everything from screen-time restrictions to how to help anxious kids cope. And then let me know in the comments: What's been your biggest parenting win and biggest struggle since having to quarantine at home?
Covid-19 has changed the world—and parenting—in a matter of weeks. Since kids are home 24/7 now, how important is having a schedule?
Research shows that when kids have a routine in some part of their lives, they tend to be more agreeable. It's tempting to just let everything go—no rules, because life is confusing right now; no bedtime, because we're not rushing to school in the morning. But try to stick with a few basic features of your daily routine, such as going to bed at the same time every night. We still need to discipline our kids (we're the adults, and boundaries make them feel safe), and sleep is still important.
Working from home while juggling kids can feel impossible at times. Any tips on balancing work and childcare?
Parents should be as involved as they have the bandwidth to be, and not feel guilty about it. Help your kid learn how to play solo by giving them more opportunities to do so. Set a timer for 10 or 15 minutes, and tell your child they have to play alone that long. Extend the time by a couple minutes every day. My sons have gotten really good at playing together without adults for a pretty long time—but that's a new skill, learned by necessity, because my husband and I are working and can't always get on the floor to play with them. And I also let my kids whine about how they're bored without intervening. Boredom is a good thing. It fosters creativity and resourcefulness. Parents today are under a lot of pressure to fill up every minute of our kids' days. I think a small silver lining from this pandemic will be parents feeling less pressure to cart our kids around to every single activity and constantly enrich them.
Not only are parents feeling pressured to keep kids entertained, but some also feel like they're expected to homeschool to keep them on track and it's causing stress for parents and kids. Is it OK to lower expectations on that too?
Oh yes, lower expectations when it comes to home school. Teachers aren't expecting us to raise geniuses right now, they're expecting us to keep our kids safe. Teachers also know and will take into account that kids are going to be in different places when they do return to school, so you don't have to worry about your child being "behind." Lean into life skills. Kids can learn a lot from cooking, for example: math, measuring, order, following directions. And how many people stuck in quarantine right now wish they'd learned how to cook as a kid?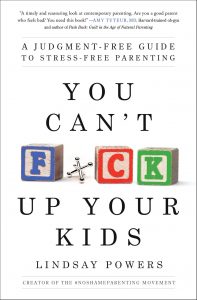 Everyone says parents can loosen screen-time restrictions during this time, but is there a limit? Five hours a day can't be good, right?
All things in parenting are best served in moderation. But these are not normal times. There's no way we'll look back at this time and say, "I wish my kids watched less Peppa Pig during that global pandemic!" Try to think of moderation over the course of a week, not a day. If you watch five hours one day, set a timer and turn it off after an hour or two the next day. Try to keep shows relatively age appropriate, and try to connect what you're seeing on the screen to real life, like "Remember how the Paw Patrol worked together to help their neighbors? We can be community helpers by washing our hands." Also, not all screen time is technically created equal. There are more opportunities to learn and connect via interactive screen time, such as a virtual art class, a math app, or FaceTiming with family. But don't discount all screen time. Anything can be interactive if you ask a question or connect it to real life.
Do you have any advice on how to explain coronavirus to preschool and elementary school kids, who know they can't see friends or family but may not get the bigger picture of why?
When your kid asks questions, ask them questions back. Sometimes our inclination is to over-explain things when they're asking something very simple—which can insert more fear. Try to be age appropriate, emphasize how parents are here to keep them safe, and tell them we can help by washing our hands. Having an action to help gives us some feeling of control back, whether we're 3 or 30.
What can parents say to kids who are feeling anxious? And how can we not transfer our own anxiety onto our kids?
Understand that kids may be throwing more tantrums because it's how they express fear or uncertainty. Spend more time cuddling or offer hugs to help them feel better. It's OK to show a little emotion in front of our kids, or say that we're disappointed or upset. This gives kids permission to feel all the feelings, and shows that we can experience setbacks, keep going, and recover. But if you're feeling weepy or angry, try to take breaks, whether that's by leaving your kids with a partner, if you have one, or setting them up with a game or in front of the TV.
Since you've talked to tons of experts, break it down for us: What are the most important things parents can be doing for their kids right now?
Overall, science finds that kids need three things: love, something to eat, and a place to sleep. All the other things, like all-organic food, designer high chairs, infant flash cards, and whatever else we stress about are just extras—during a pandemic or not.