Since we just celebrated Mother's Day, I want to highlight the importance of taking care of new moms and some postpartum essentials that can help ease the transition into motherhood. Sometimes, it feels like we worry so much about the baby that we forget about the person who just went through a grueling delivery. 
Giving birth is a life-changing event that should be openly discussed. It's one of the most challenging and transformative experiences a woman can go through. I found sharing my birthing experiences particularly cathartic, and I was really moved by your stories, birthing journeys, and questions.
If you're pregnant (or know someone who is), there are some postpartum essentials that I think every mama needs. Here, 10 of my favorite items to help nurture yourself during those intense newborn days. 
The last thing you'll want to do after giving birth is put on pants—or really any clothes. You're incredibly sore all over and it's a tad tough to walk. Since you want something non-binding and open in the front that provides easy access for breastfeeding, if you are going that route, I've found that a soft robe is the ideal postpartum look. This unisex robe from Coyuchi is perfect for those postpartum haze days. It's lightweight yet warm, made from super soft organic cotton, and it's got pockets for storing that random bottle or pacifier. 
Speaking of nursing, these specially designed tops are a must, especially when you go out to eat or see friends or family (back when we got to do those things). Even when you're nursing at home, the few seconds it takes to get your top out of the way can make a big difference to a hungry, screaming baby.
I wasn't great about the routine of breastfeeding. I found that on demand worked best for my family, so using a pillow where you have to find the right chair and strap on the belt wasn't going to happen. For me, this Luna Lullaby pillow was a great fit. It's portable, light weight, and comfortable for the baby and mama (and I now use it to sleep with!)
My friend Nicole is no stranger to having babies. Upon the arrival of her third child, Nicole launched the BumpSuit. It's comfortable shapewear that doesn't have to be worn under clothing. In fact, you can wear it while pregnant and afterward. She's even thought of nursing moms and compressing the uterus and tummy for shape. 
Another thing you learn after birth is that it's difficult to go to the bathroom (regardless of c-section or vaginal delivery).  You can't really wipe without irritating yourself, so it's a good idea to invest in one of these bottles. You can also brew a tea to put in the bottle and help recovery.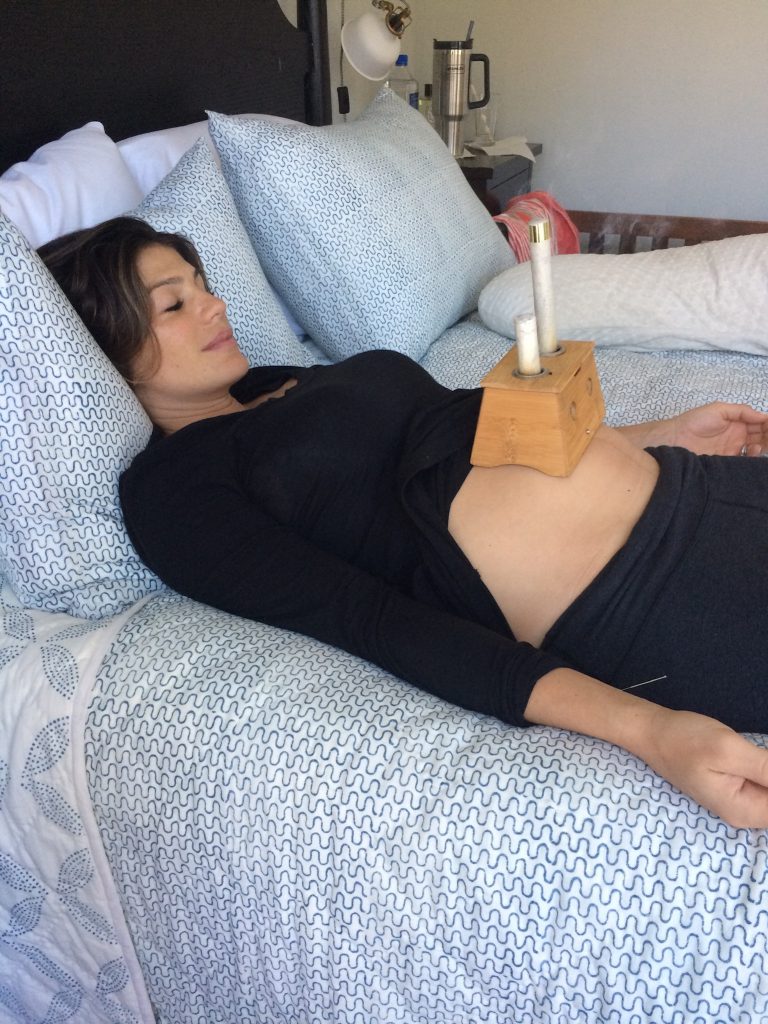 This isn't your typical way of healing, I know. It's Chinese medicine (aka Moxibustion) that is used to help energize, strengthen and repair your blood vessels. After a mother gives birth, she loses blood and amniotic fluids and can be very depleted. A moxa stick is heated in a healing box and held over the uterus (see photo above). It's meant to nurture the mother and encourage blood flow. I will admit it has an unusual smell, however I did crave it when I stopped using it for postpartum. 
If you deliver vaginally, think of the workout you've just endured! These ice packs for down—ahem—there, are everything. Of course you need to ice! This provides so much relief. If you want a DIY option, you can also wet paper towels, fold them up neatly, and put them in a Ziploc.
I wish I had had access to this book with my first two babies. I got my hands on this incredible postpartum guidebook awhile I was pregnant with Odette. I'm so grateful because it allowed me to cook nourishing food ahead of time and taught me ways to heal my body and bond with my baby.
Giving birth is the adventure of a lifetime, and you may have the hemorrhoids to show for it. These pads are lifesavers even if you don't have hemorrhoids. They help soothe and comfort any bum discomfort.
I still use these underwear. TMI, but they are incredibly comfortable. After birth, everything feels weird. You really don't want to wear anything uncomfortable or that hugs in weird places. Plus, you kinda leak from everywhere, so you need all the extra protection and support you can get. 
What item was your lifesaver after having a baby?