We've always cooked a lot in the Padalecki household, but man—I've never cooked so much (or done so many dishes!) in my entire life as I have these last two months. And I know I'm not alone. With restaurants closed and takeout much harder to get these days, I'm pretty sure everyone is spending a lot more time in the kitchen cooking in quarantine.
To battle the food boredom and use up produce before it goes bad, we've been trying to get creative and find delicious recipes that don't require too many ingredients or too much effort. Here are eight of my go-to quarantine cooking recipes, from salmon and egg standards to vegan and junk food–inspired options.
See any that interest you? Give them a try, and then let me know how they turned out! And I'd love it if you would share your favorite recipes in the comments below. I'm always looking for new things to cook that will please the whole family.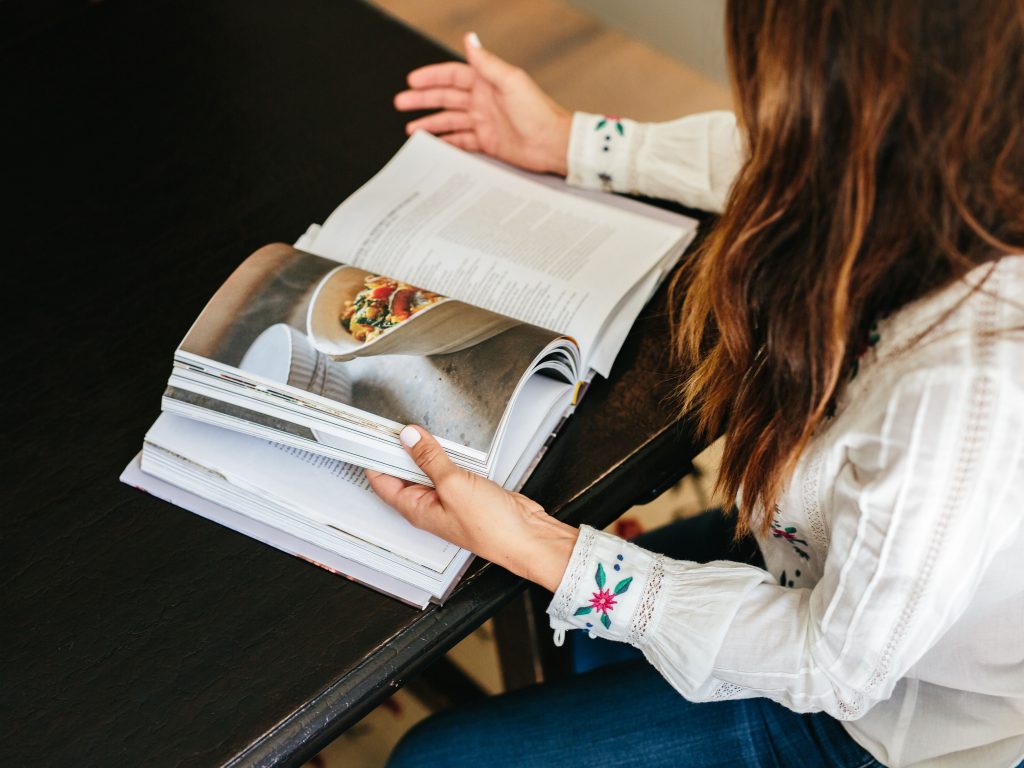 Quinoa beet salad with feta from Amy Chaplin
I love anything with beets, particularly this recipe. You can see Amy's passion for food and food prep in her cookbook, Whole Food Cooking Every Day. Her recipes reflect the respect she has for farm to table. Each one is made with fresh ingredients, which is why I love her cookbook so much. I try to use ingredients from my garden when I can. Especially when we have fresh beets, and I can top them with goat cheese. Heaven!
Raised waffles by Marion Cunningham
This is the best waffle I've ever had (behind my grammy's). I cannot tell you how delicious these are. Granted, they take some thought, as you have to make them the day before. But they are worth the wait. They're the perfect amount of chewy and crispy with bursts of butter. You won't regret it.
Scrambled eggs with zucchini by Martha Rose Shulman
There is something I find so comforting about scrambled eggs or an omelet. This recipe is great because it can be eaten for breakfast or dinner. I love sneaking a vegetable in there for dinner. The zucchini gives it a more robust flavor and texture, and the added nutrients are a bonus. This recipe is a great alternative if you want to skip out on the zucchini. Melissa Clark is one of my favorite food writers.
Ina Garten's salmon and melting tomatoes
This recipe is so easy and uses minimal ingredients. It's incredibly healthy and packed with a ton of flavor. You really can't mess this up. The tomatoes melt in your mouth and complement the salmon so well, while the balsamic provides a delicious, tangy flavor that completes the dish. This dish is a staple in our family.
Haute Dogs by Christina Tosi
I'm a huge fan of Christina Tosi from Momofuku. Her Milk Bar Life cookbook has some great nostalgia food–inspired recipes. This Haute Dog recipe creates the perfect meal for your inner child that your whole family will love. It definitely hits the spot for a lunch break. Oh, and if you need a sweet to round out your day, check out her fun and nostalgic cookies and cakes recipes. Her fruity pebble meringues are to die for (even if the passion fruit puree is difficult to find).
Vegan Siracha meatballs by Gaz Oakley
Hands down, these vegan meatballs are a family favorite. We live in Texas, so we love the added spice of the Siracha. But if heat isn't your thing, you can leave that out. Either way, this dish is packed with flavor and is so comforting. The meatballs also keep really well, which is great for leftovers the next day.
Tikka masala from vegan Instant Pot
This recipe is a tad more time consuming and takes a little more prep, but it is WORTH it. If you have an Instant Pot, this is your recipe. Spices and garam masala and the coconut milk … my mouth is watering! No joke. This recipe is so delicious and has become my husband's favorite. We add extra cauliflower, and pour it over rice. Insanely satisfying.
Planted.Kitchen Naan
Everyone seems to be making sourdough right now, but at our house we've been really into making this homemade naan from Planted.Kitchen. You have to make it six to 10 hours in advance, but the recipe is quite easy as a whole. And the result is chewy, delicious naan. We love to eat it with the tikka masala or with the homemade almond ricotta we also got from Planted.Kitchen. Here are the ingredients and directions:
Ingredients
1 teaspoon active dry yeast
1 1/4 cup warm water
1 tablespoon maple syrup
1/4 cup olive oil 
1 teaspoon kosher sale
3 1/2 cup all purpose flour
Directions
Add all ingredients into a medium mixing bowl. 

Using wooden spoon or rubber spatula, mix ingredients until a shaggy dough begins to come together. 

Using clean hands, slide any dough clinging to spoon or spatula and add to the larger mass.

Hold the bowl with one hand and use the heel of your other hand to push the dough away from you and down into the bowl at the same time.

Using your other four fingers, pull the ball and turn it, then push, pull and turn. Repeat for a few minutes or until your dough ball is smooth.

Cover bowl (I use a damp towel or beeswax wrap) and let rest for 6-10 hours.

Dust a clean counter top with a few tablespoons of flour. Transfer your dough to the floured surface (using a bowl-scraper if you have one). If your dough is very tacky, work a few tablespoons of flour into it using the same kneading technique as before, just now on the counter.

Use your fingers to flatten the dough and then divide into 8-10 portions(using a bench scraper if you have one).

Drizzle some olive oil into a baking sheet and use your fingers to press and shape the dough into thin flats.

Preheat a griddle or nonstick pan over high heat. Cook naan one minute per side. Cool on wire rack.