Four years ago, I was a girl on a quest to create a garden I could eat from. It started with a chicken coop, then we added three garden beds. Fast forward to today, and we now have eight garden beds, a vertical garden from Lettuce Grow, and too many (are there ever too many?) potted plants, including lemon trees, a peach tree, and blackberry bushes. Our garden keeps growing and growing. Currently, I am scheming to buy a DIY greenhouse, so I can grow all the things I love to eat year-round. Here's hoping!
I didn't start out knowing how to garden. In fact, it was the exact opposite. I've killed more plants than I've actually harvested, I'm sure. But working with an awesome gardener named Stevie Schultz of Resolution Gardens, as well as trial and error and lots of patience, has got me to where I am today. Since Stevie has taught me so much, I asked her to share her expert tips on how to start your own garden. Keep scrolling for her awesome insider info.   
And then let me know in the comments: Do you have a garden? If yes, what are you planting and growing right now?

Pick the right spot
A garden needs about eight hours of sunlight a day, so the sunniest spot in your yard is where you should plant. It doesn't need to be too big: 4-feet by 8-feet is a great starter garden. (You can also use a big pot or two to plant veggies or flowers if you live in an apartment or don't have a lot of space.) Instead of an in-ground garden, I recommend doing a raised garden bed. You can build it out of wood or rocks, and Lowes and Home Depot even sell kits. If you want to make your own, you'll need six pieces of untreated wood. Stain the wood, build the box, and then line it with painter's tarp so it doesn't rot.
Other than sunshine, your garden needs an adequate water source and good soil. Do some research to find out what the soil is like in your area; the National Gardening Association or your local nursery is a great place to start. In Texas, the soil is made up of mostly thick, hard clay that's not good for growing. I recommend buying a yard of garden soil, not sandy top soil. You also need to make sure a hose can reach your garden for watering. Everything else is nature doing what it does.       
Gather your tools
You just need a few basic tools to start your gardening adventure. Items to consider buying: a shovel, a grub hoe, gardening gloves, and a wheelbarrow. The wheelbarrow is for the soil—a yard of soil is a lot. You can get it delivered to your house, but you will still need to get it to the garden. 
Choose your plants
In Texas, it's perfectly fine to plant up until the end of May (though the later you plant, the less likely it is that you'll get tomatoes.) Seeds should have been planted in February or March, so if you're just starting now, go to a nursery and get vegetable starts, which have already been growing for three to four weeks. Spring veggies include zucchini, yellow squash, okra, cucumbers, and eggplant. In the fall, you can grow kale, collard greens, cauliflower, lettuce, Swiss chard, broccoli and Brussels sprouts.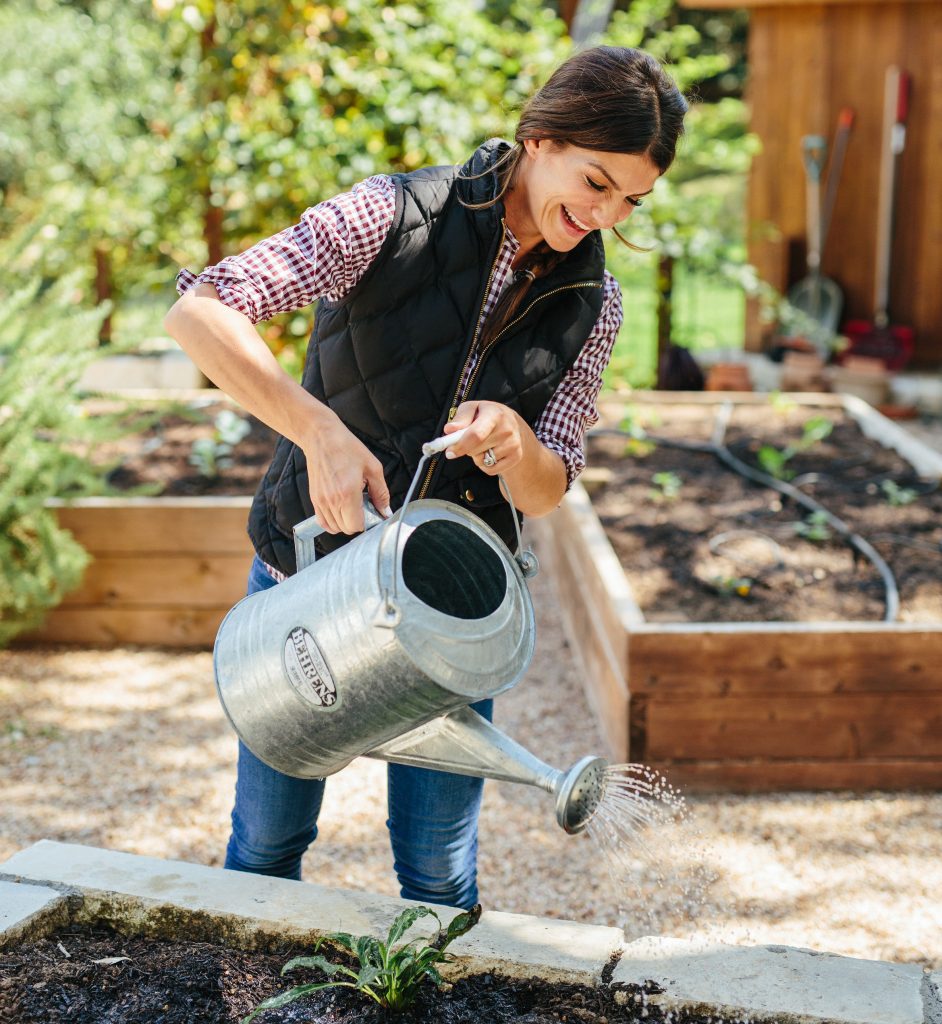 Water, water, water…and then be patient
As soon as you plant your garden, water it every day for two weeks. Then you can start spacing out the watering to once every other day, then every third day, depending on the temperatures. Now you wait. Some of your seeds and plants won't make it—and that's not your fault. They will have transplant shock and won't recover. For the ones that do take, time before harvest varies, but it's usually 45 to 65 days. A good rule of thumb is that the bigger the fruit, the longer it takes to harvest. Eggplant will take longer than cherry tomatoes, for instance.
Just go for it
Planting a garden will be both easier and harder than you expect. Building a garden box and doing the planting will take you an entire day. But once the garden is in, it's fairly simple to keep on top of the watering and harvesting. And it's so satisfying to be able to pick and eat vegetables you've grown. Enjoy it!