After a tough year filled with the unexpected, I'm trying to be more thoughtful with my gift giving. I want the holiday season to not be about things but about being healthy and thankful for joyful memories with the people we love. With that in mind, I've compiled a more focused holiday gift guide full of items and experiences I think adults and children will love, from art projects to books to park passes. Even better: These gifts start at $7, so there is something for every budget.
Keep reading for my holiday gift guide, featuring 21 gift ideas for the adults and the children in your life. Take a peek and let me know if anything catches your eye. After that, let me know in the comments what you're buying for all the people on your list this year. I'd love to know!

For Adults
1. Palasis des Thes Matcha Tea Sea, $59
I love drinking green tea and matcha. It's something I look forward to every morning. When I first started drinking matcha, I just mixed it in a normal coffee cup. Buying this whisk and the perfect mug made the process a little easier and a little bit sweeter.
2. Hanahana Lemongrass Shea Body Butter, $26
I am obsessed with this cream. It's infused with shea, cocoa,and mango butters, as well as a mix of oils, and I rub it everywhere, including my hands, knees and elbows. It's also great for my kiddos' dry skin. And I love that founder Abena Boamah-Acheampong has created a benefits circle to ensure and improve economic, environmental and self sustainability for the women within the shea trade.
3. Cariuma sneakers, $79 
I'm a huge fan of these comfy, stylish, sustainable sneakers and gift them to all my shoe-loving friends and family.
4. Annual National Parks pass, $80
The Padalecki clan had a blast exploring several national parks this year, and this is a deal that can't be beat. This $80 pass, which includes the owner and three accompanying adults, grants access to more than 2,000 parks, from the Grand Canyon to Mt. St. Helens. It covers entrance fees at national parks and wildlife refuges, as well as amenity fees (day use) at national forests and more. Time to hit the road!
5. Wilde House Paper The Intentional Set, $36
Made with 100 percent recycled paper in this U.S.A, this journal and print set will delight anyone dreamer, art lover and realist on your list. Bonus: Wilde House plants a tree for each order.  
6. Our Lady of Perpetual Hunger, $25
Lisa Donovan is my newest girl crush. Not only is she a badass in and out of the kitchen, but she makes writing look just as easy as she does cooking. I love how real and raw she is in this memoir with both her stories and her language. If nothing else, every chef, every woman, and everyone should read her book for the brilliant lessons she sprinkles throughout.
7. In The Ring adult card game, $30
There's nothing better than a little competitive fun between friends and family. This card game explores 12 different values. As the creators say, "Be forewarned, this game may cause spontaneous empathy, emotional-nudity, and unexpected social harmony!"
Homecooks and garden aficionados will love working in the kitchen or garden in this stylish, functional apron. Made out of washable waxed cotton, the apron was designed with the chefs of Michelin-starred Contra NYC, so you know it's good.
I'm all about multitasking, so I love that these "balmies" can be used on your eyes, lips, and cheeks. Each one is packed with oils, butters, and antioxidants, and they are zero waste. You can't beat that!
10. Yellowbird Hot Sauce Pick Three Kit, $21 
It feels like we all need to spice up our lives right about now, and this Austin-based company is a good way to start. Select three flavors from their original five—jalapeño, serrano, sriracha, habañero, or ghost pepper—and you'll be lit.
11. Skylight frame, $159 
Not seeing parents, grandparents, and great-grandparents over the holidays is going to be rough, but it's necessary to reduce the spread of COVID. To soften the blow, gift your family this awesome photo frame that allows you to send photos directly from your phone to the frame, from anywhere in the world! It's the perfect gift for family members you can't be close to right now.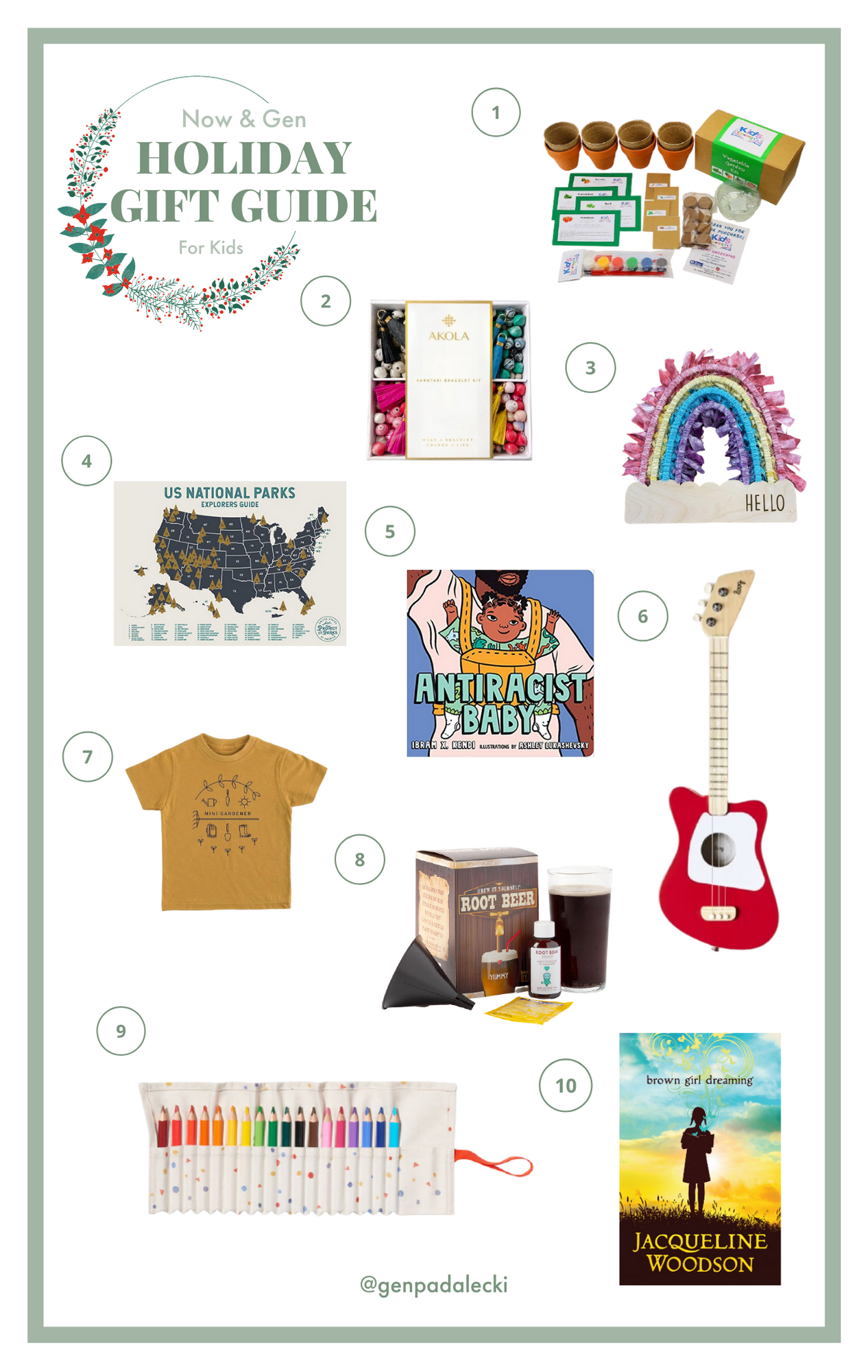 For Kids
This cool kit has everything kiddos need to start a tiny garden, including four terra cotta pots, vinyl saucers, and biodegradable liners, in addition to eight soil pellets, four organic seed packets, and more. They'll be growing cucumber, tomato, carrot and basil in no time.
Your little artists will love this DIY bracelet kit, which contains hand-rolled Karatasi beads in a rainbow of colors. Even better: Each kit helps employ nearly 200 Akola women in Uganda.
3. Personalized Rainbow Craft, $22
This colorful craft is the perfect way to occupy a few hours on a cold or rainy day.
4. Epic Adventure Maps National Parks Scratch-Off Map, $30
A way to keep track of your family's adventures? Yes, please! Kids will love scratching off each of the U.S. National Parks as you visit them. And for each map sold, the company plants a tree.
Start 'em young! This board book by Ibram X. Kendi introduces the youngest readers to antiracism through bold art and thoughtful and playful words.
6. Loog Guitars, $71
Foster a love of music with this three-string guitar that comes with an app that helps kiddos learn how to play.
7. Nature Supply Company Mini Gardener shirt, $22
My little gardeners would love this shirt that shows off one of their favorite hobbies.
8. Root Beer Chemistry Kit, $16
Tiny foodies and little scientists will love this all-natural root beer–making kit. It contains sassafras extract, yeast, a funnel and instructions to help them whip up a fun and tasty drink. 
9. Oso & Me 18 Color Pencil Case, $28
I love this sturdy and colorful canvas pencil case that artists can roll up and take on the go. It's perfect for road trips, plane trips, or a picnic.
Talking to Jacqueline Woodson for the N&G Book Club was one of the highlights of my year, so I'll be gifting her gorgeous books to everyone I know. In this book, Woodson describes what it was like to grow up as an African American in the 1960s and '70s. It's essential reading for the preteens in your life.