I'm a runner by nature. When I was a kid, I ran away from home and got lost in my backyard. I hid in the flowering mustard plants that covered the hill until I finally got hungry and ventured home. When I was 24 and my parents got divorced, I didn't want to face the reality of a split family and all that would entail, so I rented an apartment in Paris—a city I knew nothing about with a language I knew even less. It was, and is, a pattern that I've adopted over the years.

When the pandemic started, I braced for an unknown territory of being sedentary. It was refreshing to have everyone's feet under the kitchen table, but I could sense myself getting restless around month three. Don't get me wrong, I long for my family to be together everyday, but somehow, knowing we couldn't leave our home left me feeling a little like a caged animal. I wanted to hike, climb a mountain, and get lost, and I was counting the days until our family could.


Let's be real: In the age of coronavirus, everything is a risk. So, after three months in quarantine, we made the calculated risk to drive from Austin to New Mexico to Utah to Idaho to Montana and back. We knew Jared was going to have to start filming soon, so we wanted to use some of this time as a family to explore the U.S. But we were intent on doing it as carefully as possible, both for our family and for all the other people we encountered.
We ran off for new horizons and had a wonderful, adventure-packed time soaking in nature, exploring wide open spaces, and unplugging from the latest breaking news. And I think we did a good job staying safe and sticking to safety protocols that we believe are necessary. (I will say that traveling during these unprecedented times was very eye-opening. In some cities we visited, everyone wore masks, while no one did in other places. Full disclosure: It definitely felt like a partisan issue. Wearing a mask shouldn't be political.)

Keep reading for a look at how we traveled safely. Have you traveled this summer to see family or take a vacation? Let me know in the comments how it went and if you have any good tips to add!

Isolate Before and After
We've been very careful about socializing since Texas lifted its lockdown in early May. We've had a few outside playdates and a few necessary doctors appointments, but that's it. And once we decided we were taking this trip, we put everything on hold. The five of us stayed at home for 14 days, making sure we weren't COVID carriers. And we've been doing the same thing since returning to Austin. (Just a note that we left the city a few days before the mayor extended the stay-at-home order.)

Drive Instead of Flying
I didn't feel comfortable flying just yet, and we weren't able to rent an RV, so driving was the only way to make this trip happen. It worked out great because we could all stick together in one car vs. being spread out on a plane. Plus, we could pull over when the kids needed to stretch or to take photos of amazing scenery.
Keep It Clean
As the CDC recommends, we always wear masks (even Odette) when we are near other people, and we wear a mask and gloves when pumping gas. Tip for parents: Always have toilet paper, wipes, and paper towels on hand. And since bathrooms can be a bit dicey right now, you may want to bring along a portable potty or even purchase a funnel—I have a friend who swears by this!—if you have little kids and want to limit their access to germs.
Opt for Takeout
We also aren't fans of eating in restaurants right now, but we did the next best thing: We ordered takeout and ate it in parks. It was a great way to support local businesses and try new dishes while staying in our comfort zone (and get some fresh air and let the kids get their wiggles out). For drinks and snacks, we stopped at grocery stores along the way to restock when our supplies got low.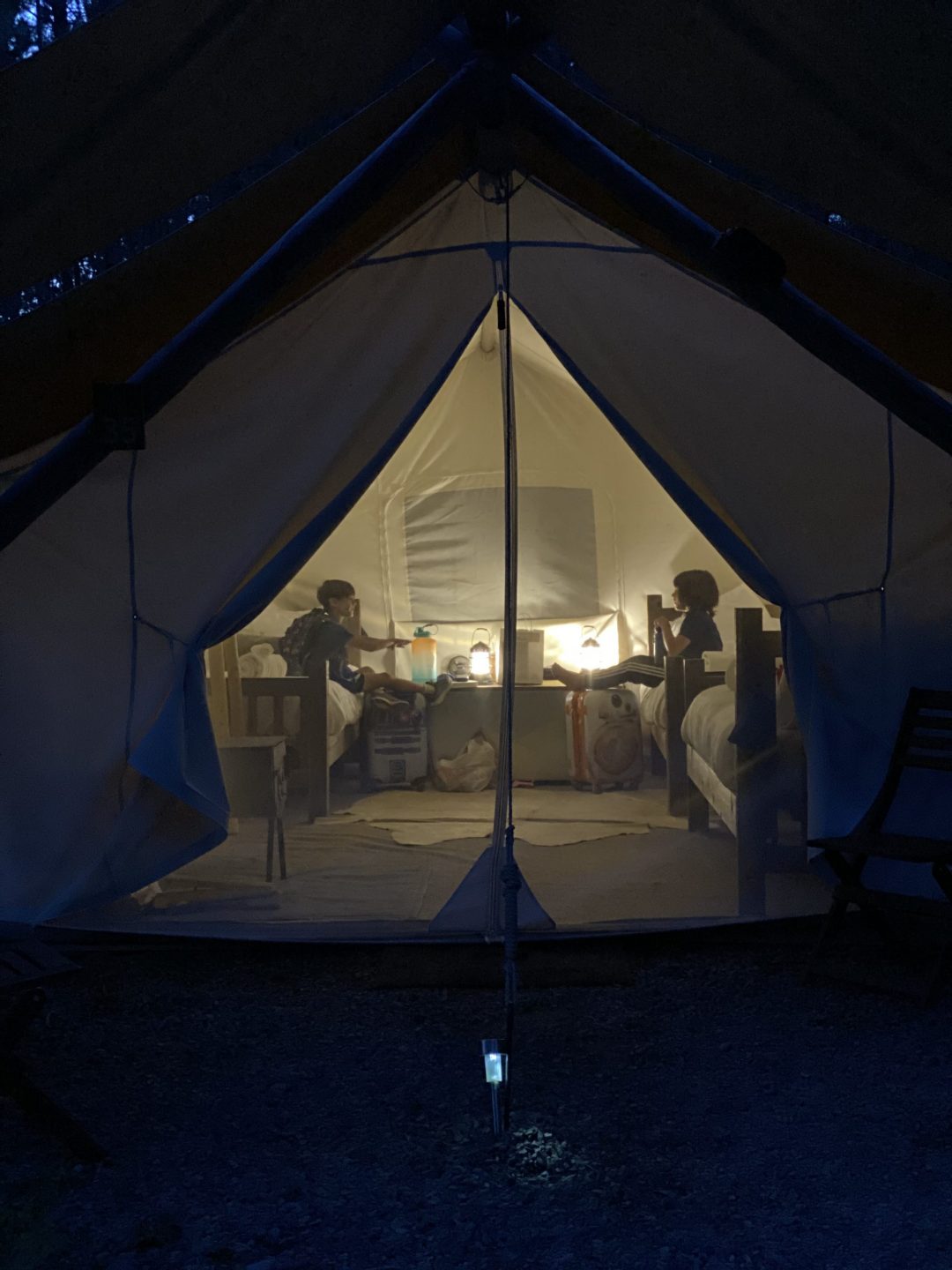 Sleep Safely
Since this was an ongoing trip, we stayed a few nights in hotels or Airbnbs. For each one, we'd call before booking to ask about their COVID safety protocols. We only stayed in places that were open about their sanitation efforts, including putting guests in every other room, cleaning all bedding, wrapping remotes, etc. (Kudos to the Hampton Inn in Roswell, New Mexico, for being super safe and clean.) But our favorite place we stayed at was Under Canvas in Moab. The glamping experience was amazing, and we felt ultrasafe sleeping in the outdoors, spread out from the other campers.
Trust Your Gut
Don't be afraid to speak up if something feels uncomfortable. We arrived at one unnamed hotel and the receptionist wasn't wearing a mask—so we switched hotels. This is a time where there are so many unknowns and variables, so if something feels off don't question yourself.
There are many feelings about traveling with the current state of the world, but I find that exploring and changing my horizon provides a fresh perspective. It certainly was a challenging and extremely thoughtful decision for our family, and we weighed all of our options. It's just as important to fuel your mental state, so make sure you take time to do the things that make you happy—while keeping you and yours safe.