Christmas is less than two weeks away! (How did that happen?!) If you're feeling behind on your shopping, you're in luck! I have compiled a holiday gift guide full of things I love or have on my Santa list, as well as items I think men or kids will love. Even better: These gifts start at $15, so you'll find plenty of steals as well as splurges.
Keep reading for 40+ gift ideas for everyone in your life, as well as eco-friendly stocking stuffers that are fun and sustainable. Take a peek and let me know if anything catches your eye. Happy shopping!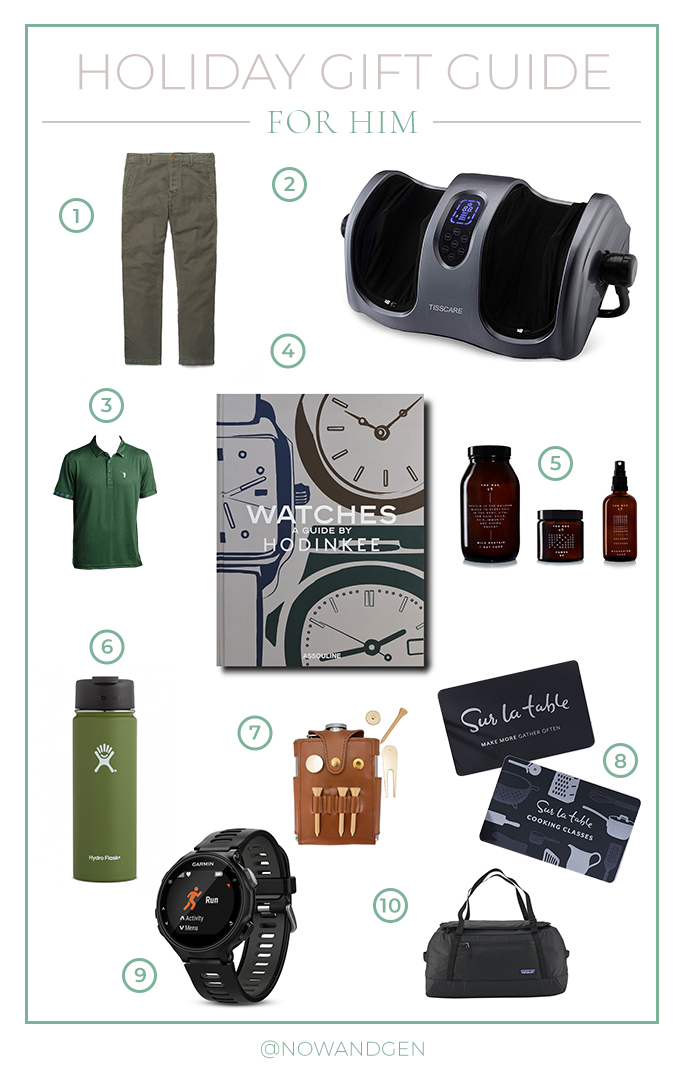 FOR HIM
1. Outerknown Lost Coast Moleskin pants, $118
Comfort and style go hand in hand with these organic cotton pants.
2. TISSCARE foot massager, $150
Who doesn't love a massage after a long day? This heated machine goes deep on sore feet, hand, and calf muscles. Sounds like heaven.
3. Murray classic polo, $72
William Murray infuses stodgy traditional golf shirts with some fun. These polos wear well on the course and at the bar when your guy goes for a beer afterwards. Cheers!
4. Watches: A Guide by Hodinkee book, $85
My husband is a huge watch connoisseur and Assouline books are works of art. This is a perfect coffee table book a watch-loving man will love.
5. The Nue Co Active Set, $126
We live to get outdoors, and we love to exercise. The Nue Co makes fantastic natural products that help from the inside out. This set of three supplements is a great combo to enhance your guy's workout experience. Plus, the company strives to be as green and clean as possible and always cruelty-free.
6. Hydro Flask Coffee Flask, $21
This 20-ounce insulated flask keeps hot drinks piping hot and cold drinks ice cold. And it comes in three chic colors: love green, watermelon pink, and frost blue.
7. Brown Leather Wrapped Flask with Golf Tools, $27
Golfers will love this 6-ounce flask that includes storage for four tees, two ball markers, and a divot tool.
8. Sur La Table Cooking Classes
Whether you want to encourage the man in your life to get into the kitchen more often or you just want a fun date-night activity, these classes are super fun. Classes in Austin start at $59 and include everything from knife skills to making sushi or homemade pasta. Yum!
9. Garmin Forerunner 735XT watch, $350
Whether you're training for a race or just taking a cycling class, this watch is awesome for tracking your heart rate, stride length and more.
10. Patagonia Ultralight Black Hole duffle bag, $69
You guys know how much I adore anything from Patagonia! This sturdy yet lightweight bag is made from 100 percent recycled nylon and has a recycled polyester lining. It's perfect for camping, the gym, or to hold any kind of sports gear.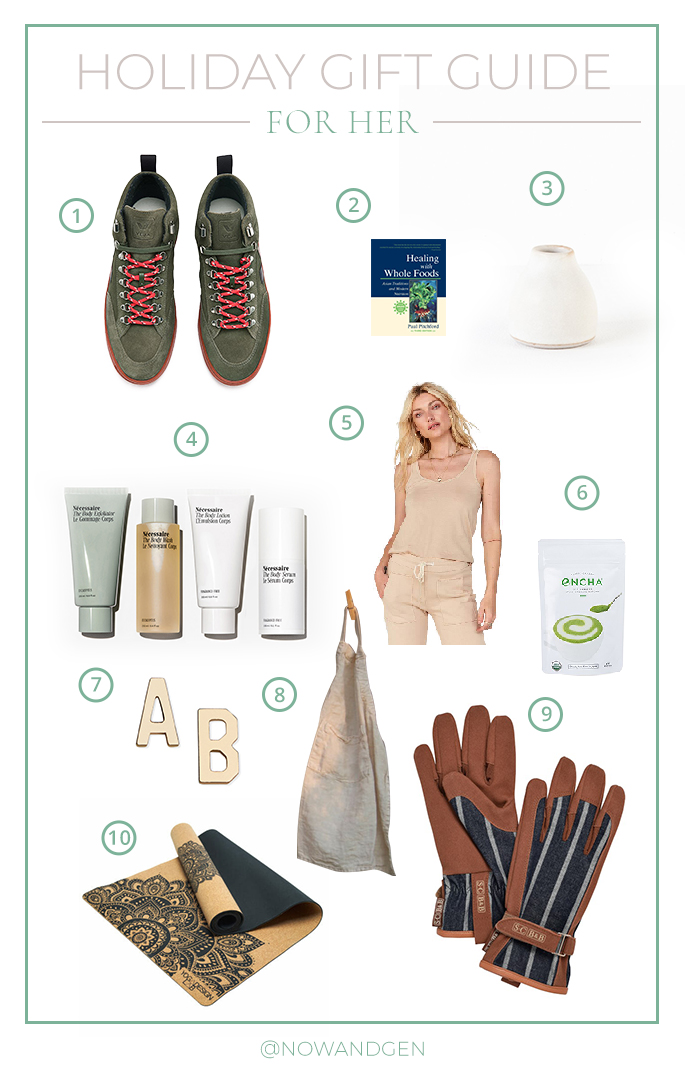 FOR HER
1. Veja Roraima Suede sneakers, 165 Euros
I am at my core a heel girl, but with all the running around I do, I've been living in sneakers lately. When doing my research about more eco-friendly brands, I came across Veja. I love their style and the care they take to be sustainable.
2. Healing with Whole Foods book, $21
I'm really trying to make my body healthy from the inside out. This book is a great guide in how to do that. I think the best medicine  comes from nature. Did you know penicillin came from a mushroom?! Fascinating.
3. Sarah Kersten bud vase, $28
I am obsessed with ceramics. I really love a plate that looks like the potter had their hands on it or a mug that has been held and molded by its maker. There is something so warm and loved about the pieces. I am a huge fan of Sarah Kerstens. Her dinnerware is as casual as it is a showpiece. This bud vase is the perfect way to showcase art and bring a nook to life.
4. Nécessaire The Body Collection, $80
The amount of care and thought that goes into Nécessaire products shows. Whether it's on the outside or the—ahem—inside, this company makes sure that only the best ingredients go into its products. There are no parabens, phthalates, sulfates, silicones, petro-chemicals, synthetic fragrances or synthetic dyes—which gets a huge yes from me!
5. Mate The Label tank and bottoms, $52 & $128
Everything this brand makes is super super comfy and stylish. Bonus: It's all sustainably made in LA with organic cotton, non-toxic dyes and eco-packaging.
6. Encha matcha subscription
Lately, I've been starting my morning with a healthy dose of green tea. But I can't tell you how often I go to make my morning cup and discover I've run out! (Not the best way to start your day.) This subscription helps prevent that from happening.
7. Erth Jewelry initial studs, $110
I love these dainty earrings in 14k white or yellow gold. You can pick one initial or spell out words if you have multiple ear piercings.
8. Virginia Davidson Once Milano linen coffee apron, $82
My friend Virginia is super stylish, which is why I'm so excited she's launched a new line of home goods! How cute is this apron?
9. Terrain leather trimmed gardening gloves, $32
Make planting flowers more stylish with these chic cotton and leather gardening gloves.
10. Eco-friendly yoga mat, $74
We're gonna need a lot of downward dogs to relax after the craziness of the holiday season. I love this gorgeous eco-friendly mat, which is 100 percent natural cork and rubber.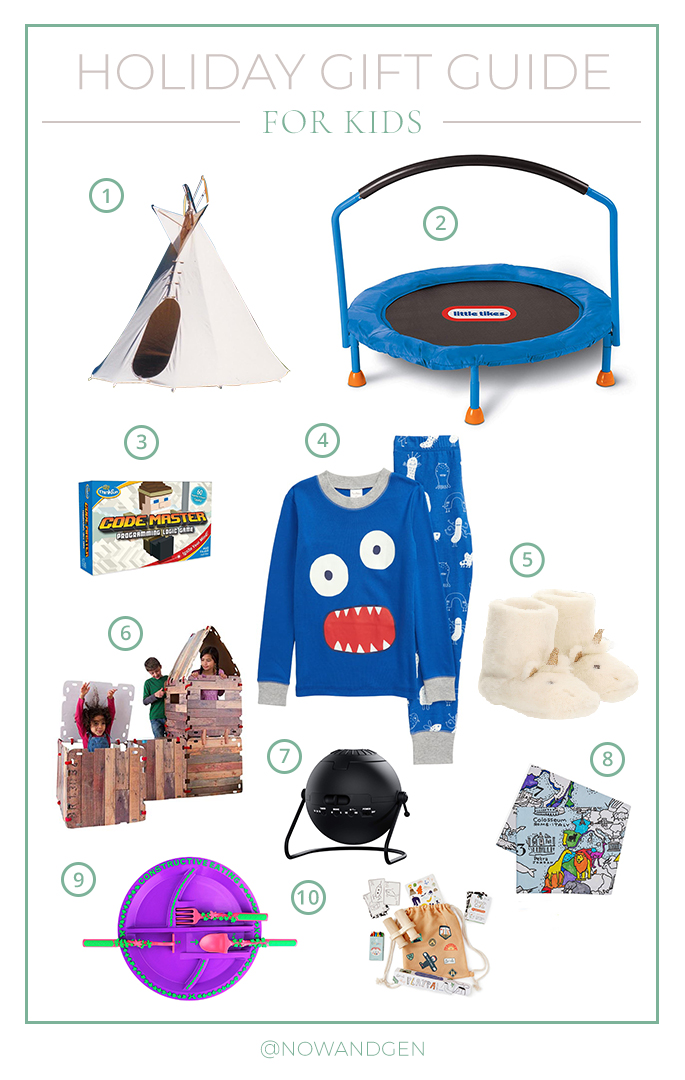 For Kids
1. Bella Luna kids backyard teepee, $300
I'll take any excuse to get myself and my kids out in nature. I really try and get gifts for the kids that we can use together and preferably are outdoor friendly, and this teepee fits the bill. It's perfect for imaginative play at any age.
2. Little Tikes trampoline, $60
I have a problem: My 2-year-old runs circles around me and her brothers. This is the solution. It keeps her busy and gets her "wiggles" out.
3. Code master game, $19
Tom has been getting into coding, and this is a fun and challenging board game that we can play together.
4. Glow-in-the-Dark Pajamas, $42
My 5-year-old loves anything that makes him feel night secure. These glow-in-the-dark pjs are not only fun and age appropriate, but they make him feel better at night because he thinks he has a night glow that lets him see things in the dark.
5. Slipper boots, $30
It seems like every little girl is into unicorns these days (I know mine is!), so there is surely someone on your list who will love these. (There's also a leopard option, if that's more their style.)
6. Hearth Song Fantasy Fort, $70
This is the perfect activity for those days that you're stuck indoors. This kit includes 32 pieces that can build any fort that a kid can dream up.
7. Sega home planetarium star projector, $190
Astronomy aficionados will adore this projector that shines 60,000(!) stars onto your ceiling.
8. EatSleepDoodle World Map Coloring Tablecloth, $30
Your kiddos will never get bored at the dinner table again with this coloring tablecloth. After they are done coloring in the map, just throw it in the washer, and they can do it again!
9. Constructive Eating garden plate and utensils, $35
Little ones will love using this cute set, which includes a plate and three garden fairy utensils.
10. Uncommon Goods Little Explorers Activity Set, $30
Go on an adventure with this adorable backpack that's stuffed with a 6-and-a-half-foot coloring roll, six crayons, 52 color-and-play alphabet cards, and a pair of wooden binoculars.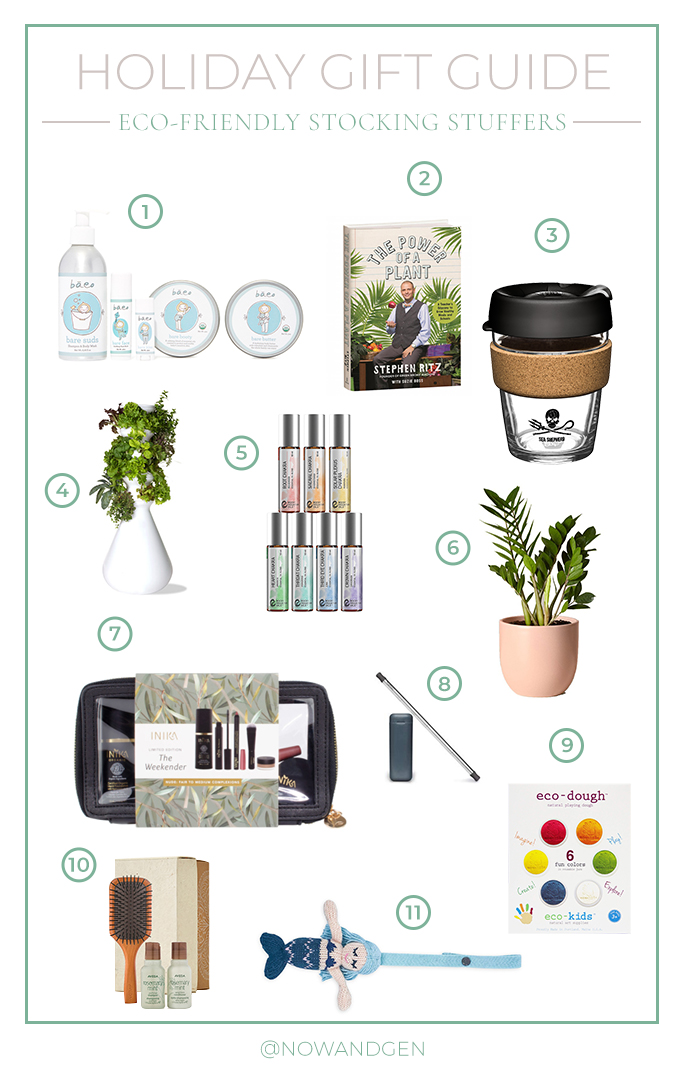 Eco-Friendly Stocking Stuffers
1.Baeo gift set, $75
I've loved Baeo for years. They use nothing but the cleanest ingredients in their products, and this reusable, ethically sourced Hey Baby bag is so sweet.
2. The Power of a Planet book, $15
Find out what happens with a teacher brings gardening into his South Bronx classroom. (Spoiler alert: Amazing things!)
3. Keep Cup Sea Shepherd Brew Cork cup, $31
I love a good reusable to-go coffee mug, especially one that gives back to the Sea Shepherd Conservation Society.
4. Lettuce Grow Farmstand, $348 and up
What's not to love about empowering yourself by growing your own food? Now even a city dweller can have that opportunity. I love the different options Lettuce Grow offers, and the fact that I can grow my own salad on my back porch.
5. Rocky Mountain Oils Chakra Blends Roll-On Kit, $80
I recently got turned on to essential oils. The roller ones are my favorite because they are user friendly. I love that you don't have to know when or where to use the oil, the kit explains it for you.
6. The Sill Plants for Beginners Subscription Box, $35 a month
Potted plants that arrive at your door each month? Yes, please!
6. Inika Organic The Weekender, $95
My friend and make up artist Campbell Ritchie introduced me to this mascara, and now it is my hands-down favorite. It was like unleashing the hounds. Now I use all their products. The lipliner and lipstick are also amazing.
8. Final straw $25
This collapsible, stainless steel, reusable straw comes with it's own case, so it's super convenient to use on the go.
9. Eco-Kids Dough, $25
I cherish a clean home (and my sanity!), but I also want my kids to feel free to play. This natural play dough is a good compromise. It's fun and non-toxic (in case it ends up in a mouth or two)—and it comes out of my rug!
10. Aveda travel size rosemary mint and brush set, $51
I love the smell of this clean and rosemary mint shampoo and conditioner. The scent is the best after an early morning wake up.
11. Finn + Emma baby stroller toy, $15
I am a sucker for hand-knitted apparel and toys. We may not have an infant anymore, but these still caught my eye. I may have to put one on my keychain.