About three years ago, I met makeup artist Campbell Ritchie at a photo shoot. We hit it off immediately and have been besties ever since. Not only is the Australian native a talented makeup artist, but she is also a two-time cancer survivor, a committed vegan, and an eco-friendly enthusiast who is an expert at starting a greener beauty routine. Whether she's doing makeup for a fashion show, magazine editorial, or the red carpet, she only uses beauty products that are vegan and cruelty-free.
As you know, I've been trying to be more green in my everyday life, from making reusable beeswax food wraps to buying eco-friendly fashion brands—and that includes starting a greener beauty routine. And while I don't think anyone should feel like they need to go out and buy a bunch of new beauty products, I've been looking for greener alternatives when I run out of favorite products.
The interesting thing is that the beauty industry is kind of like the Wild West in regards to the toxins and additives in products. The FDA doesn't even approve cosmetic products or ingredients (other than color additives) before they go to market, so you really have to do your homework if you're wanting to switch to eco-friendly products.
Since I've learned so much from Campbell about green beauty, I asked her to share some of her knowledge with you. Read on for her tips on how to green your beauty routine this year—plus 10 of her favorite eco-friendly beauty products.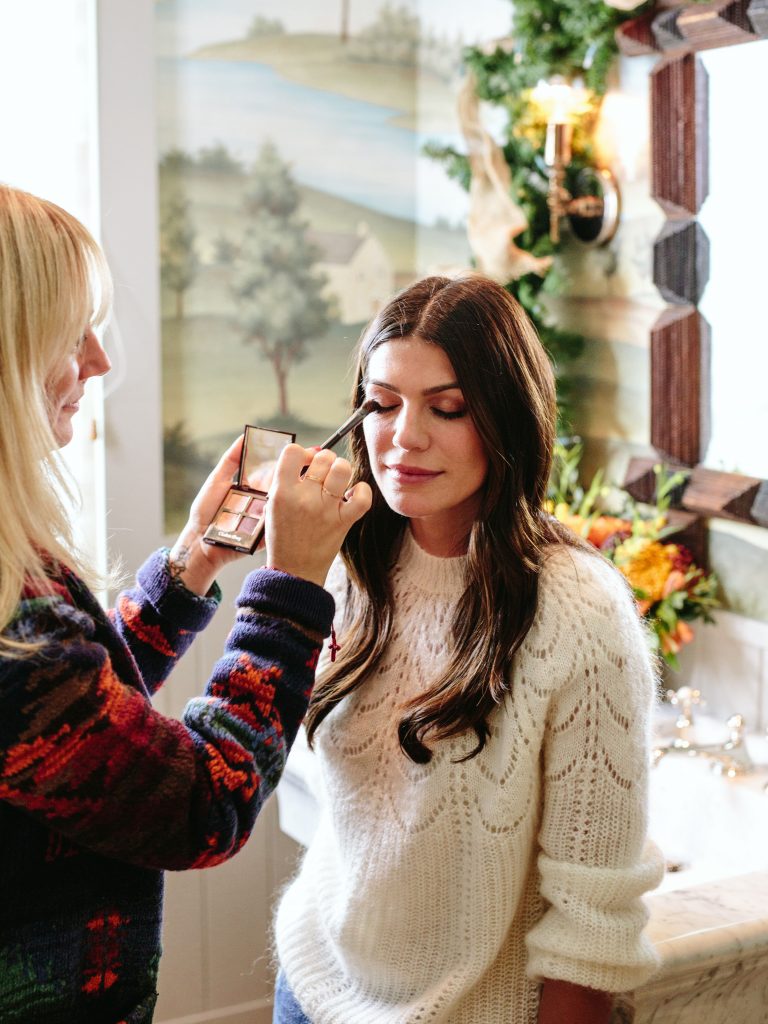 When did you make the change to using only green beauty products?
I made the change 14 years ago after a bout of cervical cancer. I'd been vegetarian my whole life, but I went vegan and started investigating a lot of things. I realized, if I'm not 100 percent looking after what I'm putting into my body and onto my skin, then why am I doing this?
When shopping for green beauty products, what ingredients should we look for when reading labels?
If you can't pronounce an ingredient, it's probably not good for you, so look for products that contain ingredients that are natural. Also, know that the buzzwords on the packaging, such as "organic" or "natural," can be very misleading. I use the Think Dirty app to check for toxins in beauty products, and I always look for the Leaping Bunny stamp, which signifies the product was not tested on animals.
Are there one or two products that are most important to be green?
Start with skin first, like sunscreens and moisturizers. Always choose products that are clean, green, and as toxic-free as possible. Then you naturally will start wearing less makeup anyway. Also, mascara! This is a perfect product for lifting the face, and the cleaner the better.
Why should women consider going green with their beauty products now?
The cosmetics industry is one of the most polluting industries on the planet, along with fashion. By reducing your carbon footprint and making a conscious effort to purchase cleaner, greener, cruelty-free products, you are saying no to animal cruelty and in turn helping the environment and yourself.
Campbell's 10 Favorite Green Beauty Products
1. Suntegrity 5 in 1: "This tinted sunscreen is a face primer that protects against the sun. I use this on Gen all the time instead of regular foundation." $45
2. Dr. Barbara Sturm Sun Drops SPF 50: A light serum that provides SPF 50 sun protection against UVA (photo-aging) and UVB (sunburn) rays. "A beautiful product." $145
3. Lina Hanson Global Face Serum: A hydrating serum made from organic oils. $85
4. June Sugar Lip Scrub: An organic lip exfoliator infused with CBD oil. $20
5. Luma Just a Touch Lip & Cheek Tint: "Lady Luck is Gen's color." $30
6. Chantecaille HD Perfecting Powder: This long-lasting powder doesn't contain parabens, phthalates or fragrance and isn't tested on animals. $75
7. INIKA Organic Long Lash Vegan Mascara: "These mascaras are incredible." $33
8. BeautyCounter Touchup Skin Concealer Pen: Put concealer right where you need it with this popular pen. $33
9. Victoria Beckham Lid Lustre in Mink: This pretty eyeshadow is infused with Tiger's Eye, known as the gemstone of courage. $36
10. Sweed Lashes: These translucent cotton lashes are available in black, brown, and blonde. $16 and up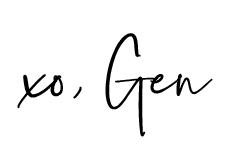 SHOP MY FAVORITES