Things are slowly returning to normal after last week's Snowpocalypse in Texas. The power is on, water no longer needs to be boiled, and the snow has melted. The storm completely decimated my garden, but luckily I had harvested all our kale before things went south.
So this week, you'll find me making big batches of my favorite winter kale salad. This tasty recipe comes from my friends Erik and Mollie Walnum, the chefs and husband-and-wife team behind Planted.Kitchen. 
I met Erik and Mollie during a 2019/2020 New Year's Eve trip to Bozeman and Big Sky, Montana. Jared and I were training for the Austin Marathon and trying to stick to healthy food options. We wanted a special meal for New Year's Eve, and Mollie and Erik came through with amazing vegan options for our family. We are omnivores but always looking for new ways to eat more vegetable-based dishes while not compromising on the taste. That's Planted Kitchen.  
Erik and Mollie, who met while attending culinary school in Denver, focus on bridging the gap between healthy and delicious. "Our approach to food is simple," says Mollie. "We like to fill our plates with as many beautiful and seasonal vegetables and fruits as possible. Making these items that are often an afterthought or a side dish shine is what we do best."
If you're looking to get out of a salad rut, give this winter kale salad with candied pecans, dried cranberries and chipotle-lime vinaigrette a try. Erik and Mollie suggest serving it with quinoa, grilled salmon, or barbecued tofu or chicken.
Winter Kale Salad 
Yield: 4 servings
In a bowl, mix together:
4 cups kale, washed and cut into 1/4-inch ribbons
1/2 cup chopped candied pecans (recipe below)
1/4 cup chipotle-lime vinaigrette (recipe below)
1/4 cup chopped dried cranberries or golden raisins
2 tbsp. chopped scallion
season to taste with additional salt and freshly ground pepper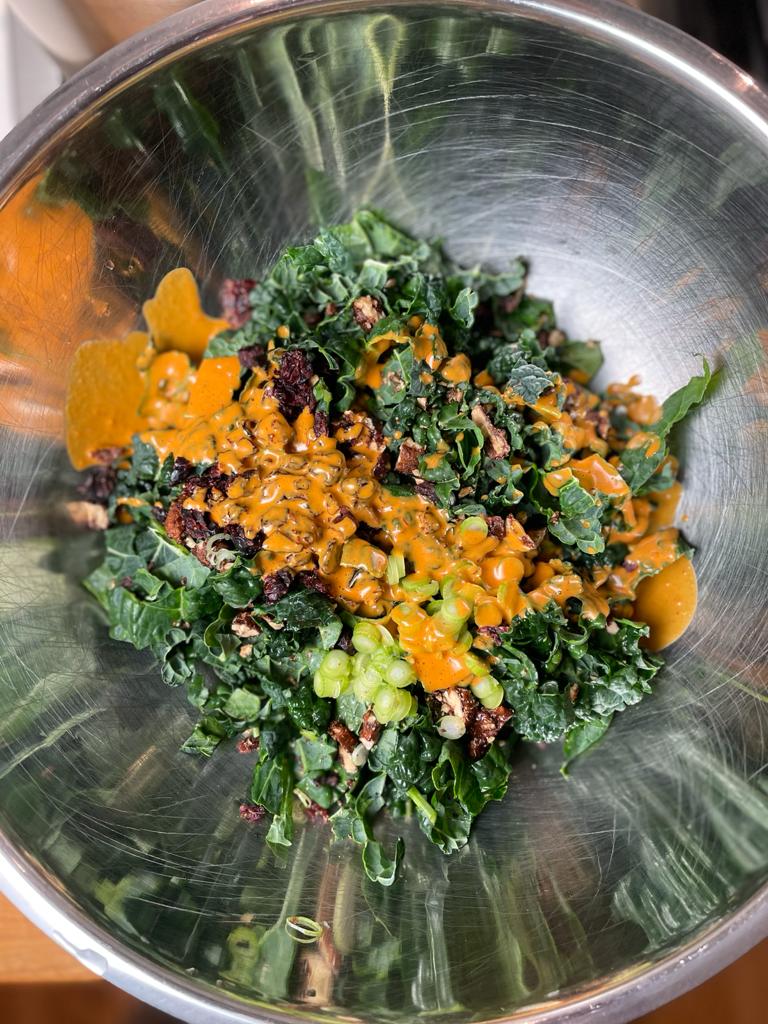 Chipotle-lime vinaigrette
Yield: old cup
1/4 cup olive oil
1/4 cup fresh lime juice
2 tbs. cider vinegar
2 tbsp. water
2 chipotle chiles in adobo sauce
2 sun-dried tomatoes in oil
1 garlic clove
2 tbsp. honey
2 tbsp. mayonnaise 
1 tsp. cumin, ground
1 tsp. coriander, ground
1/2 tsp. paprika
1 tsp. kosher salt, plus more to taste
Add all ingredients to blender or food processor. Blend until smooth, then season to taste with salt. Balance flavor profile to your liking, adding more lime for acidity and brightness, and more honey to temper.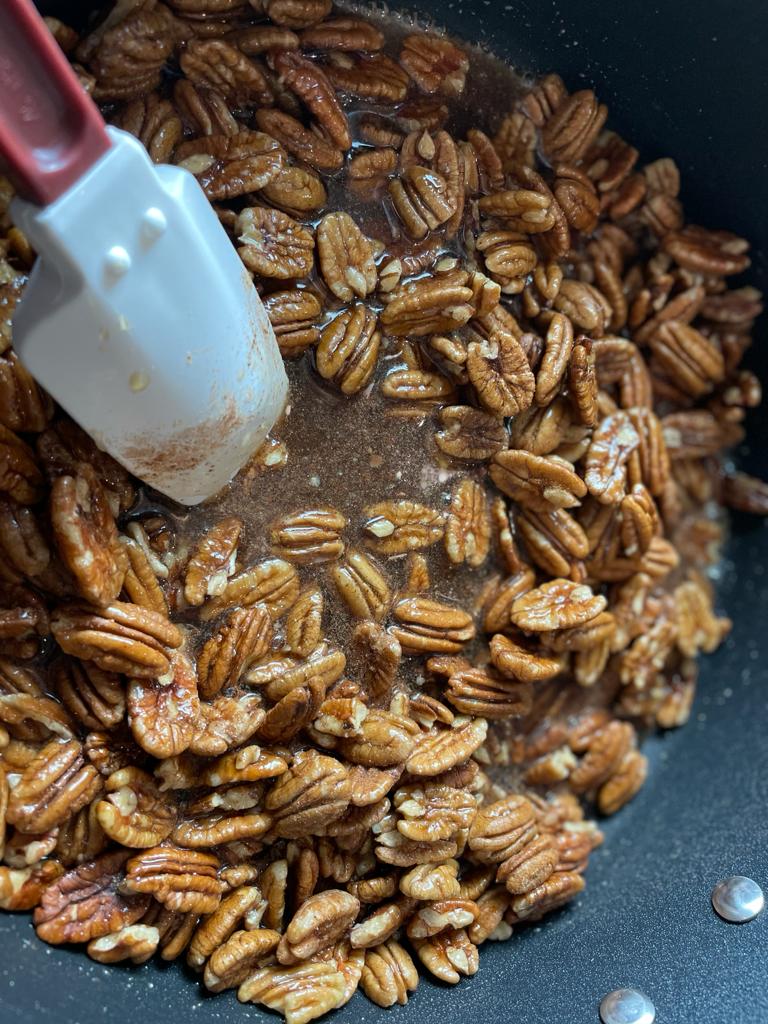 Candied pecans
2 cups pecans
1/2 cup maple syrup
1/2 tsp. kosher salt 
1/2 tsp. cinnamon
pinch cayenne pepper
Add ingredients to a nonstick pan and set heat to medium. Once maple syrup begins to bubble, reduce heat to maintain a gentle simmer (smallest bubbles). Continue to cook, stirring frequently with heat-safe rubber spatula, being sure to clear the bottom and sides of the pan. Continue until all maple syrup has reduced and dry granules remain on pecans and clinging to pan, about 15-20 minutes total. Transfer pecans to a parchment-lined baking sheet and spread pecans out to cool. Once cool, break up any large clusters and store in a dry container for up to a few months.