The city I call home is lucky to have a world-class spa right in it's backyard. Lake Austin Spa Resort is consistently rated one of the best spas in the world—and for good reason. The 19-acre lake-front property is blissfully peaceful, offers more than 100 spa treatments, and is the perfect place to relax and recharge alone, as a couple, or in a group.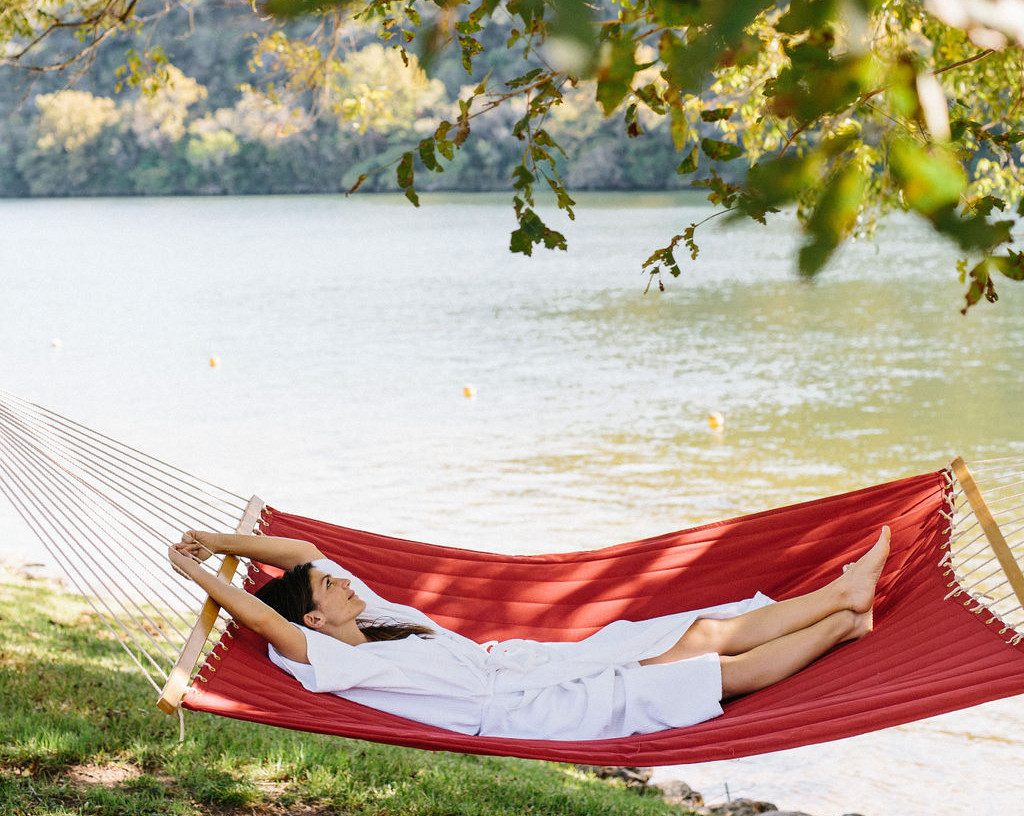 Jared and I have escaped to the resort several times for a staycation or just a night away and have always had a blast. I love the beautiful grounds, how quiet it is, and the fact that it's on the water. (I could spend an entire day in the hammock overlooking the lake!) And when I heard about the resort's new green initiatives—including organic gardening, low toxicity products, and recycling and composting practices—I immediately booked an appointment to go check it out.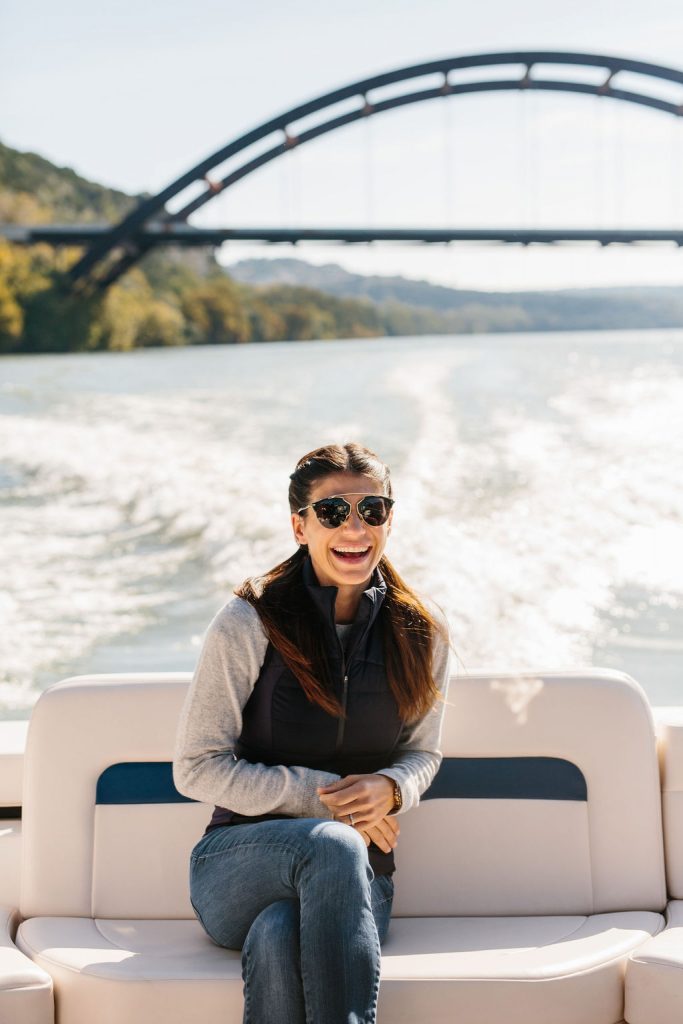 GRAND ENTRANCE
You can drive to Lake Austin Spa Resort—or you can take the resort's very cool water taxi. The taxi picks up passengers at a variety of spots around Austin. It's a great way to see the city from one of it's highlights, the Colorado River—aka Lake Austin. It's also a fun way to jump into nature and begin to relax before you even reach the spa.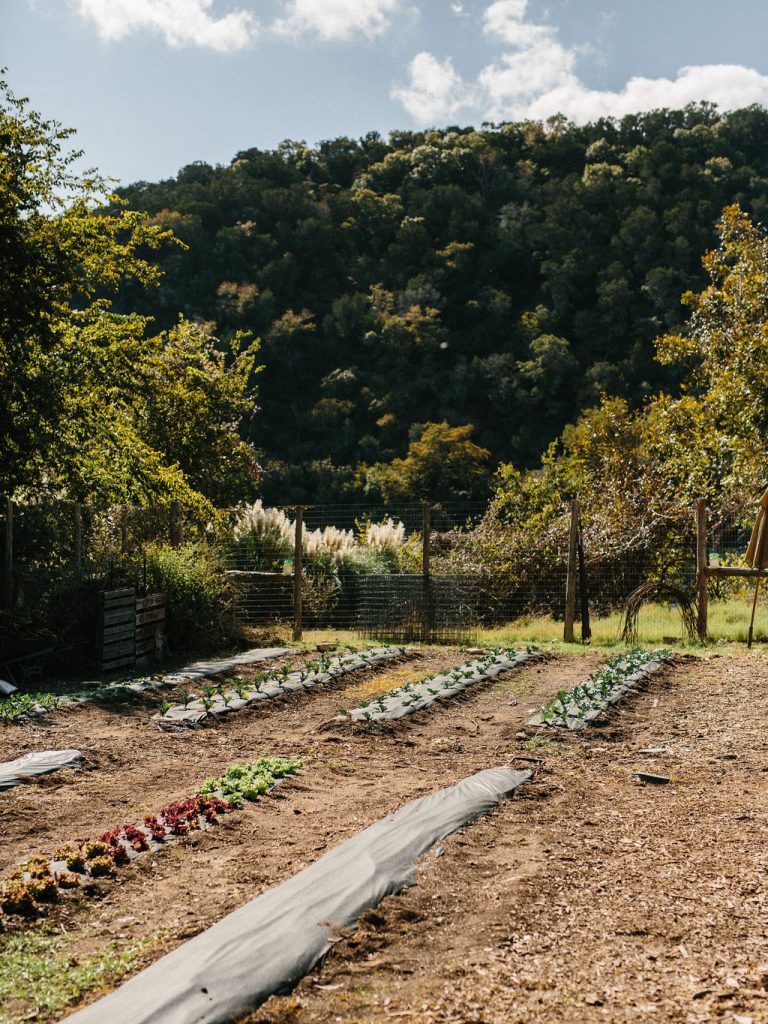 GARDEN FRESH
The green nerd in me was super excited to go behind the scenes at the resort and see where the produce is grown. I love any place that has a handle on its food sources, and the resort, which has two gardens, certainly does.
Molly Pikarsky is the floral and fauna manager (how can I get that title?!) at the resort. She gave us a tour of the all-organic garden, which is full of winter crops right now. The spa's restaurant, the Aster Cafe, uses lettuce, arugula, kale, swiss chard, herbs and more straight from the garden. (In the summer, there are rows and rows of tomatoes, okra, watermelon, cucumbers, and more.) "The garden touches every dish in the restaurant," Molly says.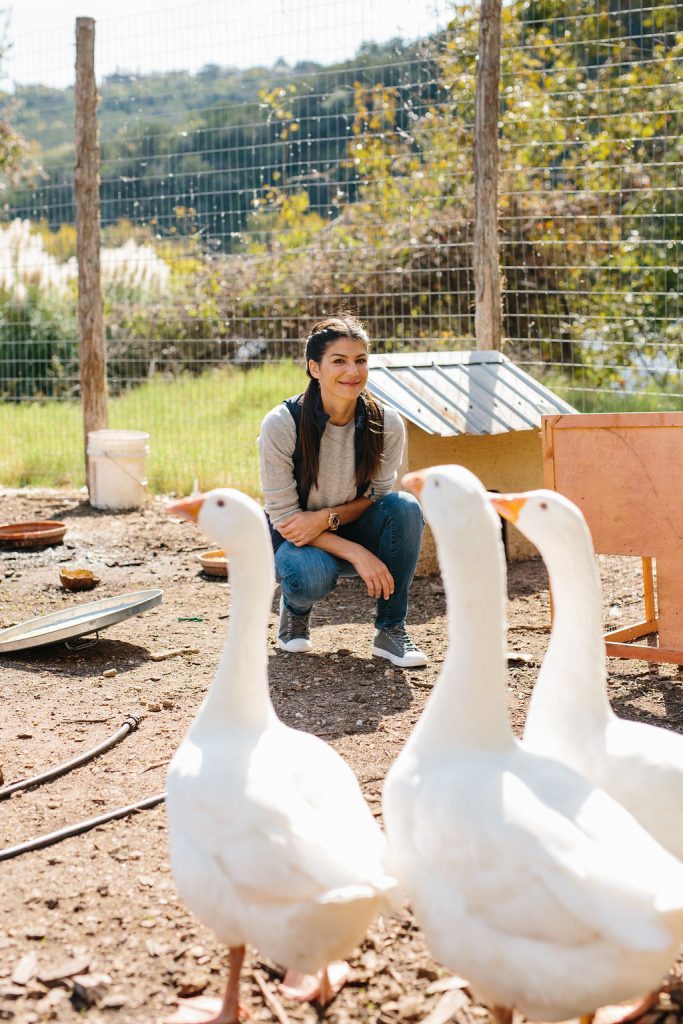 The resort also composts all the grass, lawn clippings, and kitchen waste, which is amazing. I also got to meet the resort's three geese named "Big Jerk and the other two," who eat the pests in the garden. They weren't interested in me, but I was very interested in them!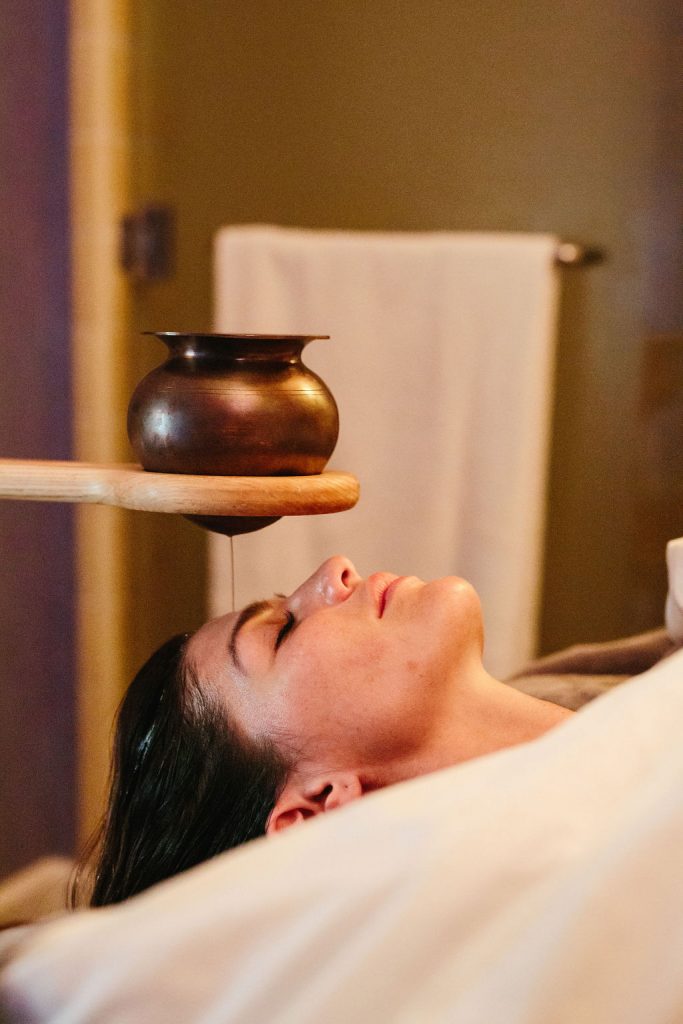 HEALING BODYWORK
Next, it was on to the beauty treatment. I selected the Star of India, an Ayurveda treatment that's supposed to detox, relax, and balance you—yes, please! After a quick questionnaire to discover your life force or "dosha" (known as vata, pitta or kapha), the therapist exfoliates your body and brushes it to aid with circulation and detoxification before wrapping you up in warm towels while your skin soaks in an herbal body mask. And then comes the really cool part: Shirodhara. A slow stream of oil is poured onto your forehead and then massaged into your hair and scalp. It was incredibly relaxing, though be warned: It took me about three showers to get all the oil out of my hair! I would have loved to let it soak in a bit more, but carpool was calling.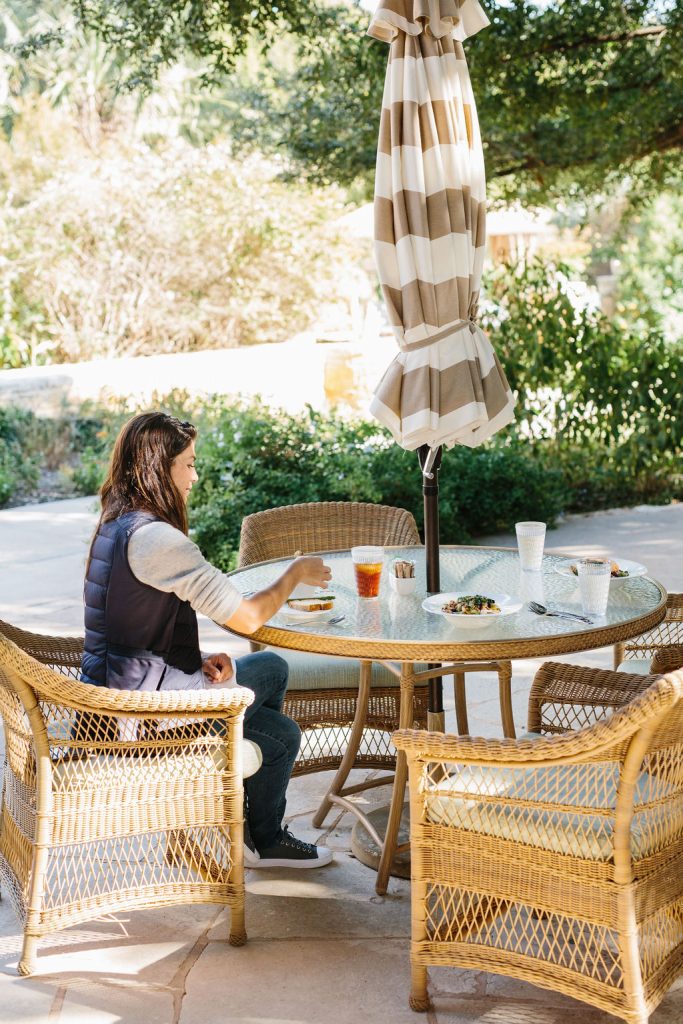 CONSCIOUS COOKING
I finished off my time at Lake Austin Spa Resort with lunch at the Aster Cafe. I sampled the soup of the day, avocado hummus, and pan-roasted salmon, which sits on top of the Mother Earth salad. It was all delicious and impossibly fresh. I also got a chance to chat with Chef Stephane Beaucamp, a Frenchman who moved to Texas eight years ago. I appreciate his philosophies on food, which include making your own meals from quality ingredients, cooking as a ritual not a task, and focusing on portion control. "You can eat whatever you want, as long as you make it yourself and are responsible with the ingredients and the portions," he says. Chef Beaucamp generously offered to share a few of his recipes (keep scrolling!).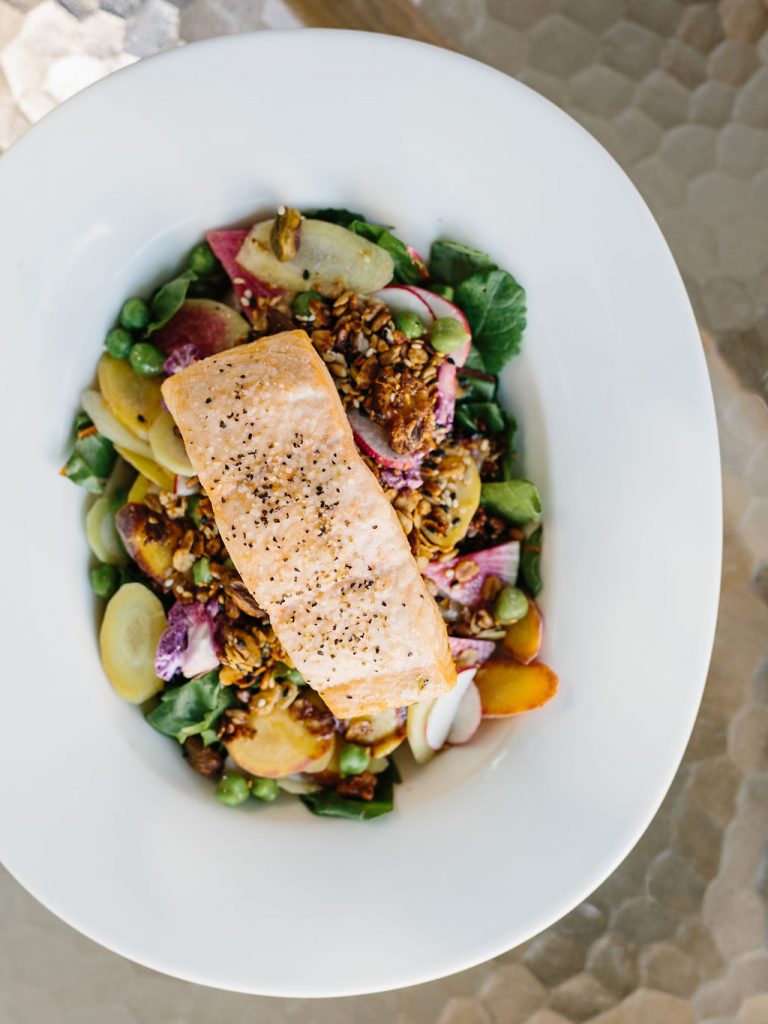 It was the perfect way to recharge and remind myself to slow down before heading into the holiday season. Whether it's a spa day, yoga class or reading a book that brings you joy, I hope you take some time to indulge yourself during this chaotic time of year. And if you're interested in spending some time at Lake Austin Spa Resort, you're in luck! Get 10 percent off the resort package or the spa refresher package with the code GENTEN.
MOTHER EARTH SALAD
½ cup baby kale
¼ cup swiss chard, stemmed and torn
¼ cup small cauliflower florets (orange, green or purple)
1 heirloom carrot, peeled and sliced
½ watermelon radish, peeled and sliced
2 radishes, cut in quarters
3 tbsp green garbanzo beans
¼ cup cooked red quinoa
1 tbsp savory granola (recipe below)
2 tbsp pomegranate vinaigrette (recipe below)
Instructions
Mix all ingredients in large bowl and add vinaigrette to taste.
Savory Granola
2 cups old-fashioned oats
1 cup raw shelled pistachios
1 cup walnuts
1 cup raw sunflower seeds
1/2 cup raw sesame seeds
2 tbsp fennel seeds
2 tsp kosher salt
1 tsp cayenne pepper
2 large egg whites, beaten
1/2 cup olive oil
2 tbsp agave syrup
Directions
Preheat oven to 350. In a medium bowl, mix together oats, pistachios, walnuts, all three seeds, salt, and cayenne pepper with egg white, oil, and agave syrup. Pour mixture onto rimmed baking sheet. Then bake until golden, about 25-30 minutes, stirring in the middle of baking. Let cool.
Pomegranate Vinaigrette
2 cups Texas ranch olive oil
1 cup red wine vinegar
3 tbsp pomegranate molasses
1 tsp dry mustard
1 tsp kosher salt
1/2 tsp ground pepper
Instructions
Add all ingredients into a bowl (top with grilled salmon if you want more protein), mix well and enjoy!