After three-and-a-half months of quarantining, I wanted to take advantage of the open road and try to find a new horizon for our family. While it seems like an odd time to consider a summer vacation, I find that I do my best thinking when I can get outdoors and into nature. I knew the change of scenery would do us (well, me) good. Traveling by road with three children under 8 is hellacious in itself, but add in a pandemic and it means a whole new set of challenges. But I wanted to get moving, and graciously, my husband obliged. So we packed up and hit the road. (Look for a blog post with information on how we traveled safely soon!)
Instead of sharing what's on my nightstand like usual, this month I wanted to share what's on my nightstand: camping edition. From my favorite toiletries to water bottles to apps, my bag is chock-full of travel essentials. Read on to find six of my favorite things for the next time you go exploring.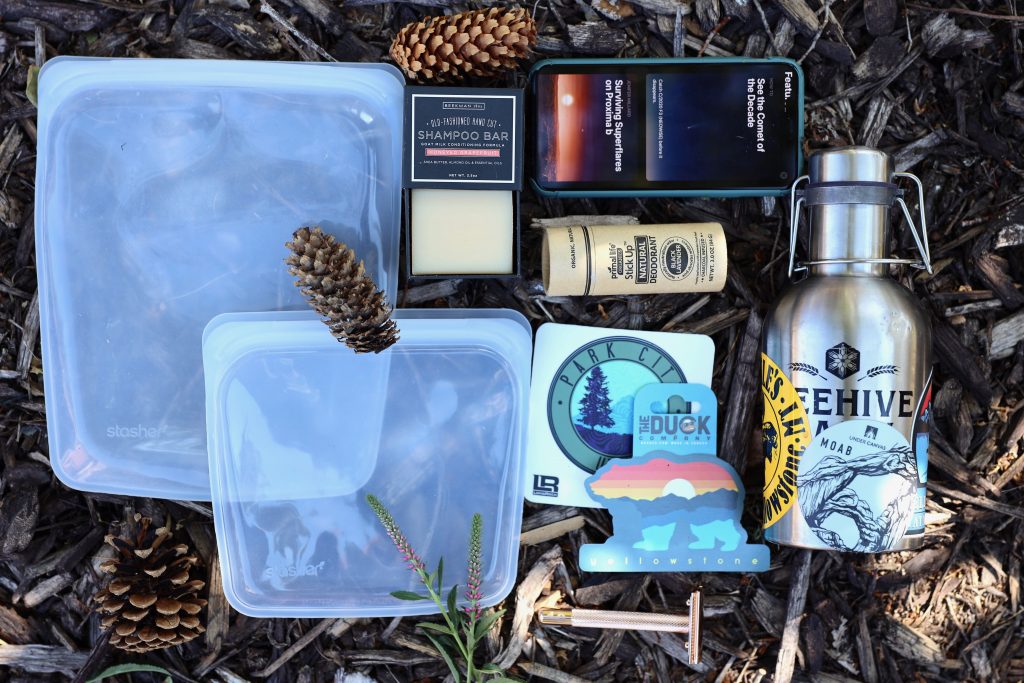 Since it's Plastic Free July, I'm trying to do our best at using plastic less. Everyone in our crew has different creature comforts, but we are all doing our best to make the least harmful impact on our environment. For me, I love a great hot shower and luxury bath products. This goat-milk-and-coconut-oil shampoo bar is a great compromise in the eco and luxe department.  
Our family loves these reusable bags. They are awesome to hold toiletries, snacks, or even ice for a bruise. Multi-use and tough to rip, they can survive any environment—including the dishwasher.
I mean, it's gorgeous. Yes, that's totally vapid, I know, to look at a razor and think, "GAH, it's gorgeous." But it's also great because not only does it do the trick—after not shaving for three months it made me feel good as new—but it's a sustainable option that uses less plastic by not being single use.
This has been my go-to water bottle since we visited Big Sky for New Year's. I love that I got a second use out of it after drinking the beer it came with, and I love to decorate it with stickers of the places I've been.
This app is so much fun no matter where you are. We love playing around with the kids and discovering the night sky above and below us. It's really cool because it gives a full 360-degree view of the sky, so you can see what the other hemisphere is gazing at. In addition, you can click on any stars or planets to get more information about them. It's definitely fun and interactive for everyone.
I love this deodorant and its low impact on the environment. It actually works, and it makes me feel better when I use it—especially out in the woods when I'm smelling like a bear.
Tell me in the comments: What must-have items are in your camping bag?